Accuphase E-280 – Mini Review
Retail price in the NL including 21% VAT: 5.250 euro
After reviewing the Accuphase E-260 integrated amplifier in 2015 I was immediately enamored with it. When its successor, the E-270, later visited my premises courtesy of Evert Rebel of AudioAanZee, this only further cemented my desire to have one for myself. Due to various circumstances, this never materialized, and in 2019, I purchased an Ayon Spirit III for the secondary setup. For a tube amplifier, the Spirit III has an exceptionally robust presentation with uncommonly solid bass and it served me well during the time that I investigated tube amplification. Throughout the reviewing of various other integrated amplifiers, I've been very happy with it, but the Accuphase remained in the back of my mind.
As a result of obtaining ever better sound in the main listening room, I started desiring more transparency and precision in the secondary system, as well as the potential to drive a wider range of loudspeakers. Also, to be honest, I am just too impatient to wait for the Ayon amp to go through its warm-up and cool-down cycles, before being able to perform a power cable or speaker cable swap. Thus, the idea formed to replace the Ayon with a brand-new Accuphase amp.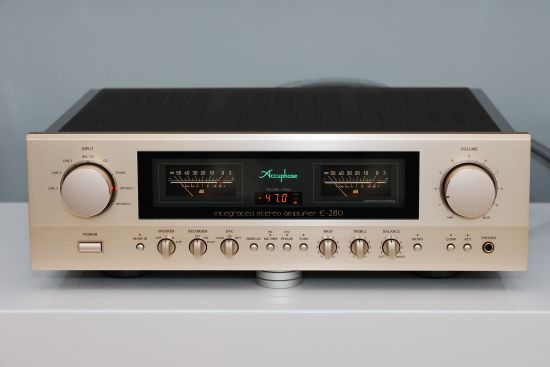 The centrally-placed foot in the photo is one of three Ansuz Darkz C2T feet placed strategically underneath to perfectly complement the amp's solidity and focus while adding some extra clarity in the midrange.
Thinking back to my time with the E-260 and the E-270, even though I have heard them some time apart, I believe the latter was maybe slightly tighter in the bass but otherwise very similar. I would describe them both as very neutral and robust, yet lively, and beautifully expressive, if comparatively lacking some refinement and fluidity in the treble. I'd say that's fair enough at the price point but if this is of paramount importance, this is actually one of the aspects that any of the higher-end Accuphase amplifier models cater to just perfectly.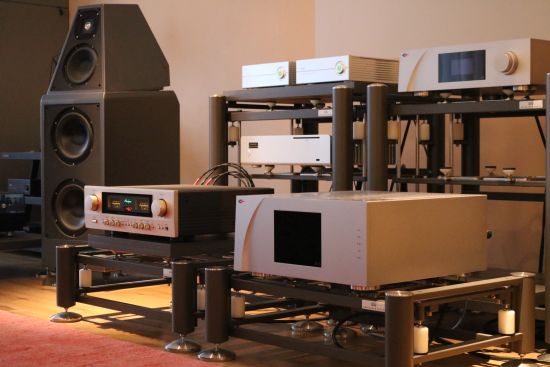 Accuphase E-270, heard in 2019 with my then Wilson Watt/Puppy 8, as well as in the secondary system with the Xavians.
Nevertheless, this "unbridledly enthusiastic" aspect served the entry-level amplifiers very well and made them stand out from other amplifiers on the other end of the spectrum. The ones that were decidedly more fluid and refined were usually also a little too well-mannered and just not quite as communicative and enthusiastic as the Accuphase.
Ultimately, there's only so much that can be done at this price point, right? Wrong! As it turns out, uniquely, the E-280 provides the tight and punchy bass and overall solidity of the E-260 and E-270 and combines this with a richer and lusher midrange that is still commendably neutral, and a deliciously liquid and highly refined treble. Although it is very detailed, it's sonic presentation is very much the opposite of clinical or dry. This is quite remarkable as this level of refinement would formerly require stepping up to a higher-tier model.
The E-280 is a transistor amp and thankfully it does not try to hide its inner workings by emulating a stereotypical tube sound. It is fast-paced but relaxed at the same time. The amp remains upbeat, controlled, and well-detailed but combines these traits with a rich and velvety tonality in the midrange and an ever-so-subtle golden glow.
Counter-intuitively, the Ayon may be a tube amp but it isn't warm or lush. However, it does sound a little thick and dark compared to the Accuphase. Moreover, the E-280 can be said to sound more liquid.
In comparison with the Ayon Spirit, the E-280 is similarly solid and lively but massively more transparent and precise. It has a much tighter and much more articulate bass along with much higher resolution. Also, in terms of the perceived frequency spectrum, the Accuphase comes across as much more linear, although it does sound slightly reticent and relaxed in the midrange. But this is also what makes it such a smooth listen in spite of its high level of precision and control.
The E-280 is flanked by Xavian Perla Esclusiva speakers, a Thorens TD-1601 turntable, and an Ayon CD-10 II CD player. On the bottom are the Thorens power supply, a two-box AVIDHIFI Pulsare II phono stage, and an Antipodes EX Music Server. The interlinks and speaker cables are Driade Flow Link Reference 808 and Flow Reference 808 and the power cable for the E-280 is a GigaWatt LC-2 EVO. That Ayon CD player, by the way, is nominated to be replaced with an Accuphase player;-)
Like its predecessors, the E-280 offers lots of inputs and a very complete range of facilities such as dual speaker connections (separately switchable), pre-amplifier-out and power-amplifier in connections (the latter conveniently switchable from the front panel), tape monitoring, mono, phase, attenuation, and tone controls, and even a loudness function.

Introduced with the E-270, there's also a direct digital input selector for the DAC Option Boards (rather than the E-260's automatic selection) that works with the DAC-60, DAC-50, and DAC-40. I'm not sure about the DAC-30 board.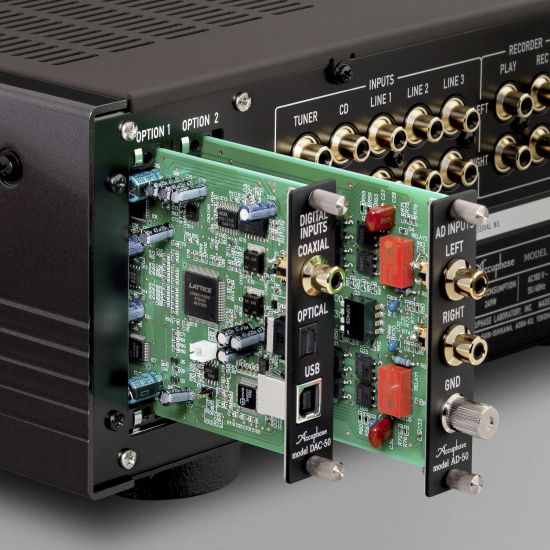 Besides the upgrade of the sound quality, the E-280's facilities have also been further enhanced. Instead of the single Option Board slot, it now offers two slots so that one could fit, for instance, both a DAC-60 board and an AD-50 Phono Stage. Alternatively, one could fit a Line-10 board for an extra pair of analog inputs. Incidentally, these slots are compatible with all previous Option Board models. The only exception is that some of the older generation boards cannot be controlled from the amplifier's front panel selectors.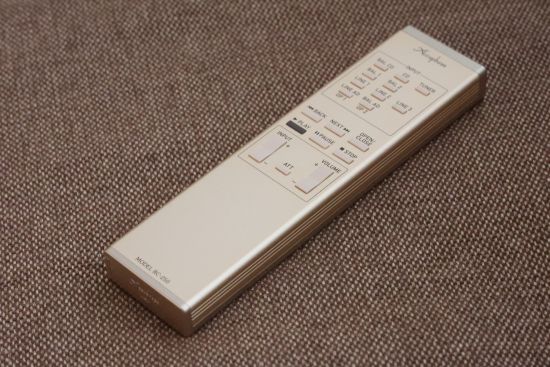 The IR remote control is made almost entirely of aluminum and offers access to all the amplifier's important features, as well as offering basic controls for a CD player. I love the attention to detail, for instance, the subtle yet effective soft foam feet on the bottom.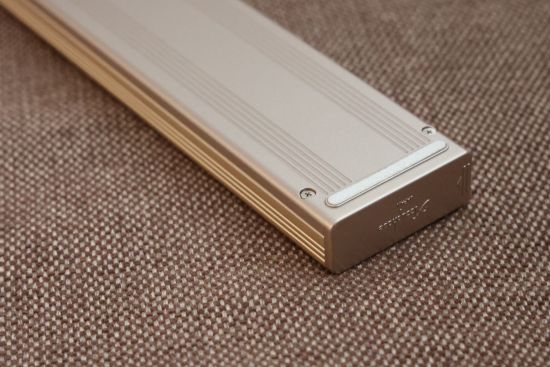 The DAC-60 board is currently not available but I managed to find a second-hand DAC-40, the same model that I already liked so much during the E-260 review. Hearing it again now I can only confirm what I found earlier, which is that the DAC board offers superb quality. I can only imagine what the DAC-50 and DAC-60 would add.
Conclusion
The E-280 possesses a sound that is fast, articulate, and toe-tappingly rhythmic at its core yet gently lush and timbrally natural, with a level of resolution and refinement that is rare in this price category. While the cost of ownership in the high-end world keeps rising, it's comforting to find that Accuphase's entry-level amplifier remains sensibly priced while offering an immaculate level of fit and finish.

External Links
Manufacturer: Accuphase
Distributor Accuphase Benelux:
Hi.Fine
Postbox 9253
4801 LG Breda
The Netherlands
TeL. +31[0]613672768
Fax. +31[0]765204389
Website : www.hifine.nl