The latest 200 series amplifier in Accuphase's long and successful range of integrated amplifiers
Review sample supplied by hi-fine
Retail price: 5.150 euro
Option Boards:
DAC-40 (DA converter) – 1200 euro
AD-30 (phono stage) – 1000 euro
LINE-10 (extra analog inputs) – 280 euro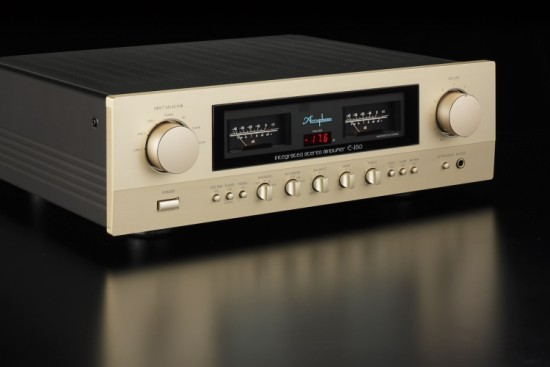 Introduction
Even though the Accuphase brand has been around for decades, I am still relatively new to the brand. After the DP400, DP410, and DC37, this is only the 4th Accuphase component, and the brand's first amplifier to visit my listening room. The E-260 may only be the brand's entry-level amp, but it truly performs at reference-grade level and it has struck all the right notes right from the start with its even-handed mix of technical excellence and sheer musicality. I now understand why the familiar German review magazines have consistently given high scores for Accuphase's integrated amps, and wonder why I waited so long with reviewing one.
Accuphase House Sound
I already know the answer to that last question though… it's prejudice. Somehow I couldn't shake the idea that Accuphase was perhaps similar to 90's Sony ES in looks, construction, and sound, but at a higher cost. Nothing could be further from the truth…The Accuphase has a very different, much more natural sound, and performs on a much higher level.
Recent experience with two Accuphase CD players has shaped my idea about Accuphase house sound as being transparent, clean, agile, and slender. Following this, and taking into account the precise and astute style of music reproduction that seems to be preferred in Germany, I expected the E-260 to sound transparent, open, and perhaps a little analytical. How I love to be proved wrong! Analytical? Not at all! The E-260 sure is finely detailed and has an open, articulate sound, but also sounds well-grounded, tonally full, and nicely smooth, with a natural ease that has to be heard.
But before I dive deeper into the sound characteristics, first let me explain a little about the E-260's technicalities.
E-260
The E-260 may be Accuphase's entry-level amplifier, but it packs many of the higher models' features. For example the AAVA volume control. Seemingly a traditional potentiometer design, the actual level control is done internally on a solid-state circuit board using 16 weighted V-I converter amplifiers which are controlled by current switches. In simpler terms, the AAVA circuit converts the music signal from a voltage into a current, controls gain by means of current switches, and then reconverts the current into a voltage. Importantly, the entire process is carried out in the analog domain. There is still a potentiometer behind the volume knob, complete with IR-controllable electromotor, but instead of directly reducing volume through variable resistance, it merely sends its position to the AAVA circuit.
The E-260, thankfully, is a parallel push-pull class A/B design. It runs pretty cool and doesn't consume large amounts of power when idling. Output power is rated at 90 watts in 8 ohms and 115 watts in 4 ohms. While this may seem unimpressive on paper compared to amplifiers that double into 4 ohms, and again in 2 ohms, like Krells, in practice the E-260 sounds very, very powerful. While not designed to drive loads below 4 ohms, I connected it to the big and power-hungry (3 ohms nominally) Apogee Diva magnetostatic speakers anyway, and I can report that it drives them splendidly, and it goes very loud too!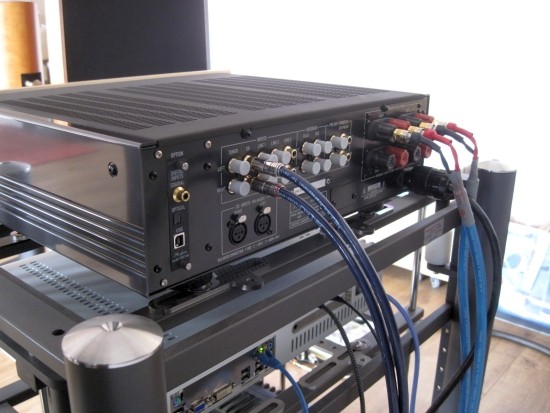 The E-260 has plenly of connectivity: 5x analog in, 1x tape monitor, 1x balanced XLR in, pre-amp out and main amp in. The latter are for connecting a separate poweramp and/or external preamp, which is selectable from the front panel. There are two sets of speaker terminals that can be independently switched from the front panel. Purists might object, but personally as well as from a reviewer's standpoint, I really find this very handy. The terminals are of the typical very large Accuphase type. They may look a little plasticky, but now that I have handled them I can report that they feel very solid, fit any connector type (banana, spade, bare wire) and work very well. Finally, there is an option slot in the rear that can fit an extra set of analog inputs, a phono stage or a DAC board. My demo unit was equipped with the latter.
The DAC board has USB, Coax, and Toslink connections. Both coaxial and USB inputs handle up to 24/192. The amp's input selector only has one position labeled "Option". When selected, the board itself automatically senses an input signal and switches accordingly.
Accuphase is one of the few high-end brands that still allow tone controls, and because the circuit is defeatable at the touch of a button, there is nothing that can be said against it. Purists may still claim simpler is better, but I for one applaud the presence of such controls because quite simply not all music is recorded well. Sometimes for example you might want to add some extra bass heft to reggae music or tame overly bright trumpet frequencies. There's even a loudness function, called "Comp", which is short for Loudness Compensator, to use when listening at very low levels. It doesn't matter if one is convinced that such controls should be used or not: the controls are there, and they can be bypassed.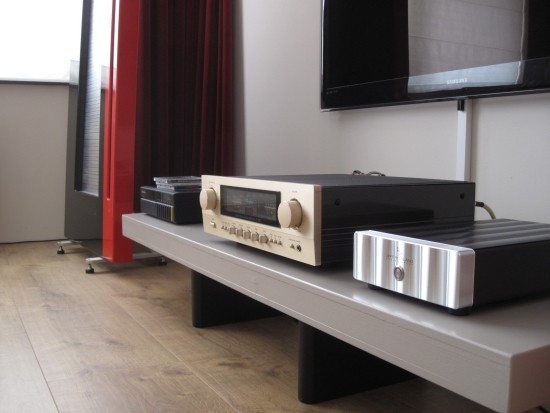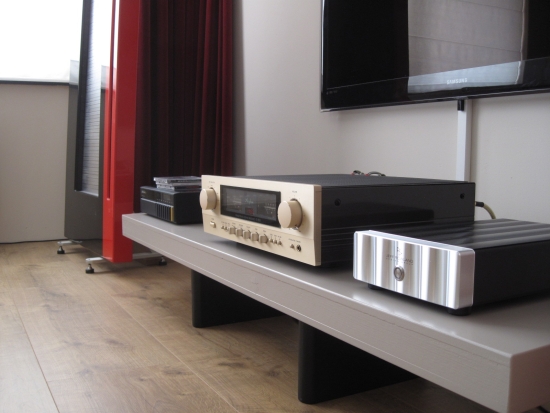 Sound – secondary audio system
Connected to the refurbished Apogee Duetta magnetostatics, it was quickly evident that the E-260 had plenty of power. It drives them with authority and verve. In fact, this 90-watt entry-level Accuphase sounds every bit as powerful as recent Class D amplifiers that I tried such as the Jeff Rowland model 525 and model 201. Do note that these class D devices have 250 watts on tap and dazzling damping factors. And yet, in this setup, the Accuphase sounds every bit as powerful and authoritative.
But it's not all about power. The E-260 also manages the difficult trick of balancing control and musical refinement. Oftentimes power can come at the expense of an overly controlled sound that lacks emotional involvement – not the Accuphase! It sounds fast, articulate, and transparent, but also relaxed, smooth and colorful. It has superb bass that rivals much more expensive amplifiers. And it's not presented in the heavy-handed Bryston or Krell kind of way, but perfectly combining weight, nimbleness and transient speed.
A Devialet Expert 200 was on visit one evening and this made for very interesting comparisons. Both being integrated amps in the same price range, at the end of the evening, I could only conclude that they both perform superbly well, even if they have entirely different sonic signatures. All circumstances being equal, the Devialet has a lighter tonal balance, focussing on finesse and fine resolution while the Accuphase has a fuller, warmer tonality and excels in providing a more sonorous, robust, life-like performance.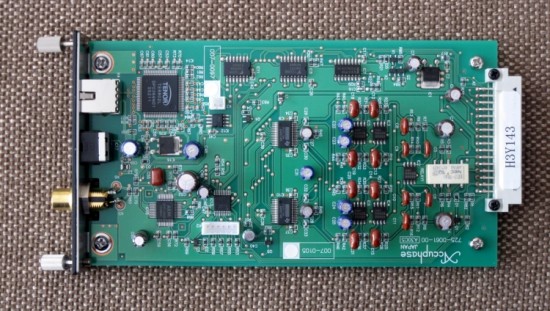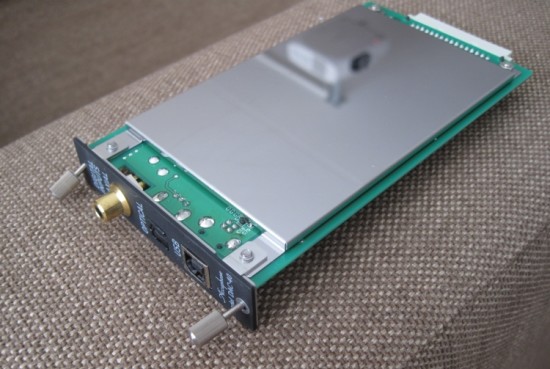 DAC-40 Option Board
Initial listening was with the E-260's analog XLR inputs, the source was an oldie-but-goodie Meridian 506.24 CD player connected to the Wadia 121 using a Wireworld Gold Starlight III coaxial digital, connected to the E-260 with a Transparent Ultra XL XLR interlink. Used this way the sound was already impressive and much more musically involving than any combination that I tried with the Jeff Rowland 525. But I didn't hear the Accuphase in all its glory until I tried the Option Board DAC. The Meridian 506.24 connected directly to the DAC-40 board with the Wireworld coaxial digital cable transformed the sound from very good to utterly excellent. The DAC board really is that good. The DAC-40 board could be said to sound much in line with other Accuphase digital sources, but in combination with the E260 (and the E600, as well as I, later found out), somehow the board just marries perfectly to the amps' inherent quality, to combine into a sound that is better than when using external DA converters, even much more expensive ones than the Wadia 121.
The Wadia 121 DAC costs around 1400 euros, and the DAC-40 board is 1200 euros. What might seem like considerable money for only a circuit board, is actually money spent very well, because the DAC board easily outclasses the external 121 DAC on literally all aspects of sound.
Detail retrieval, focus, and soundstage layering are all excellent, although the expansiveness of the soundstage can be bettered by dearer models in Accuphase's lineup. The E-600 for example fills the room with ambiance in a way that few amplifiers do. An amplifier quality that I am very sensitive to is treble quality. It mustn't be aggressive or sharp, but it has to be extended and airy. I have heard several amplifiers with excellent bass and power, let down by a low-res and less-than-transparent treble, of which Bryston and McIntosh are two examples. Looking to more recent products and technology, class D is also notorious in this respect, an example being the Rowland 525, which has excellent transparency and a neutral, powerful delivery, but could sound more relaxed and fluid. Here the E-260 also delivers, with fluid, open and unforced treble so good in fact that it joins the very select group of amplifiers that are on my shortlist. Another quality that I am very sensitive to is timbre or tonality. Again, the E-260 delivers with its superbly pure sound and wholly natural timbre.
The fact that the E-260 is so even-handed in its presentation makes it hard to stay in critical mode, almost as if the amp is sending a subliminal message to the brain to simply relax and listen to the music.
Sound – main audio system
Moving the amp to the main system, using the AudioAanZee Reference Flow music server connected with an Audioquest Diamond USB cable directly to the E-260's DAC board, the Accuphase continues to deliver. In spite of its conservative power- and impedance ratings, amazingly it has no problems whatsoever driving the large and power-hungry 3-ohm Apogee Divas to very loud levels, with utter stability and superb bass. Because of the high quality of the equipment that is normally used, and the speakers' inherent high resolution, his setup can pose real challenges for an amplifier, sometimes in terms of transparency and treble air, sometimes in terms of bass power, and sometimes in terms of timbre. Incredibly the Accuphase manages to hold its own on all terrains! It drives the big Apogees with authority and makes for a big and bold sound that is also highly transparent, natural, and refined. The main aspect that could be better is soundstage dimensionality, but that's only so because I am used to listening with equipment that is very proficient in this aspect. In any case, a larger Accuphase could certainly provide an answer here.
The DAC board can be bettered, but it takes a DAC in the stratosphere price category, such as the Jeff Rowland Aeris. This DAC provides an even beefier sound, with more presence and more dimensional sound staging. Many other aspects however such as detail retrieval, timbre and transparency however are not further improved. When taking into account that a 1400 euro DAC such as the Wadia 121 that in itself really is pretty good, doesn't come close to sounding as good as the 1200 euro Accuphase DAC board, the idea of using an expensive external DA converter with the E260 becomes a luxury option, not a necessity.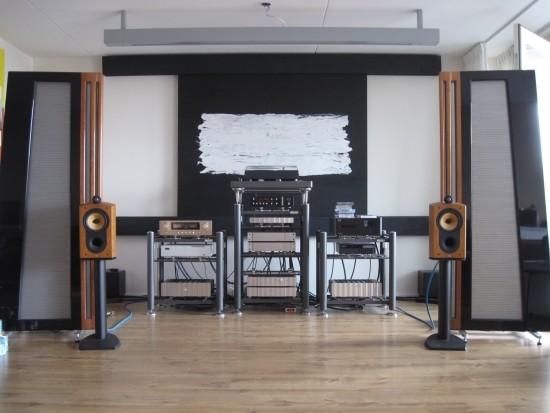 Sound – alternate speakers
Ever since I don't use rear speakers in the surround setup anymore I have a pair of B&W Nautilus 805s and Cardas Quadlink 5C speaker cables sitting around doing nothing. I figured why not connect them to the Accuphase and see what happens. Ohlala was this ever the match made in heaven! Naturally, the 805's don't challenge the Apogee Divas in any one aspect, and as always I have to get used to the cabinet coloration but I must say that I have not yet heard them play this incredibly well. The E-260 makes the small 805's sound way larger than they are, with powerful bass, natural and neutral midrange, airy non-aggressive treble, and a soundstage that expands to fill almost the entire room. And again I am struck by the emotionally involving even-handedness of the E-260, so easily drawing me into the music and away from critical listening.
Power cables, Placement, and conclusion
Usually, I start a review stating what power cable I use, followed by a bit of twiddling with alternate cables and extension block position. This time I started with a standard Belden cable, the same brand, and type that I use on my usual power amplifiers, connected to an extension block outlet somewhere in the middle, and never looked back in either setup (although I did, of course, observe the polarity). I know that placement matters and that audio racks can make a profound difference. The fact of the matter is that the E-260 sounds sublime whether it is sitting on a homemade MDF table or on a high-class Artesania rack, and I just can't bring myself to start experimenting with footers or placement.
So unfussy is the E-260, and so utterly musical and emotionally involving that I simply haven't had the urge to fiddle around with anything. I also know all too well that power cables matter, as does the position in the extension block. I'm also sure that the E-260 can be tuned using all sorts of footers and cables to sound more forward, or more relaxed if you will, but I'm too busy listening to my music to want to experiment. The E-260 ticks all the boxes and is quite simply entirely devoid of weak areas. Believe me, I really made the E-260 work hard, but I just can't find a single thing to criticize. Ok, it isn't exactly cheap, but these days most really good integrated amps cost well over 10k, and although I know that the E-600 sounds even better, the other integrated amps that I heard in my setup did not impress me more than this Accuphase does right now, so even in that aspect, I think the E-260 really delivers.

External Links
Manufacturer: Accuphase
Distributor Accuphase Benelux:
Hi.Fine
Postbox 9253
4801 LG Breda
The Netherlands
TeL. +31[0]613672768
Fax. +31[0]765204389
Website : www.hifine.nl