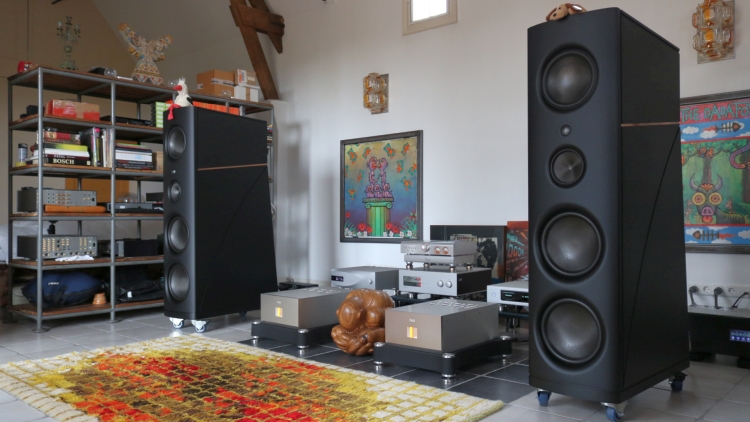 It was during a demo at PUUR Audio, Video and Domotica that I first met Ray. His cheerful character makes him an immediately amicable person and we soon started chatting away. At that time, Ray asked me what gear I owned and liked and then proceeded to list one rare classic component after another that he had in his collection, many of them long-time favorites of mine. There and then, we agreed that I would come to visit him sometime. Ray is not only an avid collector of fine audio equipment, but now and then, he also sells select pieces from his collection.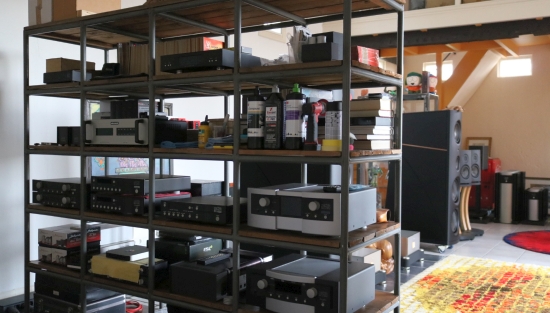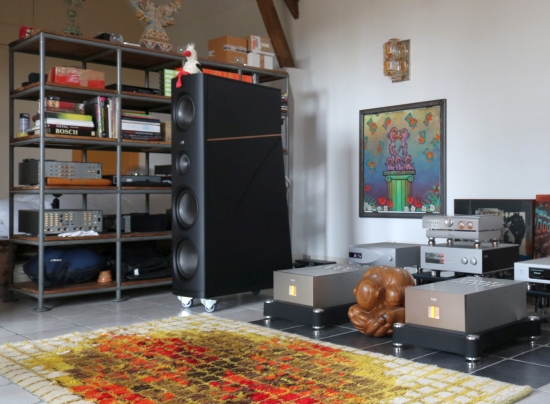 In addition to showcasing audio equipment, welcome to playground buys and sells used, demo, and new high-end audio equipment. Upon request, Ray will also go and hunt down and assemble the ideal high-end audio system within a given budget. Ray does not run a typical hifi-store, rather, he conducts intake conversations, listens to the client's wishes and tries to find a fitting solution, and wants to provide visitors with an experience that inspires and provides new perspectives. To that end, his listening room does not look like a typical hi-fi showroom, but it is a reflection of his interests and personality.
The following can be read on Ray's website welcometoplayground:
I started Playground to be able to give people who love sound like I do, the same joy that high-quality audio equipment gives me. My desire to experience subtle differences, in every available specificity, has led me to frequently change the equipment I live with for a period of time. This constant search for the most crystallized audio experience has given me access to an incredible assortment, which I can now share with other audiophiles.
Every piece of equipment at Playground is personal to me. It tells its own story and creates its own experience. I have personally curated this collection from my own discoveries and each piece has given me a great sense of joy. All the equipment I offer is broad and diverse, technically and in style. There is a wide choice of previous demo models as well as brand new equipment and a niche of some collector's items. All equipment is in technical and cosmetic near-mint or mint condition. They have been thoroughly inspected and carefully revised by experts. A fresh revision is available if an item, entirely or partly, requires a fresh treatment, with aftercare by renowned company Centripetal.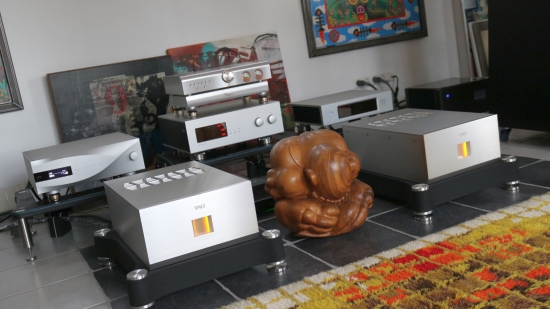 Ray's main system consists of the dCS Vivaldi DAC, Aurender W20 Music Server, Soulution 725 preamp, and TAD M600 mono power amplifiers. The Dan D'Agostino Progression preamp on top is not currently in use.
Cables used include Ansuz DTC and Diamond power cables and the DTC and Diamond Interlink. Speaker cables and the bi-wire jumpers are the Skogrand Beethoven. Accessories used include the Stillpoints Ultra 5 and the Harmonix Million.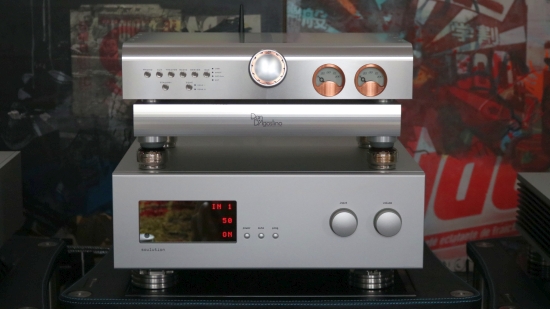 When we agreed at PUUR that we would meet, Ray's main speakers were the Magico Q5's, a speaker that I know very well from countless listening sessions in audio buddy Niels' system. Honestly, I was planning on going, but for the longest time, the visit did not materialize. Until very recently, that is, when Ray contacted me to tell me that he was going to upgrade his Q5's to Q7's. Never having heard these range-topping Magicos, if ever there was a reason to pay Ray a visit, this was it!
Meanwhile, and prior to the Q7 arrival, I paid Ray a visit together with mutual friend Niels, to come and hear the Magico Q1 loudspeakers that were traded in as part of the sale of the Q5's. They have a regular size for a monitor speaker but are a little deeper and A LOT heavier. Alas, the Q5's were gone but I found it very interesting to now hear the smallest speaker of the Q range.
The Q1 sounds a lot like the Q5 with the bottom octaves cut off. The speakers definitely do have high-quality bass but it inevitably rolls off at some point, if the specs are to be believed, they are close to where my own S1 MkII's start to roll off. In practice, however, and as far as I can draw conclusions without direct comparisons, the Q1's sound more light-footed and can be a bit bright or confronting. The same is true for the Q5's, but with these bigger models, this is offset by their superlative bass. And again due to the lack of real weight down below, while the Q1's are highly articulate, lively, and expressive, they can appear dynamically flatter. But given some room gain, I think the Q1's will provide bass far beyond most people's conceptions of what a monitor speaker should be capable of.
The Q7's have the same resolution and transparency as the Q5's yet also a more deeply saturated and less clinical presentation. It's a bit like an ideal mix between the S series and the Q series, so all the detail, clarity, and treble extension and air of the Q series and the more forgiving nature of the S series. Interestingly, the Q7's don't sound bass-heavy at all. They certainly reach very deep but the bass is also extremely linear and despite having 5 drivers, the speakers sound fabulously coherent.
On the other end of the room, currently partially hidden by the Christmas tree, is Ray's secondary system, although the word "secondary" seems to indicate something entirely different than what was to be revealed…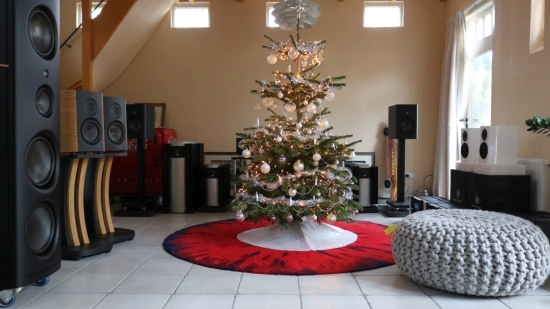 The secondary system is flanked by the aforementioned Magico Q1's. In between the speakers are the iconical Mark Levinson tower amplifiers. Whereas you would normally only find the 33H's, if you find these amplifiers at all, Ray actually has both the full-size No. 33's as well as the smaller 33H's.
Between the Q7's and the Secondary System is a beautiful pair of Magico Mini 2's. Consisting of aluminum and wood, and possessing a different type of tweeter, Ray tells me that these speakers have a particularly pleasant warmth and richness in addition to a portion of the Q-series precision.
Alas, I couldn't get a decent picture of the big monos but you'll have to take my word for it when I say that they are BIG! I mean, think BIG, and triple the dimensions, then you'll get in the vicinity of the 33's physique. Sadly, this system was not connected when I visited.
Besides the four tower amplifiers, Ray also has the No.32 Reference preamp, the 30.6 Reference DAC, and the 31.5 Reference CD transport. Especially the latter still holds a major fascination for me, yet, I have still to hear one in my system.
When I last spoke with him on the phone, Ray mentioned that he had two more pairs of speakers coming his way: the TAD Compact Reference Ones, and the Magico Q3. Indeed, after having owned and sold the Q5, now owning the Q1 and Q7, Ray is adding the Q3. Having heard this model on many occasions in Niels' system and knowing how great the speaker is, it will be interesting to see how the Q1 and Q3 compare! Oh, and the TAD CR1 also ranks very highly on my favorites list.
If you are interested in buying or selling used, demo, or new high-end audio equipment, or are looking to assemble the ideal high-end audio system within a given budget, contact Ray through
Contact Page
.
External Links