A Tube High Fidelity Company Visit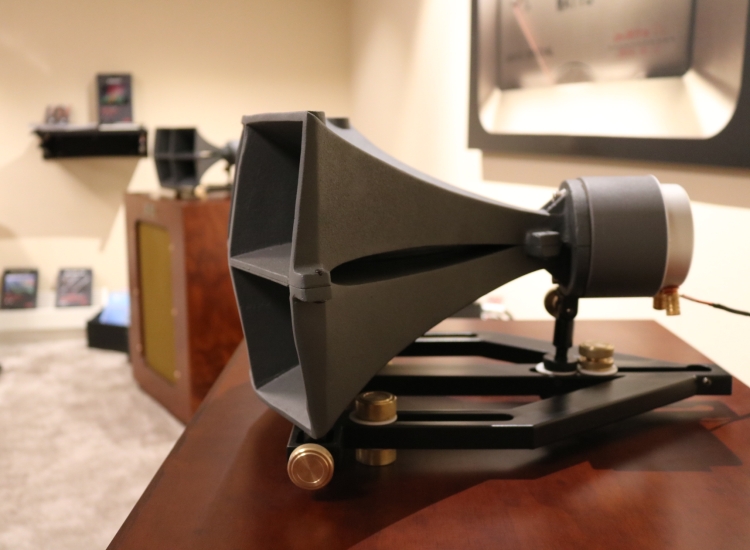 A Passion Project and a Dream Come True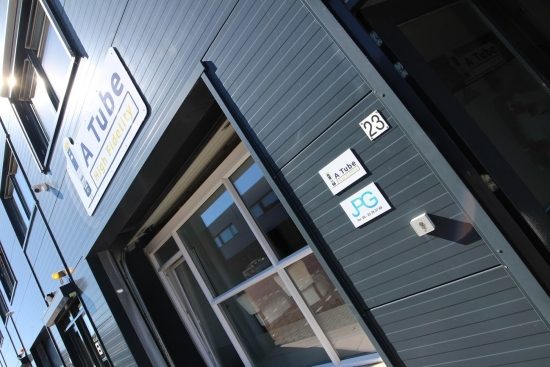 A Tube High Fidelity is located in Almere, the Netherlands, behind the unassuming facade of a universal business unit building. Make no mistake, though: inside is nothing but Tube Magic.
First Floor – foyer and open-plan office space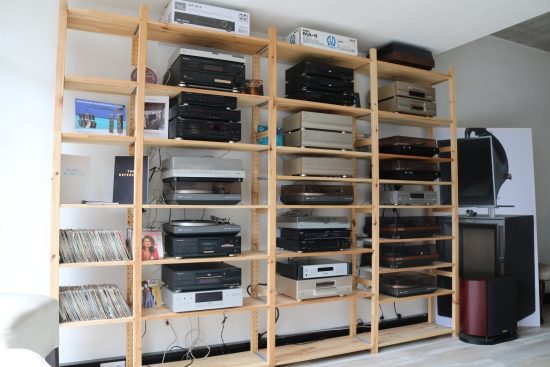 Here is a rack of nice occasions in very good shape, mostly Pioneer, a brand that Frank used to collect.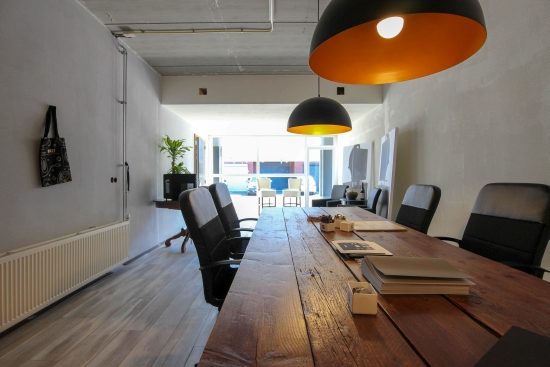 The building may be uninspiring on the outside but the inside is another story. Frank and Jing chose to not hide its industrial look but to embed it into the oasis that they created. Everywhere you look, you'll see this interesting mix of traditional furniture, natural materials, and minimalist modernism.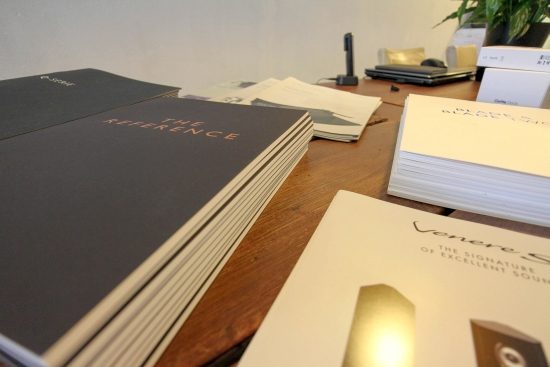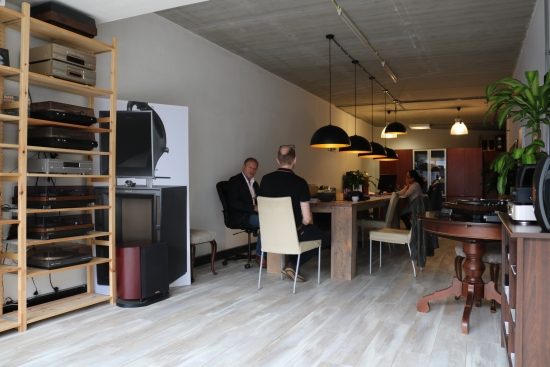 The central floor doubles as an open-plan office and meeting room. Frank and Jing were a little shy on this occasion and preferred not being in the photo but if you look closely, you'll see Meneer Buis on the left, Frank in the middle and Jing all the way in the back, tending to business matters.
Here are two photos of Frank and Jing that I took from their website. Hope they don't mind:-)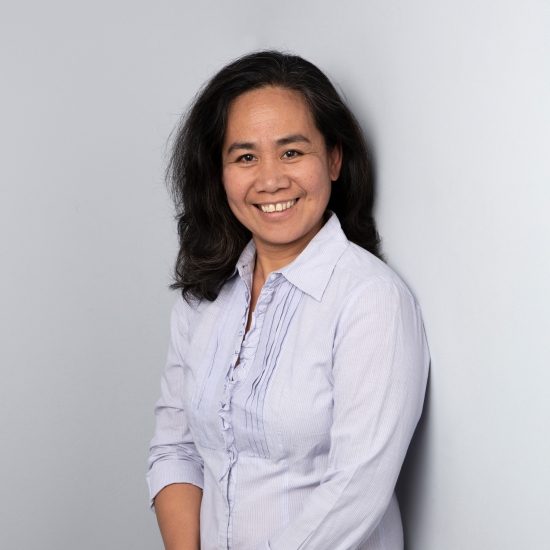 All around the store are cozy little corners with systems set up and ready to play. But the actual showroom is on the second floor. We'll get to that in a bit.
Frank's story
At around the age of 15, the audio hobby really took off. I had jobs on the side that allowed me to purchase the Sony ES series, setting the bar quite high already given my age and this system has worked well for me for quite some time. Later, I expanded the system using TA-N55ES stereo amps switched as mono's, so using two of these amps for stereo. I used Dali's for the rear channels and Cabasse Bahia for Front, Center, and Sub and got great sound from these relatively unknown speakers. The Bahia fronts were donated to my mother and to this day are still playing beautifully.
Then came my Movie period, during which I further expanded the system using more TA-N55ES amps, also as monoblocks, in a 5.1 setup which almost literally blew the roof off the house. I got a 58-inch plasma screen that I bought for way too much cash when they first came out.
The sound was really awesome and I loved watching movies this way. But from the moment that I saw the glow of tubes and heard the sound, I was sold. The Tube magic had taken over.
Starting a shop
Multiple factors lead to opening A Tube High Fidelity in 2018. When I met Jing, she was a widow. Before he passed away, her husband was an audiophile and when I visited them the entire house was filled with audio equipment. Every floor and every room, in the closets, under the bed… the high-end audio equipment was everywhere. In this house there was also a hitherto unknown audio component, standing proud and lurking at me. From the very first second that I saw it, I was completely fascinated. It was a turntable like I had never seen before. It was a Michell Engineering Odyssey no. 3 of which only 100 pieces were made. 
Prior to this period, I was a digital man, content with digital sound via Toslink but after connecting it up, expecting nothing, I was blown away! Woww! What a sound!
While diving deeper into the world of analog audio, pretty soon I arrived at tubes. The first component that caught my attention was the Icon Audio Stereo 60 MKII with KT-120's. After a short deliberation period, I bit the bullet and I ordered one using KT-150's for 4100 euro. I figured to get it right the first time and go with these proper big tubes, rather than trying 120's first and upgrading later. What followed was a period in which one letdown followed the other and during which especially a certain dealer's customer service fell short. This is not how one should do business, I thought to myself, such an experience should be very different.
With this in mind we got into contact with Line Magnetic, the brand that I and Jing wanted to start with, and before we knew it, our first order for a big pile of equipment was placed with BC Diffusion in France. At that same time, we got into contact with other importers and hey presto: we were a dealer of KEF, McIntosh, Sonus Faber, and Cambridge, to name a few. This was the start of a dream come true.
Second Floor
Up the stairs and on the second floor is where the real fun starts. There are three physically separated rooms on this floor but by using smart layouts, many more systems can be set up independently.
The Cambridge Room
One of the setups in the Cambridge Room with a Michell Tecnodeck,  Cambridge Aeromax speakers, various Cambridge products (entry level, Azur and soon also Edge top-class) and various speakers such as the Q750, R900, and LS50.
Next to the current models, Frank cherishes a set of classic Reference Three-Two's.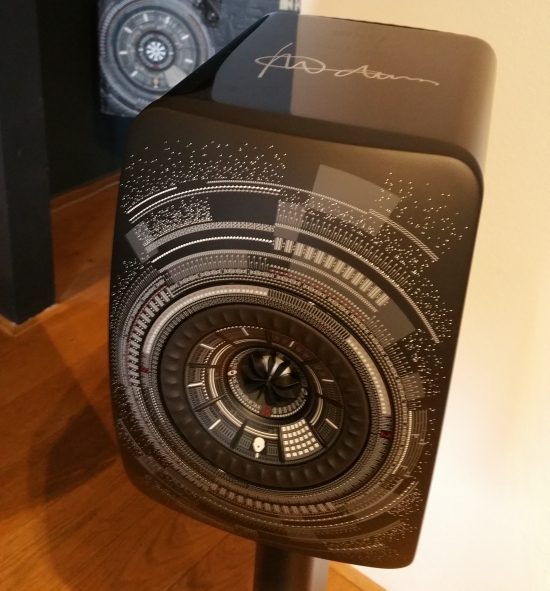 The LS50 50th Anniversary Model Nocturne by designer Marcel Wanders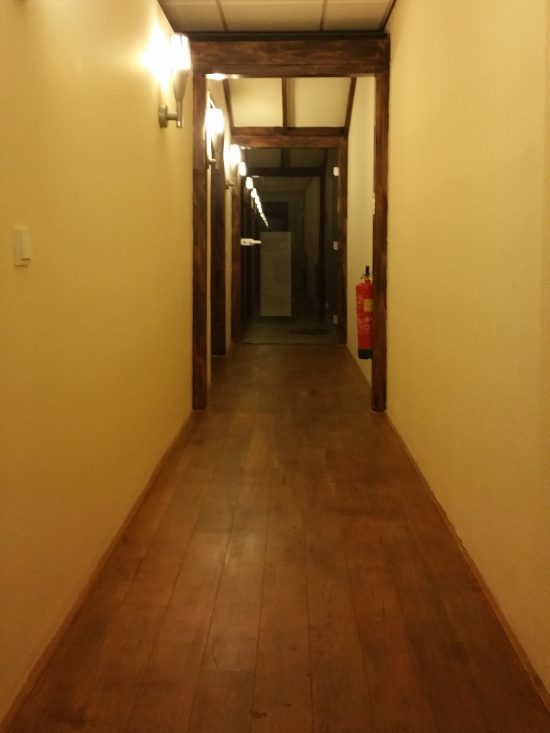 Out of the Cambridge Room and into the hallway, you pass the lovely cinema room on the left, dubbed the KEF Extreme Home Theatre by Frank.
It was difficult to photograph but when entering the cinema room, you first go through a mini-hallway with a kitchen and various audio accessories.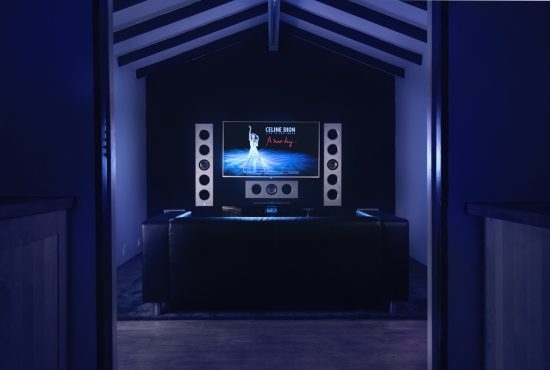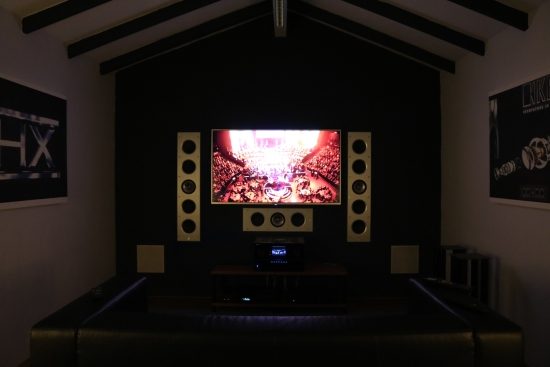 The speakers are all built into the walls: 2x KEF Ci 5 160, 3x KEF Ci 3 160 and 2 KEF Ci 200QSB subs, with a Cambridge CXU Blu-Ray player. The audio components used in the cinema vary but in this case, a Pioneer beast of a cinema amp, part of Jing's legacy, was in use.
High-End Tube Room
Out of the KEF Extreme Home Theatre and onward through the hallway is The High-End Tube Room. This final room has more setups ready to play than I could count. All powered by McIntosh or Line Magnetic amplifiers.
They are visual stunners – much more impressive in the flesh than I have been able to photograph.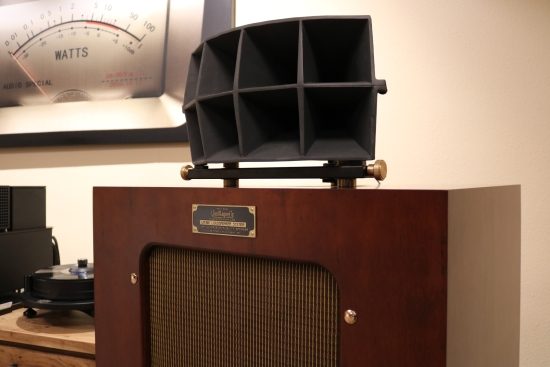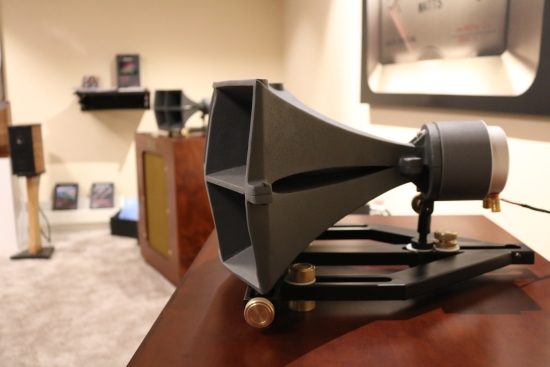 These imposing speakers are the Line Magnetic 812 Iconic. Following the renowned Altec Lansing Iconic design and inspired by the famous JENSEN222 coaxial speaker, this 2-way speakers system uses a bass speaker with a diameter of 46 cm and an 8-cell horn midrange/tweeter.
Sonus Faber Olympica 2, Cambridge CXN V2 streamer and Frank's pride and joy, the Line Magnetic LM845 Premium.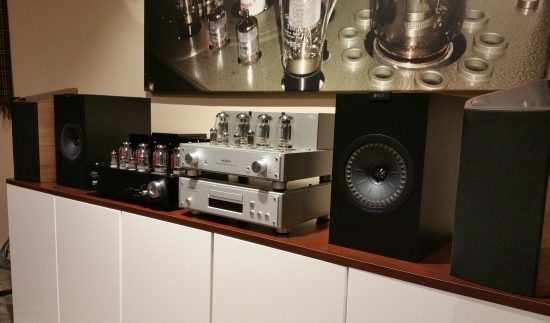 Sonus Faber Venere 2.5, Kefs, Line Magnetic LM-88IA (in black) and a nice pair of LM-216IA amp and LM-215 CD player both in distinctive silver Hammerite.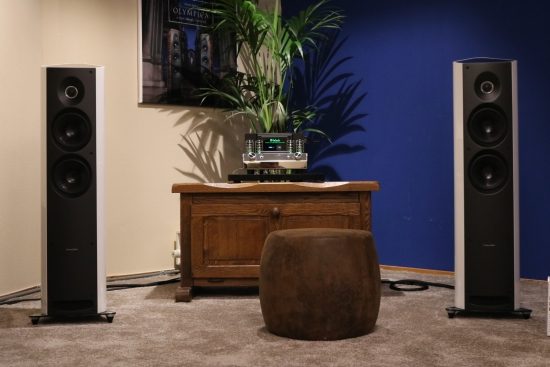 Sonus Faber Olympica with McIntosh MA252 tube/transistor amp.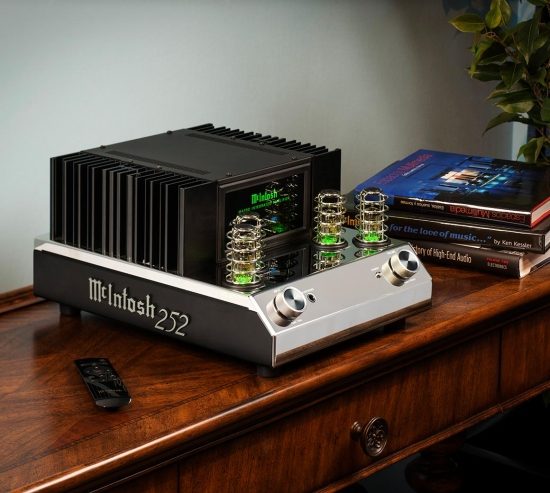 Above picture is a stock image courtesy of McIntosh.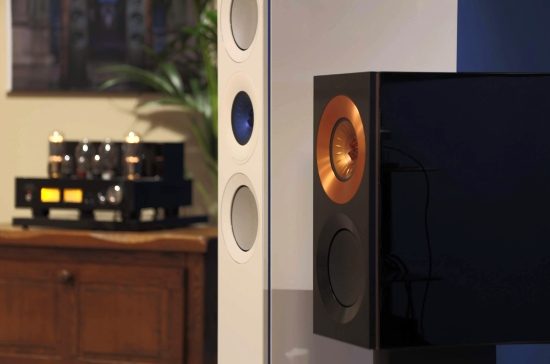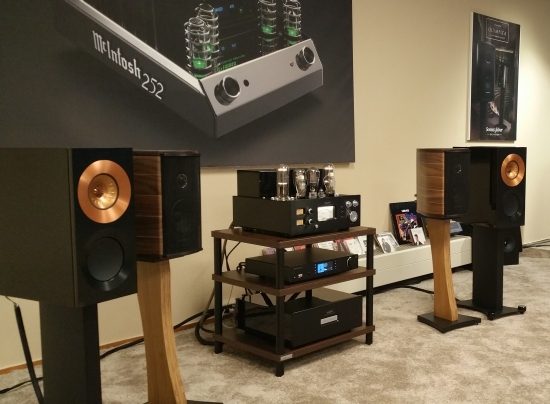 Michell Gyro SE, the very turntable that started me on my own analog path.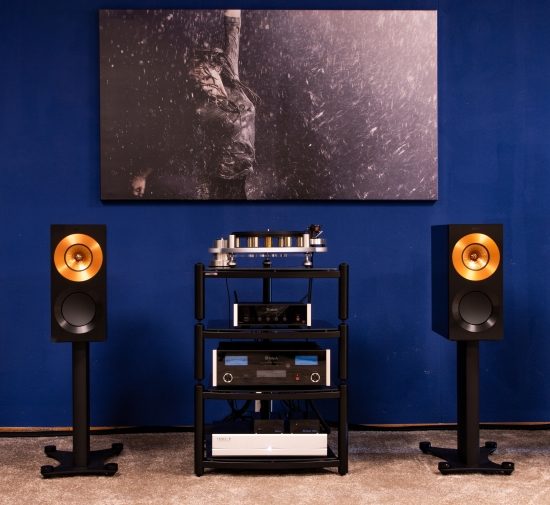 Kef Reference 1 with Michell Gyrodeck SE, McIntosh MB50 Streaming, McIntosh MA5300 amp and an ISOL8 "Wave" power filter on the bottom.
Line Magnetic may be all about Tubes but they also have a CD player! This is the LM-215 that uses a TI PCM1792 DAC. With this CD player, too, it's nice to see such individualistic styling on an audio product. The output stages use a 12AU7 tube as well as OPA2604 opamps.
Michell Gyrodeck SE with the Orbe Platter upgrade on a Quadraspire SVT wall mount.
Above: immovable beast LM-219A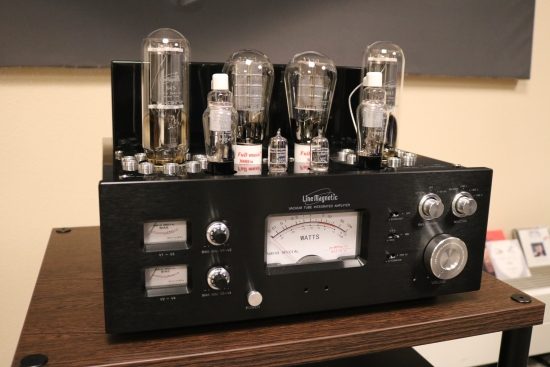 Above and below: Frank's most precious amp: the two-piece LM-845 Premium.
That bottom box seems to be the power supply, right? Wrong! It contains the output transformers!
I've had a quick listen to several of the systems and it was clear that the Line Magnetic amplifiers were of great class. I've reviewed a whole range of them right here, on HFA. So read on!
More Line Magnetic
Extensive 5-page Review
Featuring the Line Magnetic LM-88IA, LM-150IA, LM-845IA, LM-805IA, and LM-845 Premium
Company Details
Argonweg 23
1362 AA Almere
info@atube-highfidelity.nl
phone +31 (0)36 – 3333041
mobile +31 (0)6 – 22393789