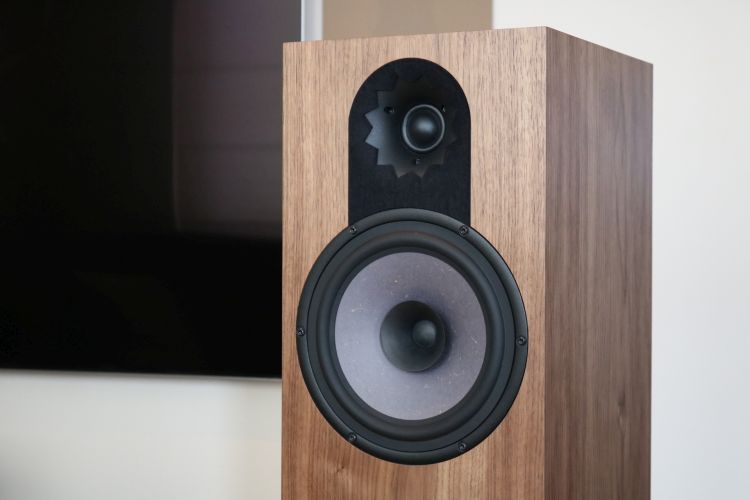 Review sample supplied by Hexagon Audio
Retail price in the NL including 21% VAT: 4.400 in Matt Walnut (as reviewed)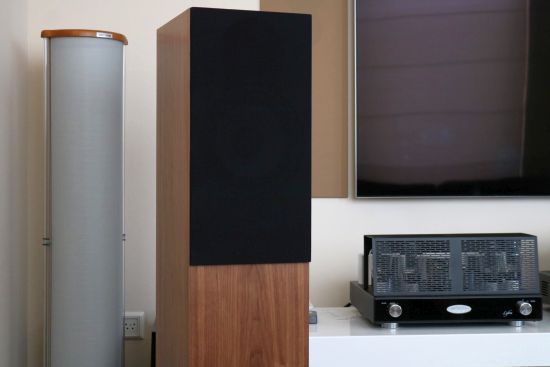 The Qln Sonora loudspeaker is equipped with a full-range driver (with a Whizzer/tweeter-cone) and a tweeter that mainly adds resolution (and not so much level) at higher frequencies above 10kHz. The Sonoras' cabinet is a handsome, sturdy and well-built bass-reflex design with a focus on low distortion. According to the manufacturer, the speaker plays perfectly with low-powered amplifiers from 5W and higher and that makes it a perfect candidate for the Fezz Lybra Parallel Single-Ended 300B tube amplifier.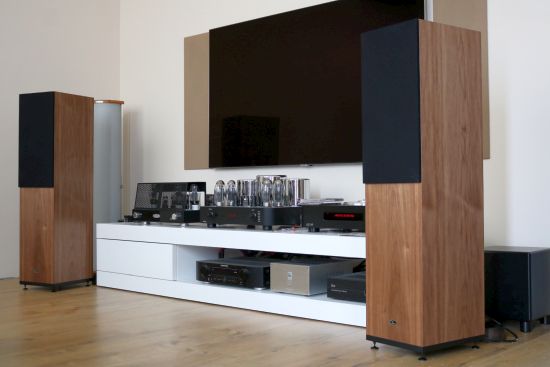 The goal with this model was to create an uncomplicated sounding speaker that is easy to listen and that responds well to the smallest input signal. To this end, the main drive unit has an extremely light cone with a high sensitivity. Since low-mass cones do not tend to go very deep in a small cabinet the manufacturer chose not to force-produce bass from an undersized enclosure using tricks but to simply use a well-specified and large cabinet. As I would hear immediately after connecting them, the Sonora's bass is remarkably deep but indeed very natural and uncompressed. The speaker's specified low-frequency performance of -3dB 35Hz clearly shows.
The 20 cm woofer is used for its entire range and without a crossover. The 3 cm tweeter obviously does use a crossover but with a minimum number of hard-wired components in a 1,5-way configuration. Used are high-end Mundorf capacitors and baked air coils with a crossover only for the tweeter at around 10kHz which does not affect the full-range driver.
For this review sample pair, the drivers were pre-run in at the factory for about 100 hours but that's prior to having been fitted inside the cabinets. This means that the internal cables and crossover components do still need some running in. Further, the manufacturer indicated that the high-frequency driver needs 200 hours for the best performance.
There's a lot more to say about what goes into the Sonoras technically but all that can be read on the Qln website. Right now, I'd like to jump straight to the listening part.
First Listening
Starting with the Fezz Lybra Parallel 300B Single-Ended Triode amplifier that was visiting for review, the Sonoras were put to work after having been swapped from the Xavian Perla Esclusivas. The source was an Ayon CD10 II CD player connected with FoilFlex interlinks and Audio Note Lexus LX 96 speaker cables.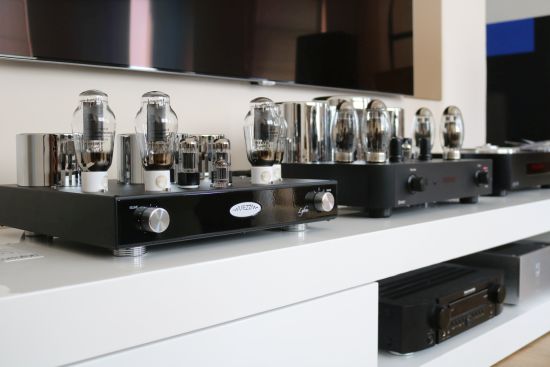 Even prior to removing the fronts it was clear that this speaker contains paper-cone drivers. That might sound negative but is actually the opposite because I much rather hear the influences from paper cones than those of plastic or ceramic. To my ears, paper may also not be 100% neutral  (what material is?) but it sounds very natural and un-electronic. Paper just has a refreshing lack of that all too familiar rubbery softening/thickening of the transients which often happens with plastic drivers and it also has none of the shouty hardening that can happen with ceramic drivers.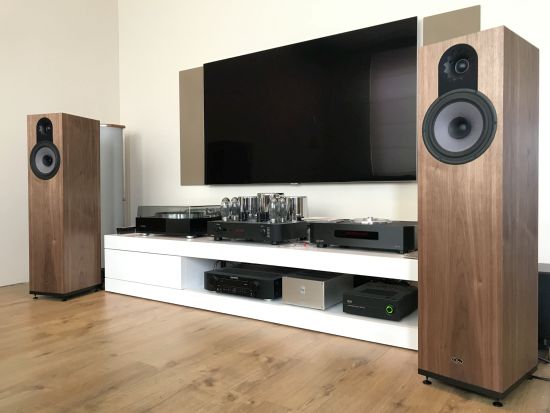 While many speakers sound best with the grilles removed, the Sonoras sound just as open and direct with the fronts on. As they are attached via hidden magnets the speakers look beautiful with and without them.
Neutral or Natural
I've heard many full-range, single-driver speakers at shows and they always sound incredibly nasal and overly colored to me. Their magic seems to be mainly focusing on a very direct midrange at the cost of everything else. And even the models that use complex horn systems usually have no real bass nor very good treble extension. Well, the Qln Sonora begs to differ.
Starting at the foundation, the Sonora's bass is absolutely great. It's deep, even-handed and articulate with no dips or spikes and is just totally natural and unforced. It just purrs along in an always realistic manner. Especially the foundations of string instruments come across especially convincingly.  It's pretty similar to how the Apogee Duettas or, more recently, the Graham LS5/9's reproduce bass and totally not what I expected to hear from a full-range, high-sensitivity driver.
The Sonora's midrange delivers everything you expect from a full-range, high-sensitivity driver, and more. The speaker has a purity and directness that reminds of horns but without the usual nasality or tiring shouty nature. The midrange transitions perfectly naturally into the treble but that's where I noticed a deviation from neutrality and linearity.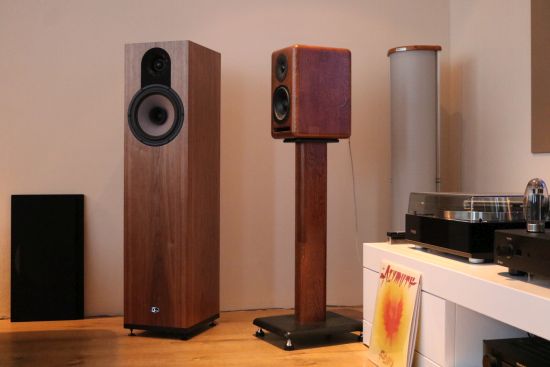 The Sonoras are of medium height but with 25 cm they are wider than they might seem at first glance. The diminutive Xavians do not go as deep in the bass and are not comparable to the Sonora's in any other way but they do have a nice punchy sound
The upper treble seems tipped up but it's of good quality, very open and revealing but not hard or edgy. Actually, this quality, together with the pure and direct-coupled midrange makes for a very open and highly communicative delivery. The manufacturer does warn that the tweeter needs 200 hours to sound best but it sounds like the peak is actually below the 10kHz point, thus reproduced by the full-range driver and its tweeter cone. Besides this peak, I have a feeling that the speaker's overall frequency curve is perhaps also a little uneven in some other places. I'm sure that it will be quite flat depending on how it is measured but I can imagine that the dual cones produce some overlap which makes the driver not reproduce all the frequencies in quite the same way.
The interesting thing though is that this does not matter one bit because the speakers do sound utterly natural and highly convincing. Also, and this is what really counts, there is a magnificent sense of coherence and direct purity throughout the entire frequency range. You really hear the benefits of having a single driver for the entire frequency range.
Besides sounding open, direct and communicative, and in spite of a spotlit upper treble the speakers also sound smooth and even a little warm. The most important aspect is how incredibly lyrical and musically engaging these speakers reproduce anything that you play. I noticed that whenever I tried to focus on the aforementioned technicalities the performance pulled me back in to let me simply sink into the music. And this happened repeatedly, no kidding!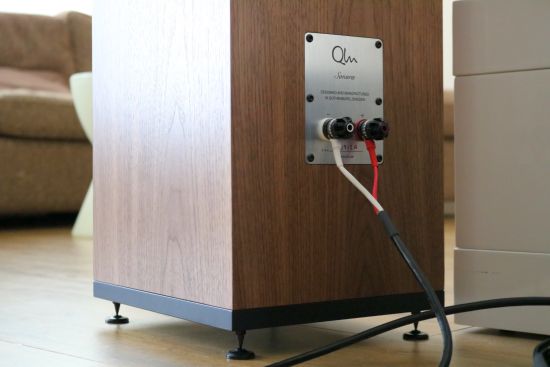 The Audio Note Lexus LX 96 speaker cable worked very well. Arguably even better transient response and transparency can be had when using FoilFlex cables.
Speaker Cables
With these speakers, the Fezz truly blossoms! And this happens almost irrespective of which speaker cables are used. The FoilFlex cables provided more detail and transparency but worked just as musically as the sweeter and more relaxed Audio Note Lexus 96. The best combination will depend on the amplifier combination but it's clear that it doesn't take incredible tweaking skills to get these speakers to perform in an involving manner.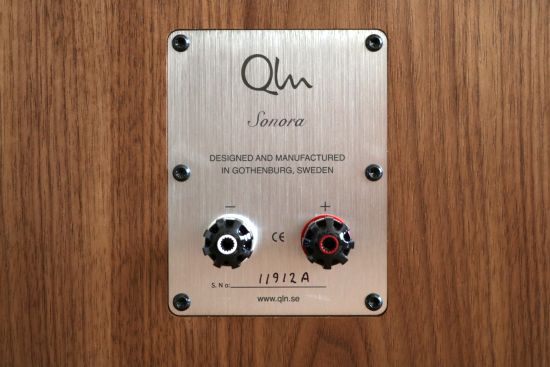 WBT pure copper NexgenTM connectors, same ones as used on the Ayon Spirit III. These minimized-metal-content connectors allow a tight connection but at the same time prevent over-tightening