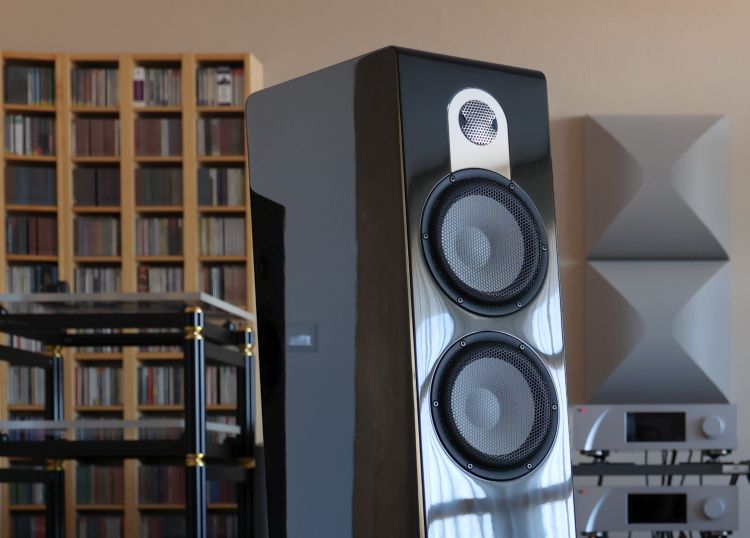 Review organized by Marc Loubeau / Prestige Audio Diffusion
Review sample kindly supplied by HVP Audio

Marten Parker Trio Retail prices in France and NL, incl. VAT:
Piano Black, Piano White, and Matte Walnut: 19.990 euro
Piano Walnut: 21.500 euro
Diamond Edition: +13.000 euro
Marten
Marten may be known primarily for its luxurious cost-no-object Mingus and Coltrane series, but fortunately for those with more modestly-sized wallets, the range also extends to the other side.
Using less exotic drivers, simpler crossovers, and more straightforward cabinet construction, the Oscar series is the starting point into the world of Marten. Positioned above this range is the Parker series which offers a considerably more lavish build with non-parallel walls, a so-called multi-diverse crossover technique, and more exotic drivers.
The Parker series is designed to elevate the performance of loudspeakers in its class to a whole new level.  Based on what I heard, the Parker series may well represent the sweet spot for the brand in terms of value for money.
Parker Trio
The Parker Series consists of the Duo monitor speaker, the Trio floorstander as reviewed here, and the range-topping Quintet floorstander. Compared with the Duo, the Trio is a 2,5-way speaker rather than a 2-way and it offers an extra woofer as well as an extra passive radiator.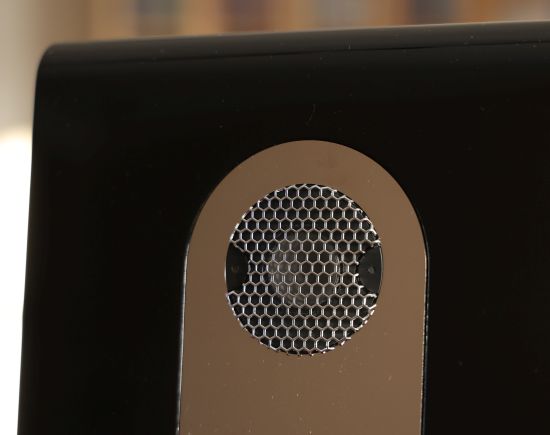 The cabinet features tapering sides created from what Marten refers to as M-board, a multi-layered material offering resonance reduction while balancing visual appeal with a low impact on the sound. The Ceramic drivers are custom-designed by Leif Olofsson and produced by Accuton to meet this speaker models' specific needs. Each driver unit has a very long linear excursion and utilizes a powerful Neodymium magnet system for more control. The tweeter is 1″ in size and made from pure Ceramic. Two 7.5" bass/midrange ceramic drivers offer a large low-frequency surface area while two passive radiators on the rear allow the control and dynamics as intended for Parker Trio.
While every technique has its pros and cons, the evident upside of using a passive radiator instead of a port, according to Marten, is that the sound emanates more evenly and with no port chuffing. All drivers (back and front) are protected by sturdy yet classy and sonically non-intrusive steel mesh grilles.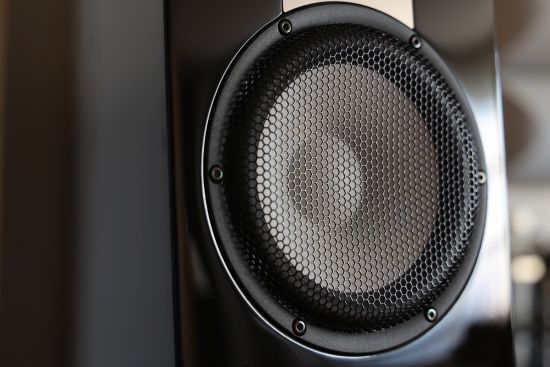 A multi-diverse crossover technique using Polypropylene capacitors and copper foil inductors was developed through hours of listening and testing, along with rigorous simulation, calculation, and measurement. The speakers are internally wired with Jorma cables. Handmade in Sweden, these cables use the highest quality copper and separate plus and minus leads for enhanced shielding.
With 91dB of sensitivity, the Parker Trio is quite efficient, and combined with a friendly 6 Ohms impedance and no dips lower than 3.1 Ohms, the speakers should be easy to drive with most amplifiers.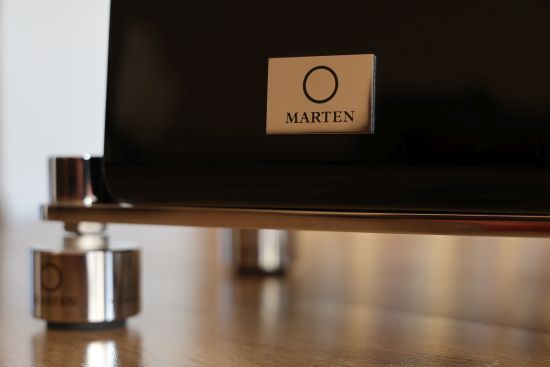 Further to the subject of reducing resonance, Marten has sought a collaboration with IsoAcoustics who created the Marten Isolators for exclusive use as footers for Marten loudspeakers. According to the manufacturer, these Isolators reduce resonance and distortion by completely isolating the speaker from the supporting surface. Of course, that is not to be taken literally because, as far as I know, there is no such thing as absolute isolation. One is always coupling a product to its supporting surface. But one can certainly reduce the transmission of certain frequencies, by shifting them to less harmful bands. In any case, there are always tradeoffs to any coupling mechanism, be it hard-coupling solutions such as spikes,  cones, ball-bearing mechanisms, or compliant solutions. The trick is to use the right mechanism for the particular use case. Marten Isolators are constructed such that they are optimized for the speaker's cabinet weight and they are said to work to reduce internal reflections and cleverly resist lateral movement and oscillations while allowing a degree of freedom in the other directions to convert excess vibration into heat.
The Parker Trio is available in Piano Walnut, Matte Walnut, Piano Black (as reviewed), and Piano White.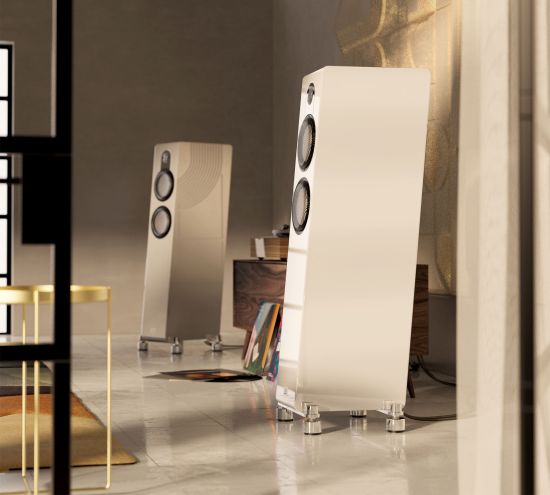 Above: Parker Trio in Piano White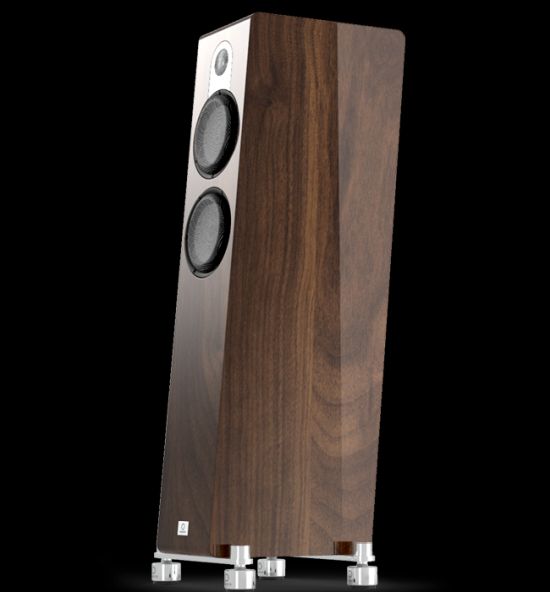 Above: Piano Walnut (glossy); Below: Matte Walnut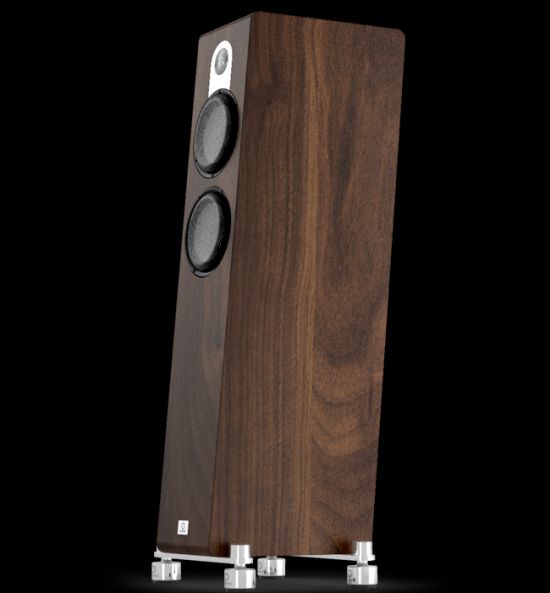 Review Context
The speakers were listened to in the main system that consists of the CH Precision C1.2 DAC, CH Precision L1 preamplifier, CH Precision A1.5 power amp, normally flanked by Magico S1 MkII speakers. Digital sources include the Grimm MU1 and Antipodes K50, both running Roon.
Speaker cables used are Mad Scientist Black Magic, Driade Flow Reference 808, and Jorma Unity (which were also supplied for this review).
Running In / Warming Up
This pair was fully run in when delivered but Dutch distributor Hans van Put mentioned that the speakers may need some time to come fully on song after a period of no use and that this may partly be due to their construction with two passive radiators. As I found, the speakers sounded lush and delicate from the very first notes, but they did indeed become tighter and more coherent after playing for about an hour, after which their performance remained fully stable. The next day, I noticed a similar need for warming up but less pronounced than the first time, and in the days thereafter, I no longer noticed any such effects.
Next: Listening