Antipodes DX2 Music Server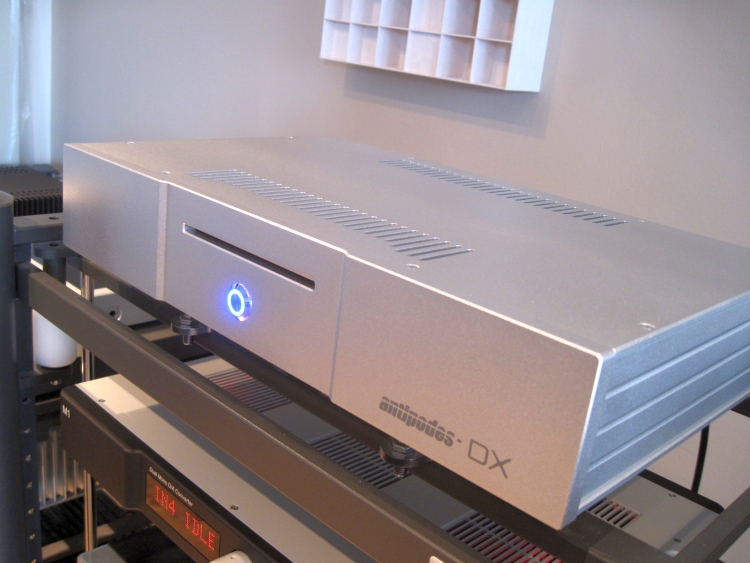 Ones and zeros are not just ones and zeros and by extension, music servers are not all created equal
Review sample kindly supplied by Ohm Audio
Retail price from 5.995 euro in the Netherlands with 1TB SSD
I have written a lot about this subject and I think that most audiophiles are aware of the concept. But I'm afraid that I have to stir the pot some more by stating that even music servers with very similar technology can still sound very different from one another.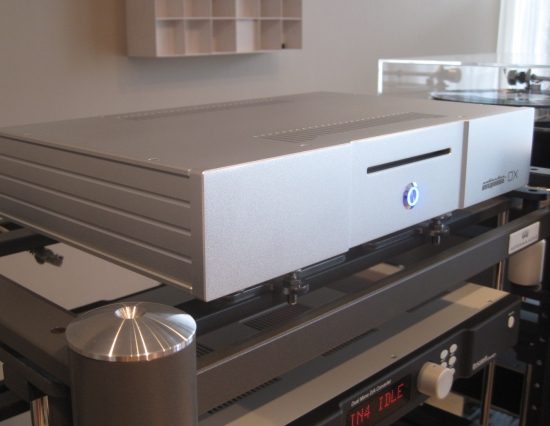 The secret, as always, is in the details. Mark Jenkins, the driving force behind Antipodes, is extremely knowledgeable in the field of digital audio, but he also knows what to listen for. Antipodes make no secret of the fact that they apply no magical snake poison tricks to their music servers. Instead, they pay fanatic attention to detail, and paramount in all this is the belief that it is better to avoid noise in the first place than to filter it out in a later stage. In particular, they aim to minimize electronic noise, and to fine-tune the combined solutions to avoid the build-up of similar types of noise where they could sum up and create peaks at the same frequency. To this end, all the components used have been carefully selected based on sound as well as electrical noise levels.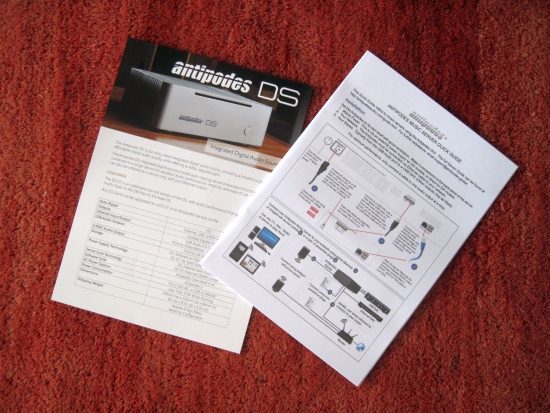 Above and below: excellent, clearly written and lavishly illustrated user manual.
DX versions (update 08-11-2020)
The sample for this review is the DX2 which is the second iteration of the DX. A newer model would be issued later, the DX3, which has a high-power main board, dual Ethernet and USB out only.
PSU
One major area where this is evident is in the custom made, fully linear power supply with custom-wound transformer, designed to produce as little noise as possible and shift residual noise away from where it is audible. According to Mark, one of the main reasons for using an external power supply is that this keeps the noise away. But the DC signal has to travel a long way which is also not ideal. The solution was to build a transformer that could be put inside the server, and this required taking a unique approach. The transformer inside the DX2 may look like any other but this one is actually a bespoke item.
The clean power supply is not only beneficial to the motherboard but the USB output also profits enormously from this. But Antipodes don't stop here: they work closely with their chosen motherboard maker, to eliminate parts that are detrimental to the music. Some parts such as noise filters are removed and others are replaced with better sounding equivalents.
USB
Let's look at the USB outputs: when peeking inside one can see that these are derived straight from the motherboard. But looks can be deceiving! The electronics on the motherboard driving the USB section are in fact customised, and the 5v power is delivered separately from the linear power supply. Whereas many competing digital products use heavy filtering, Antipodes believe that this is killing for the impulse response, and judging from my own experiences in this field I can attest to this statement. According to Mark Jenkins, by doing USB the "proper" way, Antipodes can avoid using third-party solutions that utilise heavy filtering.
SSDs and Operating System
SSD drives are also not all created equal. Although they are more similar than different from one another, Antipodes have selected a brand and type that they found to sound best. The chosen drives are supplied without firmware to enable Antipodes to install their own optimised software. Keep this in mind if it looks like adding storage to the DX2 seems expensive. The up-side of course of having SSD-only storage, besides the sound quality, is that the unit is completely quiet, and has super-fast response times. By contrast, Aurender servers use HDDs and buffer the playing queue to SSD.
Speaking of software, the Antipodes Operating System is based on SonicOrbiter, with some tweaks at the audio settings level. And here comes perhaps the most important aspect: both RoonServer and RoonReady have been implemented as well. This is one major advantage over Aurender.
GUI
The Antipodes GUI web interface looks clean and professional and works intuitively. Just like with VortexBox you can log in to the server via any web browser. If you don't know your server's IP address, you can find it by typing "myantipodes.com" in the search bar.

There is a lot that can be managed via the GUI. Especially convenient is the App Switcher which by default toggles between Squeezelite and Roon in seconds. As desired, more apps can be installed, such as MPD, HQPlayer, PLEX and Sonos.
The DX2 can be used as an all in one Roon Server and Player or as only a server, or only a RoonReady endpoint, as required. Interestingly, with Roon Server activated, Roon can be configured to play either via Core Direct or via RoonReady. There are audible differences between the two, but I'll dive more into this later. The important thing to take away from this is that not only is Roon implemented in the Antipodes software, it is implemented very well, very user-friendly but with complete adjustability.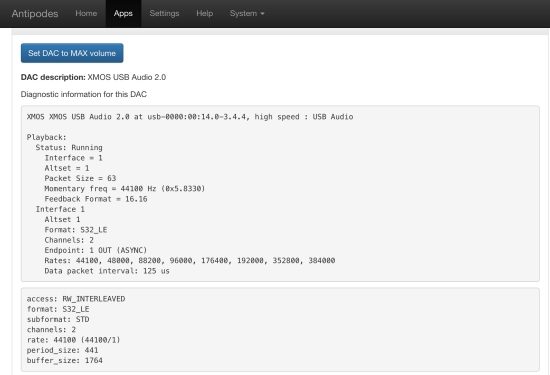 From the same interface, one can then select standard audio outputs or add custom DACs and settings. There is even a DAC diagnostics section with a complete overview of all possible parameters of each digital output option as well as a one-button solution for un-muting an output.
In addition to the two USB outputs, one with its 5V feed removed, the DX2 also offers 3 digital outputs: AES/EBU, Coaxial and Toslink. importantly, these outputs are not sourced directly from the operating system but are re-clocked by a special multi-core processor and galvanically isolated before entering a high quality differential driver circuit mounted on a separate circuit board. In line with Antipodes overall focus on eliminating superfluous processes, loading only one audio output driver at a time is important for sound quality, and that is a key reason why they have to be toggled using the GUI rather than always all being active simultaneously. If required though, they can also be set to all be active simultaneously when playing Core Direct from Roon.
Naturally the DX2 also includes automatic backup, and contains an automatic CD ripper and the process can be followed via the CD import app where meta data appears, complete with cover art.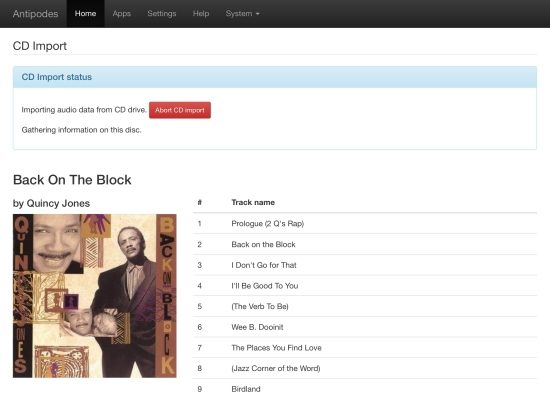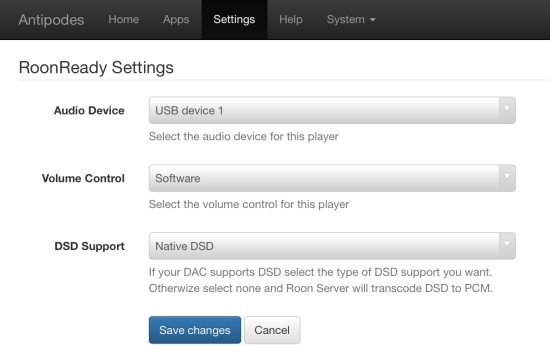 There's much more to install and activate on the server but I've already rambled on way too long and I think it is about time that I started talking about the sound. Detailed and easy to follow step by step instructions for all settings can be found in the howto section on the Antipodes website. I'd encourage to take a look, as these may be the best instructions I have seen for a music server yet.

Squeezelite and Roon Ready are Renderer Apps. Squeezelite is the Renderer App for SqueezeBox Server and Roon Ready is the Renderer App for Roon Server.
The DX2 was listened to in my main system, as well as in an interesting temporary system consisting of Dali Ikon 6 speakers combined with a pair of VAIC Reference 520 SET tube amps that were over for a visit.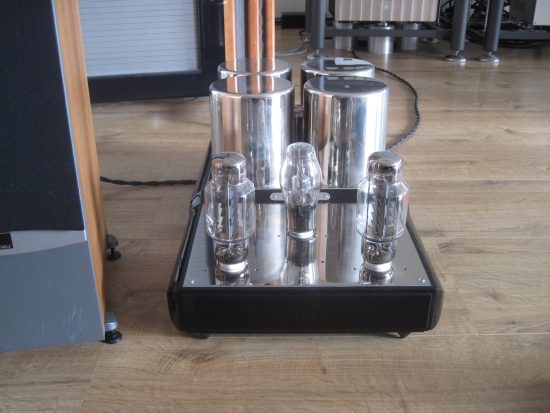 This is a very odd pairing I admit, but the VAICs really make the humble Dalis perform beyond their intended class.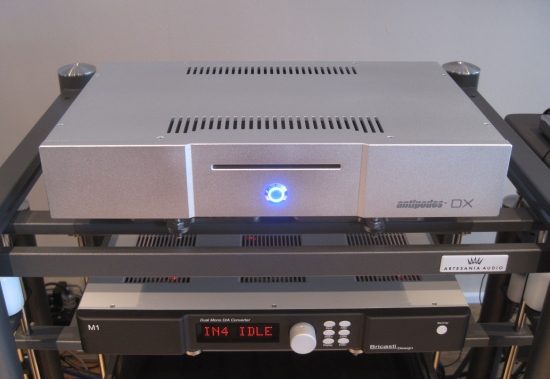 Sound
The Antipodes DX2 can output sound either via USB or via its auxiliary digital SPDIF outputs on coaxial and AES/EBU. I have left the latter out of the equation but understand that it is of very high quality. I am just more used to using coaxial cables, so I stuck with that and compared it to the sound using USB.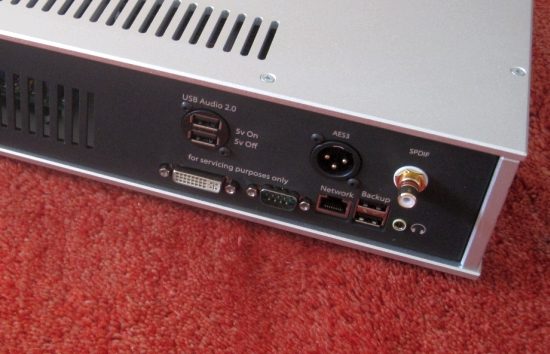 Turns out, the DX2 sounds quite different depending on the output used. Via USB the DX2 sounds tightest, most articulate and cleanest, and via coaxial it sounds smoother, more relaxed and more rounded. Some of my friends prefer the latter and I think many people will do too but personally and in my setup I preferred the USB output.
Roon Playback Modes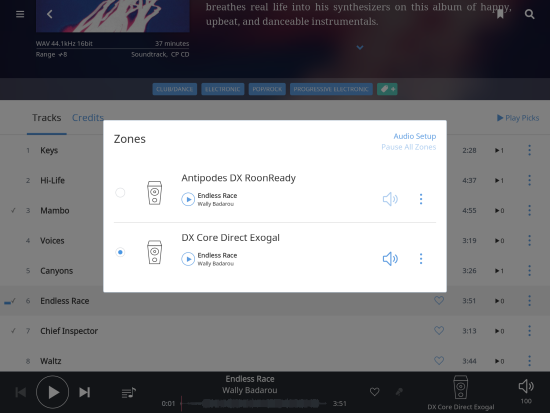 Above: selecting between two of the 4 Roon modes from the Roon interface.
There are several modes in which one can use Roon on the Antipodes server:
The Roon Server & RoonReady combination to play directly to a DAC (recommended method)
Use Roon Server Core to play directly to a DAC (similar to mode 1, but RoonReady is bypassed)
Use Roon Server to stream to RoonReady and Bridge devices via the network
Use the Antipodes server as just a RoonReady endpoint to play directly to a DAC
Below I will assess the sound quality of mode 1, 2 and 4, as well as SqueezeLite.
Roon mode 4 – DX2 as RoonReady Endpoint
Although for first time users this may seem like a side-tracked, more complicated setup than just using Roon on the DX2 itself, for me this is a logical first step because I already have Roon running on a desktop PC, and am quite used to assessing endpoint soundquality that way.
Streaming from my regular desktop PC and using the DX2 USB output, Roon sounds incredibly vibrant and alive via the DX2, quite a bit more so than via the AudioAanZee Reference Flow hardware with Euphony SSD Drive set up exactly the same as the DX2. The Reference Flow (2.999 euro) is a very musical server in its own right, but the addition of the Euphony drive (from ~500 euro) made it sound a lot closer to the Aurender in terms of refinement and especially when using Roon it really performs way beyond expectation at the cost. However it does not quite sound as richly saturated, as timbrally convincing or as dynamically impactful as the DX2. Moving on to the Aurender N10 (8.900 euro), I am a bit shocked to find that even in RoonReady mode and streaming from a normal computer in the other room, I already find the DX2 to sound quite a bit more musically engaging. Not only does the DX2 sound richer and tonally fuller than the Aurender, it also has a certain overall muscularity to the DX2 that is reminiscent of the bass character that I like so much about classic Wadia.
Both the Aurender and the AudioAanZee/Euphony servers, however, counter with a more gentleman-like sound and more airy and fluid treble, which can make subtle electronic sounds such as used a lot by early Rippingtons albums shine through better. Even so, compared to the DX2 both servers also sound a bit polite. Maybe I've been talking too much about the detrimental effect of filters, but in comparison both the Aurender and AudioAanZee/Euphony servers, while certainly pleasant, sound a bit "filtered". Most of all though it is the incredibly enhanced sense of dynamics and direct-coupled sense of impact of the DX2 that makes the other servers sound comparatively flat.
Particularly for its powerful and dynamic aspects, the DX2 reminds me of the also very engaging Euphony Buggy/Zotac (from 1.399 euro). The Buggy already beat the Reference Flow as well as the Aurender in terms of solidity and power before, but with the DX2 it's not just "slam": colours are really nicely saturated and there's also a real organic feel to its sound, but without the sense of smoothness being applied as a blanket, rounding transients and covering up overall expressiveness.
Squeezelite
The SqueezeLite mode has nothing to do with Roon. Rather, used this way, the DX2 actually resembles the AudioAanZee Reference flow both in software and in function. The interesting thing is that in spite of having similar software and hardware, the Antipodes DX2 turns in a much-elevated performance on all aspects. It's clear that the tweaks and customizations really do pay off. Squeezelite when used on the DX2 actually provides a very big portion of the Roon sound as described above, but with a slightly less ballsy bass and more fluid and airy treble, and in those aspects (and those aspects only)  it more resembles the Reference Flow and Aurender. Make no mistake though, there's still incredible impact – much more so than with the Aurender. The DX2 actually again reminds me of the Euphony Buggy/Zotac for its overall very powerful and sonorous sound, but in this mode it also offers treble air and overall refinement at least on the level of the Aurender N10. Interestingly, compared to Roon playing on my regular PC via RoonReady, there is slightly less of the visceral energy that I have grown quite addicted to. I wondered: would Roon Server + RoonReady on the DX2 provide the final counter-argument?
Roon mode 1 – Roon Server + RoonReady on DX2
In this mode, Roon Server talks internally via the RAAT protocol (Roon Advanced Audio Transport) to the RoonReady renderer/player app and this is the method that Antipodes recommend for the DX2. The added advantage of having both server and renderer / player (RoonReady) in the same device is that they do not need to use the comms layers that sit underneath RAAT when the two apps talk across a network and according to Antipodes this leads to better sound.  So, how does this mode sound?
Set up this way, the DX2 combines every bit of the Aurender's fluidity, airy treble and subtle refinement while retaining dynamic liveliness and offering a large chunk of the impact as noted especially in mode 4 (streaming from desktop PC to DX2 RoonReady). I'm quite sure that mode 1 offers technically the best solution and it sure sounds most subtle of all modes so far, but I kind of prefer the more forceful sound of mode 4 even though it can sound a bit "square" compared to mode 1. Would this be distortion that I am interpreting as forcefulness? Perhaps. Either way, my setup surely deviates from the standard and my personal preferences are just that. Another situation might well yield reverse results. The beauty of the DX2 is that you can just select the mode you think sounds best so you really can have it all!
Roon mode 2 – Roon Server + CoreDirect on DX2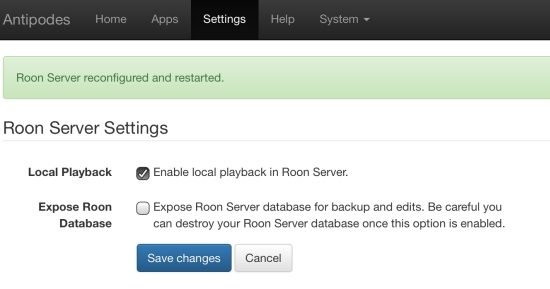 Roon Core will enable all of the available outputs but according to Antipodes, the sound will be noticeably better when selecting only one output at a time in the Roon Ready setup. That's why I selected only the output I needed in the Roon app setup. Prior to doing that I de-selected the output in RoonReady setttings in the Antipodes GUI.
Above and below: Roon can make every possible output available both locally and networked. According to Antipodes though it is best for the sound quality to enable only one output at a time.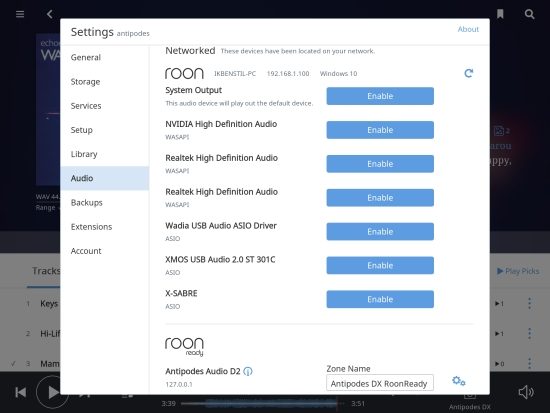 I think that Antipodes would call this the second-best method of using the DX2, but I quickly came to prefer this mode over all other Roon modes, and also to Squeezelite. In fact, this mode seems to combine all that is great about the other modes: all the refinement, fluidity and treble air of Squeezelite, all the rich color and organic flow, and almost all of the bass- and lower midrange impact of RoonReady.
Although Antipodes endorse using Roon server with RoonReady (mode 1), they acknowledge that some people might prefer Core Direct (mode 2), as do I. Mark Jenkins explains: "In some cases we find that Core direct sounds better, but with most DACs we find that Core plus Roon Ready sounds quite a bit better.  It does depend on the DAC (and the USB implementation) and there is no fixed rule". As I have been saying for years: in audio, all is relative, so I can attest to that!
Update 05-08-2019
As I now found out having used various Antipodes servers as well as the combination of CX+EX, the difference between RoonReady and Core Direct depends on where the Roon Server and RoonReady applications run.
In a single Antipodes device scenario (DX2, DS, EX) where Roon Server runs the server functions and the same hardware is also used for RoonReady as the Renderer for USB output, Core Direct sounds tighter and RoonReady sounds softer.
In a combo scenario (CX + EX) where Roon Server runs on one device and RoonReady runs on the other, the situation is reversed for the Renderer machine. In this case, RoonReady sounds tighter and Core Direct softer on the Renderer machine (EX). With this same combo, the reverse is true for the CX, Core Direct sounding tighter and RoonReady sounding softer, which is again exactly the same as for the DX2, DS, and EX when they are used on their own.
So, I'm conjuring up the following but as I try to apply logic to my findings above, basically, it looks like Core Direct is the most direct when the server is on the same machine as RoonReady. For a duo setup and on the Renderer machine, however, it looks like RoonReady is the most direct path and Core Direct somehow creates an extra step.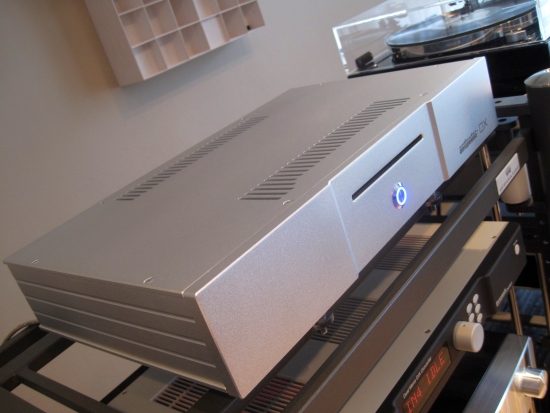 Wrapping it up
The more I listen to the DX2, the more its powerful, honest and pure yet organic sound charms me away from the Aurender. This holds true no matter what DAC I use: both the Exogal Comet and the Bricasti M1 respond the same way, and the result is the same even when using the HiFace EVO USB to SPDIF converter into the Wadia 521.
In terms of resolution, all the mentioned servers are more or less equally impressive, but their presentation is quite different nevertheless. Both the Aurender and the Antipodes are neutral sounding music servers. Before you'd think "sure they are, they are computers after all, aren't they?" let me counter that idea by providing two examples. First the AudioAanZee Reference Flow. This is a really musical music server with an extremely fluid and relaxed sound, and is a real antidote for overly clean sounding systems. Another example is the KlinktBeter 432 Evo (3.999 euro) which, with its 432 plugin enabled, sounds even richer than the AudioAanZee server. Both servers are based on Vortexbox, yet they sound different from one another, and more different again from the Aurender and the Antipodes. It's a strange world, isn't it?
Music Server sound is not so much about level of detail as one would expect, but much more about everything else: the way that the music comes across. And although the Aurender has always amazed me with its combination of refinement and articulation, it turns out that in my system at least it doesn't communicate the music to me quite as well as the Antipodes DX2 does.
The Aurender could be said to sound a little gentler and airier still than the DX2 even in its subtlest mode, but more and more I am convinced that this extra fluidity is arrived at by sacrificing information elsewhere. I have been optimizing the inherently somewhat limited dynamic behavior in my setup for a while, and it is now pretty clear that the lively and colourful Wadia 521 DAC was in effect an antidote for the comparatively more restrained character of the Aurender which in hindsight does not match ideally in my already relaxed sounding Rowland/Apogee setup. The Antipodes DX2 sounds stunningly dynamic regardless of DAC used, which means total freedom in DAC choice, rather than being tied to classic Multibit / Wadia DACs in order to achieve the best dynamics.
Sometimes a feeling of an "analog" quality can be triggered by a very refined sound, or very fluid treble with long sustain. But there's more to analog sound, and the Antipodes server manages to appeal to my analog sense not only by having reference class treble air and overall refinement (it is absolutely not forward or harsh in any way), but by also having the analog format's inherently more "immediate" transient behavior, probably due to there being no pre or post ringing at all. With the DX2 sounds seem to come from a darker background than with the other servers I used so far, all which combines to produce an overall more propulsive and more engaging sound.
Conclusion
Ok, I won't state that the DX2 is exactly affordable, but it is important to understand that its value just cannot simply be derived from the estimated parts cost. The range of bespoke components used and deep levels of customization applied should help understand why the Antipodes products have to cost what they cost. The resulting clearly superior sound quality should be justification enough but another big selling point is that the DX2 not only includes integrated complete and user-friendly Roon functionality but also offers the best Roon sound that I have heard so far.
It's disconcerting: every time I think that I've heard the best there is in the world of music servers, something else arrives that offsets my references. In the Aurender review, I declared it the new industry standard and in a way it still is, because these servers are used widely by private persons and dealers alike. Thing is, the Antipodes really manages to improve considerably on the already high standard set by the Aurender and it does this in technically as well as musically meaningful ways. The DX2 may not look quite as classy as the Aurender, and I would miss the front panel buttons and displays, but after hearing the DX2 in my system, I can only conclude that there is a new contender worthy of the term "Industry Standard".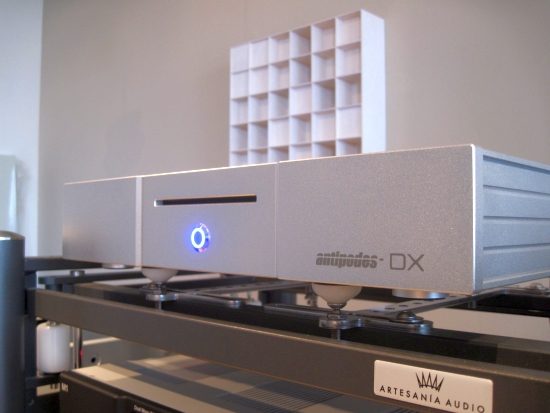 Antipodes DX2 Info:
Version: 2.3
Model: D2

Videos on the Hifi-Advice YouTube Channel
How Sooloos became Roon
HFA Front Page
Try out Roon for yourself
External Links
Manufacturer: Antipodes
Ohm Audio – Distributor for the BeNeLux: Ohm Audio