Artesania Audio Exoteryc Rack Pro – Industry Update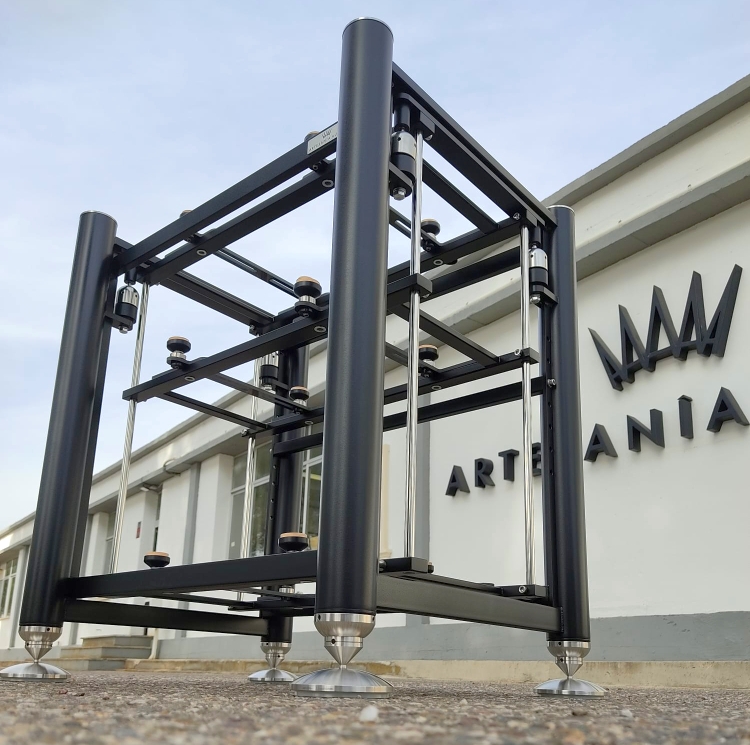 Press Release
Introducing the Exoteryc Rack Pro – An enhanced version of Exoteryc with Master Kyo features
The original Master Kyo is Artesania's flagship Audio Rack in the Classic Line. Introduced in 2017, this non-plus-ultra rack was wider, deeper, taller, and heavier than the standard Exoteryc Rack. More importantly, it featured many new elements such as further optimized footers, dampers, component interfaces, and other reworked metal parts. Most significantly, it featured Carbon Fiber Linear Arms with beechwood component interfaces instead of the stainless steel arms and neoprene or felt-covered component interfaces. In 2019, the Master Kyo's distinctive Linear Carbon Fiber Arms were made available as an upgrade for the regular Exoteryc Rack and this proved a huge success.
Now, Artesania Audio has applied all of Master Kyo's features to the regular-sized Exoteryc Rack. Meet the Exoteryc Rack Pro.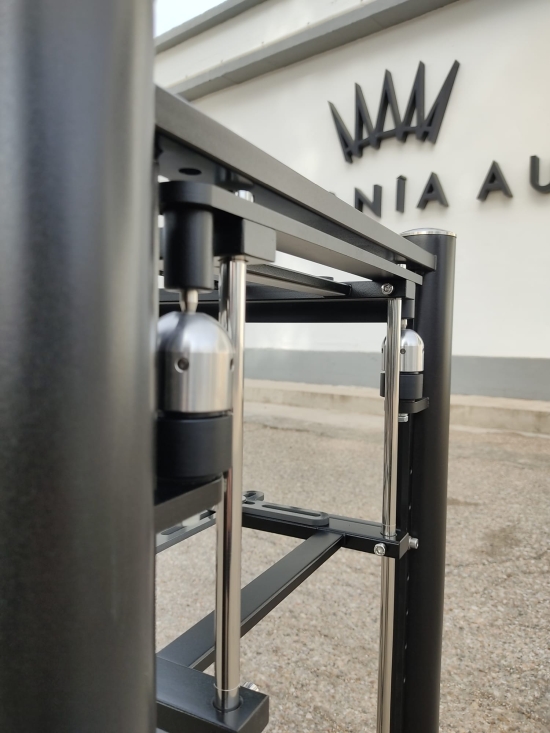 Large machined stainless steel spike couplers sit on newly designed black Teflon cylinders to provide more robust support while offering ideal decoupling.
Carbon Fiber Linear Arms with beechwood discs are fitted to all levels as standard. The arms, as well as the component interfaces, can be positioned freely to accommodate very nearly every conceivable audio component.
Massive machined stainless steel adjustable bottom footers provide superlative stability. Two types of floor pads are included, with different sonic behavior, that can be applied depending on the room acoustics.
Artesania Technology
A major feature of the Artesania Exoteryc Audio Rack, as well as the Master Kyo Rack, is that they do not feature shelves. Any large surface tends to resonate and Artesania Audio strongly believes that rather than trying to dampen or control these vibrations, it is far more efficient to avoid them from being born in the first place. The first step in the solution is to employ a double structure, a rack within a rack, coupled via four neoprene/Teflon/Spike assemblies that suspend the inner rack while eliminating the transmission of vibrations. Furthermore, Artesania has eliminated shelves altogether by using minimized linear arms that are adjustable in width and depth, fitted with four component interfaces consisting of a spike and cup assembly with a horizontal damper, that are individually adjustable in height. The Audio Component's bottom panel rests directly on these interfaces and the user can choose between various sorts of interfacing materials, such as Neoprene, Felt, or beechwood. With this system, each component is effectively isolated from the rack, as well as from the other components. All this results in a clean and natural sound, free of resonance-induced hardening or smearing effects.
Retail Prices (plus taxes and transport)
2-level rack: €7.470
3-level rack: €9.152
4-level rack: €11.111
More Artesania
Artesania Exoteryc Audio Rack
Artesania Modular Rack
Artesania Turntable Platforms and Dampers
Artesania Aire Floor Platform
Various Artesania Footers tested with SolidTech Radius racks
External Links