Aqua La Diva M2 CD Transport – Industry Update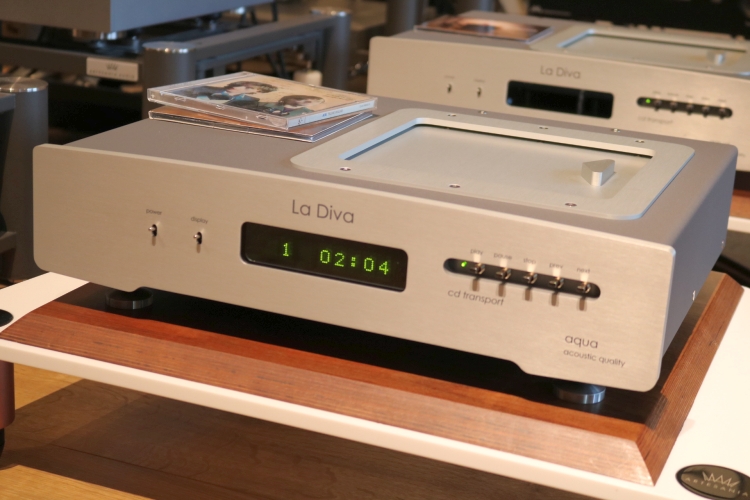 New generation La Diva CD transport
The new generation of La Diva, La Diva M2, is a machine that, while keeping the previous name, is completely new, both in terms of CD mechanics and all internal electronics, power supply, FPGA decoding, clock, display, and more. The Diva M2 features the latest Philips CD technology and the new Pro-8S CD transport which was massively modified and tweaked for maximum performance and mechanical silence.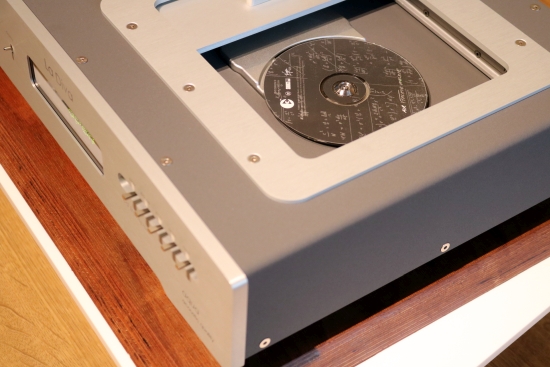 Contrary to the original model's tiny-character display, the new display offers a really nice and big micro-LED display that is reminiscent of the good 'n old Mark Levinson digital components from the nineties. Whereas the outgoing Diva has unreadably small digits that I can't read from the listening position even with glasses, I can actually read the new display content without glasses from 5 meters away!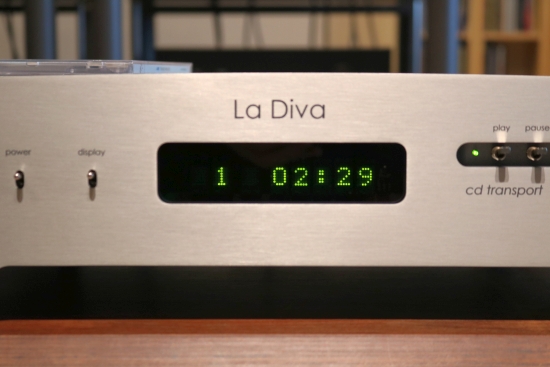 Based on the StreamUnlimited Blue Tiger Optical Drive Platform, the CD-Pro 8 Series is the successor of the CD-Pro 2. It features a high-quality Aluminium chassis, carbon fiber cover, and carbon fiber turntable. I think this is a natural choice as well as a well-founded option because StreamUnlimited has acquired solid experience developing OEM CD mechanisms and loaders for many industry-leading companies, including Wadia Digital. Since Philips is long out of the picture, the new mechanism employs a Sanyo SF-HD 850 optical unit.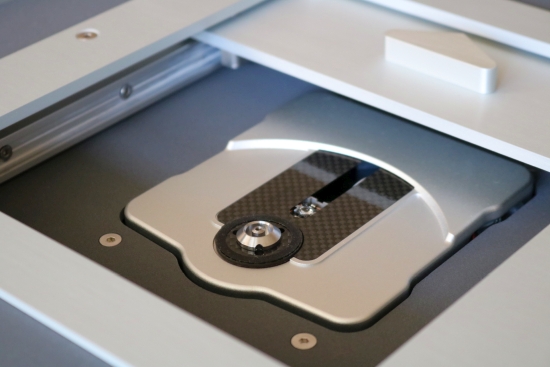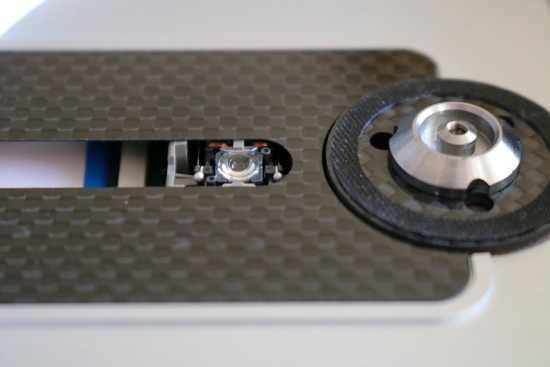 The mechanism allows the manufacturer to choose an internal or external master clock for the lowest jitter and upon checking with Aqua, Cristian confirmed that the "Master Clock" is fed to the transport mechanism via a dedicated coaxial cable, and the AES/EBU and S/PDIF outputs are created in FPGA via proprietary code (as it is also done for the LinQ). The internal S/PDIF of the CD Pro-8S is not used. Further, the Diva M2 contains proprietary circuitry to control the servo system.
Instead of merely being suspended on top of the standard silicon dampers, the mechanism is hard-coupled to a custom stainless steel plate that in turn is suspended from a large and thick metal base panel via large rubber dampers. This assembly is then mounted to the component's chassis via a second set of large rubber dampers.
For those who wish to dive deeper into the StreamUnlimited background, the company has a dedicated optical storage daughter site with lots of additional information. And for those who wish to dive even more deeply into history, there is a dedicated Philips CDM section right here on HFA.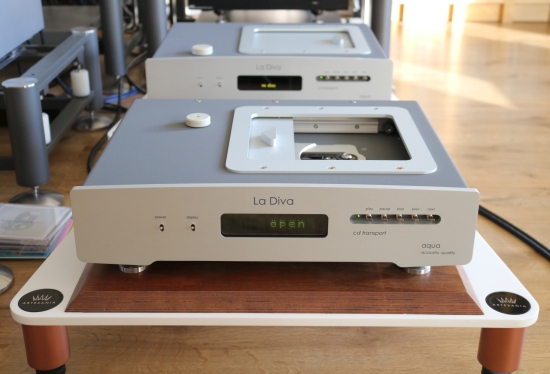 Key Features
High-performance proprietary ISDC (Isolated Synchronous Discrete Circuit)
digital decoding and clock manager
Custom designed discrete circuit with high-speed isolators for Galvanic and
magnetic isolation between CD drive unit and digital outputs
Ultra massive chassis construction and newly developed high-rigidity sub-chassis
with Nextel for the CD drive unit cancels internal and external acoustic and mechanical
vibrations, enabling exceptionally accurate "Red Book" RF signal
DC disc drive motor allows to read the data accurately and minimize Jitter
Moplen clamp to avoid flywheel masses and vibrations
Sophisticated signal processing technology assures excellent CD Red Book signal
(last generation Philips CD decoding circuit)
Digital, state-of-the-art servo-control systems
High-performance multi-stage voltage regulator (high-current stage for accurate
servo DISC drive rotation, tracking, and focus)
Jitter free digital interface AQlink (I2S protocol), uncompromising digital connection
to Formula DAC, La Scala DAC, La Voce DAC
etherCON RJ45 (AQlink) output connection to DAC, employs CAT6 cable can
connect both RJ45 and professional etherCON RJ45
Separate custom-built toroidal transformers for digital and servo motors/actuators
MODULAR DESIGN with upgradeable multi-board system
Newly designed precision transport mechanics
High-quality parts selected for sound quality:
– 105° long-life capacitors
– low noise Metal Foil ultra-precision resistors
– metalized film pulse capacitor
– ultra-fast diodes
– halogen-free cables
Aluminum top-loading tray machined from billet
Non-magnetic low-resonance aluminum chassis with Nextel
Field upgradeable firmware
Custom high-visibility micro-LED display with user-adjustable illumination
Designed and handmade in Italy
Digital outputs
etherCON RJ45 – AQlink (I2S serial bus)
XLR AES/EBU
BNC coax (S/PDIF)
RCA coax (S/PDIF)
ST fiber (AT&T)
BNC word clock
A full review is in the works, so stay tuned!
More Aqua
External Links