Electrostatic and Magnetostatic Speakers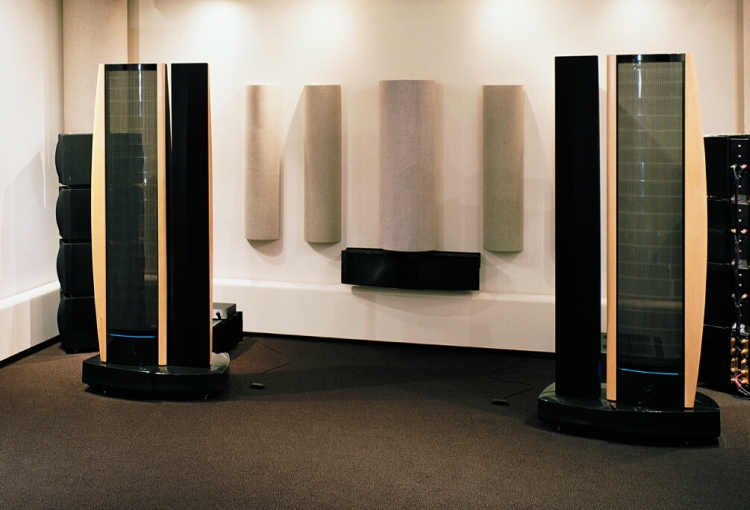 Electrostatic speakers and Magnetostatic speakers both are planar dipoles, and they both tend to be flat and large
But there's a lot more to know about the technical principles behind these speakers. Some interesting reading, I promise!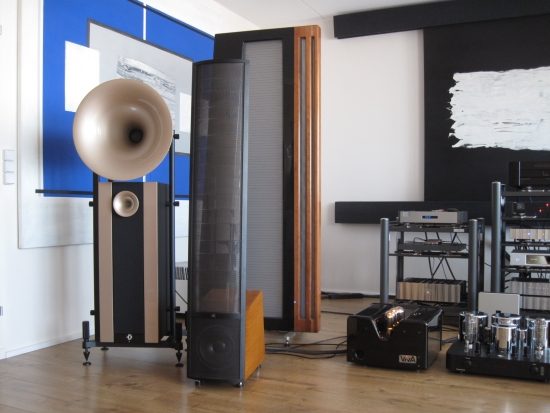 I know, most dipolar speakers do not rank high on the Wife Acceptance Factor. That's probably why so few people actually have Magnepans, Apogees or Martin Logans. Maybe this is even a reason why Apogee stopped producing its famous magnetostatics. At least Martin Logans are visually transparent but still, I have friends who are not allowed by their spouses to buy even domestically-sized Martin Logan speakers. This is why you'll find them mostly in possession of crazy audiophiles who live alone or have separate rooms for their audio systems. Either way, it's a shame that these kinds of speakers are not more well-known because they really offer an incredible approach to music reproduction.
All planar foil-speakers have one thing in common, which is that they operate according to the "force over area" principle, rather than force applied only to the tip of the cone. A cone speaker has to make a large swing in order to move enough air forward to make some noise. The large foil of a planar speaker is not able to make large swings but compensates for this with its large surface. It moves so little you can't even see it but big planars sure can have surprisingly powerful and deep bass. They can also be fast and immediate, and can even have quite some slam. Full range Magnapans also aren't slow or thick in the bass anymore. At least, not with the introduction of the MG3.6R. But dipoles will probably not be the right medicine for playing hard rock at lifelike levels. Dipoles really are very involving but some people may find them lacking in the "slam" department. This is because they are so very accurate and lack the boxiness and coloration that can make the sound so exciting with "box" speakers. All comes down to taste I guess. But if you've never heard a good 'static be sure to go and listen because you just might fall in love!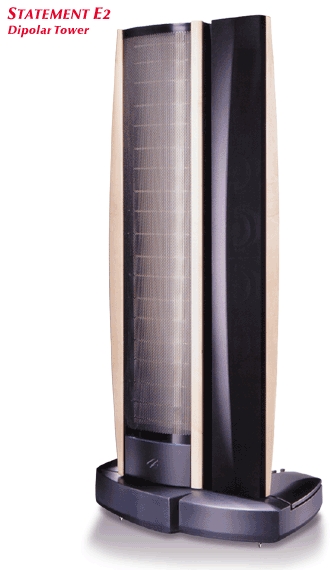 The principle behind electrostatic speakers
The underlying theory of electrostatic speakers couldn't be more simple. The laws of physics teach that "like" electrical charges repel one-another and "unlike" electrical charges attract one another. So how is this knowledge used to make an electrostatic speaker? First, a thin plastic membrane is stretched on a rigid frame. Then it's coated with an electrically-conductive substance. Next, there are two stiff, flat, perforated electrodes placed on either side of it. They are insulated to prevent electrical discharge. The membrane is placed exactly equidistant between the stators. That's the simplified version of an electrostatic speaker.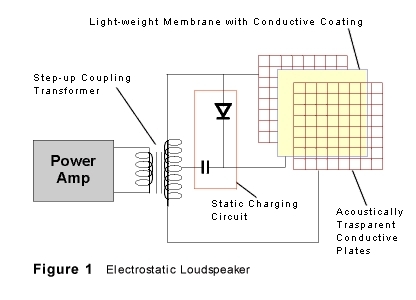 To make this simple electrostatic speaker work, a dense population of electrons is forced onto the membrane using a power supply. The audio signal voltage from the amplifier is connected to the two stators, but in a special manner: the signal applied to each stator is identical but in the opposite phase. Thus, as the signal voltage on one stator increases positively, it attracts the negative electron charge on the membrane. The signal voltage on the other stator is increasing negatively and, hence, repels the charge on the membrane. Thus, a "push-pull" force is exerted on the membrane. Since the membrane is compliant, the push-pull electrostatic force applied to it causes it to move. Thus, the air is moved and sound is created.
The principle behind a magnetostatic speaker
Magnetostatics largely work like electrostatics in that they also employ a large moving membrane and that the membrane is driven over its entire surface. But the similarity ends there. Magnetostatics, as the name implies, derive their driving power from permanent bar magnets. The membrane can be coated with a conductive layer, like with electrostatics but most of the time it consists of the same base material (Mylar) with conductive strips or wires bonded to the mylar. Behind the membrane are strips of bar magnets to cater for the driving power. The thin conductive strips are used for mids and sometimes highs, while the thicker copper or aluminum wires are used for the bass. Magnepan calls the method by which conductive strips are bonded to the mylar "semi-ribbon". A true ribbon consists of a long aluminum strip that is both tweeter and conductor at the same time. The ribbon tweeter, due to its length doesn't need an impedance-matching transformer to reach a reasonable impedance. It has bar magnets only on the sides, leaving the tweeter capable of breathing freely to the front and rear, creating what some people consider to be the purest and possibly the finest tweeter in the world.
Contrary to many full-range electrostatics, full range magnetostatics can have an excellent, and very satisfying bass response. The bass output will be sufficient even for heavy music, although most magnetostatics may not "rock" like regular dynamic speakers do, due to the lack of coloration and boxiness. Most Magnepans fall in this category. Apogee Acoustics did make magnetostatics that have very deep and surprisingly powerful bass.
Fewer issues with Room modes
A traditional dynamic cabinet speaker is a monopolar sound source with an omnidirectional radiation pattern. What this means is that these speakers tend to excite a large number of room modes, making it almost impossible to obtain linear and uniform bass.
Dipolar speakers, by contrast, have a figure of 8 response. Dipolar speakers by design excite fewer room modes, and when they do, less so than monopolar speakers, whereas monopolar speakers can excite all room modes fully.
Because a dipolar speaker couple less with the room, and less energy is then stored in room resonances, dipolar speakers can reproduce sound with less room participation, resulting in more articulate, more linear, and more accurate bass, especially in difficult rooms.
Magnepan
Jim Winey invented and subsequently popularised the planar magnetic speaker in 1969. His designs became very popular because they were and still are relatively affordable. They offer incredible value for money. But the brand's top products also rank very highly among audiophiles and reviewers alike.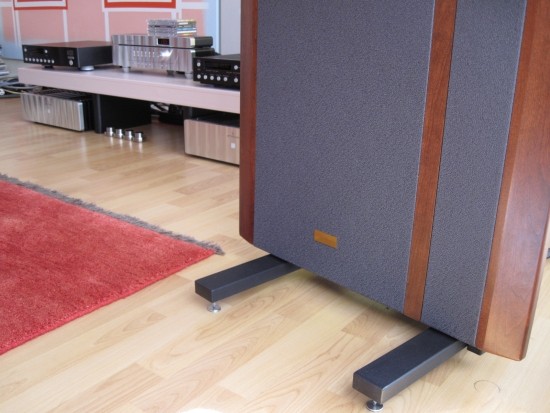 Quad
Quad didn't invent the electrostatic, but they made the concept popular in 1957 and proceeded to introduced a technique of using delayed rings to drive the mylar foil so that it behaves as a point source. This makes the speaker behave less like a big, flat foil in that it exhibits less beaming and sounds more like a small (but high quality) mini-monitor. A lot has been written about Quad 63 and 988 and I won't contribute too much except that most reviews are spot-on: these are magnificent speakers, but limited ones. Their most obvious fault, in my opinion, is that Quad decided to use a plastic sheet over the entire speaker as a dust cover. This sheet (and maybe other factors as well) is responsible for a noticeable (and measurable) high-frequency roll-off. This is noticeable compared to Martin Logans, Magnepans and even compared to B&W Nautilus 804 "regular" dynamic speakers.
Apogee
Leo Spiegel made the famous Apogee magnetostatics from 1982 until 1998. The bass driver was something special. It consisted of a Kapton-backed sheet of corrugated aluminum foil, attached to a trapezium-shaped frame for resonance control and then cut into individual ribbons. It had amazingly deep and powerful bass but many speakers today suffer from rattling frames or buzzing sounds from loosely stretched foil or aging foam damping. An array of permanent bar magnets positioned behind the ribbons provided the magnetic driving force. The pure ribbon tweeter has magnets at the sides so it can breathe freely back and forth, making it perhaps the purest tweeter. The affordable Apogee Stage was a bestseller and featured a conductive coating on both sides of the woofer and tweeter diaphragms.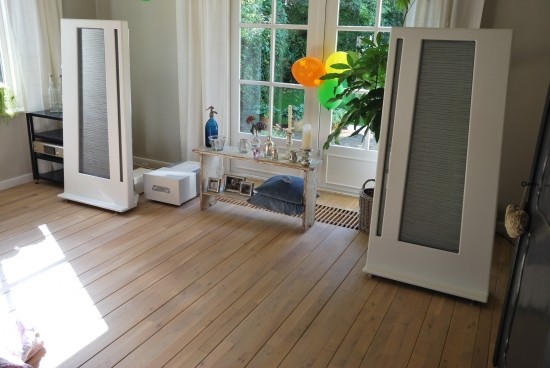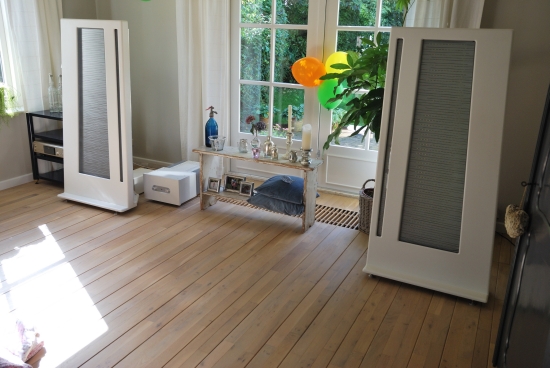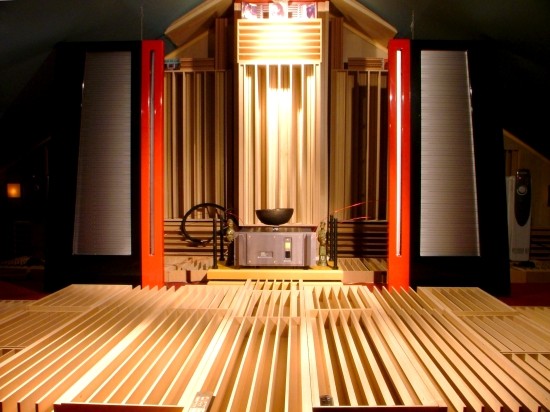 Above and below: Full Range treble and midrange ribbons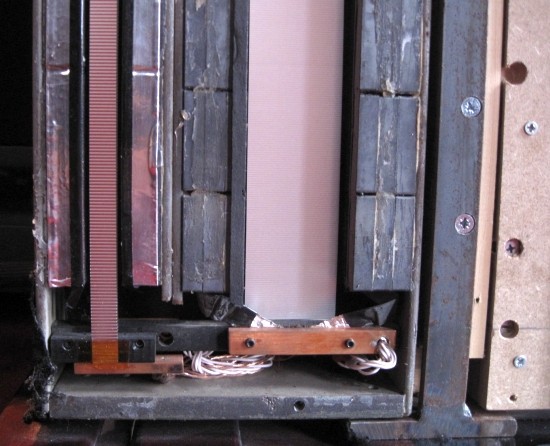 Below: Duetta Signature bass (quasi-) ribbon and crossover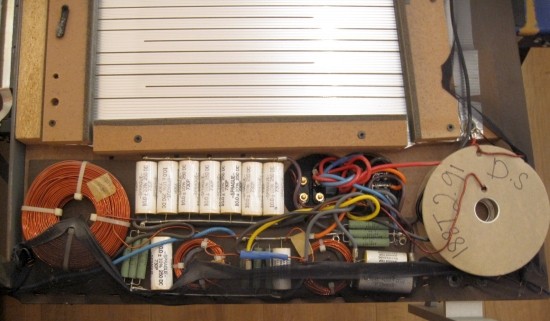 As an interesting side note, some Apogee speakers (Scintilla and Full Range mainly) were notorious for their low impedance, dipping to as low as 0,5 ohm. These speakers were apparently so hard to drive that you needed monster amplifiers to prevent frying your amp. The thing is, there were amps around that were powerful enough, like big PA amplifiers, but they didn't have the resolution and finesse that audiophiles craved. This set in motion the creation of powerful yet audiophile amplifiers. You could say that Apogee almost singlehandedly created the market for amplifiers like those from Jeff Rowland, Levinson and Krell. These brands set out to produce amplifiers that are stable into any load yet are refined and musical. Interestingly, I have by now owned Apogee Duetta Signatures and Divas and neither seems to be this extremely difficult to drive. They have way friendlier impedance curves than those amp killers mentioned above. Sure, for Divas you need amps with healthy power supplies, but my Rowland model sixes' 150 Watts easily suffice and I've been told by people who should know that the model sixes can also drive Scintillas without breaking down. However, the sound won't be as lively as it could be. So you see, the amp-killing stories are a bit more relative than they seem.
Apogee Acoustics Company Special
Apogee Listening Sessions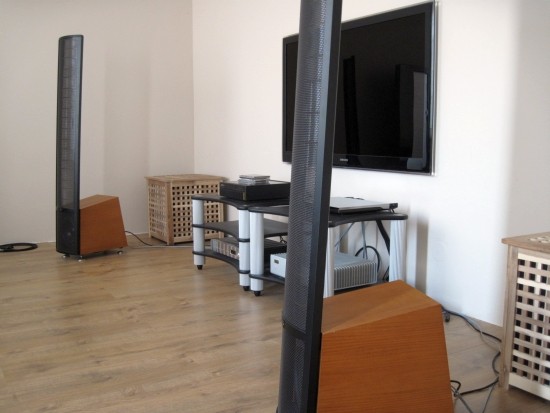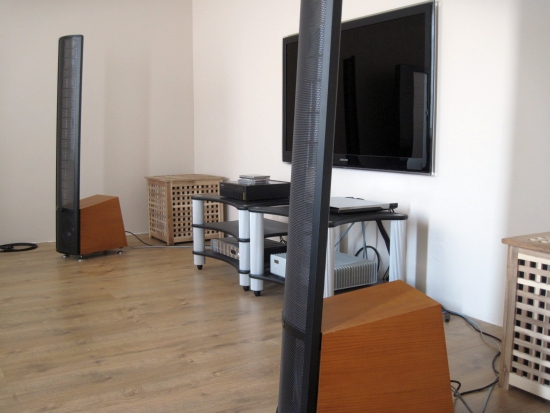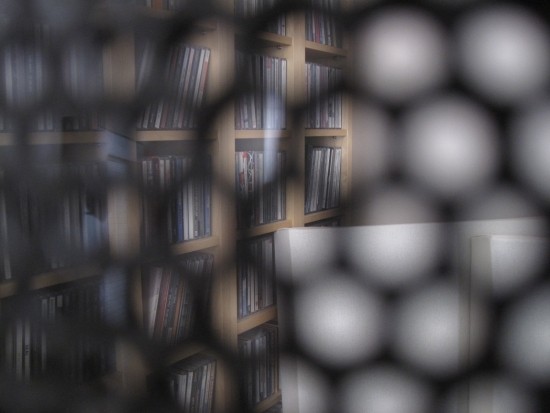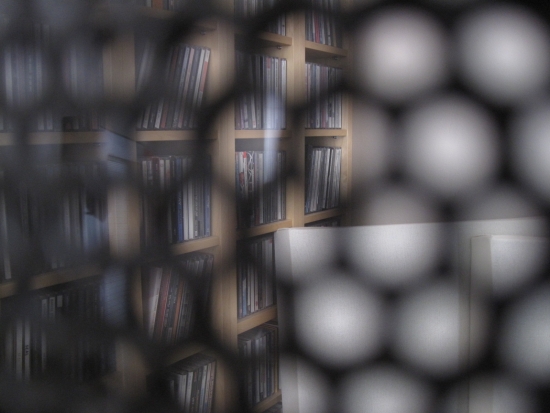 Martin Logan
They said it couldn't be done but Martin Logan's CLS (curvilinear line source), aimed at improving horizontal dispersion, has been a signature element of every Martin Logan ESL. Although electrostatic speakers weren't new in the early '80s, … Gayle Sanders…… unique approach to the technique (CLS), his well-carried out approach to hybrid design as well as the WAF friendly design, combined with cost-effective packaging made for big commercial success and speakers that were instantly recognizable.
Just look how absolutely huge these electrostatics are!
Sound Lab
Sound Lab is little known in Europe because the company keeps a low profile but probably also because these electrostatics are enormously large and very expensive. SoundLab also uses a curved profile for enhanced dispersion but in a very different manner than Martin Logan.  In this case, it is done by building up a mosaic of small flat cells. Every cell acts as a tuned port that both cancels any built-up resonance and tunes the bass so the summed bass output is more evenly produced and is less affected by cancellation from out of phase signals that are present at the rear of the speaker, as with all dipoles. According to friends, these speakers sound magnificent but they are very hard to get in Europe and they're also even higher and wider than my Magnepan 3.6R's and therefore incredibly dominating visually. Nevertheless, I still want to hear them if I get the chance!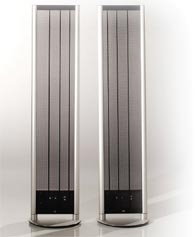 Final
Final is a Dutch company that is pretty well-known in the Netherlands. They produce slim and elegant electrostatics that have very refined sound but most of them really need a subwoofer to sound full range. Final speakers are electrostatics that look like regular electrostatics. They are flat and thin and have very narrow horizontal dispersion. You really have to sit in the middle of the couch and hold your head still or one speaker will start to noticeably dim in the treble. The speakers aren't totally regular though. The function of transducer elements is reversed in that the audio signal is applied to the conductive diaphragm instead of to the stators. The stators now hold the DC polarizing voltage. One of the claimed benefits is enhanced safety as no high voltage AC signal is applied to the stators. I think this is no safer than the other way around since you can still get to the foil by using any thin object and kids, for example, will always find new ways to stick things in other things. Martin Logan, which uses the regular method and applies the high voltage AC signal to the stators, has insulated the stators with a coating so hard that it is nearly impossible to damage them and be exposed to the high voltage. But back to Final and the other benefit of inversed transducer functions: the required input transformer can now be smaller in size because the stepped-up audio signal can now be applied to just the diaphragm in single-ended fashion, as opposed to push-pull.
The full range versus hybrid issue
It is an often-heard complaint from people (whom themselves rarely have electrostatics) that a hybrid speaker, like most Martin Logans, cannot sound coherent. It is said that you will always hear the transition from woofer to foil because of the different nature of the transducers. The foil is thin and fast; the woofer is large, heavy and slow. Well, I cannot argue with those arguments, but i can argue about the audibility of it. I admit that I have also heard some big hybrids sound slow, but this was at shows. You have to understand that it is very difficult to obtain a perfect sound on a show where the crew usually has only a day to set everything up. This is mostly a compromise. And bipoles are very sensitive to positioning. Thus far, of the most prominent hybrids that I have heard, and they include Magnepan MG3.6R's, Martin Logan SL3's, Martin Logan Aerius I's and Apogee Centaur's, I never heard a transition between drivers. The bass can have a different character but it was always plenty fast and never troublesome.
I wrote above that I can't argue with the arguments that people have against hybrids. But actually, I can. Even though I know that theorizing is pointless in the magical world of high-end audio, here goes. On the point of woofers being slower than foil: this is probably true but you have to ask yourself: at a maximum of about 250hz, how fast do these woofers have to be? Precisely: 100 cycles per second. And woofer cones are well up to that task. You need much higher speed for treble signals but that doesn't apply to bass. Also, people tend to think that full range bipoles have faster bass than hybrids. This needn't be so. A large foil also has a lot of resistance from the air on both sides of it. It is also slowed down by the massive copper or aluminum conductor glued to it. This is especially noticeable with older types of Magnepan speakers. In the current version of the MG3.6R, this is completely solved.
In closing
As always there is more than one side to a story. I say: please use your ears and don't rely on specs or on what people say. Even the things that I write are relative because in this case, they apply to the situation in my listening room. So: trust your ears and remember: if it sounds good to you, then it is good!