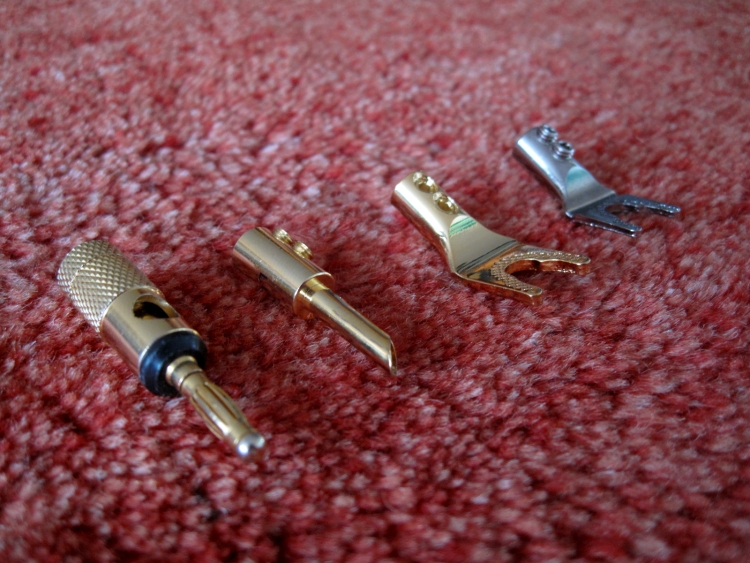 These connectors make more difference to the sound than you'd think
Most audiophiles know that loose connections are best avoided and so did I, but for the latest comparison that I carried out, I learned that the damage induced by less than tight connections is even larger than anticipated.
When biriwring the Apogee Duettas I connected the bass section using good quality hollow bananas that have a very tight fit and the treble section using more loosely fitting bananas. The latter bananas were of the type that are smaller in diameter than the hole they should fit, and use a loose metal spring for tension. I figured if anything as a result of this, worst case scenario, the midrange would lack some punch and the treble would be more airy rather han solid, which I actually like.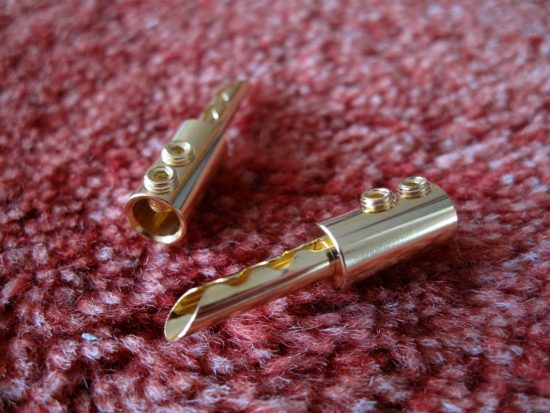 Above: good quality bananas, these are made by LOK.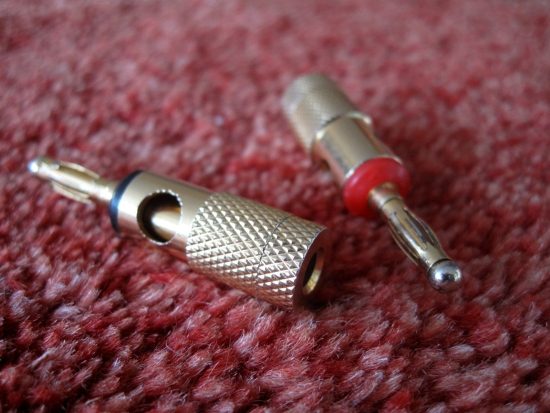 Above: unknown brand loose-fitting bananas that are best avoided.
Upon swapping the loosely fitting bananas for milled-from-solid-copper spades however, the difference was astounding, and not only in the areas where you'd expect. The big difference was in the bass, which was now more solid, punchier, better timed and more articulate. All this without touching the actual bass cable or its connectors. This explains once more that perceived improvements in one area of the frequency spectrum can stem from changes in other parts of the spectrum. More precisely: perceived bass quality has a lot to do with the midrange quality. Likewise, somehow, treble air and soundstage depth have a connection with the bass quality and range.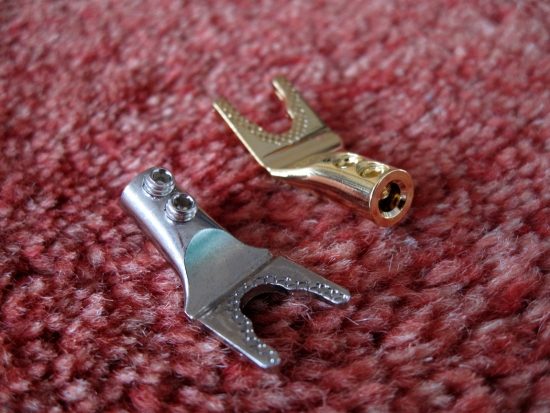 Above: Spades are even better, especially when milled from solid metal, like these made by LOK.
The loosely fitting level bananas sound tired and unmotivated. Pace is slow, focus is blurrier than it can be and dynamics sound compressed.
Switching to the LOK Gold plated Beryllium copper hollow bananas made for a huge jump in tightness, dynamics and bass articulation. Pace picked up and focus also improved.
Switching to the Gold plated LOK spade made for a very similar sound, but with a slighty tilted frequency balance: bass was fuller, treble was darker. Tightness and PRAT seemed about the same, maybe a little less. But in turn there was definitely a richer, more full-colour sound, making for a more romantic presentation.
Finally, moving from Gold plated spades to Rhodium spades was almost like switching back to the LOK banana in terms of speed, dynamics and drive, but with bass and midrange fulness intact. Treble was definitely more articulate and open than with the Gold plated spade and also a notch above the Gold LOK banana. The Rhodium spade made for a slightly more business-like sound (or more neutral if you will) along with higher perceived resolution in the midrange and treble.
Conclusion
There is no single best connector because as always, these matters are relative, depending on taste and system synergy. However, the one thing that I think is universally true, is that connectors should make a tight fit. So whether you use bananas or spades, just make sure that they have a large contact area and make for a tight fit.