Apogee speaker Crossover – active or passive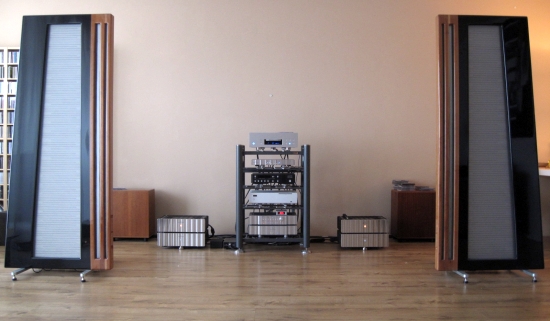 A flawed bi-amping experiment using Apogee Divas
Inspired by a friend who uses an Apogee DAX and 4 channels of amplification, I set out for some bi-amp experimenting myself.
The active crossover I used is not the original DAX belonging to the Divas but an earlier model called "Active Crossover". It was mainly sold with the original Apogee speaker, the Full Range, aka The Apogee. However, due to its flexibility and configurability, this crossover can also be used with various other models. I borrowed two Rowland Model 3 mono power amps and had myself some fun.
I need to state up front that I am unsure if this particular active crossover's frequencies are a perfect match for those of the Diva. Thing is: the Diva's manual doesn't state the actual crossover points and searching the internet I found contradicting numbers. It's either 550hz and 11khz or 300hz and 11khz. I lean toward the latter. If this is so, then the active crossover's frequency points are pretty close at 300hz and 7khz, perhaps even close enough. Nevertheless, I for one know that there is a huge amount of "black magic" involved in speaker design, and swapping crossovers or crossover components can seriously hamper the sound.
But that kind of knowledge has never stopped my trying anyway and listen for myself. Just be aware that some observations may be out of whack due to crossover frequency mismatches. Nevertheless, the overall conclusion should still hold true.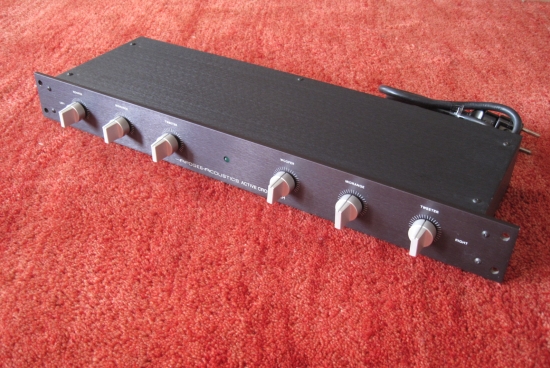 The Apogee Acoustics Active Crossover can be set to two-way and then behaves just like the original passive filter. In order to use an active crossover with the Divas in a two-way configuration, you can connect mid and bass directly to the amp outputs. But the treble ribbon will still need a passive component. When using the original DAX, you are supposed to make some internal cross-connections in the passive crossovers, basically connecting bass and midrange directly to the amp outputs. Treble will still have most if not all of its passive circuitry in place.
Contrary to the DAX, the Active Crossover that I used here is actually a 3-way design. If only I had 6 channels of amplification, I could tri-amp! Well, at Jeff Rowland prices, that's just plain silly.
Because I didn't want to modify my passive crossovers, I set the Active Crossover to two-way and degraded the Divas to two-way systems, seeing as the midrange ribbon is well enough capable to produce fine treble detail. Then I completely bypassed the passive crossovers.
Sure, disconnecting the treble ribbon would result in a loss of super-fine treble air, but the reason for carrying out this bi-amp test was because I wanted to see if the bass would improve. And that I could now easily do.
Because I had no twin sets of the usual Transparent Reference interlinks, I resorted to a simpler brand, of which I had identical sets, to connect the active crossover to the power amps. The connection from preamp to active crossover was a Transparent Ultra XL and the power amps were all connected to the Divas using Transparent Reference XL speaker cables. It was my excellent fortune that I could borrow a second set of Reference XL speaker cables from the same friend who loaned me his Model 3's.
My own model sixes were connected to the midrange (and effectively also treble) while the loaner 3's had been given bass duties. I chose this configuration because the sixes are way better at fine detail and soundstage layering. The 3's, I figured, have prodigious bass and that would likely be a welcome feature in this biamp system to be.
Wired like this I felt that I had made a well-balanced setup with equal cables for all amps. The latter is very important because as I found out in the past using B&W N804's. The coherence and sound balance can quickly fall apart when even using different cables on the bass than on treble in a simple bi-wire system, let alone in more critical installations such as this one.
What is important to note is that without the passive crossovers, the speakers' phase behavior is different. Removing big coils from a speaker system has that effect. I was already warned about this by Full Range owner Niels who experienced this when he removed the coupling transformer on his Full Range's midrange. And indeed, where the bass and midrange had to be reversed in order to sound coherent, fast and dynamic when the passive crossovers were in use, without them the bass and midrange could just be connected in the normal manner, meaning in positive phase, for best timing and dynamics.
Important matter is to get amps that have the same gain, otherwise, the balance will be off. The model 3's were actually set to a lower gain internally than the sixes, but luckily this is easily offset using the rotary gain controls on the active crossover.
Sound
The first thing I noticed was that the bass wasn't fat at all, in spite of the Model 3's inherently more mellow sound than the sixes. In fact: it was lightning fast! Transients are apparently much less rounded than when using a passive crossover. The woofer membrane was now clearly held in a much tighter grip. But even if the grip was better and overall it felt more solid, the amount of bass hadn't increased. However, due to the different nature, I could more easily play without subwoofers, without feeling that I was missing out too much. Second thing I noticed was that apparent speed throughout was pretty coherent, in spite of the different amps.
The system now had seemingly limitless power and you could notice how the bass and midrange were in no way interfering with each other. The sound was always clean. But it wasn't a real seductive sound. Technically it was superior to the sound with the passive crossovers in place: tighter, faster, more dynamic, more impressive. But it was also very technical and dry. And detail hadn't improved or anything, it was just more in your face. I know some people really like this "accurate" presentation, but I feel that it is further removed from the emotional experience that live music can give.
Ultimately, outside of playing bass-heavy house tracks, I found the sound to be un-enjoyable. What was most unsettling for me was this dryness, thinness and forward character in the midrange. Adjusting the level was no solution as the amount of midrange/treble was just fine and lowering the gain only made the sound become dark. After lots of listening, I was certain that the level was just fine, but that there was just something to the sound that I found unappealing. It was just too technical and I couldn't get connected emotionally.
Going back
Reverting to the old situation, using only my sixes and the Diva's passive crossovers, I was very much relieved to again hear the smoothness and relaxation that I had grown so fond of. Sure, the bass was now less impressive, a little rounded even, and I felt the need to switch the subs in again but the midrange was now so voluptuous, so luxurious and glorious, and the soundstage was much wider, with much nicer placement of instruments in layers within it. In a word: the emotion was back. And the most interesting thing to find was that overall, I didn't feel like the amplification power was just halved at all. Using only the sixes' 150 watts, the Divas still play louder than I need them to. The important thing is that the sixes may be "only" 150 watts, but they can push up to 35 amps of power!
More Diva
More Apogee
Read Also:
Speaker Cables – bi-wire or single wire? And what about bi-amping?