Monrio mp11 Mono Power Amplifiers
Review sample provided by Monrio
Retail Price: 3.960 euro for a stereo pair
To be honest, I had not heard of Monrio Audio until they approached me for a review. Maybe the company is more well-known in their home country Italy than in other parts of Europe but with this review, I certainly hope to change that.
For me, the brand may be new but Monrio Audio has actually been active since 1991. In that year, they issued the mc202 amplifier and in 1992 the Cento stereo amplifier, both of which are displayed below.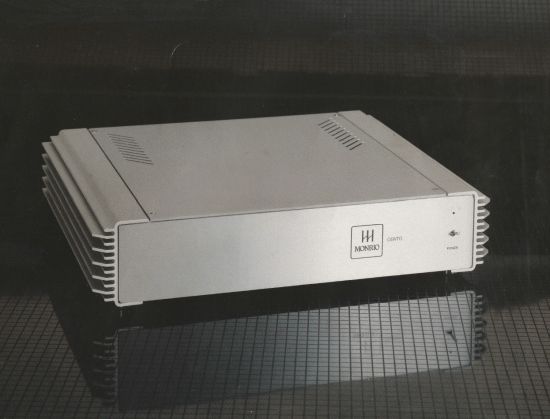 The intriguing spaceship-like unit below is the company's Top Loader 3 CD player, issued in 2007 and since replaced by its successor the Top Loader 2 CD player which has more plain looks but is said to be of equal quality yet more cost-effective thanks to the simpler construction.
Today, Monrio Audio offers power amplifiers, integrated amplifiers, CD players, a phono preamp, a turntable and cables.
mp11 mono power amplifiers
Powered by a 300VA toroidal power transformer and a MOSFET output stage with selected and matched devices with a maximum current rating of over 25 Amps, the MP11 offers 135-watts into 8-ohms and they remain stable even into 2-Ohm loads. All the stages of the amplifier are fully complementary and balanced and there are no current-limiting fuses in the supply rails. Instead, the current drawn by the amplifier is sensed through an isolating optocoupler of which the output is fed to a protection board. In the event of excessively high currents or a DC offset voltage, the protection system disconnects the power via a relay. No capacitors are used in the signal path but instead, a DC Servo Control System ensures excellent stability with very low levels of coloration. The circuit boards are of high-grade double-sided copper glass-fiber material. All resistors are 1% metal-film types whilst the capacitors are selected film types or audio-grade power-supply type.
Thanks to wide open-loop bandwidth, the circuit needs only a "low level" of negative feedback whilst still achieving a damping factor of 1000. With such a high damping factor, one would perhaps expect a Class-D-like super-controlled and potentially overly clean sound but, actually, that couldn't be farther from the truth.
The mp11's are Monrio's answer to a world that is more and more digitizing. With these amplifiers, the company introduces a pair of powerful transistor amplifiers that possess certain aspects that are more commonly found in tube amplifiers.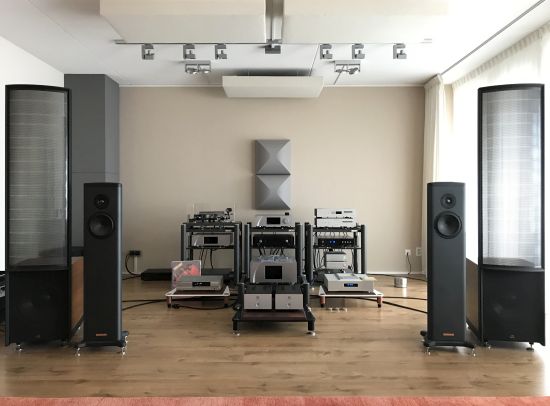 Review Context
I'll be listening to the mp11's in two reference systems. First, in the main system with the Aqua LinQ and Formula xHD duo with the Antipodes CX as a source feeding the Audio-GD Master 1 preamp with Magico S1 MkII speakers.  Then, in the secondary system, with the Ayon CD10 II CD player and Xavian Perla Esclusiva speakers.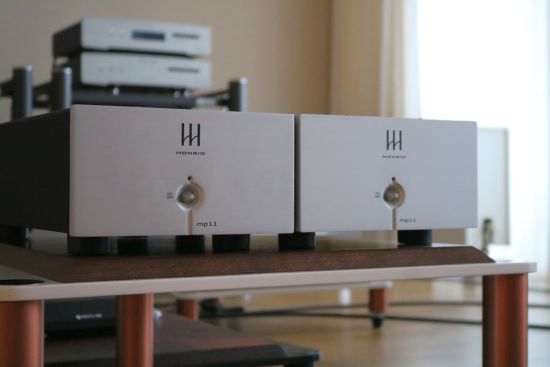 Listening
With the Monrio mp11's driving the Magicos instead of the NuPrime ST10, I am treated to a sound that is gently sweet and easy-going, airy, highly refined and beguilingly fluid. It's not only very different from the NuPrime's ultra-solid and sonorous, direct, dry, slightly square-ish and slightly dark sound, but it's also nothing like what I have become accustomed to hearing from Class-D designs, or from Class A/B amplifiers, for that matter. Classic Jeff Rowland amplifiers such as the model 10 and model 6 spring to mind.
Back in the here and now, the NuPrime's bass is squarer and more incisive but to be fair, nearly every other amplifier (even very expensive ones) sounds less robust than the ST10. But also when compared to the very neutral CH A1.5 or a good ICE, Pascal or Ncore Class-D amplifier, the Monrios are less sharply delineated in the bass, its transients slightly softened. While this leads to less "bite" than I am used to and it arguably renders the mp11's more smooth performers than hard rockers, they offer an organic lushness and liquidity that honestly is not expected in their price class. They may be smooth but the mp11's bass certainly does not lack depth or definition and their speed is perfectly balanced, neither slow nor hurried.
Their forgiving nature makes that the mp11's never sound dry or etched and certainly never clinical. But their sweetness does not mask fine detail. Actually, the mp11's provide lots of ambiance to fill the room with a generous soundstage along with excellent focus of the central image. Indeed, there is no lack of resolution, with instruments and vocals imaged freely yet vividly and quite tangibly.
The mp11's tonality is very neutral yet decidedly natural and they get the all-important tonality/timbre exactly right. The sound is decidedly non-electronic (no grain, no hardness) and absolutely non-synthetic, and timbres of acoustical instruments, as well as vocals, are rendered realistically.
Their lush and highly refined delivery places the Monrios in a niche category where, of all the amplifiers that I have reviewed, they are accompanied by only one competitor, the similarly-priced Lejonklou Tundras. These Swedish amplifiers set the benchmark in their price class as far as resolution and refinement are concerned. For all their finesse, the mp11's resolution is really great but not quite 100% as retina-like as that of the Lejonklou's. However, the Tundras are not made for driving low impedances. They would struggle and not sound very energetic with the Magicos. Although the S1 MkII's are nowhere near the company's most difficult to drive speakers, experiments have shown that not every transistor amp drives them quite as confidently as they need to be. Even amplifiers that, on paper, should be powerful enough have shown up as too reticent with these speakers.
Crank up the volume with the Monrio's, though, and they simply oblige, seemingly only asking for more! Don't take that the wrong way, as they sound open and refined even when playing quietly but they have absolutely no problem driving the Magicos to levels as loudly as I can take it and they never lose their composure when doing so. But we're also talking about different perspectives. The Lejonklou's are lighter and leaner and the Monrios fuller and richer and that is just as large a decisive factor as that of required or desired power.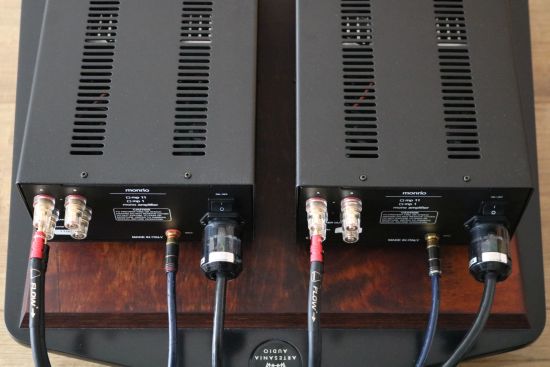 Interlinks
The interlink between Master 1 and the mp11's is the Siltech Paris. While very affordable, this simple cable has worked its way into my preferred list of cables by never posing an obstacle for the music to shine through while always sounding open and lively. Also, it is my only cinch cable of sufficient length to be used with power amplifiers in this system.
Speaker Cables
So far, I have been listening with the Driade Flow 405 loudspeaker cables. These cables are a little smooth-sounding themselves which is partly why they work so beautifully with the NuPrime. The interesting thing, though, is that they also seem to work synergistically with the Monrio's, even though these amplifiers paint a very different sonic picture. Just to make sure, I also tried the tighter sounding and more transparent Jorma Trinity speaker cables.
While the Jormas worked quite well and arguably provide a more linear sound, I also felt that I was a little over-controlled, less free-flowing, and missing some of the soundstage depth. The Monrio's are inherently fluid and grain-free but, still, the Driade's extra refinement and organic flow make a more appealing match and maximize the amp's strengths.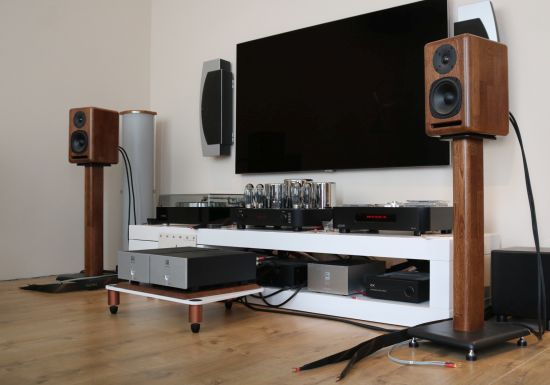 Secondary System
In the secondary system, the mp11's take the place of the Ayon Spirit III integrated amplifier driving the Xavian Perla Esclusiva speakers. As such, I don't have a preamp in this system but the CD10 II CD player/DAC can also be used as a preamp. The interlinks that I use mostly in this system are AudioQuest Water and as I would quickly find out, these make a great with the Monrios as well. The default speaker cable in this system is the laughably cheap van den Hul The Skykine Hybrid. With the Spirit III, and many tube products, I find that simple cables often work surprisingly well. But of course, the Monrios deserve more and so I used the Driade Flow 405 as well as its polar opposite (in terms of appearance as well a sound), the FoilFlex.
Starting with the Spirit III and the Driade speaker cable and swapping to the Monrios, the transistor amplifiers surprise me by sounding even sweeter and more fluid than the Ayon. The midrange has a wondrously rich and lush quality, so lush, in fact, that I have the feeling of having swapped to another tube amp, not a pair of transistor amps!
However, while the bass is deep and round and more even-handed and linear than with the Ayon, it is less impactful. Now, I should note that Ayon products, in general, tend to have a full sound with authoritative bass and the Spirit III and CD10 II are no exceptions.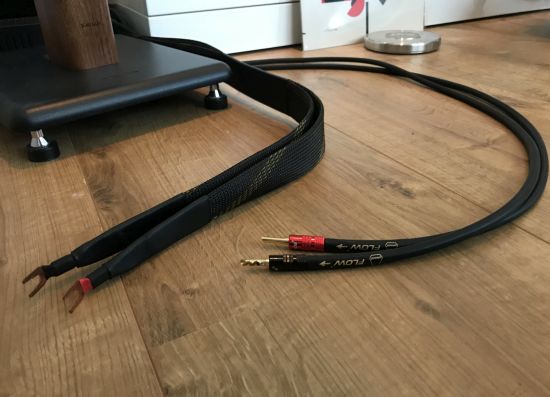 Upon swapping to the FoilFlex speaker cables there is indeed a tighter grip in the bass along with an overall more neutral balance that reveals a smidgeon more low-level detail and treble air. As in the other system with the Jorma cables, this comes along with a soberer sound than with the Driade cable, but this time, all of the amps' fluidity and refinement remain intact. For rhythmic expression, I prefer the FoilFlex but I'm not so sure if I actually prefer that over the more abundantly emotional performance with the Driade. I'd say that in this case it really comes down to personal preference. The upshot of this second listening test is that the Monrios, for all their relaxed sweetness do not seem to be particularly picky about cables. They work well with both smooth-sounding cables as well as very precise-sounding cables.
Conclusion
The Monrio mp11's have a luscious sound that is gently sweet and easy-going, airy, highly refined and beguilingly fluid. It's also nothing like what I have become accustomed to hearing from typical Class-D designs, or from Class A/B amplifiers, for that matter.
Crank up the volume and the Monrio's simply oblige, seemingly only asking for more! Don't take that the wrong way, as they sound open and refined even when playing quietly.
It's not often that you find a transistor design that sounds sweeter and more fluid than a tube amplifier while offering the sort of unflappable stability and power that really only transistors offer.
External Links
Manufacturer's website: Monrio