Lejonklou Sagatun and Tundra mono and stereo pre- and power amps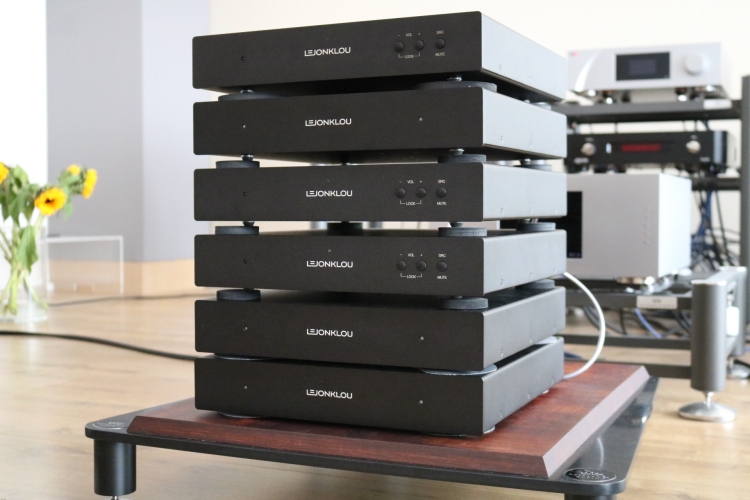 Retail prices in the Netherlands (incl. 21% VAT):
Sagatun stereo preamp: 3.300 euro
Sagatun mono preamp (per pair): 6.600 euro
Tundra stereo power amp: 3.200 euro
Tundra mono power amp (per pair): 6.000 euro
Lejonklou Slipsik MM phono stage: 1.200 euro
Audio Origami PU7 gimbal bearing tonearm: 2.950 euro
All the Lejonklou components were delivered to me in their latest incarnations and with the latest firmware. Both preamps were version 1.4, the stereo power amp was version 2.5 and the mono power amps were version 2.2. These components are all part of Lejonklou's "Reference Series" and as such, they represent the best the brand has to offer.
Sound Quality first
The components are well-made, look great, and have excellent ergonomics but Lejonklou really cares about sound quality first and foremost. In addition, the philosophy is to keep the prices at a relatively affordable level and to not make any expenses if they do not contribute to a better sound. As an example, you will not find esoteric input- or speaker connectors on the Lejonklou components. Anything not included is considered superfluous or even harmful for the sound quality. Very short signal paths and ultra-high-speed and high-reliability components are used. One can relax in the knowledge that if Fredrik found the improvement to the sound quality worthwhile, that component was included.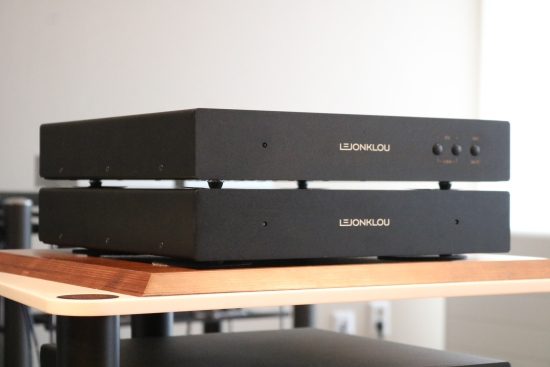 Above: Sagatun stereo preamp and Tundra stereo power amp
Above: Sagatun mono preamp and Tundra mono power amps
But minimalism only takes one so far and there's much more to Lejonklou designs. It's one thing to use components based on excellent specifications but Fredrik takes this much, much further. Some of the used components are intended for industrial use, not for audio, according to their manufacturers. But according to Fredrik, when selected into extreme tolerances and used properly, these components have a far greater potential than the standard ones used by most HiFi companies. The circuits are designed via endless trial-and-error and extreme attention to every detail. As he got closer and closer to the sound that he was aiming for, he found that nearly all details do matter. And as we all know, that's where the devil is. The fact that more than 500 listening tests were conducted in the development of Sagatun will help illustrate this point. Another thing is that extreme levels of precision and transparency do not at all guarantee a musical delivery and Fredrik is well aware of this. While his designs measure well, it's the aural result that matters in the end. For instance, there can be multiple components that measure identically but still give different sonic results. In this case, all the variants are added to a test circuit and the one(s) that achieve the most involving delivery are selected and used.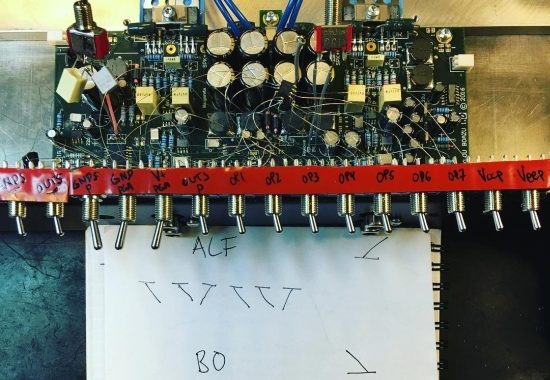 Above and below: test rigs built to determine the best-sounding components
Fredrik is not afraid to use non-standard techniques such as a combination of three different regulatory techniques if that leads to better results. For example, the Tundra amplifiers use a mixture of different amplification techniques, pretty much all principles except for tubes! There are IC's bipolar transistors and MOSFET transistors plus a number of unique techniques. Quite uniquely, the heat sinks are made of high purity copper which, according to Fredrik, cuts the music-induced variations in temperature in half in all critical areas. As he explains: "Less temperature variation means a more stable foundation for the music, adding weight and solidity as if the music is bolted down firmly instead of bouncing around".
The selection of switch-mode power supplies is also controversial. I was expecting a lean and dry sound-based purely on the amps' power supplies and I'm sure that I won't be alone in this. But as always, a component or one of its sections is only as good as its application and, clearly, Fredrik knows what he's doing. Not only do the power supplies work perfectly for the Lejonklou components themselves but they also do not seem to contaminate any of the other components, as has actually happened in some cases. All the Lejonklou components come with a manual and a leaflet labeled "the reason behind" in which Fredrik explains the reasoning behind the design of the components. The main theme throughout this is that the music should reach out and touch you emotionally rather than being merely technically perfect.
Component placement
As the manual mentions: "The feet may appear simple in construction but are in fact carefully chosen for optimal performance. Tighten the feet using your fingers only". While I have no problem with their appearance one needs to be ultra-careful not to stack the components on each other or on any surface that is not 100% smooth and sealed. The compliant rubber feet apparently contain an oily dissolvent that penetrates pretty much any material and will leave permanent stains. Marco already forewarned me about this and so I used pieces of paper in between but only days later I found that the liquid had penetrated the paper and still caused permanent stains on the Artesania rack. This is why you can see velvet or neoprene pads between the components in the pictures. On a related note, stacking components is never ideal for the sound and it is always best to allow each component its own shelf.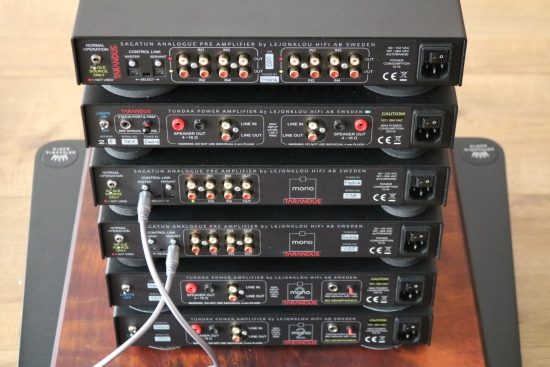 Interesting Options
The inputs on the preamps can be switched between Single Source or Normal operation. In Single Source mode, any signal on this connector goes directly to the volume control and then to the outputs. In this mode, the other inputs are not available. In Normal operation, four inputs are available, one of which can be set to unity mode for use with another device that has volume control or a surround system.
Unusually, the preamp's volume setting is not indicated with a led on a rotary control, a led-bar or by digits but by the color of a single LED. While it may seem weird at first, one quickly gets used to this and simply remembers that light blue is for easy listening, green is for enthusiastic listening and orange is blowing off the roof. As a reviewer, I prefer to know the setting exactly but as a music listener, all one needs to know really is that each step is 1dB.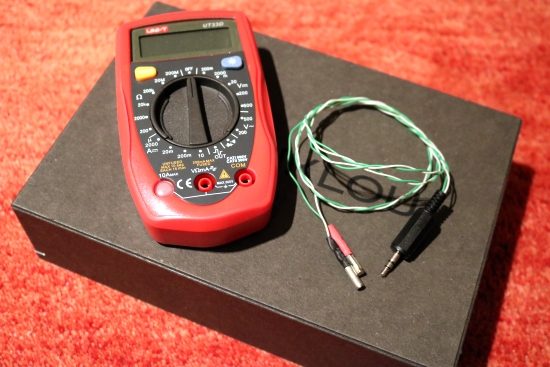 The power amplifiers are straightforward in functionality: they can be switched on and off and that's it. Well, almost. Uniquely, they also offer a user-adjustable Bias setting for the power section. Lejonklou calls this "Trim". For this purpose, a digital multimeter is provided along with instructions. While I opted not to investigate this and listened to the amplifiers using the factory default settings, earlier experience tells me that one can usefully tweak the sound of an amplifier this way to be smoother and warmer or tighter and more articulate.
Above: the Lejonklou components were only stacked like this to make a nice photo, all listening was done with the components in the Artesania Modular rack
System Context
All my listening was done using the CH Precision C1 DAC as a source and because my Origin Live turntable was away for an upgrade, Marco Oudheusden of Hexagon Audio was kind enough to loan me his personal Linn LP12 Akurate with an Audio Origami PU7 gimbal bearing tonearm (12-gram effective mass version with Cardas 33ga internal wiring and super OFC external cable). Besides Graham Audio and Lejonklou, Hexagon Audio also has turntable arms in its portfolio, hence its inclusion on the Linn. The tonearm in this configuration is outfitted with a detachable Cardas OFC silver cable and Linn Silver interconnects. The interesting thing is that this particular LP12 sounds entirely different than the LP12 that I reviewed a few years ago: smooth, warm, & relaxed rather than dry and forward. The player itself is pretty much the same version, differing only in terms of the tonearm. Even the exact same Linn Adikt cartridge was used so go figure how much of an influence the arm has! Along with the LP12. Marco also included the Lejonklou Slipsik MM phono stage. Positioned in the "Reference series", and with the exception of the built-to-order dual-mono Singularity MC phono stage, the Slipsik is currently the best phono stage in the Lejonklou portfolio. Meanwhile, Lejonklou is working on a new and more affordable MC phono stage that uses the same circuits as the no-holds-barred Singularity, which will be called the Entity.