Audio GD Master 2H Mono Power Amplifiers
Review samples supplied by Magna Hifi
Retail prices in the NL including 21% VAT:
Master 1 stereo preamplifier: 1.399 euro
Master 2H mono power amplifiers (pair): 4.089 euro
Master 2H power amplifiers – technical
In a fully balanced, fully discrete, two-chassis design, the 2H power amplifiers as a system employ two R-Core and two Toroid transformers with a total of 1700 Watts feeding a total of 260,000 uF divided over custom-ordered Nover capacitors which in turn feed 4 groups of class A parallel, separately regulated PSU's to power the discrete and fully class-A gain stages which are comprised of 80 MJL4281/4302 output transistors supplying 250W into 8 Ohms, 500W into 4 Ohms and 1000 Watts into 2 Ohms per channel. Ok, that is an impressive list for certain and it seems clear that the amps have power to spare. But at only 4.089 euros per pair, could these beasts also be refined, transparent, fast, articulate, introspective, lush, smooth, rich, musical and lyrical? You bet! As I would learn, these amps do it all. Intrigued? You should be!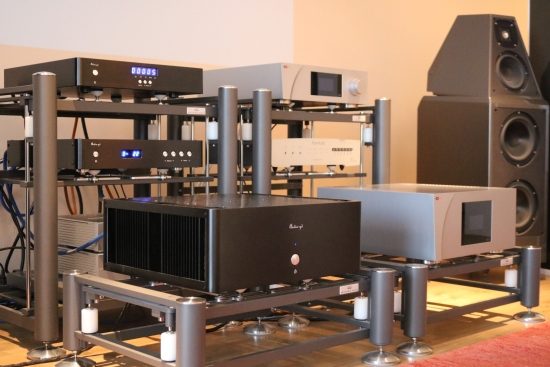 The setup as used in the previous Audio GD review
In an earlier review last year, I looked at the Audio GD Master 3 stereo power amp along with the R8 DAC and the Master 1 preamp. The review you are reading now is mainly about the 2H power amplifiers but since I will be driving them primarily with the Master 1 preamp, it makes sense to revisit this extremely cost-effective yet super-high-performance product.
Master 1 preamplifier revisit
With triple C-core transformers, countless regulator stages, single-polarity FET input and output buffer stages, fully balanced, class-A amplification using only discrete components and V/I conversion for volume control via gold-contact relays and discrete 0.05% Dale film resistors and Nover capacitors, the Master 1's list of ingredients reads like the description of a high-end preamp. Especially the volume control circuit reads like something straight out of a classic reference Mark Levinson design or a current Accuphase amplifier for that matter. Lift the hood and prepare to be amazed by the abundance of carefully-selected discrete components, all laid out perfectly. Take a second to double-check its price. Yup, that's 1399 euros including VAT.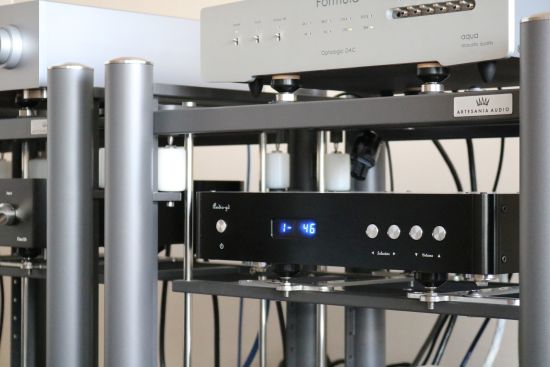 Now, of course, it's one thing to have a design that looks great on paper but it's quite another to make its sound live up to the expectations. But fear not, this it does, in spaces!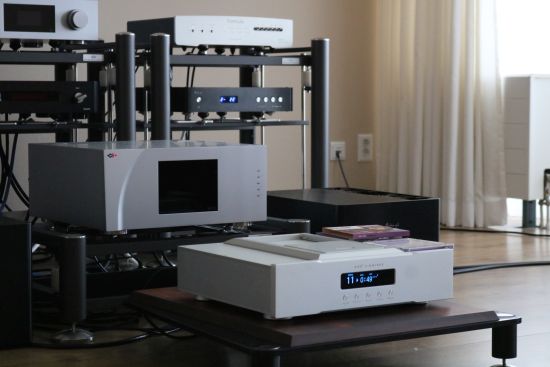 This is how I mostly used the Master 1: in the Artesania Exoteryc rack, with the Aqua Formula xHD DAC as a source.
Master 1 Running In
Unlike the power amps, the Master 1 sample was brand new and that gave me a chance to assess the running-in period. As it would turn out, this provided interesting results.
Straight from the box, the Master 1 preamp sounds sublimely neutral, fast, open and well-balanced. The bass is truly amazing in its combination of tightness, articulation, speed and weight and the midrange is very convincing. Eager and dynamic, the Master 1 never sounds restrained, filtered or rounded but is also not hard or in-your-face. The only sign of it needing more playing time was a certain glassiness or grain in the treble which sounded like Diana Krall's lispy "S" but then on all tracks, not only hers. It was subtle but there was always a kind of splashiness, a subtle sanding-paper-like spike on top of energetic treble peaks, preventing them to sound entirely pure. Some people might refer to this as a transistor-y sound, and although that is generalizing the matter, I wouldn't disagree. It is this effect that made me favor Jeff Rowland preamplifiers and power amplifiers over everything else that I had heard many system incarnations ago. Also, I did not hear this effect with the last two preamps that I reviewed which were the 3000-euro Lejonklou Sagatun and the cough-31.000-euro-cough CH Precision L1.
But, sure enough, only one hour later, the effect was already strongly reduced at which point the preamp attained a superb balance between refinement and expressivity. The Master 1 has so much energy and conviction, such great neutrality combined with such infectious rhythmic and dynamic involvement power that it makes me stay on the couch, playing track after track after track.
At this point, it was again crystal clear to me why I was so enthusiastic about this preamp the last time. This is not merely a very good preamp for the money, it is a fantastic preamp.
The Master 1 preamp sounded great everywhere that I tried it. While it exposes the sonic nature of the rack or platform, its neutrality makes that it is not particularly fussy.
I let the Master 1 preamp run during the night and indeed the next day the effect was further reduced and the sound had become even more fluid and refined. The spikes on the S's had now all but gone and only with certain tracks, I still felt that the hi-hats could sometimes be ever so slightly raspy.
Because I don't recall having heard this with the previous Master 1 review sample, just to make sure that it was not an exemplary effect, upon checking with Dutch distributor Magna Hifi, Jos confirmed that this is indeed fully expected. According to him, I should expect the effect to have worn off in 1-2 weeks. Now, whether or not it actually took this long I honestly can't say. somewhere between a couple of days and a week I was so lost in the performance that I forgot all about the treble. When I had a clear moment again and remembered what it was that I should have looked out for, I noticed that the effect had indeed vanished.
To be fair, even after prolonged use, I don't think the Master 1 achieved the level of refinement of which the Lejonklou and CH Precision preamps were able. Just like the Jeff Rowland Corus preamp, the Lejonklou Sagatun is superbly airy and finely nuanced, and in these fields, precious few others can compete. But, much in a Rowland manner, it is also quite sweet and polished and it sounds a little filtered, a little too much so for my current taste. The Master 1 has a directness and convincing purity that neither the Lejonklou nor the Rowland have. And the CH L1? Well, at its stratospheric cost, can you blame it for outperforming the humble Master 1 in certain aspects? Yes, certain aspects, because there are two areas in which I prefer it over the costly Swiss preamp. First, it has more potent bass with more substance and drive, and second, it has an energetic purity and directness that makes the L1 sound slightly lean and slightly filtered.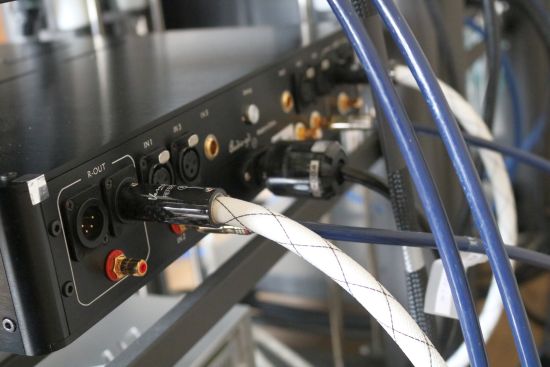 While the Master 1 power amp seemed to have no real preference for interlinks, the Master 2H mono power amps sounded best to me when connected with the Vermouth Reference XLR interlinks.