SAEQ Hyperion Ge and RAAL Requisite CA-1a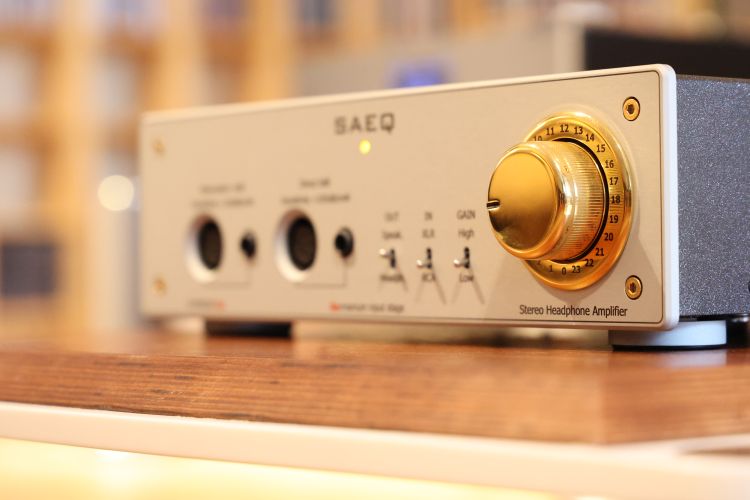 Review samples provided by SAEQ
Retail Prices:
SAEQ Hyperion Ge: 7500 euro including VAT and transport
RAAL CA-1e Naked (no cables or interface): 2.000 USD (ex VAT)
RAAL CA-1e with cables and TI-1b interface: 2.500 USD (ex VAT)
Standard cable 2 (SC2) 150.00 USD (ex VAT)
STAR-8 Pure Silver 1.80m 1100 USD, 3.00m 1500 USD (ex VAT)
I'll say it right away: this is going to be an unusual review for me but it will be very interesting. Even if you are not into headphones, I must encourage you to read on. I promise you will be intrigued!
The SAEQ Hyperion Ge is, first and foremost, a headphone amplifier. Right? Well… this actually doesn't seem as clear-cut as one might assume. For sure, the Hyperion Ge is a headphone amplifier but it also offers speaker outputs, and as I was told, it will happily drive even relatively "difficult" speakers such as my Magico S1 MkII's. In fact, I was asked to review the amp with these speakers primarily and to address its headphone capacities secondarily. For this, I was also supplied with a set of RAAL requisite CA-1a pure ribbon headphones.
Initially, I set out to do as planned, but as I would find out, not only does the Hyperion Ge drive both the Xavians and Magicos sublimely well, it was also an ear-opener in terms of its headphone-amp capabilities!
About SAEQ
It all started in the early seventies when the global audio industry began its dizzying rise which culminated in many legendary and respected audio products, especially in the field of amplification. At that time, information about top Hi-Fi components reached the former Yugoslavia and Serbia only rarely and with great delay. The procurement of new factory components was further complicated by a number of problems related to finances and customs restrictions. As SAEQ's owner and main designer Dragan Domanovic shares on the website, this situation did not diminish their passion or enthusiasm. On the contrary, that love was strengthened through research in the field of electronics, learning from books and magazines, and gaining firsthand auditory experience. Ultimately, this situation gave rise to Dragan's desire to make his own preamplifiers and amplifiers, and thus, SAEQ was born, and the first stereo tube amplifier was made in 1973.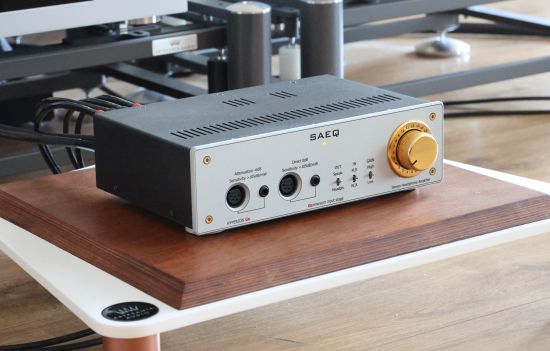 Hyperion Ge Description
In Greek mythology, Hyperion was, along with his son Helios, a personification of the sun. Intriguingly, SAEQ designed the Hyperion Ge's front panel to symbolize the brightness of the Sun. When I first laid eyes on the amp, I will admit to being unsure how to feel about that very gold volume dial. But with this little mythology snippet in mind, I will admit to looking at the amp differently. Now, it's actually growing on me!
Based on the SAEQ HSA-1b, the company set out with the Hyperion Ge to further increase the resolution and present a finer presentation of acoustic space. As designer Dragan Domanovic tells me, above all, the goal for the Hyperion Ge amp was to make it sound close to reality, close to live sound. The aspiration is for the amp to be resolute to the point of pleasantness, for it to have resolution with soul.
The Ge in the model name stands for Germanium, as in Germanium transistors, which were created in the fifties of the last century. Germanium transistors are a variation of a standard transistor where, instead of silicon, a Germanium alloy is used to increase the transmission speed of electrical signals. They had several advantages over silicon transistors, such as higher current gain, higher linearity, lower base voltage requirement, and a requirement for very little or even no negative feedback.
Due to the complicated technology and expensive basic material – germanium, their production was abandoned in the seventies of the last century. SAEQ states that the fact that germanium transistors have a 2 to 5 times lower base voltage than silicon transistors gives the Hyperion Ge amplifier incredible potential in displaying fine details that captivate with an opulent sonic presentation.
The Hyperion Ge uses an old topology normally used for tube amplifiers. It has a pure Class-A input stage with Germanium transistors and a series volume attenuator with 24 steps. As Dragan puts it, "Hyperion is a de facto semiconductor hybrid that includes Germanium transistors, J-FETs, and bipolar transistors. It is a cocktail that needs to be assembled carefully. You have to know how much you can put in. Good champagne with a strawberry in the glass, as one of my friends likes to say."
It is often said (not just by SAEQ) that Germanium transistors sound warmer and softer while also having a more resolving presentation. Indeed, their character is often associated with qualities more typical for tube amplifiers. Regular readers may recall my adventures with Germanium transistors in the context of Sw1x DAC-1 where I was provided with a range of different transistors to try their influence on the sound for myself.  I won't repeat my findings here but I will say based on those experiments that the claims for Germanium seem to be 100% true!
Connectivity
Is the Hyperion Ge a headphone amp with speaker connections, or vice versa? To be honest, it blurs the line. Please see the manufacturer's site for the full specification, but I will mention the most important aspects below.
The amp is operationally very basic. It has two inputs (one RCA and one XLR), 4 headphone outputs (6,3mm Jack and Balanced XLR, both provided twice for low and high gain situations), a single set of BFA/Banana speaker connectors, and big golden volume control. There is no infrared remote control.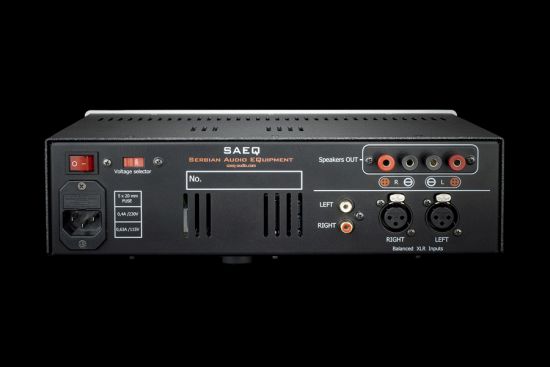 The amp is specified to be compatible with 4-600 Ohms headphones when connected directly, and even lower than that when using an external transformer such as the RAAL Requisite TI-1b interface. Its output power is specified as 8W/4 ohms, 11W/8 ohms, 5.5W/16 ohm,  2.7W/32 ohms, 1.3W/64 ohms, 0.6W/120 ohms, 0.3W/300 ohms, and 0.15W/600 ohms at 1khz/sine. For headphones, I am told it is more than capable. But the same values apply for connected loudspeakers which means that in real-world situations we are looking at an 8-11 Watt rating. Indeed, that is not much. Then again, I have heard several tube amplifiers with such wattages and they sound great, as long as they are driving compatible loudspeakers. As one can imagine, those same tube amplifiers did not fare well with the Magicos. Still, I was forewarned not to underestimate the amplifier's speaker-driving abilities.
As the SAEQ website states: "A special bonus is the speaker output which allows you an incredible experience of the authenticity of reproduction in your room, provided that it is connected to high-class loudspeakers. It certainly requires premium sound sources as well as the highest class of cabling to keep the path to the live sound open". I think my equipment qualifies, but I still wondered if this little amp would really be up to the task of driving the Magicos well… read on to find out!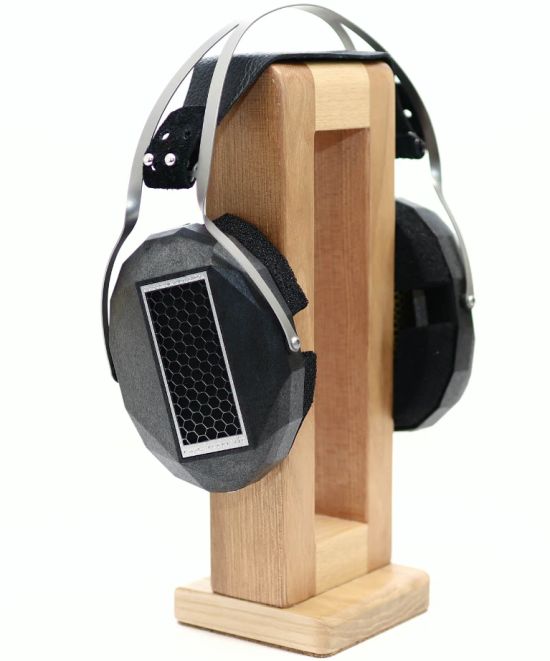 RAAL Requisite CA-1a Description
The Circum-Aural, true-ribbon CA-1a is based on the Open Baffle SR-1b model but it is more than an SR-1b with Circum-Aural ear pads. An entirely new motor was developed, new methods of manufacturing were required, and years of R&D went into its creation. With the CA-1a, the company aims to propose a headphone that performs like a $4,000 to $6,000 headphone at a price of $2,000. Every headphone is expertly handmade, in Serbia, by the same skilled European craftspeople who build world-renowned RAAL ribbon tweeters. The result is a headphone so accurate that it is referred to as a headphone monitor.
Next: SAEQ Hyperion Ge with Xavian Perla Esclusiva