Fezz Lybra Parallel Single-Ended 300B integrated amplifier
Review sample supplied by Hexagon Audio
Retail price in the NL including 21% VAT: 3.750 euro
Optional Accessories:
– Tube cage: 100 euro
– IR Remote Control: 225 euro (only 100 euro until August 2020)
– HT input: 175 euro
– Bluetooth 4.2 module: 175 euro
Available in Burgundy, Black, White and Red, the Lybra is Fezz Audio's Top model integrated power amplifier. The cage, IR remote, HT input and Bluetooth 4.2 module are all optional, taking the amp's relatively modest 3.750-euro price tag close to 4.000 euros if you add only the remote control. Do note that the remote control option is now only 100 euros as a special introductory offer until August 2020.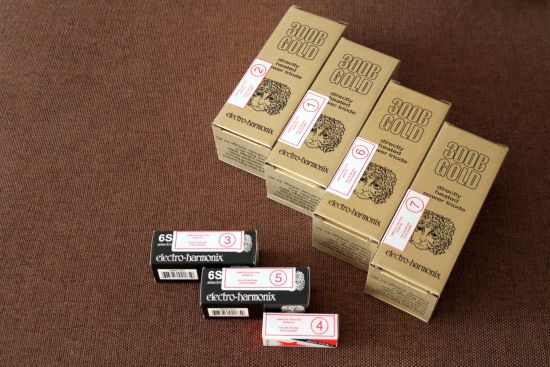 Supplied tubes are 4x Electro Harmonix 300B, 2x Electro Harmonix 6sn7 and 1x Sovtek 12AX7, all pre-paired and numbered for easy installation. Two 300B tubes work in parallel for each channel to output 15 watts of parallel-Single-Ended class-A power into 4 or 8 ohms.
In order to make pictures for the Facebook and Twitter announcements, I positioned the Lybra in the main listening room on one of the Artesania racks. Since it was sitting there anyway, I also connected it to the Magico S1 MkII speakers ad fired it up just to see what would happen. Amazingly, it sounded sweeter than it should but also quite robust and well-balanced. Honestly, I was expecting a mushy sound with blubber-bass and no treble but the Lybra just drove them as if they were not the power-guzzling, low-impedance speakers that they are. It wasn't very expressive or dynamic but that should not be expected either with such a marvelous mismatch. But that the amp did not fully collapse already said a thing or two about its design. Rather than quickly disconnecting it again as planned, I opted to leave it running for about 6 hours to enjoy it at low volume and to get the amp started.
First Impressions
In a further deviation from my normal practice, I took the amplifier with me when visiting audio buddy MP. At this stage, the Lybra was not yet fully run in, but as it would turn out later, its character does not change very dramatically even after over 40 hours of use meaning that in retrospect these early comparisons are also representative. MP's setup normally consists of a Jadis JP-80 preamp, Jadis JA30 mono power amps and Sonus Faber Electa Amator II speakers. Substituting the Jadis trio for the Lybra and connecting the existing AudioQuest Water interlinks between it and the Mark Levinson 390S CD player, the amplifier was powered with one of my usual Belden power cables. Then, we listened to the same albums as we did prior to the swap.
Amazingly, compared to the Jadis trio, the Lybra is more refined and airier, more transparent and more subtle. The Lybra is not quite as sweet or as creamy-rich as you might expect from a 300B-based amplifier and even if it sounds less voluptuous, the midrange has a very nice balance between sweetness and neutrality. The bass with the Sonus Fabers is well-controlled, tight and articulate and with very good impact but it is arguably less sonorous and carries less weight than with the more powerful Jadis  amps.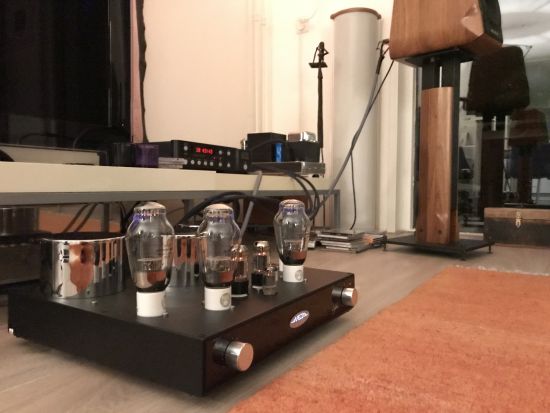 The Lybra's linearity and tightness are good traits but they also translated into a relative leanness in this system, making acoustical instruments sound a little less convincingly real than with the Jadis trio. However, it is good to note that this system has been tweaked over many years to sound optimal with the aforementioned full and relaxed-sounding Jadis components. Without any counter-measurements, it only makes sense that a very different-sounding amplifier will not be an ideal replacement. Also, while the Lybra had plenty of gain left in its volume range, I have a feeling that the Electa Amator II's prefer an amplifier with a little bit more power.  Or maybe the speakers just like an amp to be voiced a certain way to perform their best. As I would learn over the course of this review, that's something that the Lybra simply is not. It is very linear and very neutral. Ok, no probs, I have several other speaker pairings lined up for this amplifier and as I would learn, it the Lybra is actually quite chameleon-like.
Remote Control
Remote control is optional for the Lybra and it is important to note that the amplifier will not contain a motorized volume potentiometer if it is ordered without. Thus, one cannot simply purchase a handset later.
The amplifier is very responsive to remote control input and the handset operates perfectly within a wide-angle but even when pressing the buttons very briefly, the volume control moves in predefined, large, steps. I think that the motor is just triggered for a little bit too long. It feels like perhaps 3-dB steps as opposed to the more usual 1-dB steps. This has the undesired result of one frequently not being able to reach the ideal volume setting. One setting will be too low while the next will be too high. Often, this has made me get up to set it just so manually. Marco is aware and will bring this up with the manufacturer. Surely a fix should be simple.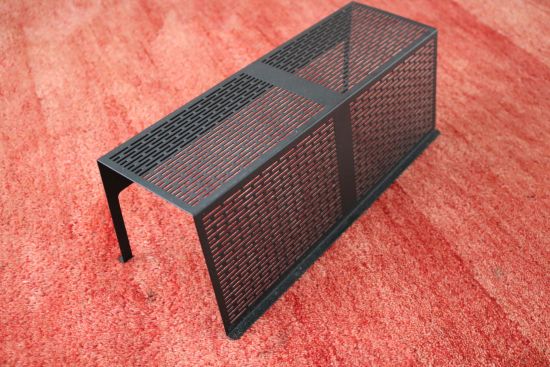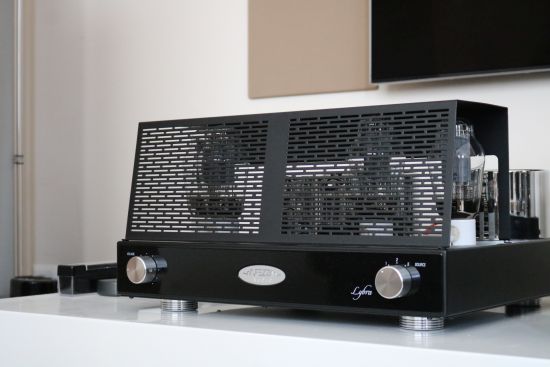 While I'm nitpicking, I'll also add that the tube cage is made of very thin and bendy sheet metal and in my view is probably only good for shielding the tubes from pets' tails and curious children's fingers. I doubt that it will provide any protection when given a good nudge.
Other than this, there are no operational anomalies and the amp behaves entirely as expected.