Line Magnetic LM-88IA, LM-150IA, LM-845IA, LM-805IA and LM-845 Premium – part 5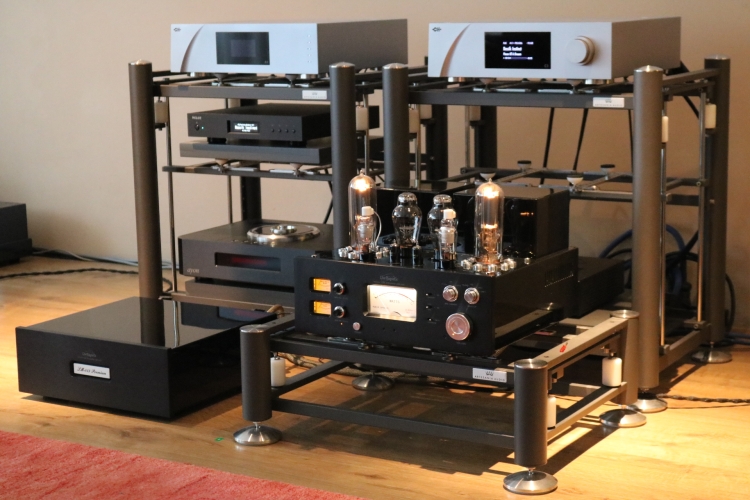 Line Magnetic LM-845 Premium and Conclusion
The LM-845 Premium is quite a special amplifier. It uses Shuguang 845 output tubes and 300B driver tubes and its 310A tubes are Line Magnetic-made replicas of the original Western Electric designs. As the only amp in the lineup that I tested, all the tubes are arranged in a perfectly symmetrical arrangement. For me that is important but then I know that I am picky about cosmetic matters. Anyway, there is no question about it: this impressive amp is the main conversation piece in any living room!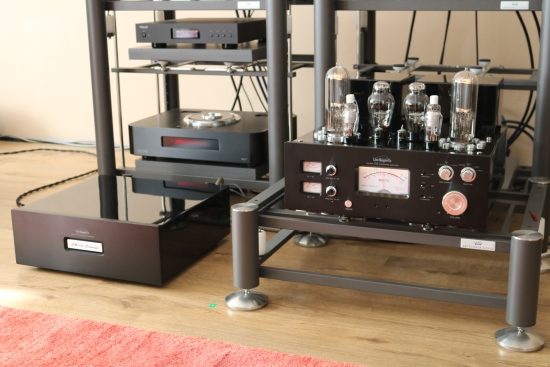 Its two enclosures suggest the use of a separate power supply but nothing could be further from the truth! The unit with the tubes holds all the amplification circuitry, tubes and power supplies, and all the operational controls. The other enclosure actually contains the oversized output transformers. As rumor has it, this two-unit reference amp is an upgrade of the LM-219IA, introduced in part following requests from dealers that were having a hard time hauling the super-heavy amps (~60kgs!) around their shops and delivering them to customers. The official take on this is that the LM-219IA is originally meant for the Chinese market while the LM-845 Premium is the intended replacement for the European market.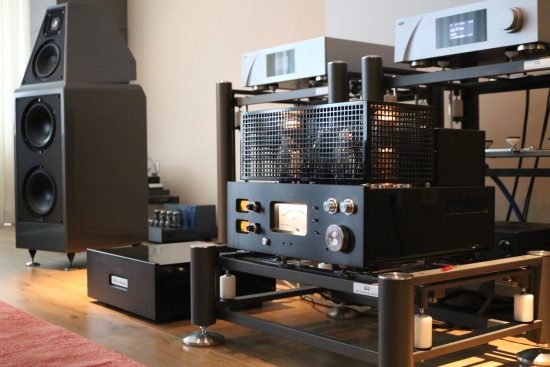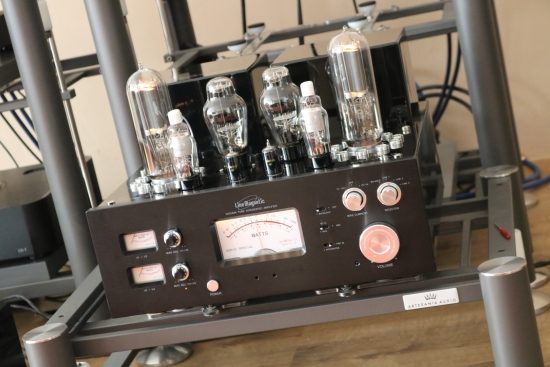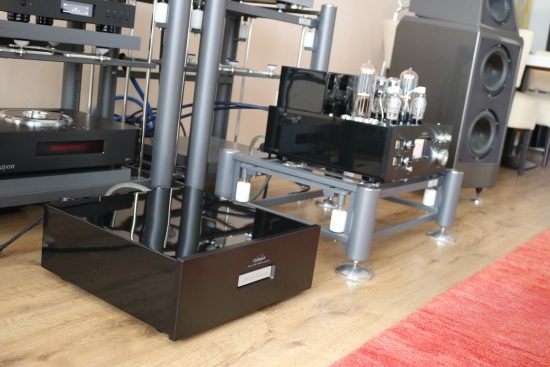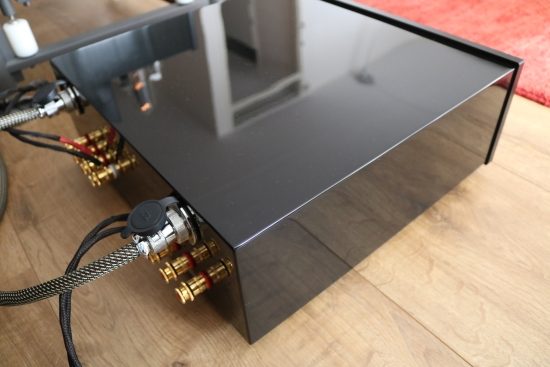 No matter the reasoning behind it, the fact remains that this is a beautiful beast of an amp. Compared to the LM-219IA, the build quality has made a significant leap forward. Where it could be seen that the latter was comprised of individual metal panels, the LM-845 Premium's enclosure is made in a seamless fashion, seemingly from a continuous block of metal. Naturally, this isn't the case, it would be immovable if so, but its edges are welded together so very nicely that it certainly seems that way. Another upgrade that I could see is the beefier, more upscale, speaker binding posts. What differences exist inside, I don't know and I haven't heard the LM-219IA so I can't make any comparisons with it. What I have heard, of course, are the other 4 Line Magnetic amps that I wrote about in the earlier parts of this review. And let me state it unequivocally right now: the LM-845 Premium wears its "premium" tag very rightfully so!
LM-845 Premium with Gustavson LS-One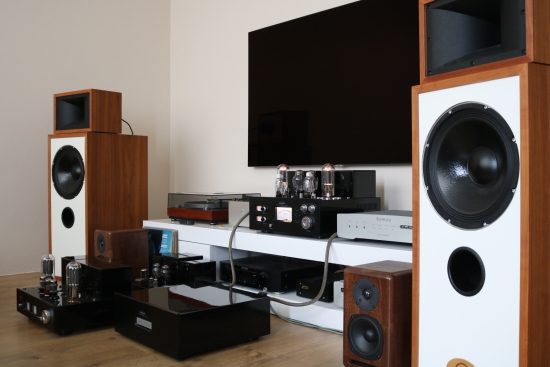 At this stage in the review, the Push-Pull amps have returned. Remaining are the LM-845IA and LM-805IA, for comparing to the LM-845 Premium. But I needn't have bothered. It took me all of 10 seconds to realize that the latter sounds better than any of the amps that preceded it.
It's evident that the Premium is in its element driving the Gustavsons, not just from the tight and articulate sound but also from looking at the watt meters which move only a little bit even when playing loudly. With the Gustavsons, the bass may not have the LM-805IA's slam but there is also no dynamic compression. Compared to the LM-805IA the LM-845 Premium was much tighter, much more articulate and a lot more transparent. It's more like listening to the LM-845IA in terms of purity but more even-handed and even more refined. Lest you think that the regular LM-845IA is somehow lacking, let me quickly correct that. With sensitive enough speakers such as the Gustavsons, the LM-845IA is truly brilliant. But the LM-845 Premium was simply even better. I can best describe this by saying that the latter was even more convincing, producing music with such realism that you immediately recognize that it is superior to the others.
The LM-845 Premium has the speed and communicative powers of the LM-845IA, the bass fulness of the LM-88IA, the midrange richness and texture of the LM-805IA and the neutrality of the LM-150IA. It has all this, with an even more intimate, emotional delivery, then further adds to it by being even more coherent and transparent. Then, the Premium does another quite astonishing trick: it sounds more relaxed and smoother than even the LM-805IA yet is more articulate, faster and precise than the LM-845IA!
Its bass is clean, fast and articulate, but less incisive than that of the LM-845IA and less bold and sonorous than that of the LM-805IA. I can imagine some people preferring the spicier 845 or the bolder and richer 805 but there is no doubt that the LM-845 Premium is more correct and the more audiophile amp. Its purity and transparency truly are state of the art!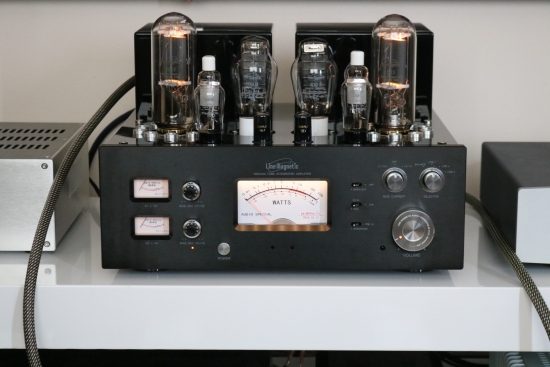 Best of all worlds – when combined with sensitive speakers
The LM-845 Premium's supremacy is so evident that I could just end the review right here. But I won't, of course! Still remaining is a test combined with the Wilsons. But before I go there, I need to insert a little disclaimer. Any SET amp's Achilles heel is power. Traditionally, one should not expect too much from a SET amp in terms of bass power and control. The area where these amps typically excel is in the midrange and the Line Magnetic SET amps that I reviewed certainly do. However, they also manage to sound surprisingly great in the bass. With efficient speakers, these amps come close to what a medium power Push-Pull amp such as the LM-88IA can do in the bass which is pretty good actually. But when more power-hungry speakers are used, a SET amp will let you notice in the bass and the overall dynamics.
LM-845 Premium with Wilson Watt Puppy 8
The Wilsons are relatively easy to drive but they have some impedance dips and, let's face it, they're not 100+ dB horn designs, which is what one will more typically use with low-power SET amps. The LM-845 Premium manages to squeeze 30 watts from its pair of 845 tubes which is quite amazing but the amp does not have the muscle of the 48-watt LM-805IA, let alone the LM-88IA or LM-150IA Push-Pull designs. But still, the Wilsons are my reference speakers and they are very revealing so I was eager to see how this reference amp from Line Magnetic would perform.
If a superlative bass impact is the only thing that matters then one need not look at tubes, SET or otherwise. But you, dear reader, would not have made it all the way to the end of this review if that was the case. There's more to music than bass. And this is where tubes in general and SET, in particular, come in.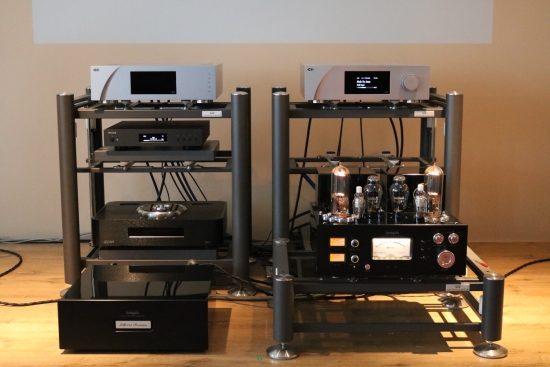 Sure enough, the LM-845 Premium still clearly conveyed its supremacy via the Wilsons. Its transparency, neutrality and natural purity were absolutely drool-inducing. In these fields, it performed on par with the CH Precision A1. And, of course, the amp excelled at suspending disbelief and recreating a live event right in front of my nose.
But while its Watt meters were sort of idling with the Gustavsons, now they predominantly at around 75% even when playing at moderate levels, meaning that the amp was not exactly in its happy place. Still, apart from the lack of bass pressure and overall less than dynamic delivery I couldn't hear any artifacts or increase in compression, even when really pushing it toward all that the amp could deliver. There was simply no distortion and never ever any harshness. This goes to show how well-built this amp really is. Clearly, the power supply and output transformers are not only over-specified but also of extremely good quality. If they were only oversized, then the amp would not have sounded so utterly transparent and revealing.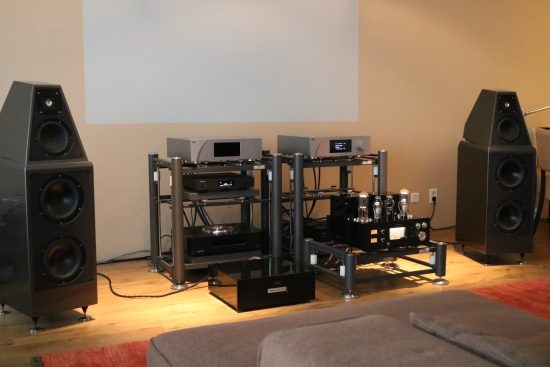 On Balance
While the bass is not typically a tube forté, midrange texture, live-ness and sheer emotional involvement are not typically transistor fortés. For bass quality (not necessarily volume or body), transparency, neutrality, dynamics, and overall refinement, the CH Precision A1 is my reference. Especially given its astronomic price tag this is not likely to change any time soon. However, all of these Line Magnetic amps had individual qualities that made them stand out and approach the A1 and in parts perform even better.
Tubes and transistors, of course, are two different worlds. Drum and Bass and most other electronic music where the bass is the primary focus will probably always sound better with Push-Pull tube amps and even better with transistor amps. Still, you might be surprised how powerful and propulsive a dance track can sound even with a 22-watt SET amp when combined with more sensitive speakers such as the Gustavsons! What all the Line Magnetic amps consistently do best, though, is to convey the human element, to suspend disbelief, to bring the artist into the room as the pure, living, breathing organism that it is. And it is when playing music with real acoustic instruments and unsampled vocals that these amps truly shine.
The LM-845 Premium does this even better than the other Line Magnetic amps, and also better than any other amp that I have heard, be it transistor or tube. But the LM-845 Premium further adds to this by also sounding more articulate and faster in the bass than the other Line Magnetic amps and it tops it off by equalling the CH Precision amp on several of its fortés, such as transparency, refinement and timbre/tonality.
Comparisons in my head
Comparing the LM-845IA's performance in my head to other SET tube amps that I have used in these quarters it is also clear that none of them were this refined and airy, or as subtly detailed. The Ayon Crossfire III and Viva Verona XL both had the edge in terms of bass solidity and drive but were not nearly as refined and fluid as any of the Line Magnetic amps. I guess that's what you get when trying to produce transistor-like bass using a tube: surprisingly great bass at the expense of organic liquidity.
Various articles on this website contain parts where I've been euphoric about the Vaic Reference 520b's. Well, the former owner of these units (meneer Buis) and I agree that the LM-845 Premium performs on a higher level than those amps on all parameters when used with the Wilsons, except for dynamics and bass power. In part thanks to their parallel dual 52b Triodes, the Vaics are quite powerful in the bass, but also considerably less pure, transparent and refined than the Line Magnetic amp.
Conclusion
All these Line Magnetic amps have their particular traits but they have some things in common: they are all refined, lively and richly textured, and all of them immediately invoke emotional involvement. Each of the amps performs superbly, especially given their price range. The bass lover in me has a mild preference for the LM-88IA and LM-150IA, the latter being particularly exquisite with the Apogee Duettas but overall, given a pair of speakers with sufficient sensitivity, I prefer the SET amps for their immensely pure and convincingly "live" character. These amps are just the best recipe to invoke goosebumps if speakers of high enough sensitivity are used.
The 845 Premium, finally, is so well-balanced, so pure, so rich in texture, so room-filling and so utterly emotionally engaging as well as superbly transparent, neutral and natural that it will spoil a person for lesser designs.
Part 1 – Introduction
Part 2 – Review using Gustavson speakers
Part 3 – Review using Wilson speakers
Part 4 – Review using Duetta Signature speakers
Part 5 – LM-845 Premium and Conclusion
Read Also
Company Websites
A Tube High Fidelity
Argonweg 23
1362 AA Almere
info@atube-highfidelity.nl
phone +31 (0)36 – 3333041
mobile +31 (0)6 – 22393789