Aidas Panzerholz MC Cartridge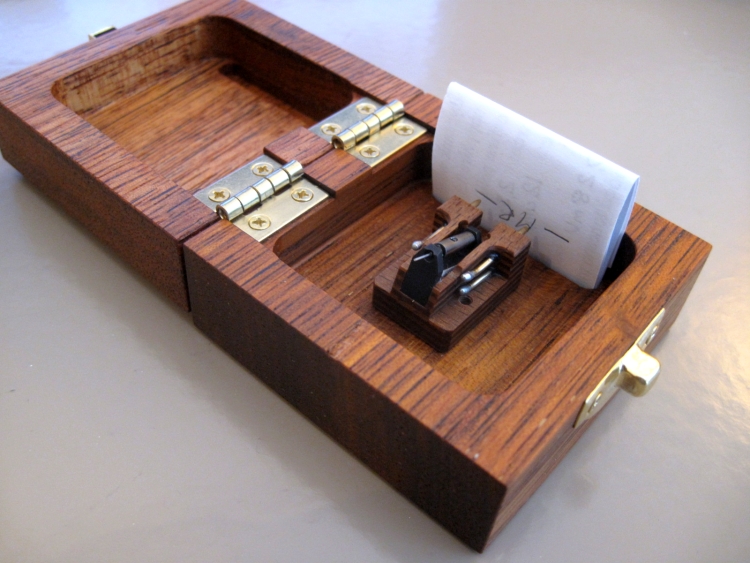 Powerful and dynamic with incredible transient behavior
Now that the summer is behind us, the days are getting ever shorter in the Netherlands. Especially when it's dark, rainy, and windy outside, I get that craving for playing LPs. In times like these, it seems that I need the extra emotional charge that analog records seem so easily capable to produce. Being in the mood and with several turntables at my disposal, what better time to review a new MC cartridge with a unique suspension system?
Review sample supplied by ViRaHighEnd
Retail price $1850 (1575 euro)
I was first approached by Victor Simakov of ViraHighEnd two months ago with the request to review their brand new Radiant Tangent tonearm. This is not your ordinary pivot arm though, nor a tangential arm for that matter. This is a pivoted tonearm with two wands and a multitude of bearings that work together to keep the tracking error to a minimum at all times. This is in sharp contrast to a regular pivot tonearm that only has zero tracking error in two positions on the record.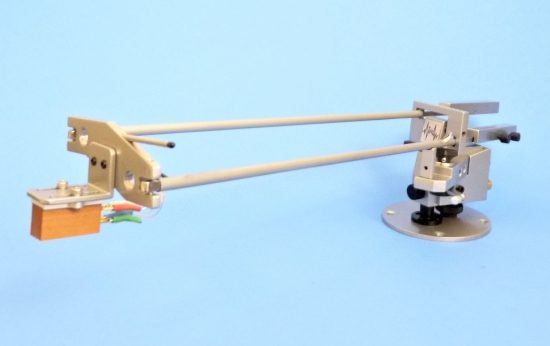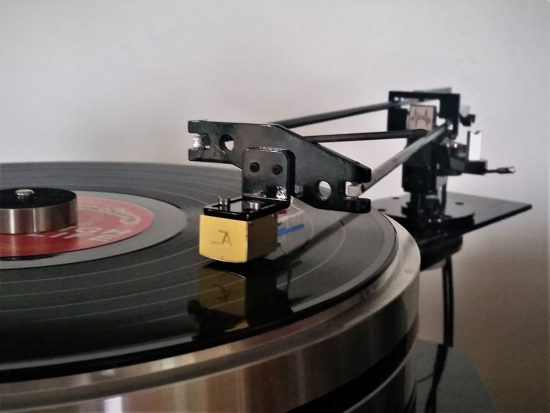 Intrigued though I was, I had to admit not to possess a turntable fit for mounting this special arm on. Although I have a fully refurbished Thorens TD160B, I was still fiddling with its setup, and getting the "SME 3009 SII improved" arm to sound really good. Also at that time, I figured that the Thorens might not be high-end enough to do full justice to such an elevated arm, but after recent experience with a new tonearm I have a newfound admiration for this turntable, so perhaps a review of this special tonearm could still follow. For now, though, Victor proposed to review the new Aidas cartridge.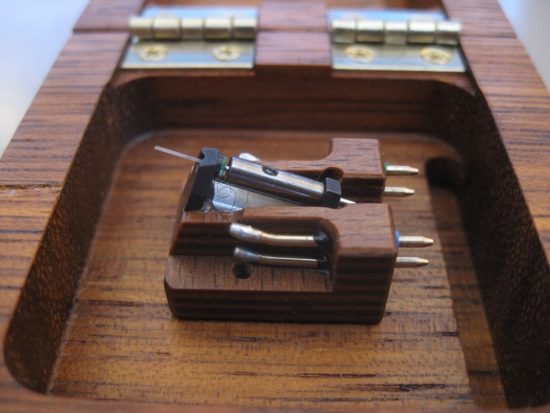 About VIRa High End
ViRa Highend is a multi-national business venture comprised of High-End enthusiasts, audio engineers and audio professionals. The international production compliments the Lithuanian engineering with aviation materials from Russia, precision craftsmanship of Switzerland, modern technology from Japan and with final production assembly in the USA.
Aidas Cartridges are handmade in Lithuania, Kaunas, by master Aidas Svazas.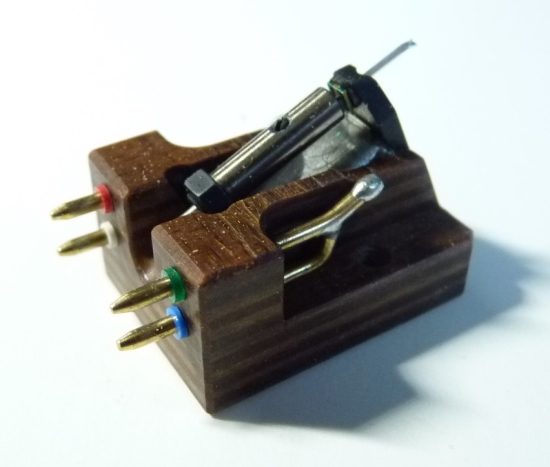 Besides the Panzerholz reviewed here, Aidas has a range of other cartridges, among which a special Mono cartridge (pictured above), also using AlNiCo5 magnets and also made with Panzerholz.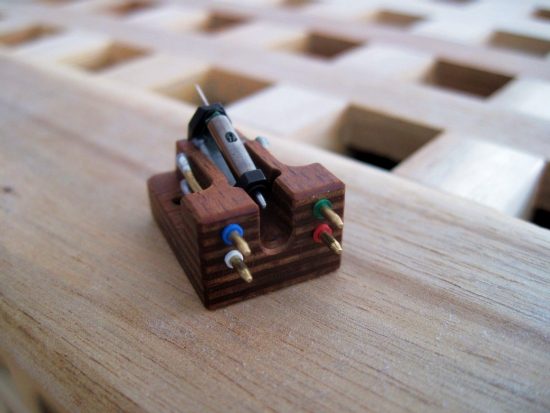 Aidas cartridges are unlike any other MC cartridge as they utilize a unique mechanical design. Normally, an MC cartridge's cantilever is mounted by tensioning it with the coils against a rubber pad with a string from the rear side. The wire is pulled until the desired tension is achieved and then the string is fixed with a small screw. The Aidas cartridge line does away with this string and is damped quite differently.
With the Aidas cartridge, the titanium suspension block holds the cantilever on one side and the generator on the other. The generator is connected to the damper pad and supported with a fixed hardened stainless needle, which makes for a more rigid connection.
Apart from this unique approach to tensioning and damping, the cartridge is pretty special in several other capacities. The magnet used is an AlNiCo5 and the housing is made of Panzerholz, a very solid and dense type of natural wood. The stylus is a superfine polished Namiki Micro Ridge type, which is mounted on a cantilever made entirely of Namiki Sapphire! I have to admit having been a little scared of breaking it while mounting, but in practice, the needle turns out to be very strong and likely stronger than the more usual aluminum cantilevers.
With 0.28mV it is a low output MC, but not unusually so. The two MC preamps that I have available both worked flawlessly with it.
Left: Thorens TD160B Refurbished, Right: Pioneer PL-L1000. Naturally, all critical listening was done with the covers removed.
Turntable / arm matching
When I received the cartridge, the Thorens TD160B was still fitted with an SME 3009 SII improved tonearm. Although this arm at its time of introduction many decades ago was labeled as being medium mass and fit for a wide range of cartridges, I think that much has changed since then, making it a less than universal fit. There is nothing wrong with this, as long as you use a well-matched cartridge such as reportedly the Shure V15 is supposed to be. Of the cartridges that I tried as alternatives however so far, I have not found one that makes a perfect match with this arm, and I have now concluded that this arm is just not ideal for today's typically low-ish compliance MC cartridges.
The biggest issue in my case is bass solidity and dynamic power. While this arm's knife-edge bearing makes for super-fluid treble and impressive soundstage layering, this type of bearing is perhaps just too loose to allow stiffer suspension cartridges to extract all the bass from the grooves. After all, you don't want the stylus to modulate the arm, but for it to transfer all its energy to the coils.
A better arm for the Thorens
This lead to the idea of finding another arm for the Thorens. When I started on this review, only the SME was at hand, and so I started off my listening sessions with this arm. Later I obtained an Origin Live Onyx arm that makes a perfect match with the Panzerholz, and I will write more about this further down.
Surely the cartridge should have been mounted a little bit more to the front, and the arm itself a little back, but I wanted to keep the arm's position the same to allow quick comparisons. Final listening will be carried out with a different arm and very precise cartridge mounting.
First Impressions using the SME 3009 SII improved arm
The nice thing about this arm is its removable headshell with a standard connector, dubbed by many as SME mount as they popularised it, but actually, this was an Ortofon invention. For comparison purposes, I have multiple headshells, one original SME and one imitation SME type. Normally I use a Denon DL304 in one of the SME headshells. For this comparison, I prepared the other SME headshell with the Aidas Panzerholz cartridge. Fortunately, these two cartridges are very close in height which means that VTA can remain set. All that needs to be re-adjusted upon the change of cartridge is the overhang and the tracking force, both of which are easy to do with this arm and headshell and the help from a digital VTF scale.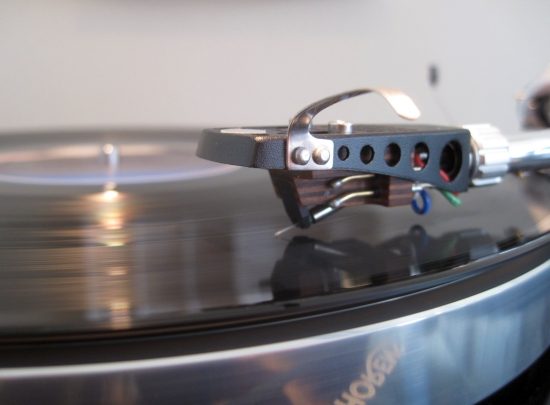 Aidas Panzerholz in SME 3009 SII improved on Thorens TD160B Refurbished
Right off the bat, the Aidas Panzerholz displays superb low-level definition and incredible overall detail retrieval, but it is not at all clinical. Bass is articulate and crispy and timbre is highly natural. Acoustical instruments really sound as such, the wooden tonality of a piano really is life like. This is audible at first listen but becomes even more painfully clear when switching back to the Denon DL304. Then again, the same can be said when comparing with the otherwise excellent Audio Technica ATN-150MLX or the super-affordable, smooth-sounding Shure M97xE for that matter.
The Denon has been my midrange reference for years and it has always sounded quite refined, more so than most other cartridges at the price, but the Aidas Panzerholz shows that the Denon actually sounds a little synthetic, not quite as natural tonally. Also, although very fluid, the Denon glosses over transients and fine detail that the Aidas Panzerholz seems to reproduce with utter ease.
Dynamics are staggering, mostly due to this cartridge's incredible transient attack. Its transients are not only lightning fast (should I say "instant"?), but they also peak louder, than any of my other cartridges.
Aidas Panzerholz on Pioneer PL-L1000
My first impression with the Aidas Panzerholz using the Thorens TD160 and SME 3009 SII improved arm really is very good already, but I'm certain that more can be achieved. For example, while the treble is very clean, open and airy, there seems to be a little bit too much of it, while the bass could certainly be more sonorous and authoritative. A cross-comparison using the Aidas Panzerholz while still in the same headshell in a Pioneer PL-L1000 linear tracking turntable confirms my suspicions by displaying a much more even tonality, but is itself tonally on the lean side, offsetting the gains. While the Pioneer certainly has a magnificent arm and never plays less than energetic and lively, it does not provide the timbral richness and subtle tonal shading that the Thorens is so good at.
Meanwhile, I have received and mounted the new tonearm, along with two different arm boards and you can read all about this in the Origin Live review.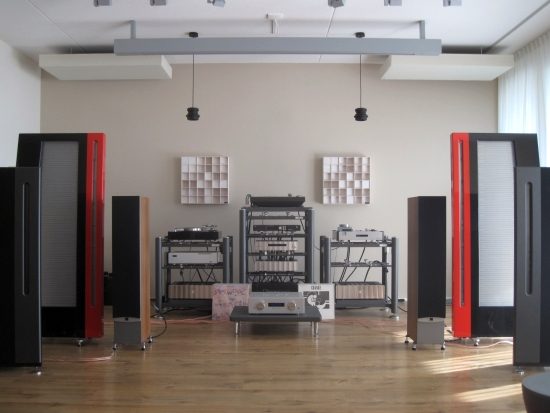 For assessing the Aidas Panzerholz mainly I used the hybrid magnetostatic/dynamic Apogee Centaur, barely visible above, and the Revel Ultima Salon below. Preamp in both cases is the Jeff Rowland Corus + PSU. Power amps were either the Jeff Rowland model 6 monos or the Bryston 3B ST.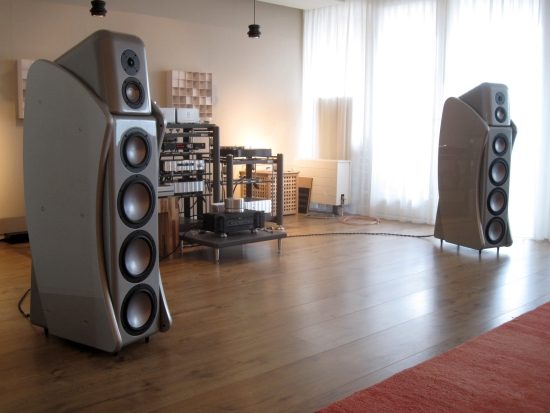 Final listening using the Origin Live Onyx arm
After having obtained such good results with the Denon DL-304 and the Onyx arm, I was excited to find out how the Aidas Panzerholz would perform. I was not disappointed, quite the opposite!
Where with the SME arm the Panzerholz had been tight and articulate but a bit light in the bass and brightly lit in the treble, it was now completely balanced.
Bass was now really, really good: well-defined and articulate, but also deep and powerful, and very nicely sonorous. Midrange, already a forte of this cartridge with the SME arm, was still acoustically completely convincing and timbrally perfect, and treble was still open and airy, but now nicely balanced and not at all forward or otherwise overbearing.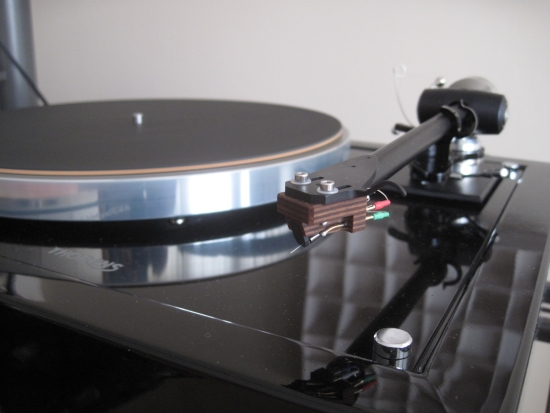 Conclusion
Arguably this cartridge's strongest selling points are its super-fast transients and its spontaneous dynamic behavior. Oftentimes an audio component or cartridge with fast transients can also sound a little thin, but not here. The Panzerholz sounds as full-bodied as the best cartridges I've heard, yet faster, more nimble and more articulate than any of them. It's a rare combination of traits that has to be heard.
Specifications:
Body: wood Panzerholz (Tank Wood)
Cantilever:"Namiki"  sapphire
Stylus:"Namiki" superfine polished microridge
Output: 0.28mV
Magnet system: AlNiCo5
Tracking force: 2.4-2.5g.
Compliance lateral: 12 um/mN
Cartridge weight:  10.1g.
Recommended loading: 100 – 1,000 ohms
Channel separation: >30dB/1kHz
Channel balance: >1dB/1kHz
Damping system: chiseled suspension on the damper and needle
Coils: copper 0.03mm
Mount: thread in wood M2.5×0.45, 1/2 inch / 12.7mm standard between the holes 
Coil impedance DC: 4 ohms 
Inductance:  3.20uH
Capacitance: 50nF 
Trackability at 300Hz/2.5g: 90-80uM
Vertical tracking angle: 20 degrees 
Recommended tonearm mass: medium
Break-in period: 50 hours
Read Also
Aidas Rainbow MC Cartridge
Aidas Gala Gold LE MC Cartridge
External Links
Manufacturer:
Aidas Cartridges
Associated Websites:
aidasaudio.com
virausa.com