Aidas Gala Gold LE MC Cartridge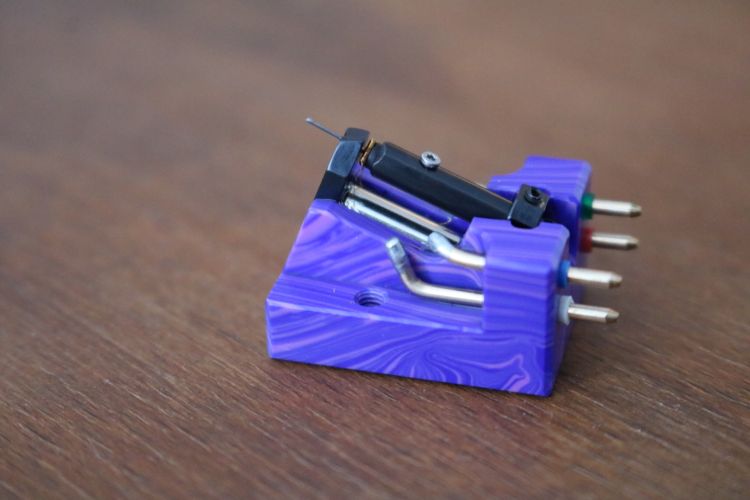 Review sample kindly supplied by ViRaHighEnd
Retail price 5000 euro
Designed to honor his 85-year old mother Galina-Gala, Victor Simakov of ViRa introduced a new MC cartridge called the Gala Gold Limited Edition.
Galina is a decorated teacher and professor of foreign languages at a local University in the city of Shadrinsk in Russia. She was decorated with a gold medal for her dedication to work and teaching students. To honor her, it is issued in 85 copies only, has a violet color and uses gold coils.
As a very content user of a Aidas Rainbow cartridge, this is exciting news but, to be honest, I was also a little reticent to jump in. Why? Well, as regular readers will know, I continue to be amazed by the Rainbow's performance which leaves one to wonder, could another cartridge by the same maker be even better? The only way to find out, of course, is to review it.
The Gala Gold LE cartridge is made to the same ultra-high standards that are applied to the top models. The cartridge's body is made of Blue River Agate, has a newly designed generator and it uses an Adamant boron composite cantilever with a 2x damping system pure gold coils.
All Gala cartridges have a boron cantilever with a Micro Ridge stylus. A special order of Ruby or Sapphire cantilever adds 4 weeks of turn around. The price for the special order is the same as for boron cantilever models.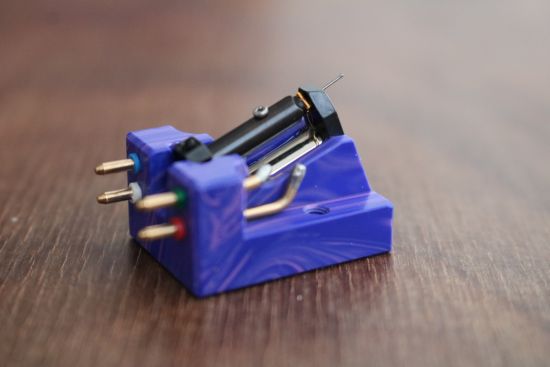 Break-In
The cartridge is specified as requiring 50 hours to break in. As I found with the Rainbow cartridge, this is indeed true but it is also true that, even with zero hours, the cartridge sounds mighty impressive. As I would quickly learn, the same holds true for the Gala Gold LE. Right from the start, the cartridge sounds highly precise but also highly refined, there is no sharpness here, not even when new. It does still sound a little too controlled and could do with some more tonal fullness in the bottom octaves. If I recall, this fills in more and more, the longer the cartridge is used. After having given it over 20 hours I conducted the first serious listening test and at around 50 hours I did the conclusive listening test.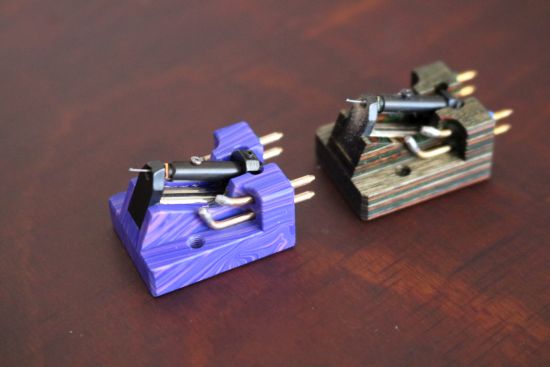 Coming from the Rainbow
With identical body dimensions, the same Adamant boron composite cantilever, Nakimi Microridge needle tip, AlNiCo5 magnet, identical tracking force, VTA and compliance values, and a very similar output, one could easily make the mistake of thinking that the Gala Gold LE cartridge with its striking purple color differs only visually from the Rainbow. That would be a mistake.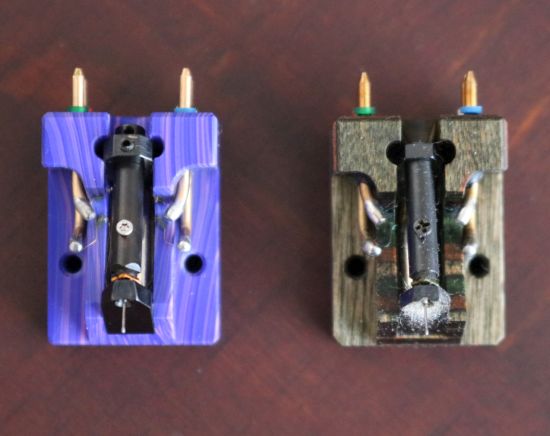 Of course, the Gala Gold LE contains pure gold coils whereas the Rainbow uses copper. Although pure gold has a lower conductivity than pure Copper, the Gala Gold LE's DC coil impedance at 2,95 Ohms is lower than the Rainbow's 4 Ohms. The 2x damping system as uniquely employed by the Gala Gold LE has 2 layers of damping material, one inside the other, to utilize vertical pressure and maintain cable tension. This cable itself has a damper as well. This system may be responsible for the change in trackability at 300Hz, being 50uM whereas the Rainbow was specified at 60uM. Further, the Gala Gold LE's body is made of Blue River Agate whereas the Rainbow's body is made of Durawood. This change to natural stone is responsible for a difference in cartridge weight of 11,7 versus the Rainbow's 8,7 grams. The body materials themselves no doubt also have an influence on the end result. But what are these materials exactly?
As I found, there are multiple products branded as Durawood but the material that is used for the Rainbow cartridges is the American, USA-made, version of Panzerholz, also known as Tankwood. The material is produced under extreme heat, pressure and moisture as a result of which the wood is compressed to half of its original dimensions.
While the super-polished appearance may induce the feeling of a synthesized material, Blue River Agate is actually a natural stone, precision-cut and polished to the shiny object that it is now.
First Listening
Taken fresh from its packaging, I performed a swap after having listened to a few records using the Rainbow cartridge using the Origin Live Calypso mk4 turntable with Multi-Layer Platter, Illustrious arm and Silver Hybrid cable. The rest of the system is comprised of an Ayon Stealth preamp, a CH Precision A1.5 power amplifier and Martin Logan ESL15A electrostatic loudspeakers, connected with Jorma Design Trinity speaker cables. I made sure to very carefully set the required parameters such as VTF and overhang exactly the same as they were for the Rainbow while avoiding changing those that need no re-adjustment, such as VTA and azymuth. At first, I had left the turntable's anti-skating facility unchanged only to find that the cartridge was pulled inward every time that it landed in the lead-in groove. As I never heard any mistracking or sibilants whatsoever unless I played very dynamic 45 RPM 12″ records that were on loan from a friend at the time, this was currently my only indication that this cartridge needed a higher amount of compensation. Once I found the correct setting that made the needle drop reliably, I started my initial, non-serious, listening.
Coming from the Rainbow and with the same settings on the CH Precision P1 phono preamp, even with zero hours of use, the Gala LE Gold sounds remarkably sophisticated and refined, considerably more so than the Rainbow. Like the latter, the Gala Gold LE has perfect tracking, but it is even more highly resolving, airier and more velvety.
If we regard the Rainbow as neutral in terms of frequency response, then the Gala Gold LE was a little lean in the midbass and a little tipped-up in the treble. However, having heard many more cartridges since first reviewing it, I think it's fair to say that the Rainbow is actually slightly dark and perhaps slight fuller in the bass than strictly neutral. In that light, the Gala Gold LE is actually very neutral and very well-balanced.
However, at this time, the new cartridge was also dynamically restrained and while highly articulate, superbly refined and possessing of super accurate bass, it was just not quite as punchy and dramatic as the Rainbow was. Blaming this overt control on the lack of break-in I decided to give it 35 more LP sides before resuming my assessments.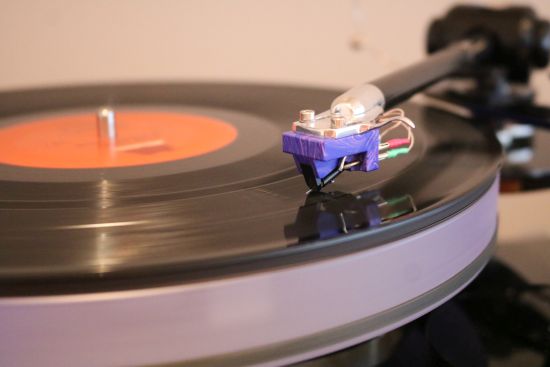 More Listening
After the cartridge had played 35 more LP sides, equalling roughly 770 minutes or let's say 800 minutes when counting the extra running time in the lead-out groove due to my delays restarting it, this amounts to only 13 of the required 50 hours. While nowhere near fully broken-in, conform earlier experiences with the Rainbow cartridge, I was expecting a big change. But, to my surprise, nothing much had changed. I did hear now even more clearly than before that the cartridge definitely has benchmark-setting resolution and is gentler and more refined than any other cartridge I heard so far but it remained so tight and controlled that it made music listening more a cerebral exercise than an emotional one. It was absolutely highly impressive but I wasn't feeling the music.
So far, the resistance value had been set to 250 Ohms, which turned out to be ideal for the Rainbow cartridge. All the P1 phono preamp's adjustments can be changed comfortably using a tablet right from the listening position and it took no time at all to try a multitude of options. Indeed, a slightly lower value of 200 Ohms reigned in the treble region to yield a more balanced frequency curve at the cost of a small amount of bass snap and transient sharpness. While this did help, it wasn't the AHA moment that I had hoped for.
Then, it suddenly hit me. The 2x damping system! That, along with the few parameters that differed subtly from the Rainbow, most importantly, the lower trackability at 300Hz. If the stylus itself was controlled more stiffly then maybe the solution was in slightly loosening the arm. While that sounds drastic, this is actually an important adjustment feature of this turntable and it was precisely this adjustment that also took me a considerable amount of time getting right with the Rainbow cartridge.
Emotional Listening
With the arm clamp loosened only by the slightest amount, BOOOM, all of a sudden, the sound snapped right into the sweet spot. The bass retained its precision but also gained more body and substance, the treble did not lose any refinement or air yet instead of being tipped-up, it now became perfectly bedded-in with the midrange, subtle and capable of great intimacy. The midrange truly blossomed with a beautiful blend of velvety smoothness and lifelike tonality coupled with superb resolution. Especially after re-setting the phono stage's termination to 250 Ohms, I felt that I had found the cartridge's best possible playback.
As it happened, I had my neighbors Bart and Jessyca on a visit and we were listening to a selection of their LPs. Up until I made the arm adjustment they agreed that the Gala Gold LE was impressive but different. While it may sound like a cliche, they picked up on the new cartridge unveiling certain details that they did not note before in their records during earlier sessions at my place.
As they are music lovers, not audiophiles, they do not possess the audiophile lingo to describe precisely what they thought had happened but they really didn't even have to tell me anything. As soon as I had made the adjustment, I noticed how both their heads started bobbing to the music and we all had big smiles on our faces. Need one say any more?
Now, I was hearing the magic that the Gala Gold LE was capable of. And let me tell you, that is truly something. Not only is it highly sophisticated, velvety-smooth and extremely refined, it is also the most revealing cartridge that I have heard so far. It's rare to hear a cartridge so very precise, so linear and so highly resolving yet with an absolute absence of dryness and with seemingly eternal decays. It's the kind of delivery that is analytical in a good sense and absolutely not clinical. Further, the Gala Gold LE has a remarkable ability to sound utterly silent. This allows super-easy dissecting of all the separate musical elements within the mix, no matter how subtle.
What's also great is that its Microridge stylus tracks even slightly worn records just superbly. You can hear the scratches here and there but they remain sort of subdued and never appear in the foreground. Meanwhile, sibilants or other tracking distortions are simply absent unless they are actually carved in the grooves.
And that sense of restraint? Well, to be honest, while this cartridge is super-expressive and certainly does not blur anything, even now that it was properly bedded in, it does indeed sound less punchy and dynamic than the Rainbow. This is actually another aspect that Bart and Jessyca picked up on. They referred to it as a peacefulness. Jessyca, in particular, is very sensitive to loud, hard or sudden sounds and she liked how she felt calmer while listening to the Gala Gold LE. Personally, I am weary of this effect as it can reduce pacing and punch, and with it, the musical intent.
Fortunately, the speed and pacing are actually great, as confirmed by the continuous bobbing of heads and tapping of feet. However, some records that should rock, now sounded a little polite and at times I found myself longing for the bolder and more impactful sound of the Rainbow cartridge.
Perspective
Most of the cartridges that I used are in a much lower price category. Comparing a fine cartridge such as the Gala Gold LE to a Denon DL304 or Audio Technica AT33EV or AT150mlx is not much use. But among the ones that I heard or reviewed recently is also a cartridge of a completely different order: the Acoustical Systems Palladian. At 8.980 euro, this is admittedly a cartridge of the arm + leg category but it did neatly show the Rainbow cartridge where it could be bettered. I won't say that the Gala Gold LE is every bit as good as the Palladian in all aspects or that it sounds similar but I will say that the new Aidas cartridge has better tracking, is easily as revealing and refined and is otherwise pretty competitive.
Conclusion
Highly sophisticated, super-silent, velvety-smooth, and extremely refined, the Gala Gold LE is the most revealing cartridge that I have heard so far. It's rare to hear a cartridge so very precise, so linear and so highly resolving yet with an absolute absence of dryness and with seemingly eternal decays.
The Gala Gold LE is the third Aidas cartridge that I have reviewed. This cartridge doesn't sound like either the Rainbow or the Panzerholz but that is a good thing because it allows the selection of precisely the right cartridge for a given tonearm/turntable combination. Differences aside, I do see a pattern. While there is variation in terms of punch, dynamics and sophistication, what all three Aidas cartridges have in common is superb tracking, an accurate and articulate overall delivery and amazingly well-defined bass.
Specifications:
Body: Blue River Agate
Cantilever: Namiki / Adamant boron composite
Stylus: Namiki MicroRidge
Output: 0.26 mV
Magnet system: AlNiCo5
Tracking force: 1.9-2.1 gram
Compliance lateral: 12 um/mN
Cartridge weight: 11.7 gram
Recommended loading: 100 – 1,000 Ohms
Channel separation: >30 dB/1 kHz
Channel balance: >1 dB/1 kHz
Coils: 999.5 Gold 0.04 mm
Mount: thread M2.5 x 0.45 mm, 1/2 inch or 12.7 mm
Coil impedance DC: 2.95 Ohms
Trackability at 300Hz/2.0g: 50 uM
Vertical tracking angle: 20°
Recommended tonearm mass: lite, medium, high
Break-in period: 50 hours
External Links
Manufacturer:
Aidas Cartridges
Associated Websites:
aidasaudio.com
virausa.com
Read Also
ViRa Aidas Panzerholz MC Cartridge
ViRa Aidas Rainbow MC Cartridge