MBL show at PUUR audio, video & domotica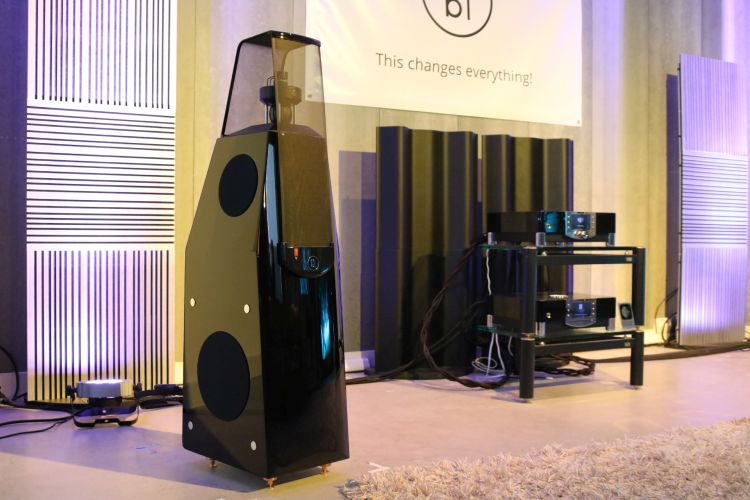 Retail prices:
MBL 116F loudspeakers: 25.750 euro per pair
MBL N31 CD player/DAC: 12.200 euro
MBL N51 integrated amplifier: 14.000 euro
Roon Module: 865 euro
William Tell Silver Zero & Bass speaker cables (3m) : 5.849 euro
AudioQuest Earth XLR (1,5m): 1.239 euro
AudioQuest Firebird power cables (2m): 4.799 euro
On Saturday, January 25th, PUUR audio, video & domotica demonstrated the MBL 116F Radialstrahler loudspeakers along with the N31 CD player/DAC and N51 amplifier combo from MBL's Noble Line. The system was wired entirely with AudioQuest cables: William Tell Silver Zero & Bass speaker cables, Earth XLR interlink and Firebird power cables.
When thinking of MBL, I envision huge shiny black power amplifiers with big gold ornaments and, of course, those unusual man-sized "Radialstrahler" loudspeakers as seen and heard at audio shows many years ago. While these costly Reference Line products are still part of the portfolio, MBL also offers the reasonably-priced Corona line and the intermediate Noble line. It's the latter range from which two components are demoed at the PUUR showroom. All the MBL components are available in four color schemes among which the classic black/gold but also white/palinux or black/palinux as seen on these pictures. The speakers are even available in 5 color schemes among which the classic black/gold as seen at this show or arctic silver/chrome as seen in the second room further down on this page.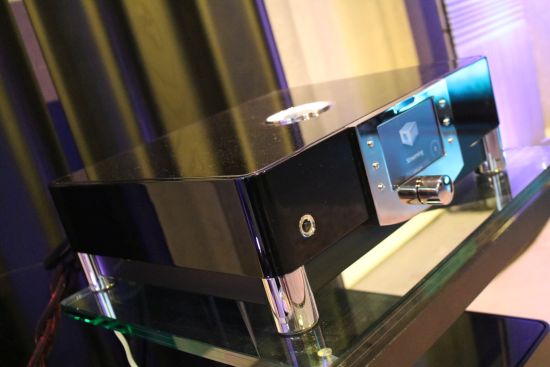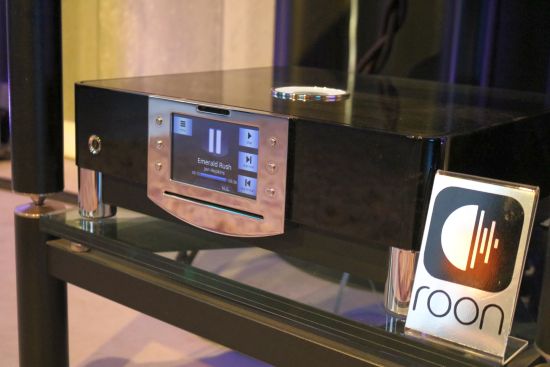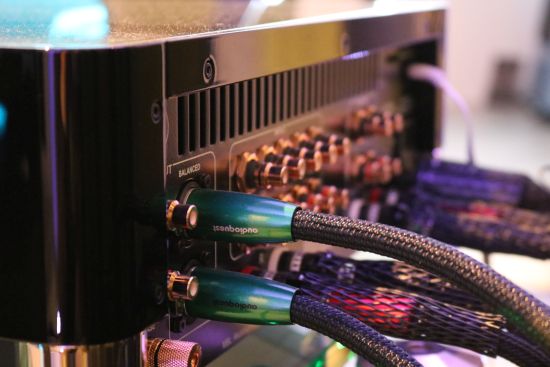 For those who like the brand's appeal but would like to ease-in, the Corona line offers components starting at 6.100 euros per component. That's still not pocket money but it is important to note that all MBL products are built to the same high standard and that they are all made to stand the test of time. These are certainly not products that are purchased only to be replaced 2 years later.
Above: the MBL Corona Line in white/palinux flanked by the Kroma Audio Mimi loudspeakers. Below: the MBL 120 Radialstrahler loudspeakers in white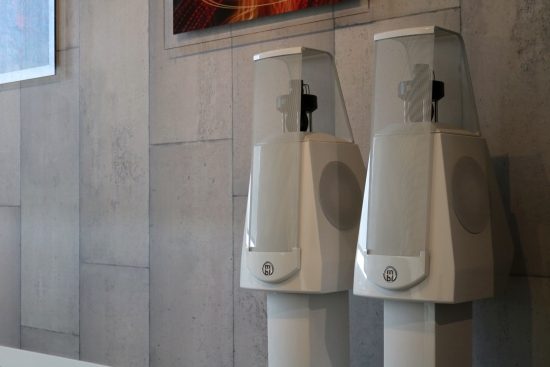 As this is show coverage and not an extensive review, I won't go into the specifics too deeply and will only touch on the components' properties briefly. Starting with the N31, this is essentially a DAC with a CD transport included. The sample used at this demo was fitted with the brand new Roon Module which can also be retrofitted to existing units. The N51 integrated amplifier employs dual proprietary class-D output stages fed by a positively huge toroidal transformer and two large banks of capacitors.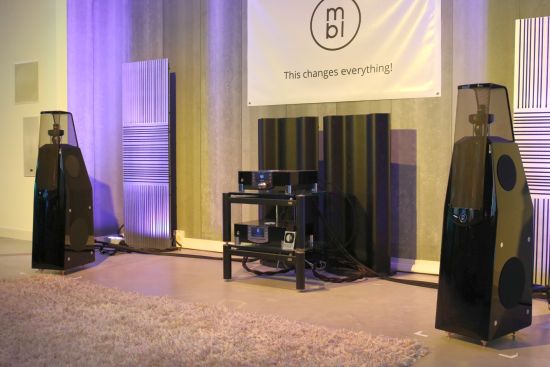 The 116F  loudspeakers used for this demo are the smallest of the floor-standing range and have a very pleasing appearance: not too small and not too tall. The bass cabinets contain two woofers and two mid-woofers and are relatively slim when viewed from the front. Like with Martin Logans, their volume is concentrated on the rear end. In the case of these MBL's, the cabinet starts relatively small on the top and spreads out via smoothly angled lines toward the bottom. Unlike Martin Logans, the MBL's bass sections are passive, so there are no built-in amplifiers. This alone may explain to some extent why the bass is integrated so well. While the quality and integration of the bass cabinets are not to be underestimated, of course, it's the "Radial strahler" top section that really draws the attention.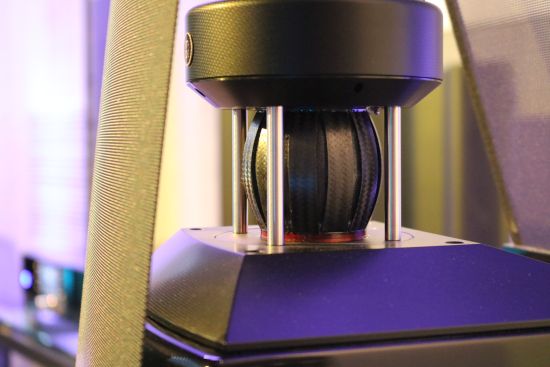 Alas, the MBL website has no published specs but it is clear that the radial top section contains a tweeter and a midrange unit. While these "Radial" units may seem rather alien, their working principle is actually very simple. Imagine a regular driver's magnet and coil assembly, tilt it 45 degrees backward, use special origami skills to fold up the cone to a barrel-sized shape and fix the loose end so that the "cone" can only expand outward 360 degrees when AC is applied to the voice coil. Of course, many proprietary techniques come into play to assure the right amount of flexibility and damping but this is how the units work in a nutshell.
The picture above shows a de-assembled sample of the actual units. You can simulate the normal movements by compressing the barrels by hand and when doing so, especially with the midrange unit, you can see the barrel expanding while the gaps between the bent strips become larger. The strips appear to be made of carbon (composite) material and the cavity inside is completely filled with a felt-like damping material.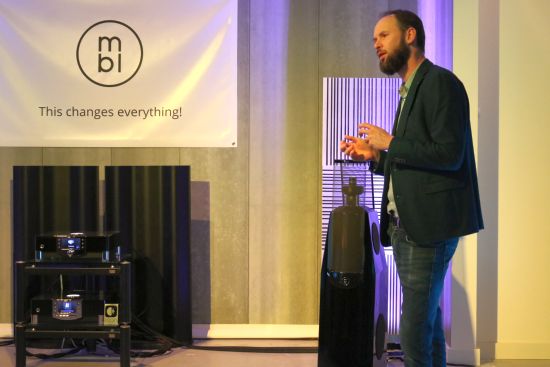 Here's Daan Vreeswijk explaining all sorts of things about MBL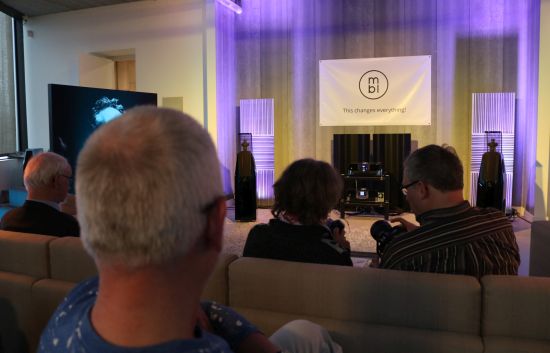 Listening
The demo kicked off with a couple of classical selections by Brahms, Sammartini and Mozart out of which the choral parts of Brahms "Vier Gesange Op. 17 pour voix de femmes, 2 cors et harpe" sounded particularly realistic. The choir had just the right amount of focus, depth, and dimensionality which combined with the very neutral and even-handed tonality made it easy for me to get involved. Importantly, during none of the musical selections so far, I have not been aware of a transition between the Radialstrahler units and the bass cabinet such as can be observed with some lesser-blessed hybrid designs.
At this point, I should note that this was not my first encounter with MBL loudspeakers but it was actually the first time when I found the performance to be really good. Based on what I have heard at shows I was expecting a dull, ill-defined sound with lumpy, boomy bass. My opinion of MBL, prior to this show, was that indeed the speakers succeeded in avoiding pin-pointing in favor of a large sweet spot but at the cost of a severe reduction in treble openness and energy. But what I heard here in the PUUR showroom, so far, was utterly balanced and very linear and not at all dulled in the treble. I suppose that this has a lot to do with the room being larger and not definitely not over-damped.
Further selections such as "Pohadka, JW VII/5: I. Con moto" by Helena Basilova & Maya Fridman and "La favola d'Orfeo, opera, SV 318: Tu se' morta mia vita" by Gregorio Allegri further confirmed that this system allows classical music to be portrayed in a very convincing and highly entertaining manner. But would the system still fare so well when asked to reproduce electronic music?
Someone in the crowd was apparently thinking the same thing and requested some electronic music. My worries were quickly put to rest when Robert played "Return to the Sauce" by Infected Mushroom, followed by "Make us Stronger" by Ghost Rider. Especially the latter sounded massively impactful yet nimble and articulate, and yes, still extremely linear, with no peakiness anywhere in the frequency curve.
After this, several more selections were played but I did not keep track of them all. One of them was "Hell to the Liars" by London Grammar that sounded very recognizable and only occasionally a little hard in the upper midrange when the system was playing very loudly. I can't be sure if that was down to the electronics, the speakers or the cables, or that perhaps some of these were not yet fully run in. But it was only very occasionally and only when playing much louder than I personally feel comfortable with.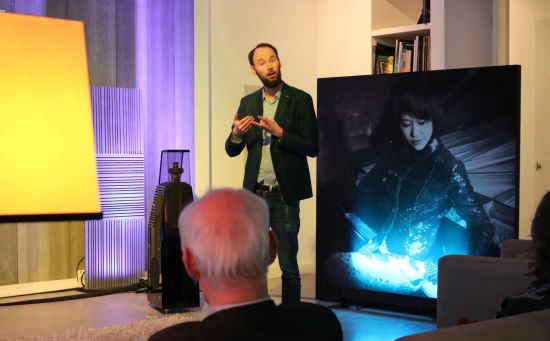 At the end of the demo, I still had not identified the transition point from the Radialstrahler section to the woofer cabinet and that is saying a lot given that these are bass-reflex designs and the PUUR showroom is far from acoustically ideal. No doubt the amplifier's damping factor has a lot to do with this but I also strongly feel that the speakers themselves are to be credited for this.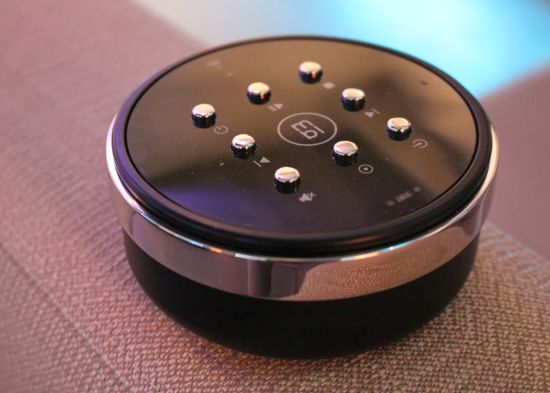 The MBL system remote control offers a hidden function besides the 8 push buttons: the volume is controlled by rotating the unit's silver outer edge. Unlike the Devialet's remote control, the MBL unit works via IR light meaning that it needs to point roughly toward the system.
Sweet spot
Of course, with a system that is conceived to present the music in a way more similar to a concert hall than a typical home stereo, and where the upper frequencies are radiated in a 360-degree area, one can assume that the sweet spot is less evident. Just so that I could get a good handle on this I tried several listening positions and, indeed, the presentation of the music is such that you don't really need to sit in the sweet spot in order to get a sense of a soundstage and a room-filling sound. Now, with traditional direct-radiating loudspeakers, you also don't all of a sudden lose a channel when sitting closer to one of the speakers but I can confirm that with the MBL's the image holds up better and indeed, the sense of attending a live symphonic performance is stronger with these MBLs than with most direct-radiating loudspeakers. This is not to say that the listening position is no longer important. For instance, I could still change the level and the quality of the bass by moving backward or forward. This is because the room induced influences still hold up. Also, I could still notice that the focus was best when sitting right between the speakers and that the pin-point imaging of centrally placed sounds such as single vocals was reduced when moving sideways. However, the speakers do not focus as strongly as regular speakers and the difference between the mid-position and the side-positions is much smaller than with most other speakers.
Conclusion
Breaking it down into digestible sections, I can say that I was much impressed with these speakers' bass performance. It was fast, tight, punchy, articulate and highly even-handed. There were no bumps and no resonances that I could hear and the transition to the Radialstrahler section is flawless. Then there is the system's transparency which is really good. There are more revealing speakers, also within the 116F's price range, and the MBL's may not be the best choice if low-level resolution and soundstage layering are of the utmost importance. Otherwise, the balance between direct openness and lush spaciousness is well done and the speakers do indeed have a unique delivery all of their own.
Tonally, the entire system sounds very neutral and also, to my ears, very natural. I find that there is no artifice whatsoever. Tube aficionados may feel that the sound could be more organic and more substantial, more possessing of a body. The MBL system is solid-state (class D even) and it sounds like it. But for me, during this demo, in any event, that does not lead to less musicality or a less emotional response. I use CH Precision at home and I know that die-hard tube fans do not like that sound either. It's just a decision that needs to be made on a personal level. The MBL's midrange and treble performance, finally, is also very good. The treble is well-defined in terms of transient behavior and expressiveness but the radiation pattern makes that it does not sound as precise as a really good dome or ribbon tweeter. But on the other hand, the MBL's treble is closer to a good ribbon than many more average dome tweeters.
Ultimately, although the bass was truly impressive even with the hardest-hitting electronic trance-like music and they did not put a foot wrong there, I feel that the system's 360-degree imaging is best suited for symphonic/classical music, where the physical size of the ensemble and the ambiance of the concert hall is typically portrayed differently and arguably more realistically than with direct-radiating speakers with the added bonus than one does not need to sit in a fixed predefined position in order to experience a concert-hall-like music delivery.
MBL 116F & Noble Line – Reprise
Saturday, the 15th of February, PUUR will host a second show. Drop by between 11:00 and 19:00. See also the Facebook event.
PUUR audio, video & domotica – Daan Vreeswijk & Robert Brijde
Website: puuravd.com
Showroom location:
Skoon 80
1511 HV Oostzaan
Phone: (020) 722 09 05
Read Also
PUUR AVD Company Special
Goldmund Telos 590 review
Goldmund Satya review
Goldmund Brand Store Opening with Maya Fridman