XFi 2018 Show Report – part 2
Feickert Firebird turntable – isn't it gorgeous?
That's audio buddy Niels, making below close-up photo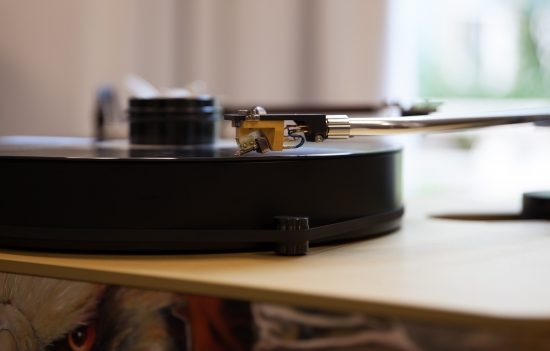 This system, using van den Hul amps and HUGE Blumenhofer speakers sounded friendly and spacious – not at all boomy or honky as one might expect based on their size. Au contraire: this was a highly refined system.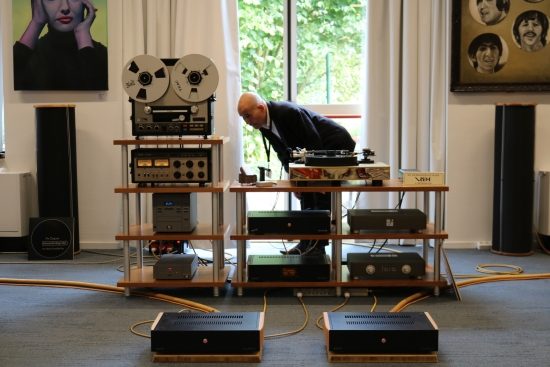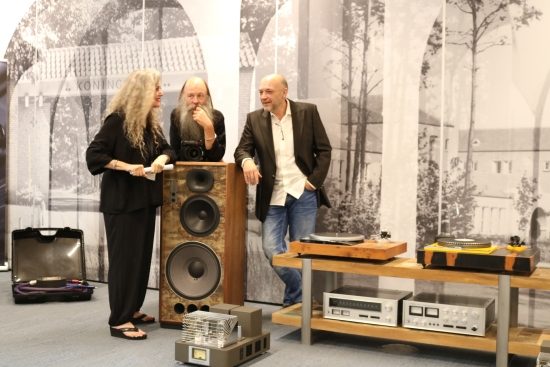 A colorful bunch – not only the speakers and turntables:-)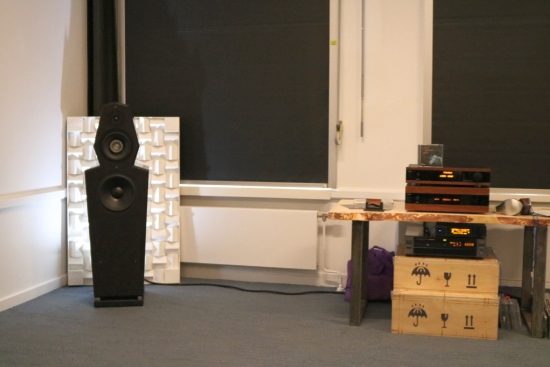 This Xaviera system really surprised me with its natural, open and communicative yet free-flowing presentation.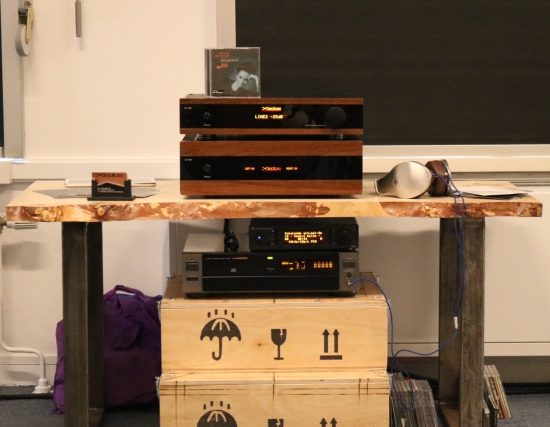 The source was a well-preserved JVC CD player from the nineties – I like!
These John Watkinson Omni-directional speakers were placed in the middle of the room, with listening positions on either side. I found them appealing and realistic in some sense, but not quite as refined and open as I like or am used to in the treble.
And indeed: the speakers sounded spacious and room-filling where ever you listen to them.
When I visited the Gustavson room, Peter had just run out. He later explained that just before the doors opened for the visitors, his router appeared to have quit working, so he was not able to play music using his ideal configuration. Fortunately, his fellow roommate had a solution that could serve as an emergency but as I could also hear, this was far from ideal. Before he got back with a new router and had installed it, the first show day had already almost come to an end. The next day, Peter told me, everything went well again and the sound was dynamic, lifelike and natural again. So, if you happened to drop in on the first day, don't assume that you've heard the best that this system can do!
Also in the Gustavson room was another audio system. These fully active speakers by Bokmans Audio Consultancy are made by Winnie Bokmans. No music was playing at this time but I sure liked the way they look.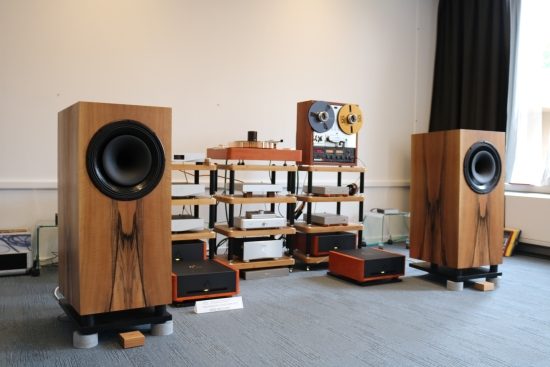 This is the Spec room, courtesy of Audiotweaks.nl and another system that sounded very good. I was already taken by the quality of the Japanese Spec equipment but these Tobian Monitor 15/15HC speakers are also definitely worth a closer listen. The sound was natural, fast and open and timbrally lifelike, with great coherence. When sitting close they could sound a little hot in the treble but further back in the room, they sounded fab.
Consonance AIR-1 turntable with a very nice linear tracking air bearing tonearm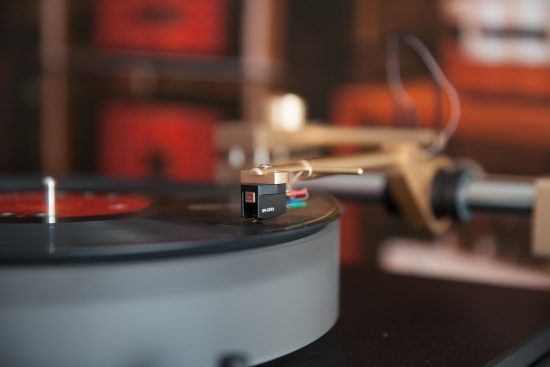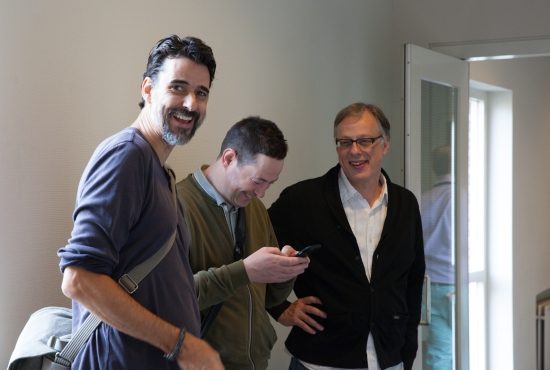 MP, me, laughing at something silly and JW (herr Tube Doktor).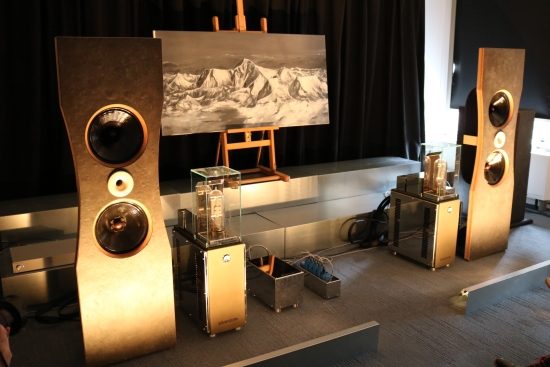 Open baffle speakers are sort of a thing now again. I understand the idea and in some parts, it works but in others, not so much. In all cases, I find that the bass either needs to work too hard and tends to sound overblown, stressed or ill-defined or it is well-integrated but a little thin. These speakers were not entirely open baffle but had an open casing around the woofers which actually worked quite well. Thet fell somewhere in-between the aforementioned two extremes. They produced a lively and fascinating sound but it's not for bass fetishists like myself. Those tube amps, though: I like a lot!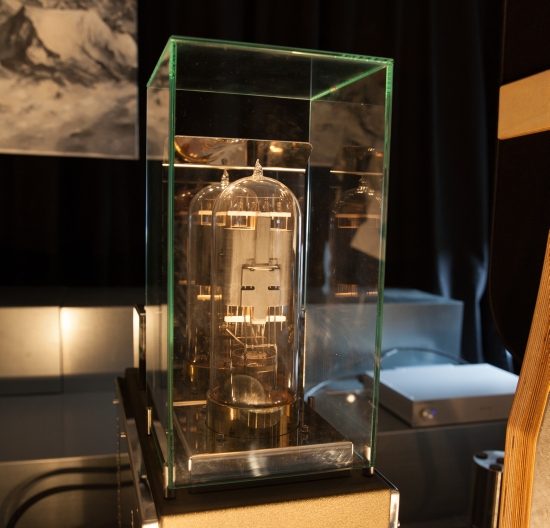 Wow – look at that tube! Think two stacked coke cans for size. According to the manufacturer, this is the largest Triode in existence. This system's sound was very lively and convincingly real, if slightly bright.
AvantGarde always makes for very nice pictures! Their sound is always immediate and dynamic, and LOUD! This time, there was an unavoidable room mode that messed up the bass. I know it was a room mode because these bass horns are normally very well-behaved.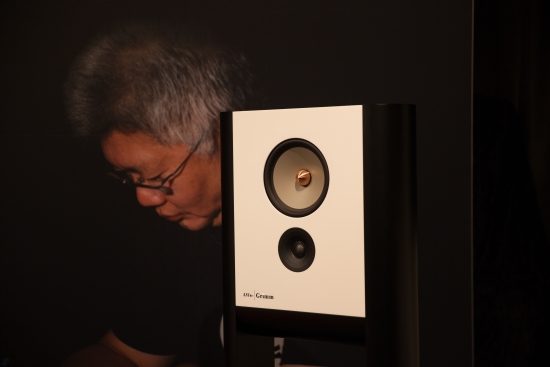 Look: it's a mini-Grimm Audio speaker to which the Japanese gentleman is listening!
Niels commented on how surprised he was after listening to these speakers for the first time. I've not listened to this particular setup but I already know they are great from attending the Masters Of Sound event at Chattelin Audio Systems.