Munich High End 2023 Show Highlights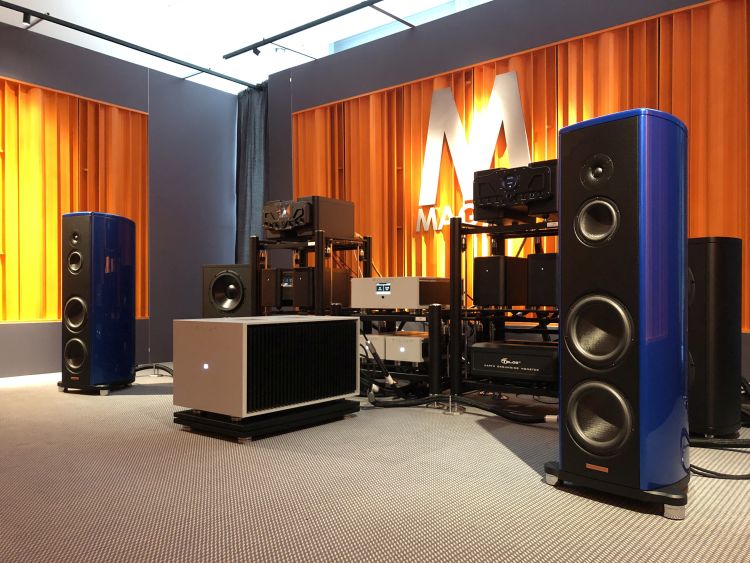 After my 2022 report of the show based on photos, comments, and other content from friends in the industry who are attending, I felt it was time to visit the show in person once again. This time, I opted to go primarily as a visitor and only document the systems that I felt were interesting to me personally. Below are what I regard as the interesting highlights of the High End 2023 show, in no particular order.
Marten Design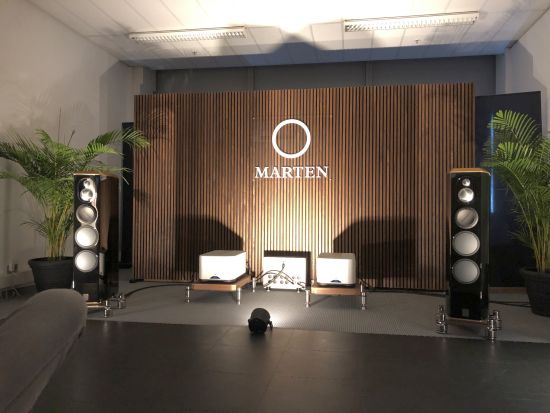 The Marten room featured the world premiere of the Mingus Septet. This is a four-way design with seven drivers and the first Mingus model to feature custom beryllium and diamond drivers. Unique is the very large beryllium dome midrange driver which may have spirited a subtle deviation from the Marten house sound as I have come to know it from earlier models. The Septet still has the familiar deep, voluminous, and relaxed bass, the liquidity and effortless flow, but with a rather more forward and explicit midrange and lower treble than before. Of course, these are Martens, and the Septet does not break the tradition. This model may spicier but it remains fluid and refined and there is no hardness or edge. Some listeners may prefer the more laidback approach of earlier models but there's no doubt that this latest implementation makes for an appealingly open and spritely sound.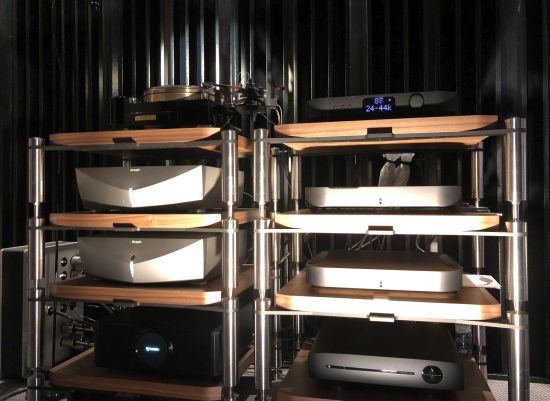 TechDAS turntable with DS Audio optical cartridge, Antipodes OLADRA server, MSB front end, and MSB power amplifiers.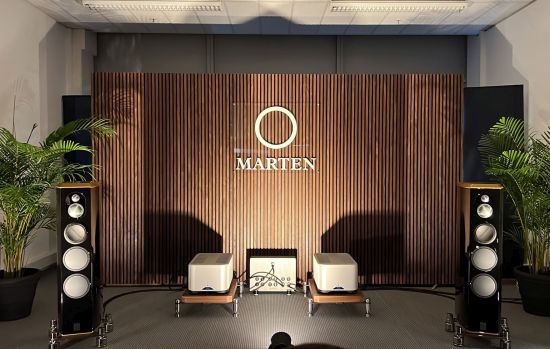 Magico S3 2023 with Wadax, Antipodes, and Pilium
For me, this was one of the very best rooms of the show, featuring the new Magico S3 2023 (Mk3) and S-SUB MkII with Antipodes OLADRA music server, Wadax Atlantis Reference DAC, Server, and Power Supply, Pilium Audio Divine Olympus preamplifier and Divine Zeus Power amplifier, Telos Earth Grounding Monster, Telos Monster Power Station, Nordost network switch, ethernet-, and USB cables and all VYDA cabling.
Assessing these speakers' inherent performance is tricky, though, due to the effort that has been undertaken to make this particular room sound great. To this end, Magico has allowed acoustic experts to measure and calculate the room's properties in advance, and treat it accordingly. From what I can tell, the grey frame that can be seen along all room sides is comprised of acoustic absorbing material which likely also functions in part as a bass trap and the orange panels are diffusers. Additionally, there are two next-generation S-SUB Mk II subwoofers. Incidentally, this new sub features a brand-new driver, a new amplification section, and more advanced DSP which according to Magico allows it to perform with even greater finesse and power.
It should be noted that the adjustment of these subwoofers can have a very large effect on the end result. For instance, as would seem obvious, they could augment the S3s such that they sound fuller and more extended than they normally do on their own. But it is also possible to employ the subs to very precisely counter certain room peculiarities such as nulls or peaks, by cleverly making use of the subs' position and adjustments, which could result in cleaner bass than would be possible with just the pair of S3s.
In any case, this room had hands-down the best bass performance of the show. Tight, articulate, deep, and fast, as well as natural and acoustically convincing. In fact, the sound was so superb that it was more like a highly-tuned home system than a demo at an audio show.
I imagine that such a clean bass response could be something of a two-edged sword at this show, impressing one group that is familiar with such a clean sound while confusing another group expecting a fuller sound as they are used to hearing much more of an impact from rooms.
But superb bass performance aside, the rest of the speakers' frequency range was impressive as well. The way I experienced it is that there was never a sense of listening to a speaker. Rather, the sound just is. The midrange, in particular, was pure, open, and realistic and reminded me a lot of the Q5 midrange in terms of pure and non-editorialized cleanness except that it was now more organic and involving. Likewise, the treble was liquid and natural, very highly resolving yet also supremely delicate and ultra-refined.
The S3's treble is subjectively not quite as explicit or (seemingly?) as extended as the Q-series treble, in particular the Q5 that I know well, but it is much more fluid and refined and absolutely never calls attention to itself.
And in comparison to the earlier S3 MkII, all I'll say is, forget about it. The new S3 is not just better in all respects (treble extension, airiness, and refinement included), but it is simply in a different league altogether.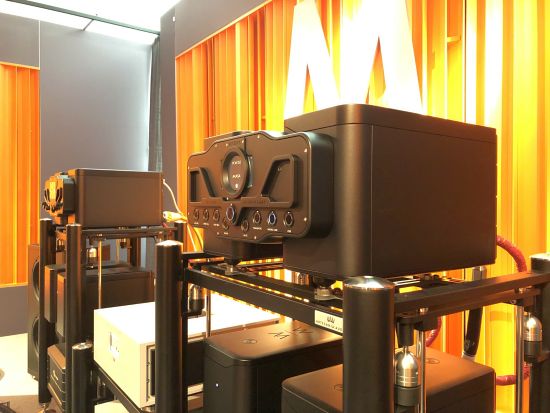 Wadax DAC and Server set up on Artesania Special Edition Exoteryc racks with Master Kyo features and Carbon Fiber Linear Arms.
Presumably due to the precise calibration of the system (perhaps done for a single listening position), I did find that the exact listening position had a large impact on the perceived sound. Although still great at the sides or even in the back, the system really sounded the most balanced and provided the best focus and imaging when seated either in the middle of the front row or the row right behind it. And even in these positions, I found that the soundstaging and focus were not hugely impressive. But knowing what Magicos can do, I'm sure this is the result of decisions made when juggling the pros and cons while tackling the difficulties of the room. I imagine weighing razor-sharp focus and wide imaging against super-articulate, clean, and precise bass behavior. In any case, based on this audition, I am deeply impressed.
For the first time in a Magico design (that I know of), the midrange and woofer surrounds are made of foam, not rubber. As I understand it, this is the kind that does not deteriorate. Foam has certain benefits, one of which is that it allows a "faster" sound.
While it may already look large, trust me, this amp really is A LOT larger than it appears in photos!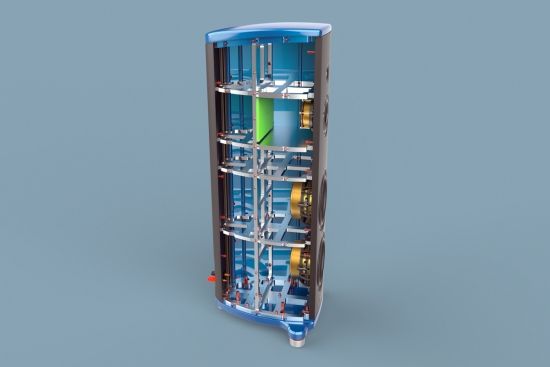 Above is the inside of the S3, showing the extensive cross-bracing and the absence of a plastic bubble to seal the midrange driver from the woofer energy. Instead, the S3 has a similar configuration as the Q series. The crossover normally sits at the bottom behind the lowest woofer.
I asked Alon why my humble S1 MkII has a separate sealed chamber for the crossover and the S3 2023 does not. He responded that there is no room within the new cabinet and added that acoustically sealing the crossover provided only a small benefit. They could make room, of course, but that would mean a larger and more expensive speaker.
Next: Magico M6 with Wadax and Dan D'Agostino