Munich High End 2018 Show Report 1/3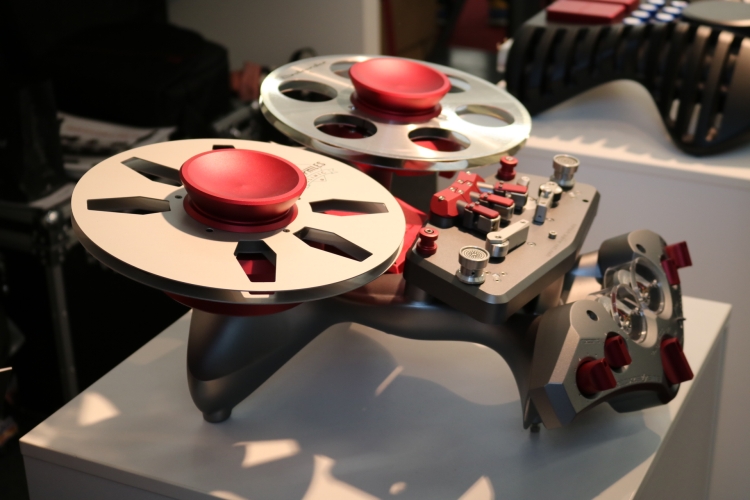 If this year's visit made one thing very clear, it's that Vinyl is very much alive!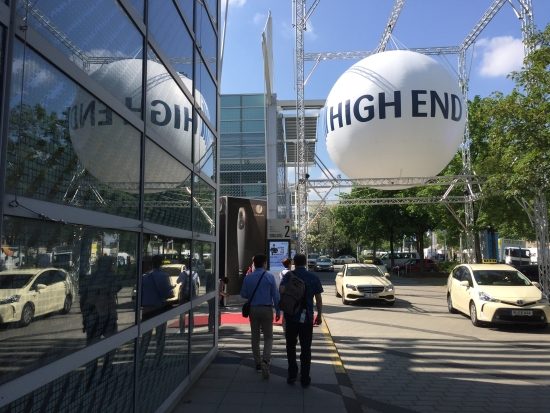 Vinyl really was everywhere, and by now it seems that there is not a single brand that does not have one or more turntable models in their portfolio. In addition, reel to reel tape is also more and more making an appearance, further confirming that analog is very much a thing right now. Another ongoing trend is tube amplification.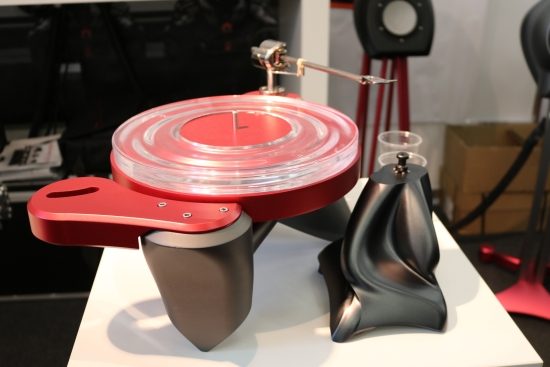 How about these very curvy models by Metaxas? I think "Groovy" is the best way to describe them!
Here's a new laser turntable by Optora. Note: this is a 100% analog turntable, but with a laser rather than a cartridge and needle. AFAIK, ELP was the first to commercialize the concept but this new model promises to be a lot more affordable. And I think it looks a lot sexier! The manufacturer ensured me that there is no processing of any kind in the signal path: no A/D and certainly no noise reduction. Laser replay enables CD player-like operation and induces no more wear to the records but since a laser cannot move dust out of the way, the records need to be cleaned very thoroughly before playing.
Another super-sexy turntable by new brand Onkk ltd.
Audio buddies JW and Niels taking close-ups of a beautiful Air Tight Reference tube amp.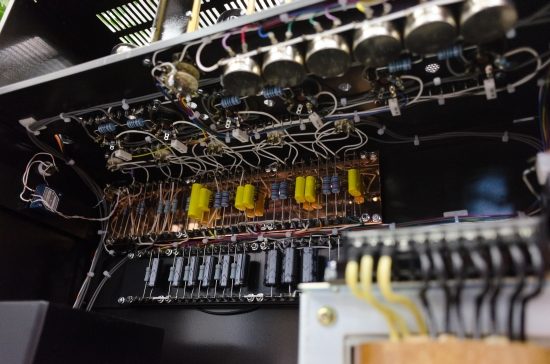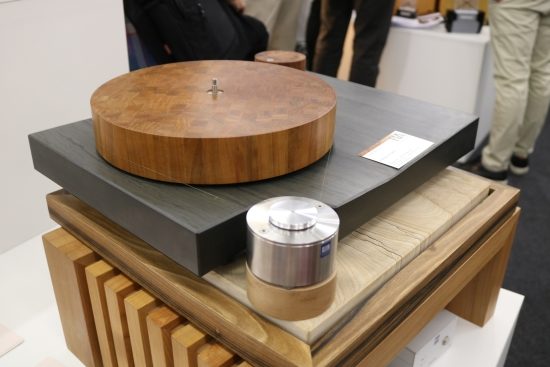 Natural materials such as wood are making a new entry. Above and below are models by Holz-Akustik.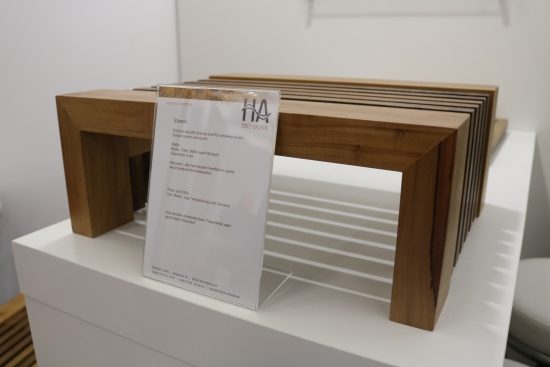 The table above is made for very heavy equipment such as big amps, but I imagine that a turntable will also look very nice on top, as long as its foot support design does not interfere. Note that the middle section recedes down a little and does not touch the floor.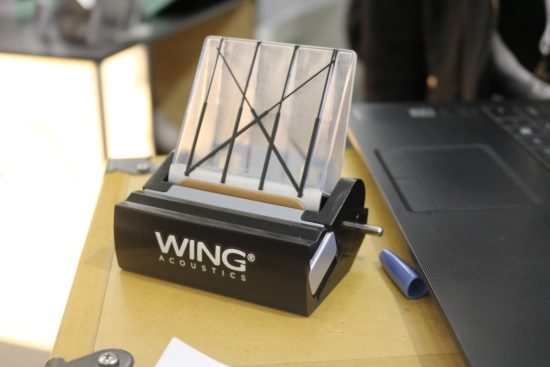 Here's a very interesting new speaker driver design by Wing acoustics. Rather than a piston motion, this driver moves back and forth to pressurize the air. The item above is an oversized prop but the item below is a working example. On display was a headphone as well as a prototype speaker with a Wing midrange unit.
Volya Audio Bouquet speakers.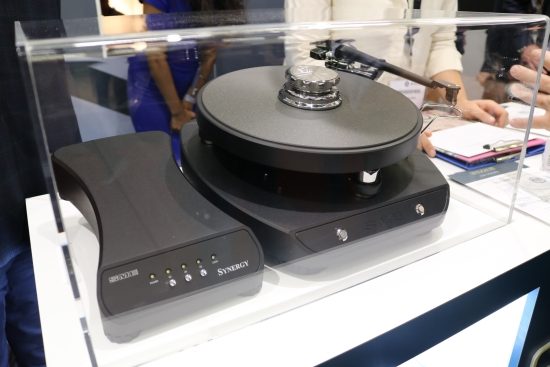 The Synergy is a brand new model by SME. The first one that I encountered was displayed under glass, but later I also found it displayed in the open. At approx 17.000 euro, this player isn't cheap, but no SME is. However, for this amount you get the turntable as well as the SME Series IV tonearm, an Ortofon exclusive series MC Windfield Ti cartridge, a Nagra-designed phono stage and internal wiring by Crystal Cable.
The chassis features four isolated and adjustable feet married to a suspended sub-chassis.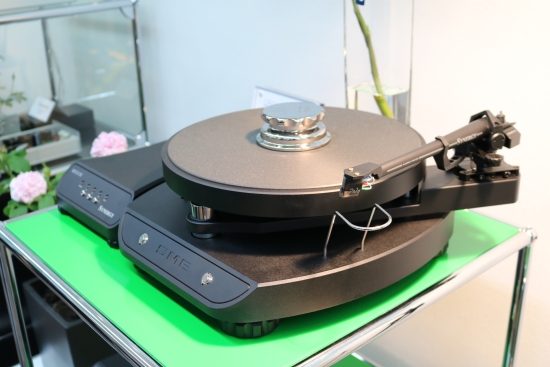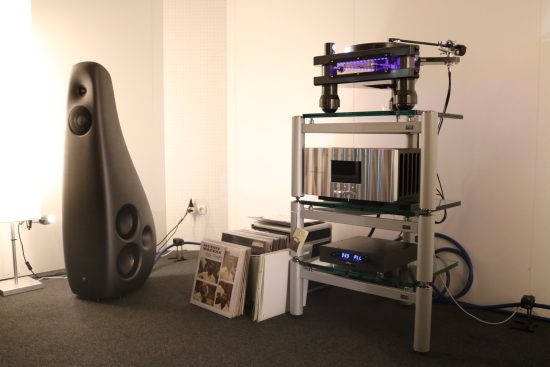 Vivid Audio Kaya is a brand new model, with a more conservative shape and a friendlier price tag than one would assume. Soundwise similar to other Vivids, the Kaya sounds open, airy and super-transparent.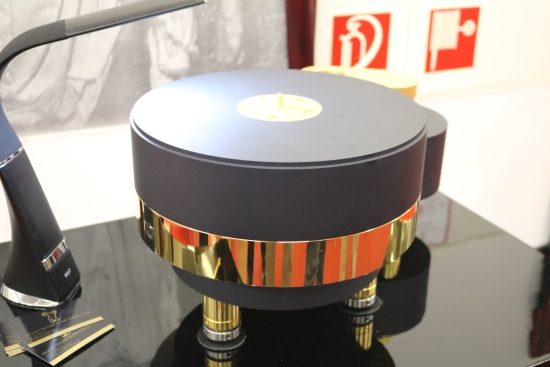 Here's a very nice model of which alas I forgot to note the name. If you know, do mention it in the comments.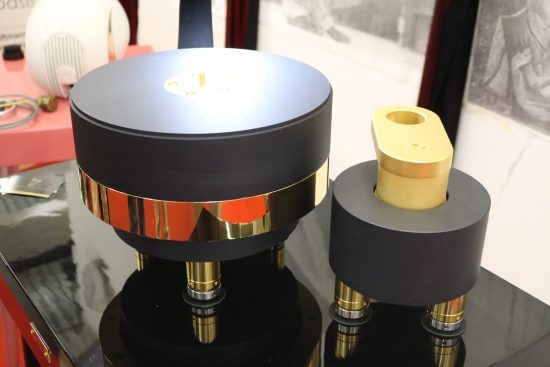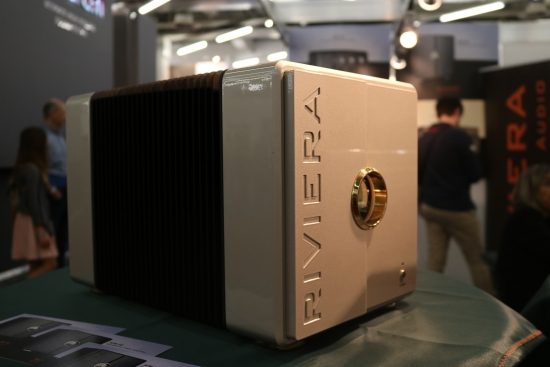 Italic Riviera Audio showed some very luxurious-looking models.
How about this for a hi-tech Derenville Modulaire MK III turntable with two DTT-01 linear tracking tonearms? The Thoeress phono preamp has adjustable RIAA level controls for low, mid and high frequencies.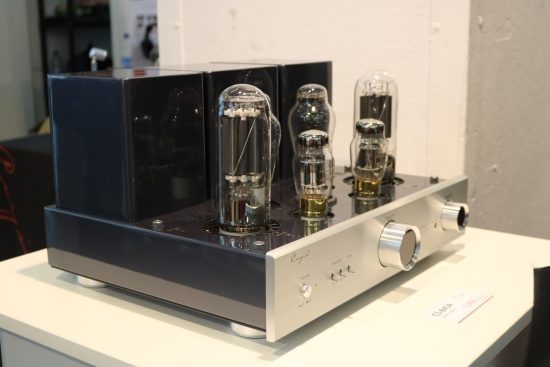 Cayin makes beautifully-looking equipment at very reasonable prices.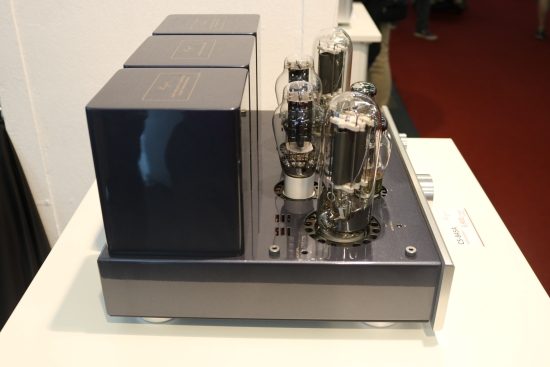 A high end offering by Pro-Ject.
More "normal" models by Pro-Ject. Below a Linn/Thorens-inspired model.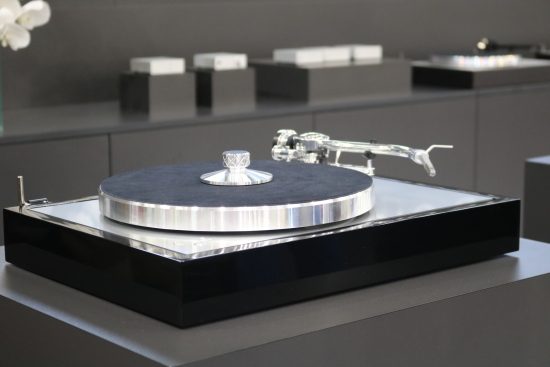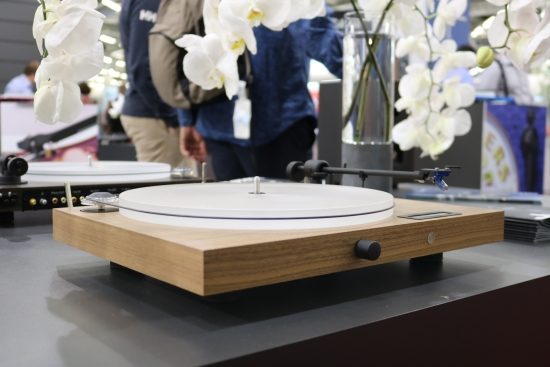 Here's a turntable with built-in amplifier, complete with speaker connectors.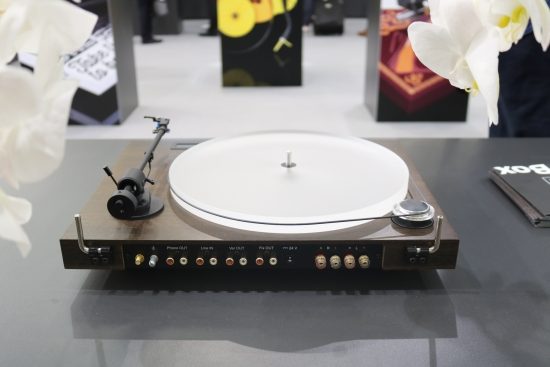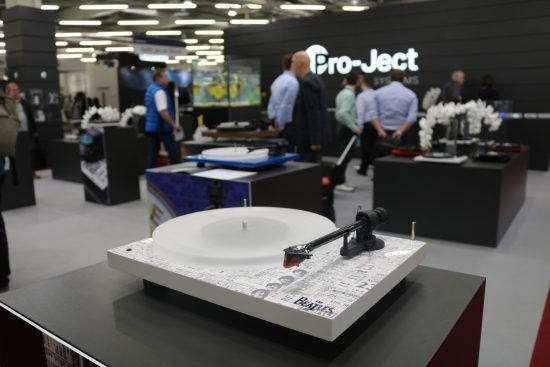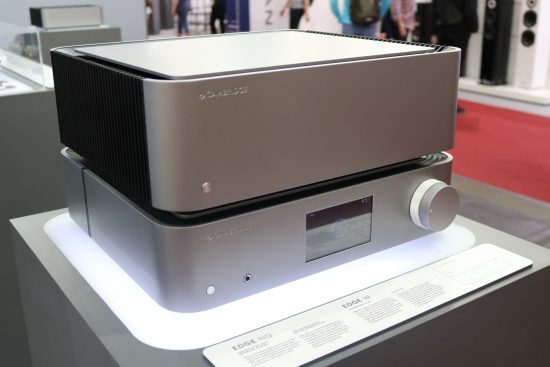 A fresh new look for Cambridge Audio.
Kuzma had many turntables on display, such as the ever-impressive Stabi XL.
Kuzma Stabi M
Kuzma Reference,with 14inch arm
Here's a brand new Kuzma model, seemingly inspired on the Micro Seiki shape, the Stabi-R, made from a solid block of aluminium with a built-in power supply and DC motor with a proprietary, non flexible drive belt.  At approx 7000 Euro (without arm), this is a 'table well worth investigating.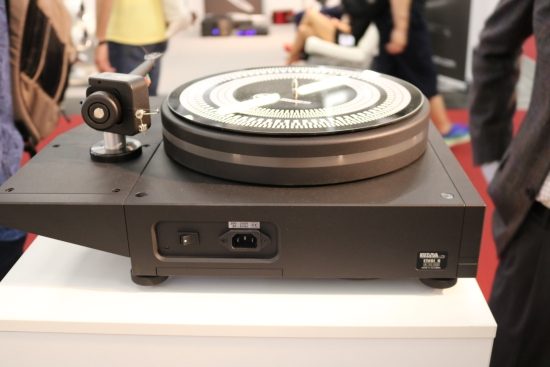 The Stabi R can be expanded with arm plates on both sides.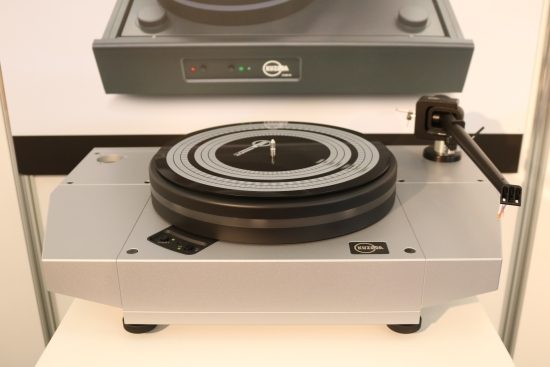 It also comes in silver…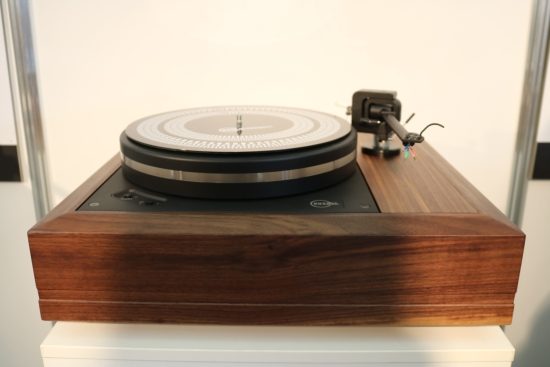 …or even with a wood cabinet.
Or alternatively it can be outfitted with as much as 4 arm plates.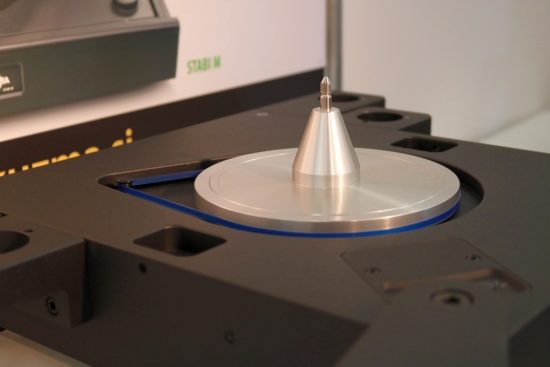 Thankfully, belt drive is retained.