HifiDeluxe 2019 Show Report
Every year during the Munich High End show in the MOC, the HifiDeluxe show takes place in the Marriott hotel. There is a free shuttle bus that takes you there from MOC and entry to HifiDeluxe is free!
Formerly part of my Munich High End show reports, I've now decided to start dedicating a separate report to these shows. The mood at HifiDeluxe is always a little different from that in the MOC halls: more relaxed and oftentimes there are a couple of rooms that have less known, very special, or even downright quirky equipment on display.
As with the Munich High End show, I won't attempt to make a complete overview and will show just the rooms and systems that I liked most.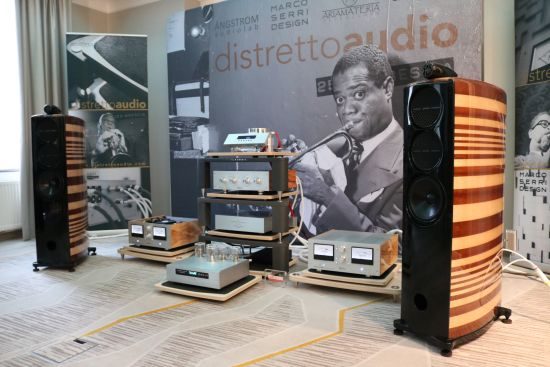 This system with Marco Serri Design loudspeakers and Angstrom Stella pre- and power amps sounded fast and articulate yet free-flowing and very listenable.
Is this a beautiful speaker or what?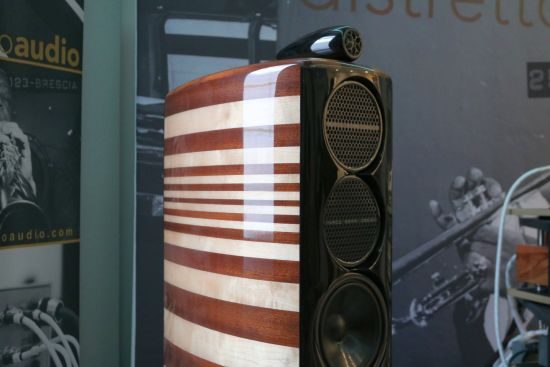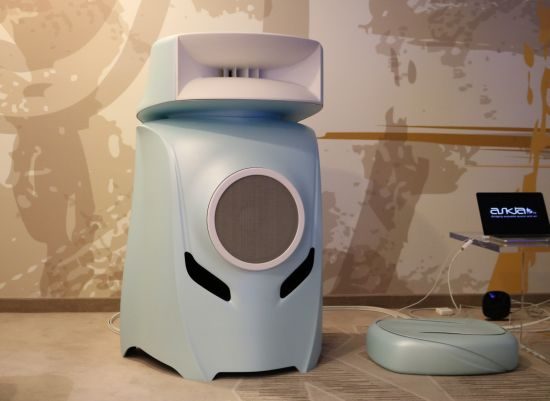 This Askja Absolute System was by far the weirdest system but it wasn't only about looks – it sounded really great as well! Transparent and uncolored, airy and unfatiguing this was a sound that you could listen to for hours.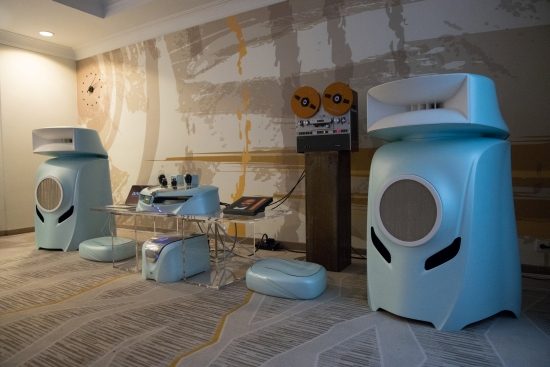 The system consists of speakers with external crossovers, a rack (called console), and a DAC and Roon-Ready streaming endpoint (called player and amplifier) designed by French manufacturer TOTALDAC with external power supply. The system is available in a wide range of colors, among which also the more traditional white or black. (photo by Niels van Marle)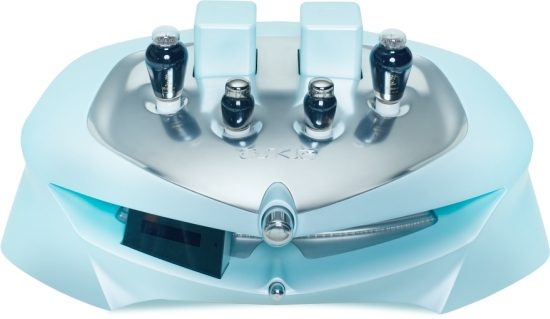 Another great system, and again a very extravagant one, consisted of the 4-panel Alsyvox speakers and Omega Audio Concepts, from Spain and Italy respectively.
The Alsyvox Caravaggio speakers are magnetostatic designs similar to Magnepan and Apogee but arguably more beautiful and with an interesting twist…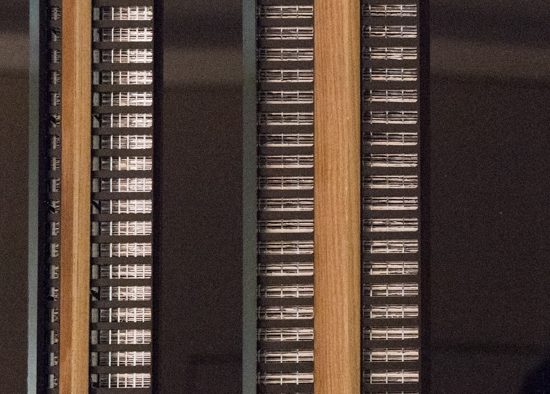 …rather than being driven only from the rear, however, these Alsyvox designs use Push-Pull woofer panels and they sounded absolutely marvelous.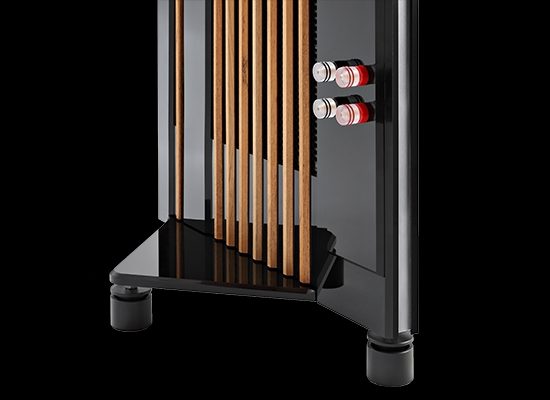 This is "The Stream" CD player on a bespoke Omega Audio rack along with the new Omega Audio Concepts integrated amplifier Stream Power, completed with all Omega Audio Concepts cables.
Assortment of Artesania accessories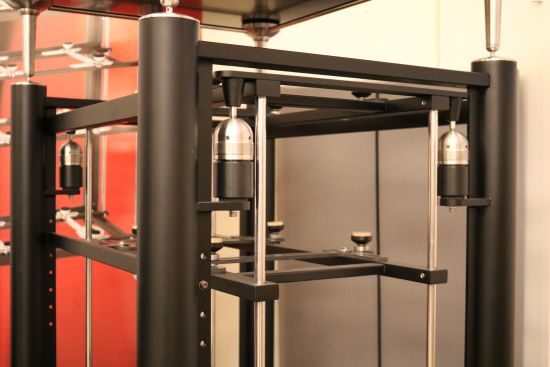 Artesania Classic Line Master Kio – sort of like a super-sized Exoteryc rack with beefed-up metal parts, Carbon Fiber Arms, and component feet with a choice of three coupling materials. On top is a Carbon Fiber/Glass Fiber/Krion/MDF multilayer Platform.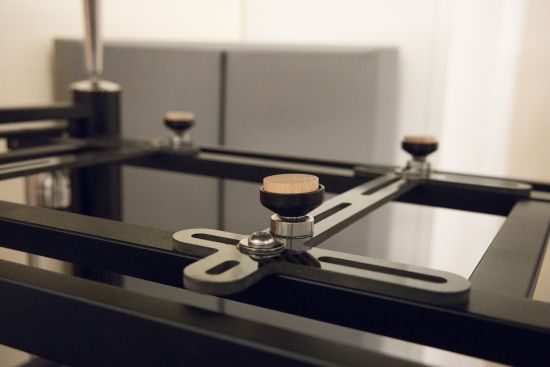 New Carbon Fiber Arms and component feet, shown here with beechwood coupling inserts.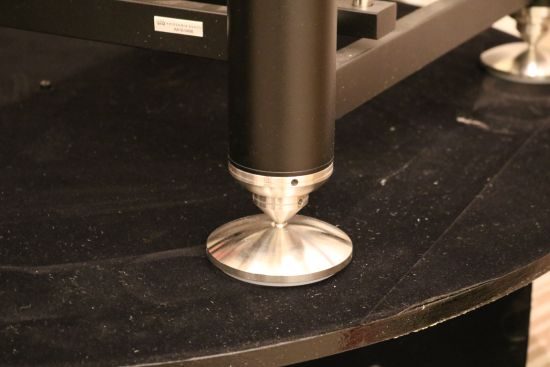 The bottom spikes are also beefed up and look even better than those on the Exoteryc racks.
Artesania Exoteryc rack in a classy white/copper color scheme.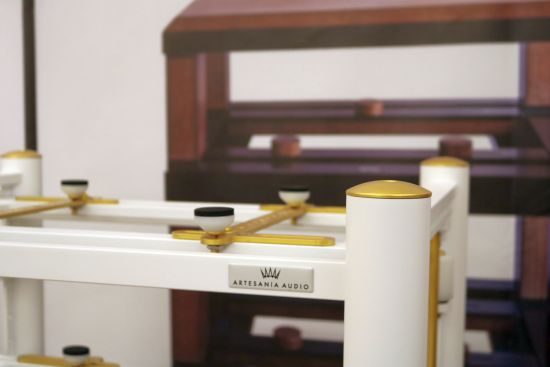 Artesania Cable Elevators. I listened to a set of these in my system as part of the Kroma Audio Carmen review and can confirm that they do indeed have a considerable impact on the sound, making it more nimble and articulate as well as more transparent.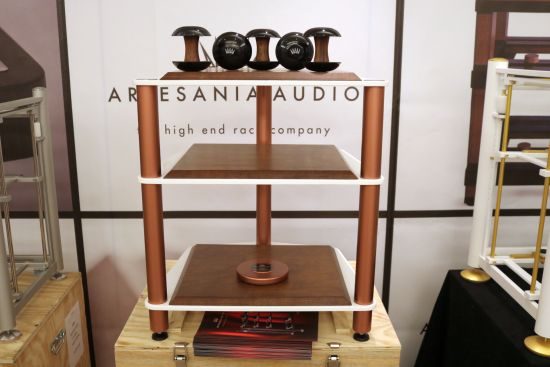 Artesania Organic Line Modular Rack in a striking white/copper finish. The white parts of the shelves are Krion and the top parts are tankwood. I hope to review one of these racks soon.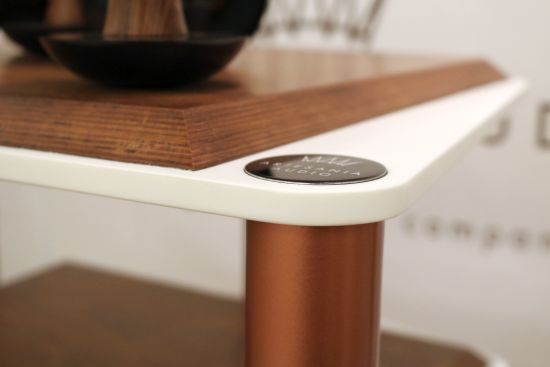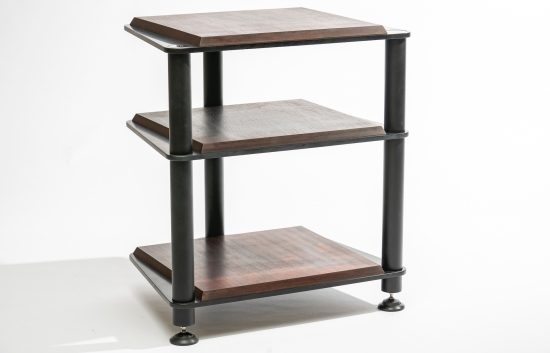 The Modular Rack is available in a wide range of colors, such as the more "normal" version displayed on the above stock image.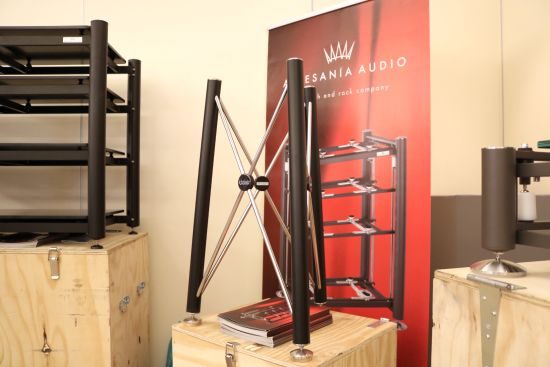 Artesania stand especially for the Metronome Kalista CD transport
Kroma Audio Mimi in two different color schemes (and more are available on request)
The first Aresania/Kroma room showcased the brand new Kroma Audio Norma – in many ways a Carmen + two woofers, making for a 3-way system.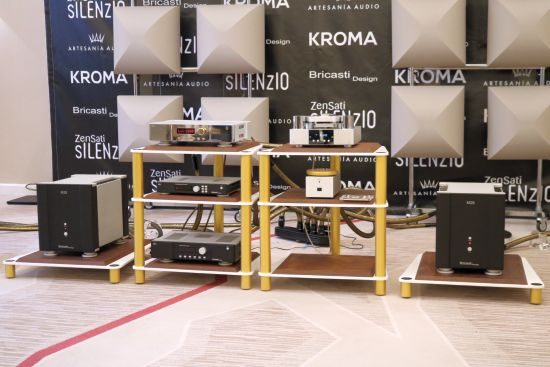 The system used Bricasti M28 mono power amps which are big versions of the M15 that I reviewed recently, M21 DAC and preamp (also reviewed recently, M3 DAC and streaming endpoint, (which I will review some time soon) and CEC TL0 CD transport, all on Artesania Organic Line Modular racks and floor platforms. Derk Broos of Ohm Audio in the Netherlands already told me after my M15 review that these big mono Bricasti amps would probably impress me and indeed this seems to be the case. The sound in this room was fast, dynamic, and open but also smooth, rich and sonorous and very spacious.
I was much impressed by the sound of the Normas and also really like their looks. Similar to the Carmen in overall balance but, thanks to the extra drivers, even better.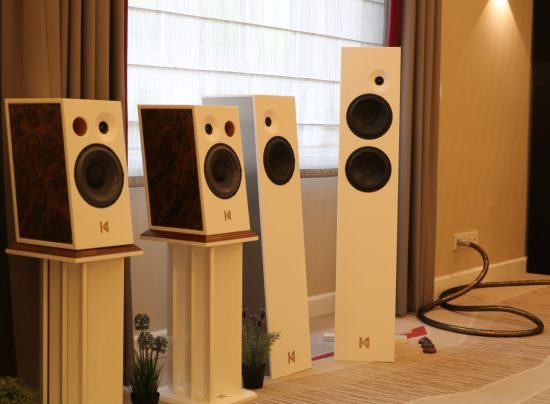 Also on display beside the Kroma Audio Mimi, the brand new Thais 2-way and Stella 3-way speakers, which can be regarded as improved floor-standing versions of the Mimi.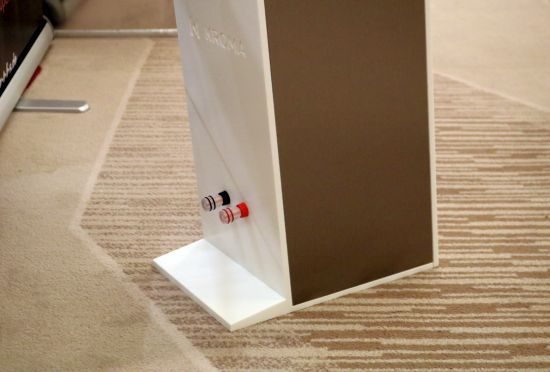 The rear side of the Stella.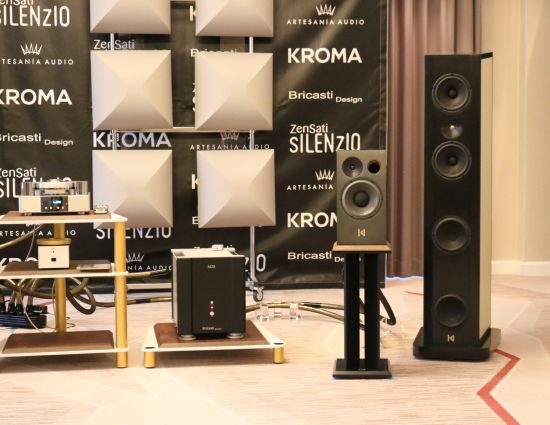 Once again the Mimi amazed with a dynamic expression and soundstage size that can fool one into thinking that the large speakers are playing. The only thing giving it away with some music is the deepest bass which is, of course, less deep and thunderous.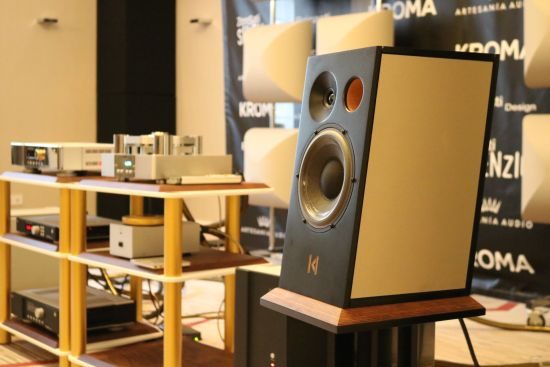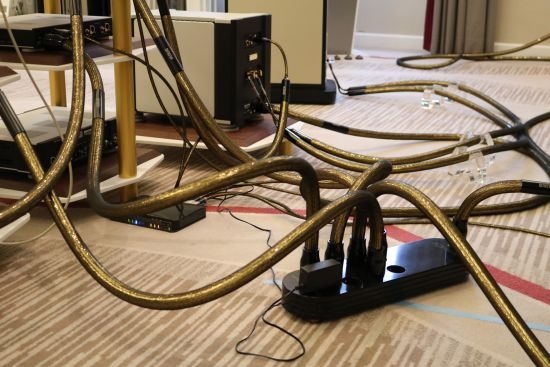 All the cables are Zensati Silenzio.
Kroma Audio Norma rear side showing a section of the lower 3 bass reflex / pressure release ports. There are six in total.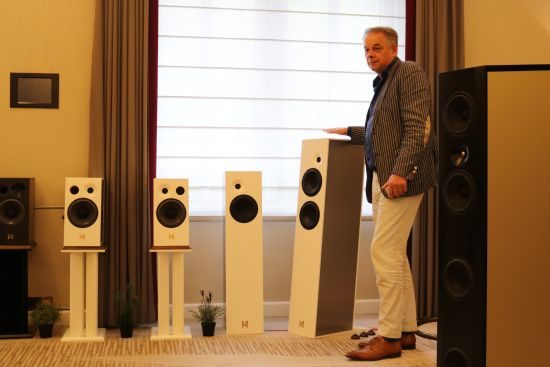 Ben doing what he does best: showcasing beautiful products with lots of enthusiasm. The Stella and Thais were not connected but Ben made it clear that the latter is amazing value for money.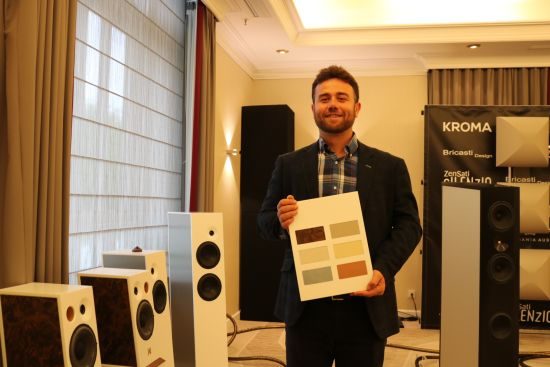 Here's Cayetano Castellano showing the various color options for the Artesania racks. The dimmed lights at the show make the colors look more yellow than they are in real life.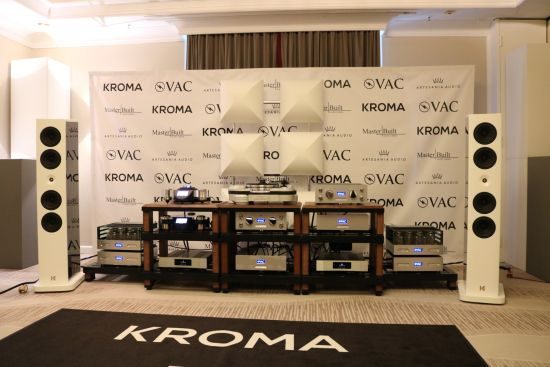 The second system with the range-topping Kroma Audio Elektra speakers. Seeing as this was an all-tube system, the sound was sweeter and lusher than the all-solid-state other system but still expressive and dynamic. 
Metronome Kalista, TechDAS Air Force 1 and all-VAC amplification on the beautiful Organic Line Absolute Racks. These racks are constructed entirely from Tankwood (Panzerholz) and Krion.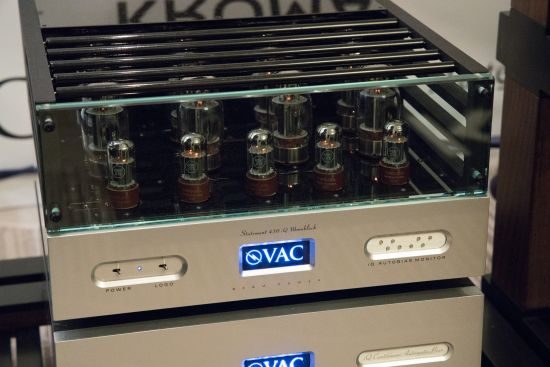 VAC Statement 450iQ monoblock power amp
A peek inside the VAC Statement preamp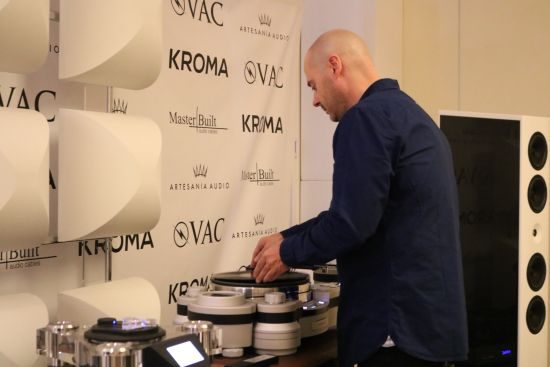 Miguel Castro cueing a record on the TechDAS Air Force 1 turntable.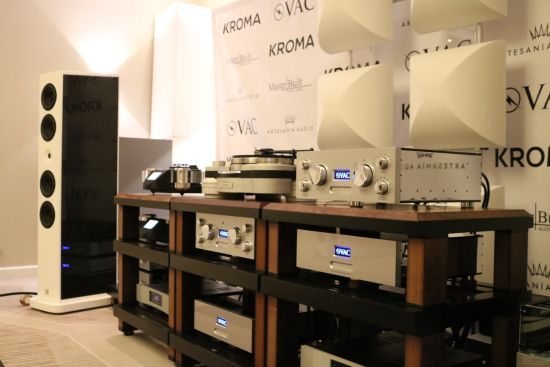 The system from the side with RTFS SiRRaH diffusers.
Mr Nishikawa, creator of Micro Seiki and TechDAS, came over to do a special demo but sadly I only walked in near the end of it and just about managed to snap this fuzzy picture.
Color options for Artesania racks and accessories. The dimmed lights make them appear less bright on the photos that they are in real life.
At the end of the day, Fuensanta Mendez gave a live performance using her voice, a stand up bass and an electronic loop station. Her music was pure and emotional and this was an interesting opportunity for comparison to reproduced music in the same room.
That's it for this year! If you haven't visited the HifiDeluxe show yet, be sure to do this next year!
HifiDeluxe
Munich Marriott Hotel
Berliner Straße
9380805
München-Schwabing
Read Also
Munich High End 2019 Show Report