Wilson Benesch Precision P1.0 and P2.0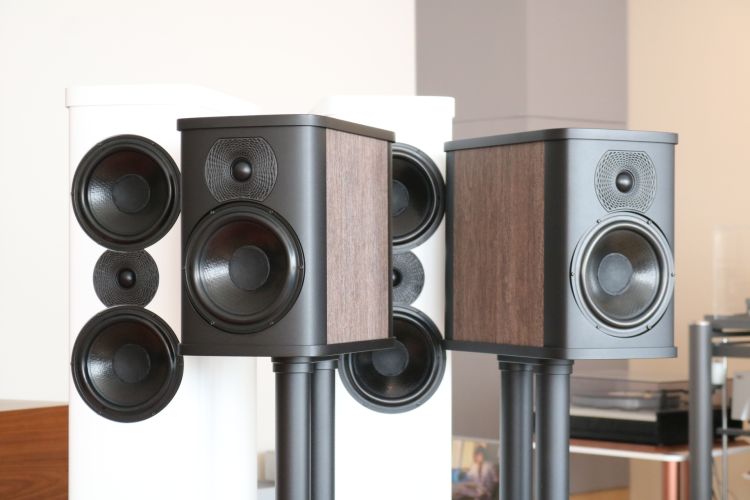 Review samples supplied by Wilson Benesch
Retail prices in the Netherlands, including 21% VAT:
P1.0: 7.200 euro
P2.0: 11.400 euro
Thanks to their unique styling and especially their unusual isobaric "inside-out" woofers, Wilson Benesch speakers never fail to catch my attention at an audio show. I first heard of the brand about 15 years ago but it took me until now to actually get a pair into my listening room. Back then, I was using B&W Nautilus 804 speakers with Bryston, Wadia and Jeff Rowland equipment and, in spite of the 7B ST Monos, never got the bass to be tight enough. Via-via, I got in touch with a dealer who suggested that the logical next step up would be Wilson Benesch. Alas, life took me in different directions and I never got around to testing those speakers at home.
Fast-forward to the Munich show last year, 2019 where Raphael Pasche from CH Precision offered to guide me past all the rooms that used CH Precision amplification to showcase their products. Among these was the Wilson Benesch room that used the almost-maximum stack of CH Precision source components along with M1.1 mono's to feed the Wilson Benesch Flagship Eminence speakers. As the range toppers of the Geometry series, they feature 2 isobaric woofers and 2 inverted drivers and even without playing music, their unique hybrid alien-like/organic form is an absolute conversation piece!
It's always hard to make decent photos against the very light backgrounds at the Munich High-End show
Augmenting the speakers in this room were a pair of Torus infrasonic generators which are essentially subwoofers but in a push-pull configuration and made to extremely high specs to achieve a very linear output right down to 10kHz with the lowest possible distortion.
The complex Geometry series with their abundant use of Carbon Fiber and in-house designed and manufactured drivers understandably carry upscale price tags but they have the performance to match. The sound in this room was highly dynamic and powerful and, unlike many other speakers at the show, rich in tonality and quite the antithesis of sterile. While the CH-typical extreme resolution and transparency that I hear with certain other speakers were less obvious to me with these speakers, the system was highly expressive, utterly communicative and clearly knew how to boogie. There was never a sense of listening to an electro-mechanical reproduction, rather, there was a similar engagement factor as I hear with "live" music.
At the moment, Wilson Benesch has no distributor in the Netherlands, and so, this review was arranged directly with the manufacturer. The brand's international representative, Luke Milnes, approached me for this and provided all the support that I could wish for and made sure that I had all the information needed to get the best from the speakers.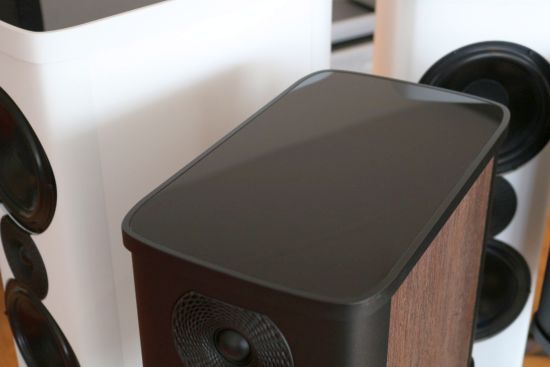 Precision Series
The Precision Series applies trickle-down technology from the reference line and has been designed to offer a healthy portion of the performance at a more accessible price level. To achieve this, the enclosure contains no carbon fiber but is made from a mix of metal alloy and wood with internal tensioned crossbars for stiffening and a novel form of damping materials. The structure is made such that it creates an ideal balance between stiffness and dampening. The Tactic II woofers are common across both lines (only the Eminence uses the Tactic III) and the Leonardo tweeters use the same geometrically optimized and decoupled polymer-carbon fiber waveguide faceplate as the Eminence speakers. The P1.0 and P2.0 both have a very high 89dB sensitivity with a 6Ω nominal / 4Ω Minimal impedance which means that they should play well with pretty much any amplifier, including tube amps.
It's important to remove the tweeter protector rod as its presence can be heard as a suckout in the vocal range that makes it sound filtered. I fell for this both times…
System context
I will be reviewing the speakers using two audio setups and will start with the P1.0's in the smaller secondary setup in which I normally use Xavian Perla Esclusiva speakers with an Ayon CD-10 MkII CD player and DAC, an Antipodes EX music server and an Ayon Spirit III KT-150 push-pull integrated tube amplifier.
P1.0
Delivered to me in a beautiful Aged Walnut finish, the Wilson Benesch P1.0's employ a direct amp-coupled mid/bass driver with a tweeter with a second-order cross over. Their cabinets and stands are perfectly-sized: not too small and not too bulky and they will not dominate a room. The Xavians that I normally use in this room are quite small but in spite of their size, they produce adequate bass and that is because the room itself helps out in that regard with a sympathetic room mode, for a change. Nevertheless, going from the Xavians to the P1.0's is like stepping into an entirely different realm in terms of bass performance. Of course, going from a 13cm woofer to a 17cm woofer will do that but instead of only offering fuller or deeper bass, the quality of the bass is also incomparable. There is more resolution, higher precision, more purity, better articulation and clearer pitch definition. In a word, the bass is simply superb. And, importantly, the P1.0's naturally extend the bass response without triggering nasty room modes meaning that they are well-fitted for smaller spaces.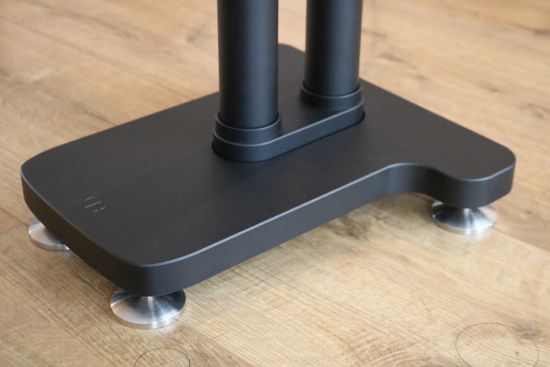 The P1.0's also produce a much wider soundstage and are considerably more transparent that the Xavians. The resolution is great and these speakers certainly do not mask any details, the frequency curve is very linear (no peakiness nor any valleys) and, overall, the sound is seemingly utterly neutral. With a quoted response of 38Hz – 24kHz +/- 2dB on-axis this is no surprise. Yet, they do not, at all, sound overly clean, not analytical and certainly not clinical. This is because the speakers have a subtle and pleasant warmth that is most noticeable in the upper bass and lower midrange.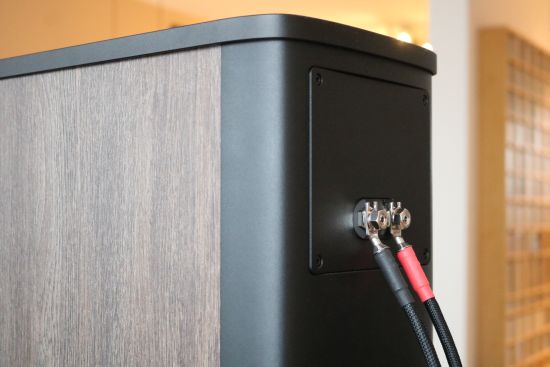 People that are used to listening to magnetostatics or electrostatics might refer to this as coloration but a better way to put it is voicing. In reality, compared to the aforementioned speakers, pretty much any cabinet speaker has more character. As I mentioned, the P1.0's are very transparent but they are not totally devoid of character. But this also serves to make them revealing as well as easy to listen to. Coming back to what I said at the beginning about the B&W Nautilus 804's, I can now certainly see why the dealer recommended Wilson Benesch to me back then!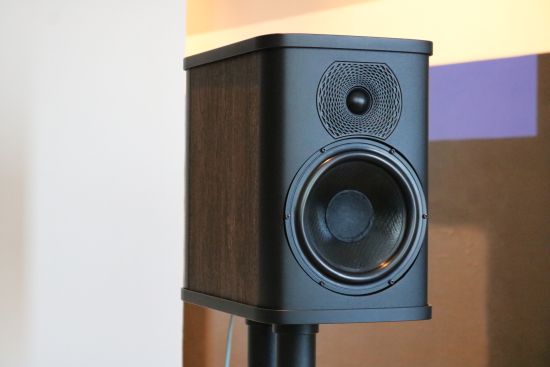 At a certain point, the system was positively cruising and I noticed that the sound in this relatively simple system was so good that I had been listening to track after track without feeling the urge to move to the big system. The P1.0's worked superbly well with the Ayon and they were clearly a perfect match for this room. Especially the bass quality, the resolution and the soundstaging were highly addictive.
The speakers may possess a nice warmth but they're absolutely not sleepy or overly smooth. In fact, they have a forward kind of sound with some extra presence in the upper midrange that makes vocals break free and creates a very communicative delivery. A later cross-comparison with the Magico S1 MkII's and the Martin Logan ESL15A's in the main room using the Roon Zone Switching function did confirm that those speakers' treble is darker as well as softer and gentler. By comparison to these speakers, the P1.0's do indeed have a slightly forward upper midrange and lower treble. But as my extended listening proved, it's well-balanced and never to the point of sounding overly hard or aggressive.