Synthese Floating 2 – Mini Review

Disclaimer
Any loudspeaker is highly interactive with its environment, the room that it is placed in. In all but the most perfect rooms, you are listening to a mixture of direct speaker sound and your room, reacting to the speakers. My room is far from perfect and even though I have heard a large number of speakers in it, my experiences need not be typical of results obtained in other rooms. At the very least though, the results as mentioned as part of comparisons with other speakers should provide something of a starting point. Ultimately though there is just no substitute for listening to speakers in your own setup.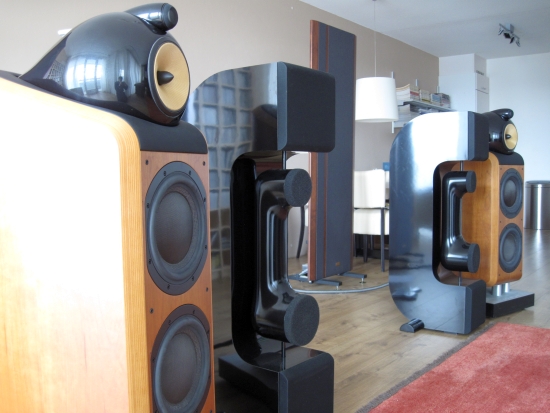 Sound
The Synthese Floating 2 is a 3-way speaker with a woofer in the upper section and a large bass port in the bottom section. The bent pipe suspended in the middle seems very heavy and could be made of metal. These speakers sound formidably spaciously and have very deep bass. Positioning is difficult because the bass can easily overwhelm a room and they need an amplifier with a firm grip. Power isn't much of an issue because they can't play extremely loud, but a high damping factor can contribute a lot. The sound is transparent and reasonably detailed, but there's some sort of charming coloration going on. They always sound romantically pleasant, harmonically rich and never aggressive.
A word for those who wonder how they compare to the 800D's: the latter are much more powerful and sound a lot tighter and dynamic in the bass. However, the 800D's are also much more analytical and can come across as being less musical. The Syntheses, by contrast, can be very soothing while the 800D's are all about impressive neutrality. Tweeter dispersion interestingly is about equal: both designs throw a large soundstage but don't have a very widespread. Walk beside the speakers and much of the treble has diminished, so with both speakers its best to sit in front of them, which for best imaging is a good idea anyway.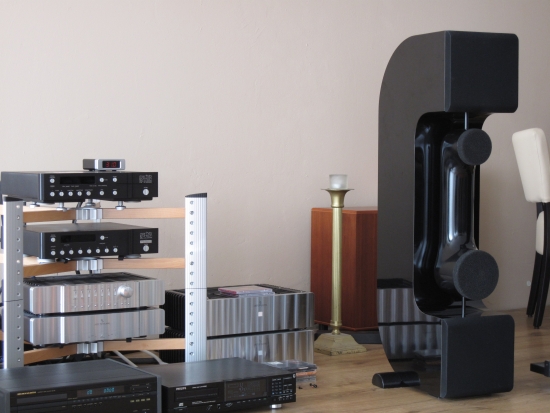 Short conclusion
Go for these speakers if you're like their looks and don't need spectacular sound to go along with their interesting looks. Don't get that wrong, these are fabulously musical speakers. Just don't expect to be blown away with analytical precision or heart-stopping dynamics. They do throw a huge soundstage and are effortlessly musical, not to mention having huge, full, deep bass that even in my difficult and large room rendered the subwoofers unnecessary.