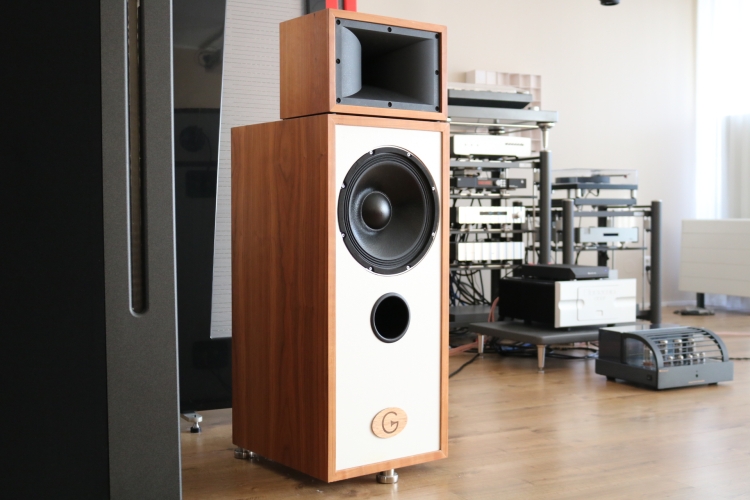 Review samples provided by Gustavson Audio
Retail price in the Netherlands incl 21% VAT: 3750 euro per pair
True Music Makers
After first hearing the Gustavson LS-One along with the Gustavson W800 amplifier in a small room hosted by Peter van Doornum at the X-fi show in Veldhoven in 2017, I was surprised to conclude for myself that this system scored very highly in my top 5 of best systems of the entire show. With megabuck systems galore, how is this possible? Well, I'm not saying that the Gustavsons were best in all parameters, but somehow it was just so easy to relax into the music and not worry about traditional audiophile technicalities. These speakers made music in a unique manner that I did not encounter like this in any of the other rooms.
Technical
The LS-One is a 2-way design with a 30cm bass-mid driver and a 1,4-inch horn-loaded compression driver for mid-high starting at 700hz but with the central crossing over frequency at 1000hz. The crossover is a simple design consisting of only 4 components and without any resistors in the signal path. 1000hz is pretty low, and probably in large part responsible for the lack of any midrange phase issues. The idea was to create a speaker with a very even frequency range, and this too I believe is clearly audible in the end result. The crossover components are Mundorf and NOS parts, specially selected for their sound. Peter's reference is the human voice and real acoustic instruments, and the speakers are tuned to produce these sounds as convincingly as possible and that I think is another aspect in which I think he has fully succeeded. Internal cabling is from AudioQuest and the cabinets are made from HDF with real wood veneer by artisan furniture makers. Efficiency is 93dB and the speakers are said to work with any amp ranging 5 – 1000 watt.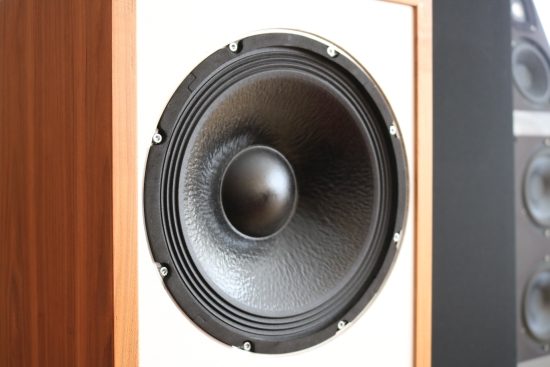 Accessories
My samples came with two short speaker cables for connecting woofer cabinet to tweeter module. This was quite a special cable with conductors radially wound with rope. Peter had included a range of cones and spike bases that can be freely positioned under the speakers but instead of using these I opted to use my own Finite Elemente Cerapucs, as these would make for sturdier support. I listened to the speakers with Cerapucs as well as with their cabinets right on the floor.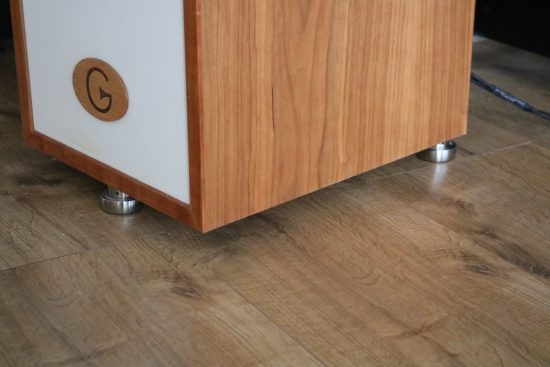 The Cerapucs made for a nice improvement in bass articulation and attack, but the speakers can also be used without these, as the difference was not huge.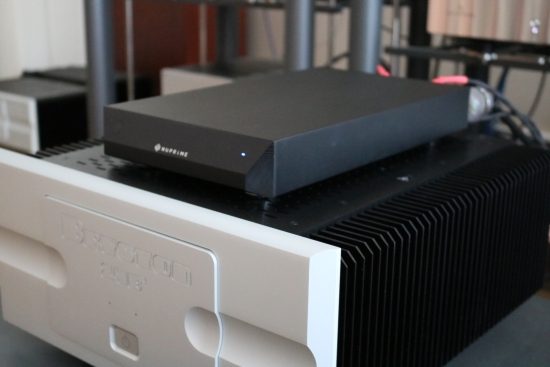 Bryston 14B SST3
While with 92dB the speakers very sensitive, they are also able to handle very high amounts of power, so, in an exercise of complete overkill, I connected the Bryston 14B Cubed (SST3) to the very efficient Gustavsons and… it worked! I'm 100% sure that they only need a fraction of the Bryston's 600 watts in 8 oms, but out sure comes music, plain and simple. Tonal purity, smoothness, warmth, great focus and agility, and a very large soundstage.
The Gustavsons have excellent driver integration: absolutely no crossover point is detectable. Just as importantly, they have supernatural timbre. It's simply mesmerizing how beautiful acoustic guitar and piano sound, and vocals are pretty impressive too. This is also a compliment for the Bryston, proving that the brand really has made very large strides since their PA time.
NuPrime ST-10
Due to earlier class D experience, I was expecting an overly clean sound, but the proprietary class D NuPrime ST-10 actually sounds great with the Gustavsons! Compared to the big Bryston, the sound becomes more intimate and more direct and precise but not at all technical and importantly also retaining the speakers' incredibly lifelike timbre. For a moment I also feared that treble might become square-ish, because the Bryston really sounds remarkably smooth even in the treble, but even in this area the NuPrime performs admirably. The latter is a bit surprising because the ST-10 does sound a little rough in the treble with the Wilsons and Apogees than it does with the Gustavsons, and these speakers have horn tweeters! Either the Wilsons and Apogees are a little rough themselves, or the Gustavsons are more forgiving. I suspect the former.
The NuPrime amp naturally brings super-tight and articulate bass. This is a quality that all class D amps share, but the NuPrime is also very dynamic and has incredibly natural timbre, and that is certainly no given for class D amps. This bass articulation unveils more nuances and provides tighter PRAT. The NuPrime sounds comparatively cleaner and has less richness than the Bryston but it is also purer and more agile. Between these two it's a bit of an opinion divider. In my group of audio friends, there was animo for both reproductions. Instinctively some of them went with the richer Bryston approach but after realizing that along with this luxurious richness also came a reduction in purity, they were not so sure anymore. The decision between the two will depend on what aspects of sound one finds most important.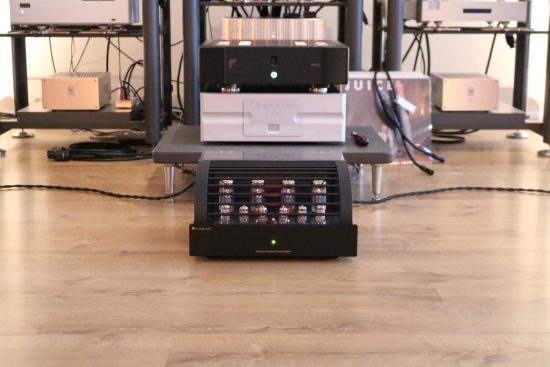 PrimaLuna DiaLogue Premium
While the Bryston and the NuPrime with their different characters both sounded really great with the Gustavsons, the PrimaLuna DiaLogue Premium took things to new levels, or rather, in effect combining many aspects that the aforementioned amps individually do so well. The PrimaLuna has much of the warmth, smoothness, and body of the Bryston and much of the agility, purity and lively dynamics of the NuPrime, making for the best match with these speakers yet. Naturally, the humble 36-watt PrimaLuna does not have the ultimate muscle power of either solid state amp, but with these speakers, it easily has more power than required. In addition, while less focused and precise, the PrimaLuna projects an even larger soundstage outside of the speakers, now filling the room entirely. It remains remarkable how great a tube amp can sound, but it has to be noted that the amp-speaker match is much more critical than with transistor amps and switching amps. In this case, it is a perfect match! Ultimately between these amps it a matter of taste rather than of compatibility. Apparently the Gustavsons work very well with a very wide range of amplifiers.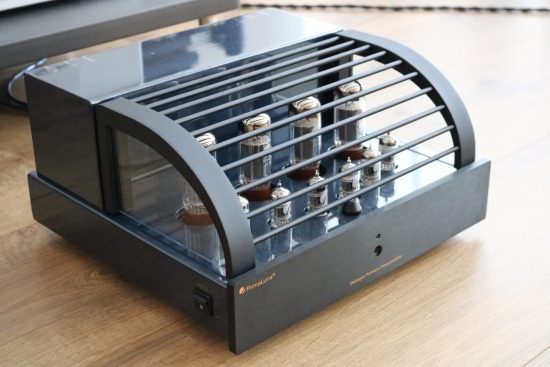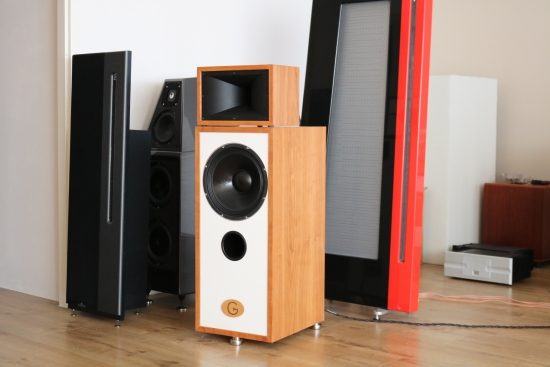 Preference for Acoustical Music
Although the speakers sounded incredibly synergetic with the PrimaLuna and we listened to various tracks all night while commenting how utterly natural these speakers sound, the PrimaLuna also could not enhance the way that the speakers reproduce R&B drum patterns or very deep bass in generic for that matter. For highly compressed music where primarily the bass and rhythm are relied on to provide the musical contrasts, the intended energy just does come across very well. When in their comfort zone, their bass is really quite special. Not seismic or fat, nor overly powerful, but with acoustical instruments, it's just right. It sounds like real bass, true and natural, not in any way processed or enhanced. There is something to the Gustavson approach that makes one relax and just listen to the music.
The Gustavson LS-One really are remarkable speakers that perform on a level unheard in this room, but only when they are fed the music that they work with best. As I mentioned above, electronic and R&B don't work very well, but by contrast most of the time when playing jazz, blues, folk, vocal, Latin and other world music, these speakers simply sounded better than anything else that I have heard in this room, and that is no small compliment!
The speakers always sound fast and agile but never thin. As I mentioned, they don't image much in the depth plane, but compensate for that with an extremely wide soundstage with great imaging and focus within it. They are very dynamic, but in a very natural manner, not shouty or square-ish, nor in any way forward. Treble is nicely open and airy and only very occasionally hard when playing very loudly and with less than ideal material.
Natural Timbre
I mentioned how timbrally natural these speakers are. There is just not a hint of synthesis, or of plastic sound that you hear with some drivers, or with electrostatics even. The cabinets are only minimally damped and sure resonate, but there are clear advantages to having separate cabinets for the LF and HF ranges. It seems that the resonance frequencies have been directed in such a way that they come out down below in the frequency range where they are more sympathetic. While I don't want to diminish the importance or usefulness of a well braced and stiffened cabinet, it is certainly easy to go overboard with this to arrive at a very even but also very dead sound. Something about throwing the kid out with the bathwater. Importantly there is no noticeable coloration in the midrange whatsoever. This is a very important factor because it is precisely this aspect that spoils some super high-end horn speakers for me, no matter how dynamic they are, or how great their bass is.
The thing with the Gustavsons is that even though you can hear that there is some unevenness further below, most of the time you just don't care about that because your foot is constantly tapping and obviously the musical message simply comes through loud and clear.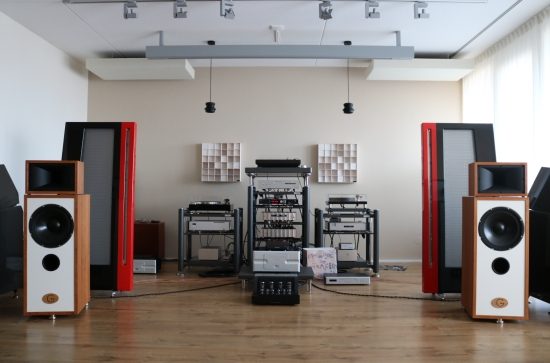 Conclusion
Whether one will like these speakers or not will really depend on the musical diet. The Gustavsons are not ideal for playing Dub-Techno or R&B. However, jazz, blues, folk, vocal, Latin and other world music is what these speakers really love. Actually, with virtually any kind of music made with real acoustical instruments, they are able to provide a truly magical rendition, sometimes bordering on the best I've heard!
Read Also:
HFA Audio Setup History 26 – Speakers So Far
PrimaLuna Tube Rolling: KT-150
External Links
Manufacturer: Gustavson