Review samples provided by Dimex

Retail Prices:
6.050 euro per pair
Steel Paint option 160 RAL-colors 505 euro
Custom Textile 250 euro
Diptyque Background
The Diptyque company is born from the meeting between two men passionate about acoustics: Gilles Douziech and Eric Poix. From the first prototype made in 2001 as part of an exhibition of contemporary art, they experimented with materials, shapes, components, and assembly processes, to develop a high-end speaker in the service of musical emotion. As a result of their aesthetic and sound requirements, each Diptyque speaker is an artisanal handcrafted object. The loudspeakers are integrally manufactured in workshops in Montauban, the southwest of France.
Gilles Douziech and Eric Poix
Since his adolescence, Gilles Douziech is passionate about loudspeakers and high fidelity. At 19, during his studies of electronics, he decided to cross France to do an internship with Marcel Rochet, designer of Mulidine speakers. This passionate acoustician gave him fundamental notions about harmonic resonances and the design of distribution filters. Then, he continued his studies with an internship at the acoustic laboratory of the Toulouse University. Without ever ceasing to conceive loudspeakers, he realized a ten-year career in medical electronics in a hospital.
Gilles specializes in ultrasound and is trained by the largest companies: Hewlett Packard, Siemens, Philips, and General Electric. Then he chose a teaching career and at the same time created his first ribbon loudspeakers to broadcast his sound creations in the context of contemporary art exhibitions. His meeting with Eric Poix would prove to be crucial in developing the high-fidelity Diptyque Audio speakers.
As a lover of high-fidelity for more than 25 years, Eric Poix has never ceased to evolve his listening system, looking for great musicality without giving into fashions and tricks. His skills and know-how in mechanics and ironwork led him to create high-fidelity loudspeaker and electronics stands with great acoustic and aesthetic quality. Thanks to him, the Diptyque speakers are endowed with a very sophisticated mechanical structure that lends them extreme rigidity. The tension of the membrane is thus perfectly mastered, an essential point for the acoustic quality of these flat speakers.
Diptyque speakers are optionally available with custom textile covers
Sustainable and repairable
Diptyque speakers, with 5 years warranties, are made to last and give you a flawless listening pleasure over several decades. They are designed so that you can pass them on to your children to take advantage of this unique musicality. Diptyque speakers can be renovated at any time in our workshops.
Local artisanal production
Diptyque speakers are fully manufactured in Montauban, the southwest of France. The company masters the entire production line: the melting by digital control, stamping, welding of metal elements, and the manufacture of membranes and circuits. The partners for thermosetting paint and laser cutting of steel parts are local businesses.
The fight against waste
The best way to limit the impact of production is to minimize waste. Therefore, Diptyque reflects on optimizing the use of manufacturing materials. For instance, the timber leftovers from the speaker machining are used to make packaging elements. For all other waste related to the production, the company has set up rigorous selective sorting to give them a second life in recycling channels. The steel used for the speakers is 100% recyclable and the MDF Mediland® wood fibers are made from maritime pine from the southwest of France with classification E1: low formaldehyde content.
Upon delivery, I was surprised to find that both speakers as well as the stands were packed in a single 17 cm thick carton (124 x 67 cm).
Technology
Diptyque loudspeakers work according to the Magnetostatic principle, referred to by the company as Isodynamic Technology, which was developed in 1970 in the United States. Through numerous tests and experiments, the company has sought solutions to improve this technology and push back its limits, in particular for bass reproduction.
In their basic principle, Diptyque speakers work similarly as the speakers by Magnepan, Analysis Audio, and long-gone Apogee Acoustics: a large tensioned planar membrane with aluminum tracks suspended in front of a magnet array for the bass and a narrow foil (either a composite or pure aluminum) suspended on the top and bottom between side-mounted magnets for the midrange and treble. But that's where the similarities end. While all the aforementioned designs use ferrite magnets positioned only behind the woofer membrane, Diptyque employs large ferrite "plastolamine" magnets in a Push-Pull configuration.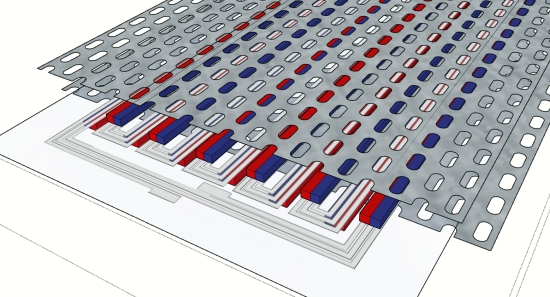 The proprietary PPBM®: Push-Pull Bipolar Magnet technique is an innovative patented architecture that uses large section bipolar magnets, manufactured to specification, that are located at the front and rear of the 12µm thin Mylar membrane. This makes it possible for the membrane's aluminum coil to remain in a constant magnetic field while it moves, allowing a much higher level of control than with a single-ended construction. In addition, the exact same type of diaphragm is used for both bass and treble, allowing everything to work at the same speed, which provides consistency in dynamic behavior across the spectrum.
Like the bass panel, the Ribbon Tweeters are proprietary and made from mylar film with an aluminum coil on it. The tweeter ribbon moves in an intense magnetic field comprised of neodymium magnets positioned on the sides. A simple crossover (6 dB per octave) allows a perfect fusion of the registers, allowing the tweeters to operate over a wide frequency range and mate perfectly with the isodynamic woofers.
Diptyque speakers provide high reliability over time, they are not sensitive to dust or humidity and, unlike electrostatics, they do not have a high voltage circuit. And, importantly, they have a regular impedance (6 Ohms for the DP-107) that does not present a complex load to the amplifier.
Next: System Context, Preface, and Listening