Meridian 818 DAC/Pre/Network Player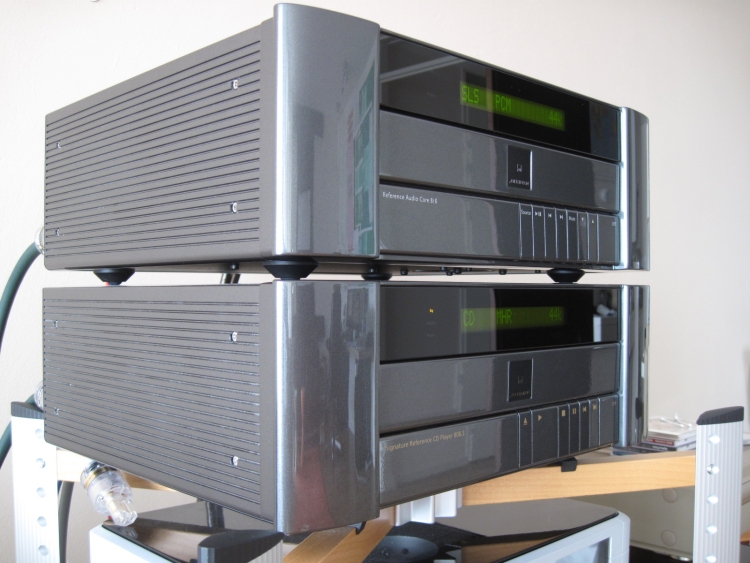 The very best Meridian Sooloos Streaming Audio
Review sample supplied by Dutch distributor Viertron.
Retail price in the Netherlands including VAT 9.950 euro
Only months ago I had bought the fantastic-sounding MS600, together with the MD600, but the 808.3 in Sooloos mode was simply even better. The 808.3 is an expensive machine, however, and I already have several CD players. So what is a streaming audio addict to do?
In comes the 818 Reference Audio Core. Essentially this is an 808.3 minus the CD transport but with the same high-performance preamp (with more inputs), the same triple FIFO buffering, DSP upsampling and apodizing filter, an improved ID41 Sooloos card and Torodial transformer-based power supply in place of the switched power supply in the 808.3 and other 800 series components. Could the 818 be the ultimate streaming audio device? In order to find out, I compared it directly to the 808.3.

Key Points
The 818 is the highest performance two-channel pre-amplifier and Sooloos end-point manufactured by Meridian. Connecting at the center of an incredible Meridian music system, 818 offers simple networked integration with any Meridian Sooloos Digital Media System plus an array of other sources through high-performance analog and digital inputs.
818 features twin SpeakerLink outputs for "home run" connection in an all-digital system with any of Meridian's SpeakerLink-equipped DSP Loudspeakers. Not having Meridian DSP speakers, this falls beyond my scope, but luckily for me, the 818 also features analog preamplifier outputs via both balanced and single-ended connectors for use in more traditional audio systems.
In common with the entire Meridian 800 Reference Series, 818 employs triple FIFO buffering along with a full suite of Meridian's proprietary resolution enhancing DSP technologies, including apodizing up-sampling of standard-rate digital inputs.
Uniquely, the 818 Reference Audio Core features a power supply design built around a true toroidal transformer for minimum noise and maximum signal integrity.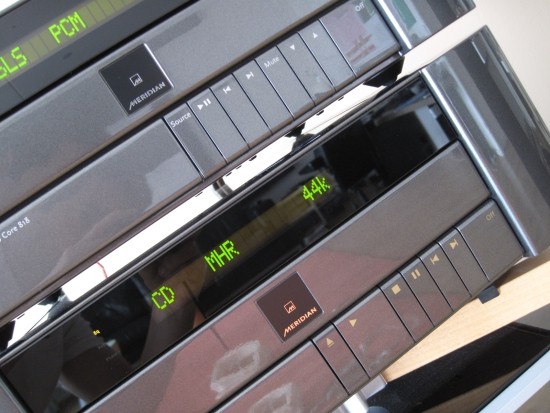 Introduction
According to Meridian, the 818 is more than a pre-amplifier. It uses triple FIFO buffering, DSP upsampling and apodizing filters to get the best performance from all digital sources. And indeed, it is far more than a preamp. It is also a highly versatile DAC and the best Meridian Streaming Audio endzone (formerly known as Sooloos) that Meridian has on offer. While the streaming functionality only works with Meridian components, such as the Media Drive 600 that I use, the DAC is compatible with traditional SP/DIF signals as well as high res USB. You cannot attach an external hard disk to it, but with USB the 818 effectively allowing 818 to function as an external soundcard for the computer.
818 offers a diverse range of audio inputs, both analog and digital. These inputs allow all your audio sources to be switched and processed using the same powerful audio-enhancing DSP as the internal Sooloos source. It also offers a way to connect and control almost any audio source the user might want to enjoy on DSP Loudspeakers.
The ID41 Sooloos Card enabling 818 to connect directly to a Meridian Sooloos Digital Media System is a new development over the ID40 used in the Meridian 808.3 and other 800 series components until now. According to Meridian, the new card has been designed with particular attention being paid to magnetic isolation, a factor that is able to help maximize the performance of the Sooloos source without the need for external cable filtering. What this means in a practical sense becomes clear in the subsequent listening tests.
Control commands sent through the 818's front panel controls, or via MSR+ infrared remote control can be used to manage music held in the Sooloos's current Play Queue, while the Sooloos apps for iPad, iPhone and iPod Touch can all be used to control 818 as a source within a Meridian Sooloos Digital Media System.
The SpeakerLink connection system, according to Meridian, delivers the highest quality digital signals to Meridian's DSP Loudspeakers on discreet, low-cost cables with simple connectors. SpeakerLink helps make a Meridian system easier to install and far less intrusive than other high-end audio systems. The advantage of the twin SpeakerLink output is that left and right loudspeakers can both be connected directly to the 818, further simplifying the wiring structure and making cables even easier to hide. This seems very practical and indeed this works well, but apart from demos in stores and exhibitions, I have no personal experience with the system and because it is my policy to only write about components I have heard in my own system, I cannot really comment on this.
Unpacking the 818
It has to be said: the 818 is packed really well. The carton may be huge, but the unit will probably withstand any and all misuse during transport. There is a double box and inside are huge foam parts that effectively provide a large 'crumple zone', much like the cartons that were used for Mark Levinson equipment. The Meridian unit is packed in a soft fabric sleeve which gives the whole a very nice touch like you're really treating yourself. I should have made a picture of the 818 while it was still wrapped, but I just couldn't contain myself: this gift had to be unwrapped!
Brand new 818 first listening impressions
Newly installed the 818 already sounds very good, reminiscent of the 808.3. Smooth, refined, transparent. It doesn't shout nor does it have raw edges in the treble, like the Meridian MS600 did the first few days. Instead, the 818 already sounded good to go. Maybe it was missing a bit of foundation but that was it really. Still, I wanted to make sure that the 818 would give its utmost so I left it on and playing for over two weeks.
Meridian Streaming Audio (Sooloos)
Even if the 818 can do much more than streaming, this is only what I use it for. In that respect, this is a somewhat limited review, as I won't be assessing its preamp qualities. I'm merely concerned with its qualities as a digital source, most importantly for me, its streaming capacities. I've already written extensively in more than a few rave reviews about the sheer user-friendliness, stability, and versatility of the Meridian Streaming Audio interface and it would seem silly to repeat that here. To find out all about the functionality, please read the Meridian 808.3 review. The 818 offers exactly the same functionality Meridian Streaming Audio (Sooloos)-wise but has two tricks up its sleeve that may mean that it will sound different from the 808.3. First the new network interface card ID41, a through-development of the ID40, with special attention paid to magnetic isolation. Secondly a new power supply with toroidal transformer instead of the usual switched power supply. My main concern was: would it sound as good as the 808.3? Oftentimes, improvements are only that on a technical level and as such they can even lessen "musicality". Better signal transfer is by definition a good thing, but on balance it can lead to a "clinical" character. On the other hand, linear power supplies in my experience sound juicier than switched ones. So, how does the 818 compare to the 808.3?
818 versus 808.3
Initial comparisons were with the 818 stacked on top of the 808.3, then the two swapped positions, along with all cables. The top component was listened to. So, whether or not one or the other benefited from being stacked, the conditions were the same for both. Used like this, it became quite obvious that these two beasts, while portraying strong family character, were in fact placed in opposite positions. Both had superb detailing, open and airy treble and a large soundstage, but the 818 was more transparent, lighter on its feet and seemingly more detailed and neutral through the midrange. In the 808.3 review, I write about the unit possessing a very gentleman-like character. It is so relaxed that it can do with a bit of tweaking to make it sound more immediate. This is why I used a Cardas Hexlink Golden 5C interlink, and why it sounded better with the rubber feet placed more towards the outer limits of the Spider rack in order to lessen the "springy" effect of the wood struts. Even when tweaked like this, the 808.3 carried a strong resemblance to the Mark Levinson 390S with its creamy rich, slightly recessed midrange. All this was diametrically true for the 818. The 818 sounded a bit too upbeat for my tastes when using the same cables and positioning, which was evident when playing less well-recorded recordings, which could tended to carry less emotion and slightly too much control. Mind you it wasn't dry or sterile, far from it. No Meridian unit I have heard will ever sound clinical. But I kind of missed the warm luxuriousness of the 808.3, even if I found the latter to definitely sound less well-resolved or as neutral. So, first I swapped the Cardas interlink for a Transparent Ultra XL, then placed the rubber feet more toward the center of the Spider rack and listened again. Now the sound was spot on. While the 808.3 didn't work too well with the Transparent interlink, losing too much pace and drive in the process, the 818 flourished with this interlink, providing it with precisely the right amount of luxuriousness and fluidity. Apparently, the 818 has enough surplus of drive and speed, enabling it to be used with interlinks such as the Transparent, which take some attack or immediacy, in turn for providing a richness otherwise difficult to obtain.
Both 808.3 and 818 are capable of a majestic, lively, big and emotional sound, but either need a little tweaking in opposite directions to bring their best. Naturally, this goes for all components, but this little experiment only goes to show how true this is, even with such similar devices.
Incidentally, both units are all-eaters. They are not specific about what kind of music you play: it all sounds good. Well recorded music sounds brilliant, rivaling the Linn Klimax DS/1 (from recent memory) while mediocre recordings still sound good. With the 800 series, so it seems, you just can't lose.
If the above sounds like I have already made up my mind, then that's because it is true: I thoroughly like the 818. It just sounds fantastic and it operates like a dream: it responds well to commands, is highly stable, never skips and never once dropped its signal. It is like having your streaming cake and eating it.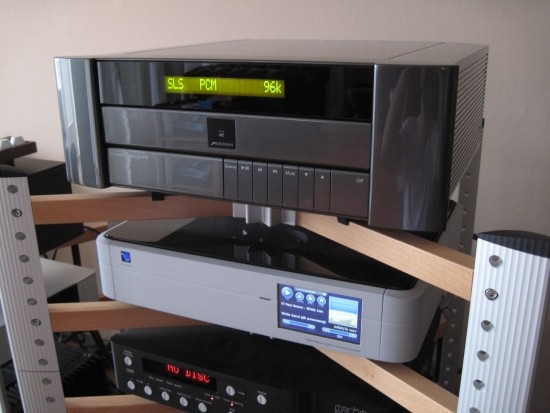 818 versus PS Audio PWD MKII
streaming capacity
Still, it would be only fair to compare it to the master in the more affordable price range: the PS Audio PWD MKII. I set it up for comparison using the same interlink, network cable and powercable and cued the same playlist as I had done for the 818. This would be a comparison between the 818 with MD600 playing a mix of FLAC and WAV files and the PWD MKII with the Synology NAS playing the same files.
The result was interesting. While the PWD MKII costs less than half the 818's entry price, still it wasn't entirely declassified. In fact, the PWD has excellent bass, even bettering that of the 818 for fulness and absolute rock-bottom solidity. But I knew that about the PWD. For bass quality it is simply unparalleled, and not even bettered by the best Wadias. But there's more to life than bass, of course, and even if the PWD's midrange was still very palpable, acoustical and very believable, it didn't have the 818's transparency or low-level detailing. Nor, for that matter, the 818's superb soundstage size. That last one surprised me because the PWD had already set such a benchmark on that aspect. But the 818, and the 808.3 for that matter, simply beat the PWD at its own game. Incredible, but true. Finally, arriving at the treble, there is simply no contest, the 818 offering much more air, fluidity and refinement. Even in light of this, the PWD plays to a very high musical standard, and with some music, it is extremely compelling and even rivaling the Wadia S7i, but unlike the 818, the PWD is no all-eater. Play less than stellar recordings, and it will soon become less enthralling. So, is this fair? I hate to declassify an older favorite. But the 818 simply plays on a higher level.
818 versus PS Audio PWD MKII
USB DAC capacity
This is where it gets very interesting. As earlier comparisons with various USB DACs, the Wadia S7i included, have shown, the PWD is thus far unrivaled for its USB sound. No doubt due to its smart Digital Lense system the PWD, playing WAV files from iTunes with PureMusic plugin, manages to sound frighteningly close to the original CD played on the Wadia s7i, seriously declassifying the Wadia's own USB input while doing so. So how would the 818 perform? I was anxious to find out but alas, I couldn't test this, because the USB input apparently isn't assigned to the 818's default range of inputs. No doubt this can be done using the Windows setup program, but I really wasn't counting on using it just yet. For one, this would mean either a very long USB cable between 818 and my Windows computer, or me running Windows emulation on the Macbook.
I find it incomprehensible that the USB input isn't available by default. While on the matter, let me also express my unhappy feelings about Meridian manuals in general and the 818 manual in particular. There is a lot of deeper-lying functionality not explained in the manual and as a user, all you can do is to search the forums for answers.
According to Viertron, by default, the USB input should be assigned to VCR1. but not in my case, where it is looking at the physical analog input.
Naturally, my curiosity won and I set out to get the input working. I used the Macbook with VMware Fusion to emulate Windows so I could run the configuration program. Using the Meridian Common Installer I selected the elements I needed (handbooks, config program etc) and ran setup. It installed fine but did not let me select the USB connection, only COMM ports. But then I realized that the computer had prompted me that it found new devices and that I had clicked away that window, assuming that the Meridian installer would provide its own drivers. But I assumed incorrectly. After going through the procedure again, I granted Windows permission to go and find appropriate drivers. Lo and behold it found them and correctly identified the 818's ID41 card to which the USB cable was attached (maintenance input, not USB audio input).
After selecting USB1 as the connection method, I thought that I was ready for some setting up. But alas, still there was a problem. The setup program let me go through the process of adding a source and labeling it but when it was time to upload the settings to the 818, the program prompted that I connect a serial cable between computer and 818. Seriously, a serial cable? The Macbook doesn't even offer one anymore and what's more, I read in the Meridian handbook that USB would also work for some Meridian devices that have a USB port. At this stage it also became clear that neither Fetch or Identify worked. Also, Control Window (MSR+ emulation) wouldn't work, in spite of it having USB1 selected and it indicating that it is connected.
Naturally, I couldn't let it rest so I tried other options. With the Macbook not working I went to the Windows 7 PC. First I tried a long USB cable consisting of two extensions but it may have been too long, or my USB3 card may have been incompatible because this time the USB option never emerged in the Meridian Config Program. Then I tried a COMM cable. The computer only has one port and it was this port that only showed up in the config program. It was selectable but upon trying to connect the program gave an error message.
Then, in a final effort, I installed Bootcamp with Windows XP on the Macbook. Because the Macbook is essentially an Intel machine, using it in bootcamp effectively makes Windows run natively on it. I figured that maybe the VM Ware emulation would have spoilt things. Again the ID41 card showed up, needed to search for drivers, found them, came up selectable as USB1 but once again none of the connection methods were successful. At this stage I gave up. I don't need the USB input but would have liked to test it.
Having a config program in itself is very neat. It is probably a great tool for custom installers or dealers. But while it may have been state of the art when it was first introduced, right now it feels like old technology. for the end-user it isn't very straightforward. Why not make it possible to run a simple setup program from the front panel? It could easily be menu-driven, making use of the front panel display or, even simpler, why not have an audio source button to assign physical sources to input labels, just like with modern surround receivers. This not being the case, effectively prohibits me from trying the 818's USB input. Incidentally, Viertron informed me that the USB input currently accepts 24/96 max, but that an update is being worked on which will enable even higher-res audio to be transferred.
I may put in a final test at a later stage if I can borrow a Windows laptop with a serial port, and will update this review with my findings, but for now, I'm letting this matter rest.
Preamp sound
Although I wouldn't be tempted to say goodbye to my Jeff Rowland Coherence II preamp, naturally I had to try the 808.3's analog input capabilities. The interesting part is that the 818 is internally based on modular digital bus-connected cards. This means that when you connect another CD player using its analog output and the 808.3's analog inputs, the signal goes D-A, A-D and D-A again. Can't be good, right? Well, given my experience with the 808.3 I already knew that these inputs actually sound very good, and the 818 was no exception.
Inputs are set up in a default setting but are entirely configurable and can be renamed using a Windows computer program called "Meridian Configuration Program Guide". There are 6 stereo analog inputs, three coaxial digital inputs and 2 optical digital inputs. In addition to these, and more than the 808.3, there are also 3 extra optical digital inputs, as well as a USB input. The USB input on the 808.3 can only be used for configuration, but the one on the 818 allows the unit to be used as a USB-DAC. Outputs are analog on cinch and XLR and digital on cinch, in addition to dual speaker link outputs capable of outputting 24 bits 88.2kHz.
For practical reasons, I did not test the 818 connected directly to the power amps, bypassing my own preamp. But I have no doubt that it would work well and could replace many a dedicated preamp.
DAC sound
Almost as an afterthought, just to see what it would do, I also connected my Levinson 390S CD player digitally to the 818's coaxial digital input using a Wireworld Gold Starlight III+ coaxial cable. Normally the 390S doesn't make a very good transport: using it as an integrated player invariably it sounds more integrated, faster, better-paced and more natural. The 818 experience was quite different! First, the difference between 390S direct and 390S via the 818 was incredibly small which, in itself is already amazing given that the Levinson employs a highly elaborate analog output stage and totally different DAC topology to the 818. But the difference was so small that I could hardly tell which player I was listening to, at first at least. Soundstage, treble extension, air, focus… all these aspects were unaltered when I swapped inputs on the preamp (same model Transparent Ultra XL XLR interlink was used). After longer listening however some differences emerged: the 818 was consistently a little faster and more transparent while the 390S was sometimes a little riper through the midrange, more organic if you will. Some slightly thin/clinical CDs, therefore, tended to sound better on the 390S while fatter sounding discs sounded better on the 818. Both portrayals are equally valid and it merely comes down to taste. It is very important to note that I did not hear any SPDIF-typical degradation this time. There was no shrinking of soundstage, no diminished pace, no blurring. Apparently Meridian's triple buffering does nice things!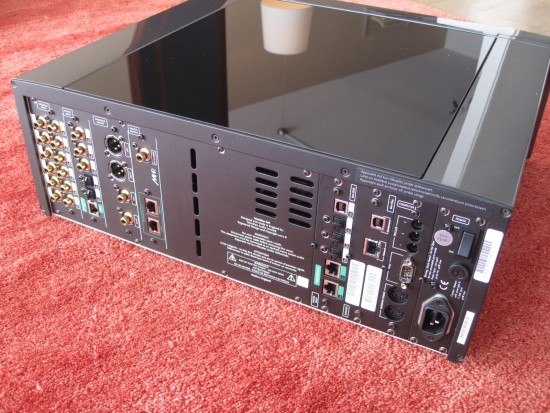 Conclusion
The Meridian 818 operates like a dream, looks like a million bucks and is capable of a majestic, lively, big and emotional sound. It provides these qualities irrespective of the kind of music you play and for the most part, irrespective of recording quality. The 818 just isn't very specific about it: it all sounds good. Well recorded music sounds brilliant, while mediocre recordings still sound good. With the 800 series, so it seems, you just can't lose. I may still do a one on one comparison with the Linn Klimax DS/1, but digging from recent memory I think that the 818 does all that the DS/1 does just as well, even beating it in terms of generous musicality, soundstage width and depth and bass fullness and articulation. What's more: for less outlay the 818 offers analog and digital inputs and even if I couldn't configure the 818 to make use of it, it does offer USB DAC functionality. I know what I'd choose!

Sooloos is now Roon – try it for yourself, on any hardware of your choosing
Videos on the Hifi-Advice YouTube Channel