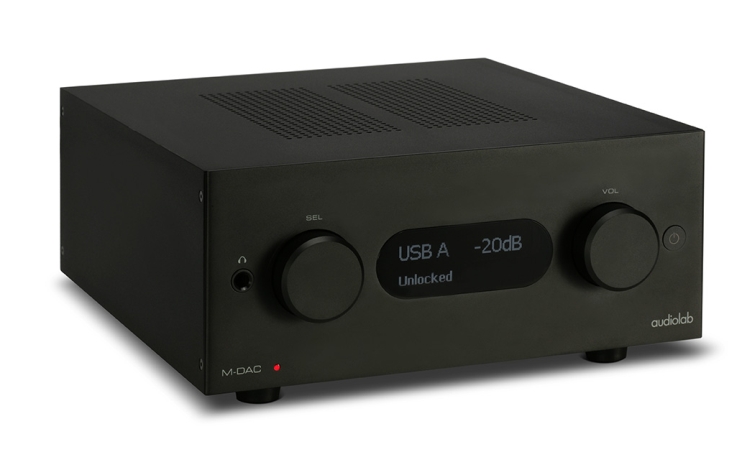 Affordable Jack of all Trades with a detailed and refined sound
Retail price in the Netherlands 1149 euro
Review sample kindly supplied by Quad-raad.nl
Conclusion updated 27-03-2017 (opinion unchanged, but motivated more clearly)
A true British brand, Audiolab became famous with their succesful 8000A amplifier. Company ownership changed hands in 1997 and the name changed to TagMcLaren, only to emerge again in 2004 when Audiolab became part of IAG and the original name was restored. As part of IAG, Audiolab once again produce high quality hifi at affordable prices.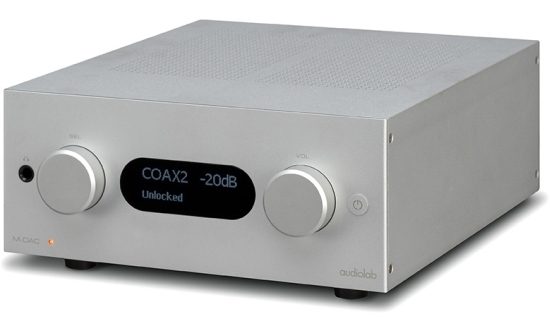 When unpacking the M-DAC+ one immediately notices the weight and the structural integrity. This DAC is put together really well, with thick aluminium panels not just for the front panel but for the entire enclosure, which is decidedly non-ringy. Peeking through the vent holes in the back I see solid electronics and large cooling towers: this is no empty box. According to the specs there is a toroidal transformer with muliple windings and multiple regulated power supply sections, a proprietary discrete master clock and a JFET Class A output stage. All this is pretty confidence inspiring.
Like the large majority of DACs out there, the Audiolab employs a Delta Sigma DAC chip. This principle is currently subject to debate, with a growing camp stating that true multibit ladder DACs are the better way to go. While supported by sane theory, the reality however is that true multibit DACs are very labour-intensive to get precisely right and thus are very expensive. In anything but the most esoteric high end, Delta Sigma is simply the most cost effective way to still achieve excellent results. By the way, I have heard both good and bad Delta Sigma DACs just as I have heard good and bad multi bit DACs. The implementation really plays a large role in this. In any event, Audiolab have selected the hottest brand in Delta Sigma DAC chip of this time,  the ESS Sabre32 9018.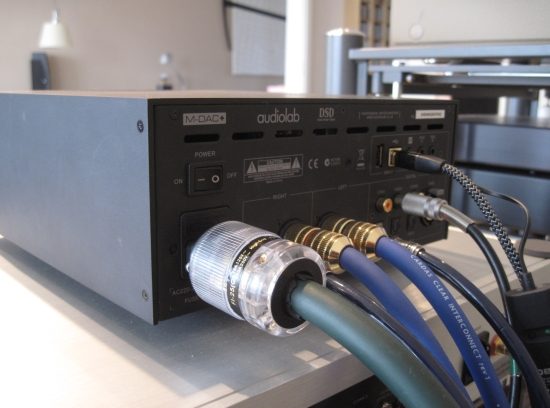 Connectivity is excellent with 1x USB for a computer source, 1x USB for an i-Device, 2x coaxial, 2x optical and AES/EBU inputs. Outputs are available in cinch and XLR. There's a proper IEC inlet that is spaced such that it allows for the beefiest of connectors.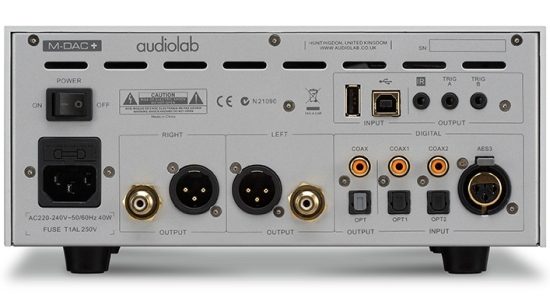 The M-DAC+ processes audio data up to 32-bit/384kHz via USB and offers compatibility with DSD64, DSD128 and DSD256. What's really nice is that the reconstruction filters can be adjusted: there are 7 filter settings for PCM files and 4 more for DSD playback. Using these filters, you can make the M-DAC+ sound sharper or smoother, more articulate or more rounded, just as you see fit, or as the recording requires.
Operation couldn't be simpler: the two large rotary knobs do it all. So when you can't locate your remote control, all functionality can still be set on the unit itself. Left knob selects input or the menu items, right knob controls volume in the digital domain and mute, when pushed. These knobs by the way are not plastic, but feel like solid metal and they operate smoothly, without any wobble.
The M-DAC's output level is fully adjustable, but can also be set fixed at either 0dB or +3dB. The latter can sound more powerful but is only advisable when the matching preamp or integrated amp is known to have enough headroom to cope with this signal. In the majority of cases 0dB will provide the best solution.
There's a very interesting setting called Jitter Rejection that can be set to Low, Medium or High Bandwidth. As I did not have the remote control at hand I had to switch between these modes by using the buttons on the front panel. I tried it a few times back and forth but I can't say that I heard a repeatable difference. That said these results might differ when using a lower quality source, but I did not try this.
Review Setup: Apogee Diva, Artesania Racks, Jeff Rowland amplification
Sound
Used with a Furutech Alpha 3 power cable and Cardas Clear XLR interlinks, and using the Aurender N10 as a source playing 16/44 files either with spdif coax or via an Audioquest Diamond USB, the Audiolab M-DAC+ has a sophisticated and refined sound with extended airy treble and lots of definition, and no harshness whatsoever. This open character extends to the midrange, that straddles the middleground between being very detailed and being laidback. The midrange is not warm or lush in the stereotypical English manner, but also not in your face or grainy or anything, and it leaves no doubt about this DAC's resolving power. The bass is a tiny bit lightweight, mostly due to there not being any excess oomph in the upper bass, but it is highly articulate, fast and well-timed. Soundstaging is not particularly opulent or room-filling but otherwise very precise, with excellent center imaging focus.
While the above may lead one to believe the M-DAC+ to be an analytical or even clinical sounding DAC, this is not the case. The M-DAC+ sure is very neutral, but it also sounds natural and I am quite impressed by its refinement and convincing timbre. Now don't misunderstand this by thinking that the M-DAC+ sounds ballsy or richly colourful, but more in terms of sounding natural and not synthetic at all. This I think is an achievement in itself because this is precisely the area where many other DACs let down, even some expensive ones.
Of all the filter settings I mostly preferred the Optimal Transient setting, as it made for the most articulate sound. For timbre in the midrange however I found the Minimum Phase setting to sound slightly better. This is just something that you should experiment with, to find your own preference.
There was a subtle difference in sound between Coaxial Digital and USB, the latter sounding slightly tighter and more accurate and the former sounding slightly more rounded. Much like the digital filters, this is a matter of taste, and the choice is yours.
The M-DAC+ is also capable of playing hi res PCM and DSD files, but I did not try this. The M-DAC+ itself is inherently very highly resolving meaning that when playing true hi-res files, it may well provide staggering levels of resolution. But alas, I did not try this. But hey, this leaves a nice exercise for the prospective to discover.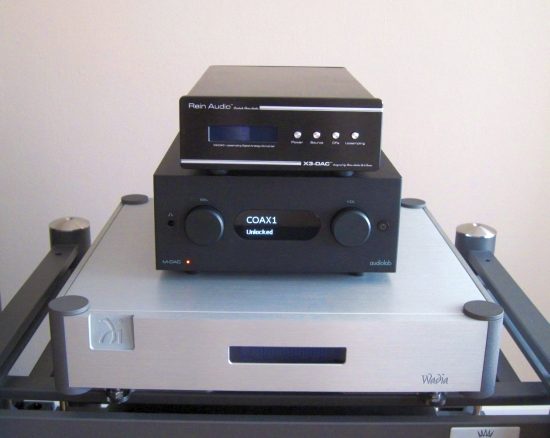 Comparisons
Naturally I compared the M-DAC+ to my reference DAC and CD player, and while the Wadia 521 and Mark Levinson 390S both sounded better to my ears in their own ways, this is of no real relevance because firstly these units are in a different universe in terms of pricing and secondly they are no longer available. Let's compare to some more recent DACs that are closer in price.
In terms of outstanding neutrality, the M-DAC+ is reminiscent of the Aurelic Vega. Although the M-DAC+ is not quite as expressively (some will say forward-sounding) detailed or dynamic as the Vega, the M-DAC+ seems to me to be less clinical and arguably more forgiving.
The Ayre QB-9 has a similar presentation in terms of midrange purity and overall tonality, as well as the same overall level of detailing, but the M-DAC+ does have a tighter, more solid quality to it while the Ayre has an overall more loose-coupled, "free flowing" character.
The PS-Audio NWD has beefier bass and a fuller overal tonality and an overall more powerful delivery, but not quite the M-DAC's level of neutrality, resolution and refinement.
The Exogal Comet I feel presents a match for the M-DAC+, providing the same overall quality and outperforming it in terms of dynamic differentiation, resolution and finesse.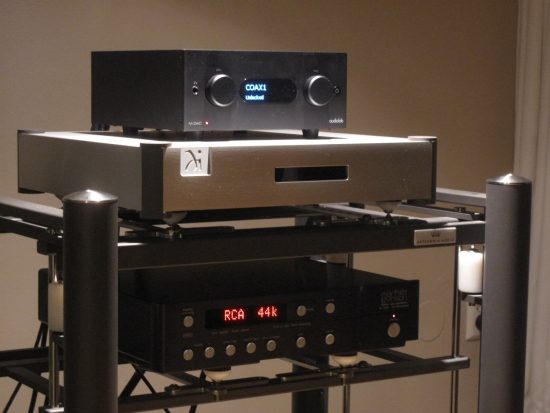 Finally I pulled out the Rein Audio X3 DAC. This DAC's strong area, neutrality, still holds up well, but otherwise the X-DAC surpassses it quite easily in terms of finesse, refinement and detailing.
Conclusion
It seems evident that over the years, DAC quality has really improved a lot, especially at the more affordable end.  There still are and probably always will be audible differences between DACs, and there will always be the high end segment providing ever wider perspectives. But the M-DAC+ just offers great value for money and clearly shows that near-reference quality articulation, transparency and resolution can be had at an extremely reasonable price.