Never judge a book (or DAC) by its cover
Looks can be deceiving. The housing is actually made from cast aluminum. This was a surprise for me as I expected it to be made entirely form plastic. Turns out that only the bottom is made from a rubbery plastic which is all the better because it will help prevent the little dac from sliding from its position when it is connected to heavy cables.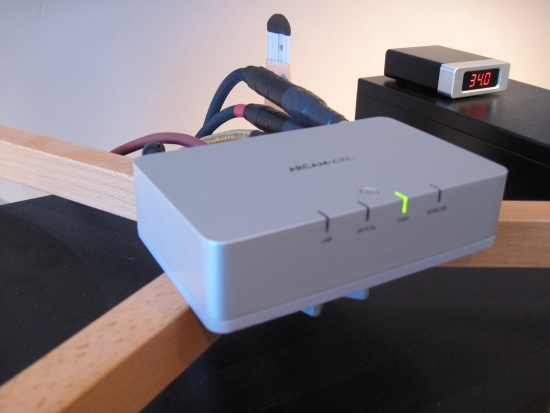 This smoothly finished USB DAC is pretty comprehensively equipped as well: USB interface, coaxial and optical s/pdif. You can flip through the inputs with an elegant little switch on top.  Wireless transmission is optional by means of an antenna and a USB-stick type transmitter. For USB transfer it uses dCS asynchronous USB technology.
Listening
The little Arcam was listened to after having extensively compared the Ayre QB-9 to a variety of other computer audio playback solutions. And to be honest, I wasn't having very high hopes for it. I mean, 429 euro's, a tiny appearance and just as tiny power supply. For sure this dac wouldn't sound full. Boy how wrong I was! After having listened to the Ayre for almost a week, I connected up the little Arcam to my usual Transparent Ultra XL XLR interlinks, via two positively HUGE Cardas cinch/XLR adapters and swapped the Transparent USB cable from Ayre to Arcam. The source of choice was my full size PC running Windows XP SP3. All this time the Arcam had been sipping juice from the wall outlet so it it was surely well warmed-up. I placed it on top of the Spider rack, straight onto the struds, for the Arcam is so light that it wanders off if I try to place it onto Ceraballs. The adapters and cable assembly looks overwhelming and perhaps over the top but listening tests have concluded that these costly adapters really do sound very good. In fact, they sound like they're not there. No thinning of sound. No added glare. No loss of bass power here. So what did I hear?
From the first notes it was clear that this was one smooth operator. You just want to turn up the volume. And some more. Yeahhh. Smooth, full, relaxing. Very nice indeed. Okay, it doesn't have the Ayre's transparency, its air, its soundstaging width or depth nor its complete lack of digitalness but still, it is utterly musical. This may well be the most full and smooth sounding USB dac I have heard yet.
Two minutes later I realize something. The Arcam's smoothness does come at a price. Forgive me for throwing yet another comparison your direction, but the rDAC reminds me strongly of listening to the Meridian 506.24 CD player. So super-smooth and free from glare that you just want to keep raising the volume. But this is not only a good sign. Just like the Meridian, the Arcam can be a little restrained dynamically and it lacks a bit of drive and projection in the upper bass and mid-frequencies. In other words: it is not as lively or make that live-sounding as some other dacs. But understand me correctly here: these other dacs cost multitudes of the little Arcam's entry price. In the pricerange where the Arcam operates, there is currently nothing else (that I've heard) that sounds this full and so free from digital harshness. it is just very enjoyable. Even after listening to the Ayre, or my resident Levinson, for that matter. These machines cost 10-20 times what the Arcam costs and that does make you think. The Ayre and Levinson DAC are a lot better, for sure. But 20 times better? I'll leave this conclusion up to you!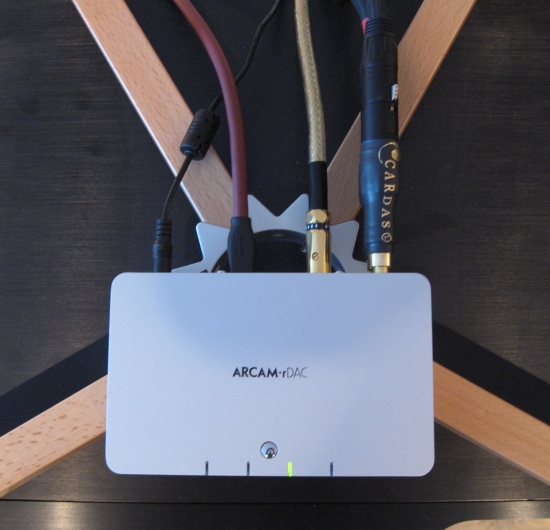 I also tried the s/pdif coaxial input. I was told beforehand that when used this way, the dac would not shine so brightly. Well, using the Hiface USB interface to provide a clean s/pdif output to connect a Wireworld Gold Starlight III digital coaxial cable, I have to disagree. Connected this way, the Arcam managed to sound tighter and livelier than when using its USB input. But it also takes away some of its easy going nature, making the DAC sound a little more typical PCM-like. Still, this is very much a system synergy and taste thing and I can imagine people actually preferring it this way. Incidentally, the HiFace EVO provides a very stable s/pdif output and is a lively performer. I figured that results might differ when using another source. So, I dug out an older entry level Marantz CD4000 and connected its coaxial output via the Wireworld to the Arcam rDAC. The result was indeed not great. Sound was thin and flat and, well, a bit boring. In fact, I find the Marantz sounds better using its own analog outputs. No doubt this is the result of a highish jitter level in the aging Marantz' output.
In order to see what could be achieved with a much better transport, I connected the Levinson 390S CD player's digital output. Mmmm. Yes, I mean no. This wasn't good either. (update June 2016: I would later learn that the 390S had indeed gone off spec and had to be serviced) Sure, it sounded fuller and more classy than with the Marantz CD4000 but still, the sound was merely okay. Compared to what the rDAC is capable of using USB, it had now lost all of its glow, fulness and naturalness. So, there may be something to the earlier statement about the s/pdif input after all. But I cannot totally agree in light of the great results obtained with the EVO USB interface. It seems that as long as the source clock is very stable and perhaps the source is a little on the lively side, you can achieve an upbeat sound with a very good tonal balance using SP/dif.
Ultimately, when opting for this DAC, it should be for its USB input. Arcam claim to use asynchronous USB technology from dCS, and this really seems to inject some magic into the music.
Conclusion
The Arcam rDAC is a very, very enjoyable little USB DAC with an incredibly smooth sound that is never ever harsh or thin. Its S/Pdif input seems to be quite dependent on the input signal but can sound quite good, but this DAC's selling point really is its Asynchronous USB input. There are limits to what you can achieve for 440 euro, with the rDAC though, I'm sure that the limit has just been raised.