Sleek looks, IR remote control, optical digital and analog out combined on minijack and of course speakerlink. A Meridian Sooloos endzone for only 725 Euro!
Review sample supplied by Dutch distributor Viertron
Retail price 725 euro
Of course, 725 euro is not small change. But it is the lowest price tag I've ever seen on a Meridian Sooloos product. The very sleek MS200 looks deceptively simple, but not cheap at all. Its finish is pure Meridian: classy and understated. In photo's you can see that the MS200 is small, but it isn't until unpacking it that you realize just how small it really is.
As mentioned in the header, the MS200 offers analog out on minijack. That connector doubles as optical digital output. Apart from the Meridian-specific Speakerlink there are no other outputs. I would have preferred coaxial out but that would've meant a larger device as the rear seems to be sizes to precisely house the current connections and no more.
I connected the MS200 via a toslink minijack to regular toslink connector cable and connected it to the Meridian 818, its display indicating 88.2kHz, which it achieves by using the famed apodizing filter.
Like all Sooloos devices, installation is child's play: just connect it to a DHCP-enabled network and the components automatically find each other. Open the iPad app, go to the output zone selection and the MS200 is just there, selectable in the list between MS600 and 818.
What's amazing is that the MS200 even offers infrared remote control functionality. I find that amazing because the MS600 doesn't even offer that! Not only does this offer play queue control, but also volume control on the analog output, by use of the Meridian MSR+ IR remote control. The MS200 is approachable via an internet browser just by typing in its IP addresss. The settings page is very complete and offers amongst others IR mode selection (whether the MS200 is the controller or not), variable or fixed analog output volume control, 2x upsampling selection and DHCP or static IP address selection.
Digital output
Sound via the 818's digital optical input is recognizably Meridian: open, airy, fluid, and surprisingly solid. There is excellent bass and good pace and resolution. It sounded better than I recall the Meridian Control 10 to sound via its coaxial output: from memory, I don't recall the C10 to sound this agile. I was almost starting to doubt my reservations about spdif in generic and Toslink in particular so I quickly chose the 818 as Source in the iPad app and restarted the track. Okay, this was quite a bit better. The MS200 via 818 already sounds excellent but the 818 shows its superiority immediately, as it should at its entry price. While the MS200 via toslink was pleasant enough to please even long term, the 818 with direct MD600 input via network has a wider, more immersive soundstage, better focus and articulation and retrieves much more low-level detail. The difference is quite large… and yet, going back to the MS200's optical output is no punishment. Actually, its forgiveness can be quite welcome with dry recordings. I wonder how much of this mellowness is attributable to the MS200's toslink output. I bet that it would sound even better if it had a coaxial digital output… or a USB connection! Ok, now I'm dreaming. But who knows: one day Meridian Sooloos products might just speak to other standard USB products.
Analog output
Because I have no decent mini-jack cable I made an adapter out of the best mini-jack cable I could find, cut it really short, and soldered on two Neutrik Gold Plated XLR connectors. Because this was a different day than the digital part of the review, I listened to all options again: 818 in native Sooloos mode, MS200 via toslink to the 818 and finally MS200 via the same analog interlink that connects the 818, but now via the aforementioned mini-jack adapter. Things turn out to be as you would expect: while the analog output sounds pretty good, it is no match for the MS200's toslink output via the 818 which in turn is outclassed by the 818 in native Sooloos form. Which is as it should be. By the way: I also experimented with fixed versus variable volume output. Once I found the unity setting on the variable setting (87), switching between fixed and variable, I couldn't detect any difference. This is a good thing, indicating that you can use the volume control without fear of degradation.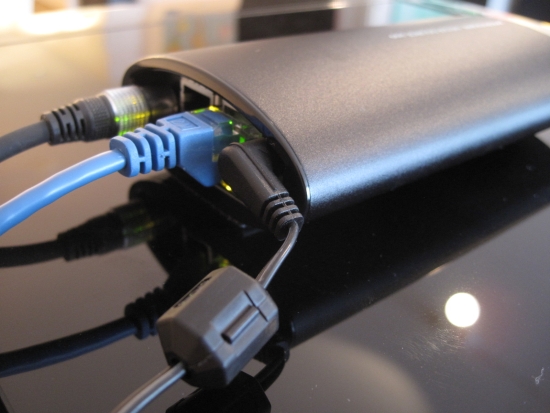 Don't get the idea that the MS200's analog out sounds bad-it doesn't. It is actually on par with some DACs in its price range. But compared to the best DACs in its price range it does lack some dimensionality, richness, and propulsion.
But let's make a fairer comparison. How does the MS200 compare to its stablemate the MS600? Again using the Transparent Ultra XLR cable, I compared the MS200's analog output via the mini-jack adapter to the MS600 that was directly connected. Here, too, the class difference is clear: the extra outlay for the MS600 really pays off: there is bigger, more forceful bass, a livelier midrange, a wider soundstage, and just more outright dynamic drive. Just to make sure that the MS200 wasn't having trouble driving the filtered Transparent Ultra XLR cable, I also tried a Cardas Hexlink Golden 5C. This is a cable that is like an open pipe to the music signal: there is nothing inhibitive about it and it always works well in situations where the Transparent cable might be too much for a component. With the Cardas in place, the MS200 seemed to be a little happier but still compared to the MS600 with the same cable, the MS200 was lacking "get up and go" as the English call it. It is just a bit restrained dynamically. Overall, from memory, I'd say that the MS200's analog output sounds very comparable to the MC200's analog output, but with the balance shifted somewhat: the MC200 had a somewhat dark character and pretty good bass; the MS200 has open and airy treble but is held back somewhat in the bass.
Apart from my preference for coaxial over Toslink, one other detail caught my eye that I think should be addressed: the DC power input connector is axial where really it should've been a straight one. Apart from that, I think this product is just perfect.
Conclusion
A Meridian Source for 725 euro? Even if its Toslink output didn't sound as good as it does, it would still be recommendable based on price alone. For Meridian, this is an unprecedented price point. The MS200's analog output lacks some power and propulsion but is good enough for a secondary zone. People craving the absolute best sound should investigate the MS600 or even the 818 but if you're looking for a second Sooloos zone or if you're setting first steps into the world of Sooloos: don't hesitate.
Sooloos is now Roon – try it for yourself, on any hardware of your choosing
Videos on the Hifi-Advice YouTube Channel