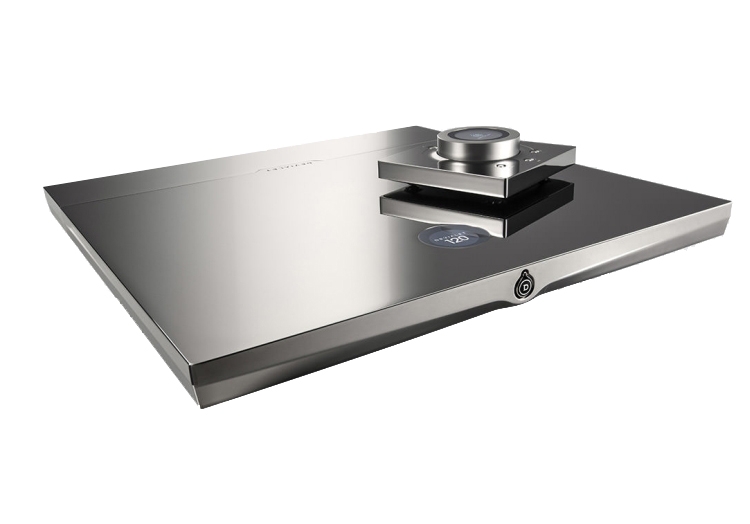 Continued from the main Devialet 120 and 200 review
With the addition of new features the Sound Quality is also influenced
The original Devialet review as linked to above was written using the latest Firmware at that time: version 8.1.3. Please see that review for more information about the setup and such. Source was mostly an AudioAanZee Reference Flow Music Server using USB, but Devialet Air over ethernet was also used at times. DPM was off and no SAM was used, nor the tone controls. Meanwhile (Jan 2016) 9.0.1 is available but I haven't tested that version yet. Reason for this is that I know from past experience with the PS Audio PWD MKII that firmware can substantially change the component's character, and not always for the better. With 8.1.3 at least I knew what I had, and it was very good indeed. It was with this version that I drew my conclusion of the Devialet 120 and 200 being equal to, and in some aspects better than, more costly equipment.
Imagine my surprise then when my friend Berry urged me to downgrade to 7.1.3. Not just for any reason, but because he knew my audiophile taste (classic Jeff Rowland) and he had been told and subsequently experienced in his own setup, that this older version sounds even more fluid, refined, gentle and for a lack of a better word "analog". After having done the downgrade I can only agree with him (and many Devialet chat forum members) that 7.1.3 sounds even better.
Compared to the older 7.1.3, the more recent 8.1.3 adds some functionality, but in the process seems to have implemented a layer of processing that makes the sound less free-flowing. It's somewhat akin to comparing an original CD with its remastered version. Sure it sounds louder and more forward, and perhaps more "impressive", but it is often also less gentle, less fluid and refined, and seems just too square and pushy. I can understand that some people might actually prefer the more forward and more powerful delivery of the newer firmware though. Especially the bass has a certain drive with 8.1.3 that it doesn't have with 7.1.3. But even if I have high praise for the Devialet 120 and 200 with 8.1.3, compared to them running on 7.1.3, the later version sounds very forward in the midrange and lower treble, soundstage is more narrow and is less layered in the depth plane, and decays are shortened.
Future
Devialet have announced that something big is coming at around Munich time this year… Because I can't imagine Devialet ever lessening the amount of processing, I fear that the sound will not return to 7.1.3 style in future firmware versions. And so I certainly hope that they are not unleashing functionality that I MUST have, as that would come down to having to choose between sound quality and functionality. Aargh, the life of an audiophile…
Update September 2016 – Version 10.0.2
Berry and I teamed up again to compare firmware versions. For the comparison we used his system that consists of a Devialet 200 and Magnepan MG1.7i speakers. There is no SAM for Magnepans and so this feature was not used and DPM was switched off. Berry's source is a Windows 10 computer, running Foobar with Devialet Air 3.0 Beta over ethernet. His Devialet normally runs 7.1.3, just like my Devialet 120, and his sound is very smooth and free-flowing with this version firmware. Importantly, the Magnepans, like my Logans, are very fast, also in the bass, and so they sound perfectly balanced using the more relaxed sounding 7.1.3 firmware.
Switching to version 10.0.2 after having listened to a couple of tracks with 7.1.3 we were astounded at the enormous difference in sound. While it can be argued that the Devialet sounds more accurate and more articulate with version 10.0.2, this being most beneficial in the bass, it also sounds much more strident. It's like the extra control and power in the bass (good!) is also evident in the midrange and treble (not necessarily good). For some people, the more immediate nature of the new firmware's sound will make the product come across as being more dynamic, but to our ears and in this system, dynamics (the difference between soft sounds and loud sounds) seem to be diminished. The sound at the same volume level now comes across as much louder, reminiscent of typical dynamic compression used on many CDs. And even though transients are now even faster, the feeling of a natural dynamic flow is now actually much lessened, and more importantly, very low level nuances now seem to have been lost in the process. It's like the amp now paints with a bigger brush, literally brushing over the subtle details, replacing them with a bolder, more coarse sound.
Version 8.1.3
This version turned out to form the middle ground between the fluid and relaxed 7.1.3 and the tight and articulate 10.0.2, having a faster, more pronounced sound than 7.1.3 but avoiding going overboard by exerting too much control and retaining most of version 7.1.3's subtle nuance and natural flow.
To our ears, and again, in this system, version 10.0.2 seems to have taken matters overboard, resulting in a sound that might well be measurably better, but lacks musical soul. This way, the Devialet 200 is turned into an amplifier that starts to sound digital again, which I think is a shame because with 7.1.3 it really is one of the most fluid sounding amps I know of.