Antipodes K50 Music Server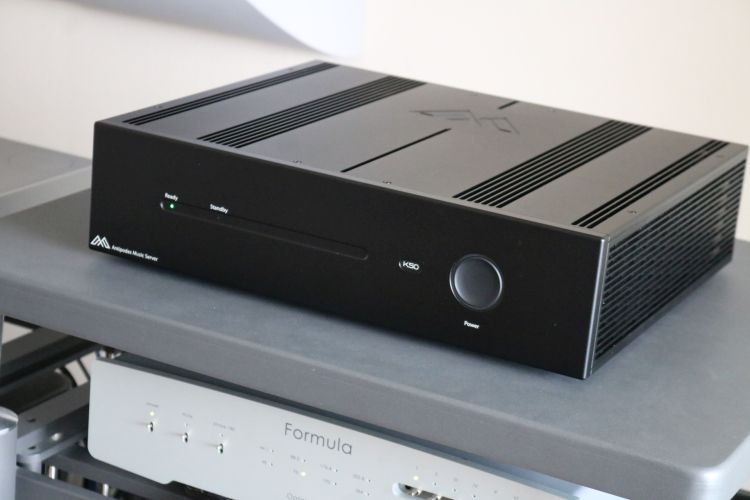 First Listening
My first impressions of the K50 were formed during the reviewing of the Aequo Stilla loudspeakers. As a result, I was using the Aqua Formula xHD DAC with the Audio-GD preamp and neither the Logans nor the Magicos were set up for use. But the relatively unfamiliar setup did not stop me from noticing right away how much of a Milestone product the K50 is.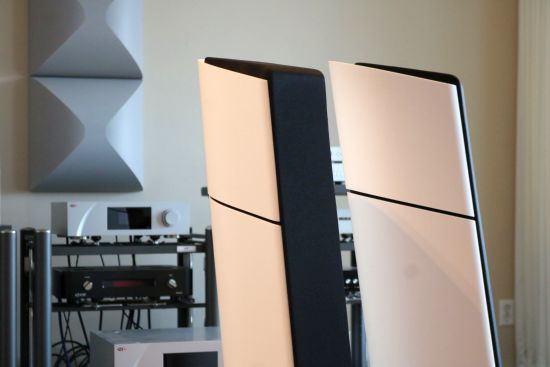 All of the K50's three main sections are built with the highest quality in mind, and thus, the K50 works equally well as a Server only or a Player only. However, I soon found that the full extent of the K50's magic happens when it is used as an integrated system.
K50 as a player
When using the K50 as a Roon player, fed from CX in the capacity of a Roon Server, the K50's very interesting Reclocking Digital Output section becomes available. For the comparison with the EX as a Player, though, I necessarily stuck to USB using the Final Touch Audio Callisto cable. Even so, the differences with the EX as a player were immediately obvious. The K50 has a sweeter and more refined treble, sounds rounder and more relaxed and has more spacious, deeper soundstaging. Most noteworthy, though, the K50 sounds much more organic.
Although this combination possesses a refreshing lack of stridency that is otherwise so common in digital replay, I did feel that the sound could do with a little bit more tightness and sparkle. Adding the Bryston BDP-3 as a Player also connected to the DAC via USB, and fed by the CX, substantiated this feeling by providing faster pacing and more immediate transient behavior albeit at the cost of sounding more mechanical, less colorful and flatter in terms of soundstaging.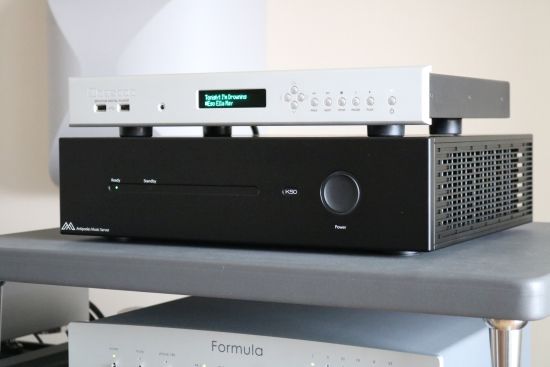 Somehow, I think the CX was undermining the K50's performance. Somewhat puzzled by this mixed result, I decided that the next step would be to use the K50 integrally as a Server + Player and with its AES/EBU output.
K50 as a Server + Player
Switching to the complete K50 package as a Roon Server and Roon Player with its Reclocking Digital Output section and using the Jorma AES/EBU cable, still with the Aqua/Audio-GD/Aequo setup, the leap in performance was absolutely stunning.
This was definitely something else!
All of the aforementioned organic naturalness remains but with increased transparency, presence, speed and impact. While the BDP-3 remains the King of tightness, all other aspects of the K50's performance are just so much more involving. Most remarkably, the soundstage has a depth of imaging that reminds me of what the Wadia 861 CD player could do. At that time, I compared the player's output and input independently and established that the player's Clocklink function was crucial to it producing a deep soundstage. Since then, I have used countless servers and streamers with various connection methods but not a single unit has come close to reproducing that kind of depth without introducing unwanted side effects. Until now, that is.
One of the K50's unique strengths is that it not only produces music in a natural and free-flowing manner, it also has great PRaT and the uncanny ability to reproduce everything in a most realistic manner, making all the instruments sound utterly authentic and convincing.
At this point, I was already smitten. Then, it hit me that it was only just Roon that I had been listening to. And not only that, so far, I had only heard one output and there were many more to assess!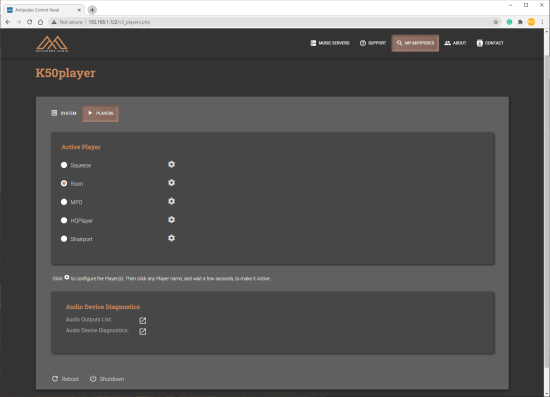 Other player Apps
Regular readers will know that I recently noticed that Roon did not sound quite as crispy and articulate as UPnP. As a result, I re-assessed all of my playback options and found that there are subtle differences from method to method (MPD, UPnP, Squeezelite) but Roon was the one standing out negatively for appearing somewhat thickened and crushed dynamically. This is really rather unfortunate because the Roon interface is so great. Fortunately, if you don't want to switch to UPnP or MPD, there is a very easy solution. Ever since its inception, Roon has been working hard to be compatible with just about every hardware device and streaming format out there and that includes Squeezelite. As can be read in the K50 instructions, many users opt to combine the Roon server with the Squeezelite Player to achieve the best of both worlds.
To use Squeezelite with Roon, don't forget to enable Squeezebox support in the Roon – Setup settings and to disable the Squeeze Server in the Antipodes interface.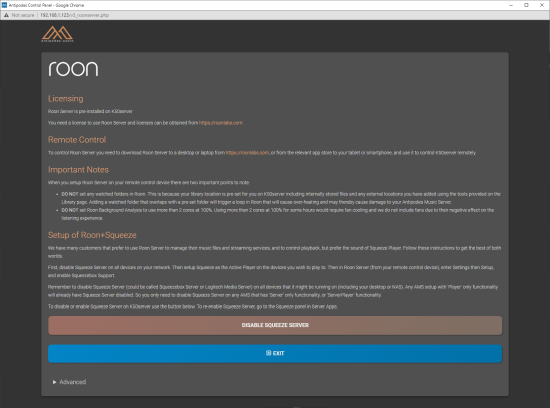 At this point, the Aequo speakers had been relegated to the other room and the Logans were back in their old positions and used for the remainder of this review.
When comparing Roon Server + Roon Player to Roon Server + Squeezelite, the aforementioned Roon effect is not fully gone but the bass tightens up, transients become faster and the entire presentation just becomes a little bit directer and clearer – importantly, while retaining 100% of the organic naturalness.
If you want the absolute maximum in tightness, articulation, transparency and purity then MPD is the way to go. But that does mean that Roon cannot be used.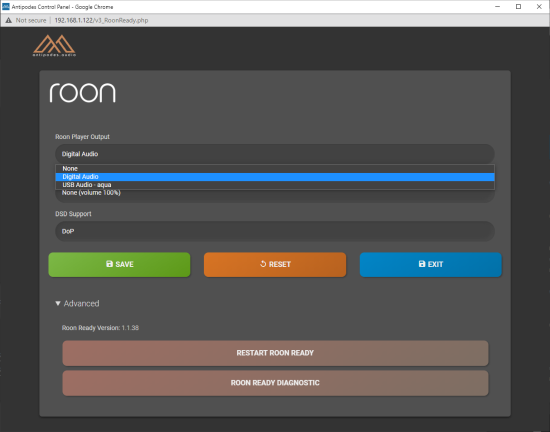 Note that the player zone name in Roon remains "Antipodes D2", whether you select Digital Audio or Roon.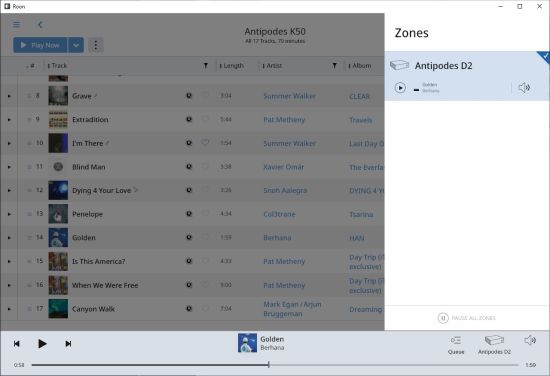 I do need to mention that the remaining difference between Roon+Squeeze and UPnP or MPD, while important to me, seems not to affect many other users quite as much. When asked about it, most admit to not having made comparisons but also not to be missing anything. Whenever I did do the comparison with someone else either at my place or theirs, however, the difference was there for both of us to hear. It's not day and night, perhaps, but certainly sunny day versus cloudy day. Either way, I also recall that only two paragraphs back I already admitted to being smitten with the K50's performance and that was with Roon Server and Roon Player. So, as always, it's relative, just like pretty much everything else in the wonderful world of high-end audio.