KingRex UC192 USB Audio Interface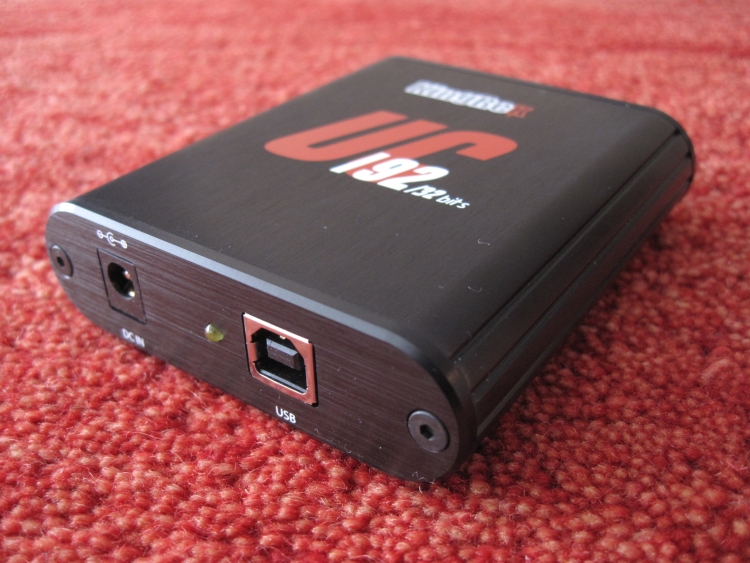 A small and unassuming computer audio interface that performs splendidly
Review sample kindly supplied directly by manufacturer KingRex
Introduction
For this review, I was approached directly by Christine Wu from Taiwan electronics producer KingRex. She explained that they have an exiting new computer audio USB interface and asked whether I was interested in reviewing it. Of course I was! I try to get my hands on any computer audio interface that I can. Only 3 days later the package was already delivered to my door!
I connected the power adapter and let it simmer for a couple of days before connecting it to the Windows XP computer. It is also compatible with Macintosh but as those drivers weren't available at first, I started with the Windows application. The Mac story is at the bottom!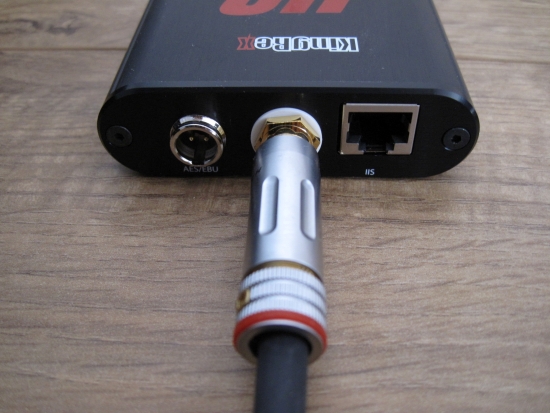 Installation
As quick as the delivery went, as slow was my understanding of how to use the device. No matter what I tried, I could not get it to work. Its driver showed up nicely in all the playback applications I tried but no sound ever came out. I tried winamp 2, winamp 5, wavelab lite and foobar 2000, and even installed the latest build of the latter. I have to say here that the manual did say that it works with DirectSound but that ASIO is preferred, in combination with Foobar 2000. Me being the stubborn person that I am, of course didn't read all manuals and tried everything else first. But ultimately even DirectSound didn't seem to work. After corresponding with Christine again, it turned out that when using DirectSound, only the IIS output is active, not the SP/DIF or AES/EBU output. That explains!
So I installed everything the way the maker liked to see, even though earlier tests I did had indicated that Foobar 2000 was not a playback application that I liked very much. Imagine my surprise when it turned out not only to sound good, but actually sound fantastic!
But before I go there I want to say a little more about installation. As is more often the case (in my experience at least) with installing USB audio interfaces, the driver installation can be a little bit tricky. The installer on the supplied cdrom started its work as it should but halfway through I got an error message and the installation had to be broken off. But there is a way around: go into the Device Manager, look up the problem device under USB controllers, indicated by an exclamation mark. Right-click on it and choose update driver, then go through the automated driver installation. The computer will find the driver by itself. (it was previously partially installed so Windows knows the location). You may need to restart or disconnect and reconnect the UC192 in order for Windows to recognise it and if everything is well, the exclamation mark will disappear and that should be it. Sounds complicated perhaps, but it really is not. It is actually common practice with Windows, again, in my experience at least;-)
The good news is that once it is installed, it works stably and causes no problems whatsoever.
But after the driver installation you're not done yet. The UC192 is recommended to combine with Foobar 2000 and ASIO4ALL. This is not only a recommendation but also a neccesity as it will only work with ASIO. This is not a bad thing because, as it turns out, the UC192 sounds so good that you will gladly go through this extra care. In addition to the ASIO4ALL software (freely available on the 'net) you will also need an ASIO plugin for Foobar. (also freely available)
All subsequent testing was done using Foobar 2000 in combination with ASIO4ALL.
The sound
The UC192 was put head to head with the HiFace EVO usb interface. In a previous comparison the EVO came out winner and I have used it to my satisfaction since then. So naturally the UC192 had to compete with it.
Immediately after I had finally sorted the ASIO setup and played the fist notes, even sitting at my desk at a sidewall of the listening room, I was stunned at how natural the sound was. I just couldn't believe it. This was Foobar? I had tested Foobar many times before using all ancilaries and dac setups I had available and every time the program was technically impeccable yet it sounded very strict, very analytical and dry and, to my ears, very uninvolving. Foobar was typically portraying a precise yet narrow soundstage but in combination with ASIO and the UC192, the soundstaging reminded me of the Ayre QB-9. What I heard now was utter freedom from the speakers. The sound was in the room, floating, enveloping. I played many, many tracks and every song simply sounded right. Gone was the technical and greyish quality, replaced by an utter feeling of relaxation. Yet, much like the Ayre, the sound was absolutely not slow or uninvolving. Quite the contrary: it was fast and moving, rhythmically perfect.
Even though I enjoyed this sound, I also thought that the bass was slightly lightweight and a bit soft. Not disturbingly so and in fact probably better than the Ayre's bass and I actually quite liked it but still, from memory it seemed a bit softer than when using the HiFace EVO or EMU1212M as interface.
So, after playing random tracks almost an entire day, I swapped the UC192 for my resident HiFace EVO. Mind you, the EVO is not just any interface. I hold it in very high esteem and it has beaten every alternative thus far. When substituting the EVO for the UC192 I left all circumstances the same (still Foobar 2000/ASIO, using same USB cables, digital coax cable and position in the extensionblock for the power adapter and even the same placement) so the changes could only be attributed to the interface itself. It only took half a song to establish an opinion. I had mixed feelings. Sure enough, the bass was fuller and more powerful. It had a more incisive quality. But this came at the expense of a more strict quality. Now all of a sudden I started hearing again why I had initially not approved of Foobar. But it was more than that. Foobar, by itself, always had quite good treble and air but in this combination air was certainly lacking compared to the UC192. What's more: the EVO now sounded grey, slower, less driven, less positive and ultimately… more PCM!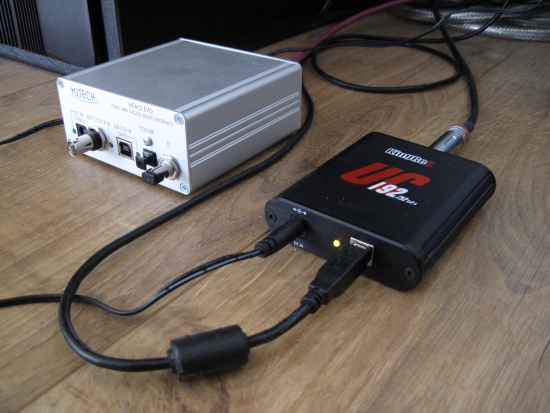 Naturalness and total freedom from artifice
Now I had to do more testing. I checked the EVO again, this time using my preferred player for the EVO, Winamp 5 (using kernel streaming, not ASIO). Ahhh, this was better. The bass was nice and full, but not dry anymore. The same for the rest of the sound, all was more fluid and mellow now. The was a very natural quality to the sound, a rich and colourful presentation that I thought was less present with the UC192. This was just the way I remember Winamp 5 to sound. Slightly soft, but very positive and engaging. Finally, the EVO also had slightly better focus. To me, Winamp 5 (using proper settings) in combination with the EVO, going into my Levinson no360S DAC, sounded a lot like the Levinson no 390S CD player. But I was still missing something. Somehow, this didn't sound as impressively airy and free as the UC192 did in combination with Foobar 2000 and ASIO. Tonally, the Winamp 5/HiFace EVO combination sounded much like the 390S, but for soundstaging and freedom of electronic/digital signature, the UC192 trumped it. So I swapped back again.
Sure enough: back was the same feeling that I had after I first connected the UC192. Freedom in the soundstage. A totally unforced quality with very open and airy yet supersmooth highs. Despite the higher transparency there was absolutely no harshness or other aspect that gave away that I'm actually listening to computer audio. The sound was just very liquid. Man, this was unexpected! Again I have to compare to the Ayre QB-9. It wasn't quite the same as the Ayre managed to sound even more free and more fluid. But the Ayre wasn't only an interface; it was also a DAC. And a totally different one than my Levinson. Yet, despite the Levinson's character, the UC192 managed to make my computer sound more like the Ayre than I would have thought possible.
Going back to the EVO once more, using Foobar/ASIO, confounded my feelings. I didn't enjoy this sound anymore. No matter how good the bass was and how well it focussed, it didn't move me. It felt quite a bit less emotional than the UC192. Just to be certain, I left the HiFace connected and powered up for an entire week and redid the listening tests. Alas, it wouldn't sing for me anymore. I should note that this was still using the 20 meter long RG59 coaxial spdif cable that I always use for the computer, except when I did the original review for the Ayre QB-9 and HiFace. For these tests the computer was moved to next to the DAC and consequently a short and very good coax cable could be used. It was in this circumstance that the EVO had won second place, after the Ayre. When I then moved the PC back and re-used the long coax cable, the EVO sounded less stellar, but still much better than the EMU1212M soundcard's digital output. Knowing this, it is almost a miracle that the UC192 manages not only to sound better than the EVO (even using the 20 meter coax cable) but even sounding rminiscent of the Ayre when the PC was placed right next to it.
Above The front is simple: DC power input, power-on led and USB input
Above: The rear holds a surprise: AES/EBU output on mini-XLR. SP/DIF out and IIS out.
Getting down to it
The strangest thing is that the UC192 uses an adaptive (synchronous) clock. And even though Asynchronous should officially be better, it does manage to sound much more natural than the EVO does in async mode. The EVO is slightly more precise, but a the cost of naturalness and ease. Speaking of its naturalness: this really puzzles me because ASIO is supposed to facilitate the most direct route for audio output and it promised bit-perfect sound. Yet the result is smooth and fluid sound, even in combination with Foobar, while Foobar has thus far always sounded cold and clinical to me.
It seems that sometimes audio is still a mystery and even I am taken by surprise every now and then. But that's what makes this hobby so interesting, isn't it?
Apple MacIntosh
Christine said that the Mac drivers weren't available yet but UC192 would probably play with Mac anyway. When I finished the Windows part I figured that this review wouldn't be complete if I hadn't at least tried the UC192 with my Macbook. Regular readers know that I find a full size computer sounding a lot better than a Macbook but nevertheless, I owed it to the UC192 to at least give it a chance. So, I plugged in the USB cable, expecting nothing much, but sure enough: two new outputs appeared in the Audio Midi Setup: IIS and SPDIF! I chose SPDIF and lo and behold: it played instantly! No installing of drivers, no mess. And would you believe that I recognised the same positive sides to the sound as with Windows? Again there was this smooth fluidity, the natural, unforced quality that I had heard with the Windows PC.
Comparisons with the HiFace EVO showed the same differences as had been obvious with Windows: the EVO had tighter, more accurate bass which was also fuller but again at the expense of a whole lot of dryness and sterility. The Macbook already sounds tight and lightweight and kind of narrow in soundstage as well as lacking some colour. And the EVO doesn't really compensate for that. The UC192 does, in a sense. It makes music sound much more humane, more relaxed while definitely not slow or undynamic. Just more… dare I say it? …more "analog"!
Preliminary Conclusion
(Before the arrival of a new driver and new firmware)
The UC192 is a winner! With Windows there is potentially some driver hassle, but as a Windows machine owner, you're probably used to that anyway. I know I am! But spending a little time configuring the settings is totally worth it as the UC192, combined with Foobar and ASIO4ALL and playing through a Mark Levinson no360S DAC, provides one of the best sounds I have heard yet from my computer! It sounds a lot like the old Philips and Marantz CDM1 swing-arm mechanism/TDA1541 DAC CD players with the same positives (ultrasmooth and fluid) and negatives (lack of attack and fullness in the bass) and this, for me, is a good thing. It now comes in second best after the Ayre QB-9 which really is high praise! With Mac it is even simpler: just plug and play! OSX (10.6 in my case) instantly recognised the UC192's ports and plays without problems from the get go.
update 6 march 2011
The review continues… Further testing using a new driver and new firmware
Shortly after I finished this review I received an email from Christine from KingRex announcing new firmware for the UC192. She asked me to install it and evaluate the unit again and of course I did.
Firmware Upgrade described
On the website were three different kinds of downloads: DFU tool (which is the firmware upgrade tool), the latest firmware and a newer version of the driver. Also there is software for 64 bit versions of Windows. I use XP and thus proceeded downloading the neccesary files. This was a bit of a hassle as it isn't immediately clear what needs to be downloaded and which setup needs to be run. But after consulting the KingRex website I figured it out. Just make sure that you have some kind of UnRar program installed as all files are Rarred. This is some sort of Zipping, but a little different, and not compatible with WinZip. After unrarring, remember where you saved all elements for later. Make sure you have quit Foobar. Then run the DFU Tool installer (the file that has DFU in its name) and follow onscreen instructions. What follows is a little unclear but what happens is that the DFU tool gets installed. At this stage the firmware is not installed yet. Now you have to actually run the DFU Tool. You can find it in the start menu via Programs – KingRexDFU – DFU Tool or directly via the explorer. Run the DFU Tool and then you can select the firmware file (now it comes in handy that you remembered where you saved it). Click 'Update Firmware' and you're done. Well, almost. You'll have to disconnect and reconnect the UC192 before the driver is fully installed. You may have to go through the ASIO4ALL settings again if you have multiple soundcards installed but you will have done this before when you first installed the UC192 so that shouldn't cause problems:-)
In addition to installing the latest firmware (release 9) I also proceeded to install the latest driver (110216), just in case. Needless to say, I listened to some audiotracks I know well on the well-warmed up system before I started the upgrade. After the upgrade Windows couldn't start the driver but a quick disconnect and reconnect of the USB cable fixed this. Then listening resumed.
So how does it sound with the latest driver and firmware?
This was a VERY different sound. Bass was more defined and slightly fuller (which was admittedly a weak point before) and there was more apparent dynamic drive. But I also quickly heard that the ultrasmooth fluidity and nicely relaxed nature that I loved in the previous incarnation, was entirely replaced by a technically more correct sound. Dilemma. Of course it was strictly speaking better now but I can't rid myself of feeling that it is now less emotional and ultimately more common. The UC192 no longer sounds like a CDM1/TDA1541-equipped cd player but like a regular modern cd player. What's more: going back to my HiFace (still using ASIO4ALL) reveiled a more engaging and musical sound. Remember: the HiFace had sounded much more technical than the UC192 before I did the firmware upgrade. I actually preferred the HiFace now.
To confirm this I wanted to downgrade but there was no option for doing that. I emailed Christine about my findings and she immediately sent me the old firmware (release 6) as well as the older driver (101223).
Going back to the old driver and firmware
After receiving the initial firmware and older driver I first downgraded the firmware. Was I crazy? I could swear that I already heard a more gentle sound. More fluid, slightly more like it was before. I went back to the new firmware. Indeed, it now sounded drier. But this wasn't entirely how I had heard it before. Then I downgraded both the firmware and the driver. Aaahhhh. There it was again. The sound I initially found so beguilling. Smoooooth and fluid and very engaging. I'm not quite sure whether it was mostly the older driver or the older firmware but I do know that together they provide the best sound for me. Granted: the newer software made for a technically more impressive sound and is probably more accurate. But it also made the UC192 sound like many other competitors. With the old software, it stands out from the crowd. The beauty is that Christine will probably put both old and new drivers and firmware up on the site, for all users to choose from. Isn't that great?
Final Conclusion
My opinion of the UC192 remains the same as in the conclusion above: I find it a wonderful device that not only manages to sound nothing like typical dry computersound but now also offers the option of tweaking its characteristics by choosing either the old software or the new software. And us audiophiles we do love tweaking, don't we:-)
About the PC used
I used a pretty normal PC (Intel core2 6600 2,4ghz) running Windows XP professional but with a very good Emu 1212M soundcard as well as an external HiFace EVO USB interface. Lately I have come to favour the audible benefits of the HiFace over the EMU. The playback application is normally routed directly to the soundcard driver without going through kmix and such, in the case of teh HiFace I use kernel streaming. The resulting spdif digital output goes via uninterrupted Belden RG59 coax cable straight into the dac. This computer has been used like this in combination over a long period with many other dacs so results of adding new devices can easily be assessed.
About the MAC used
I used a Macbook Pro 17″ running OSX 10.6.6 with iTunes for playback. iTunes really isn't the best available application for the Mac in terms of accuracy but it compensated well for the Macbook's inherent leanness and lack of colour. With a full size Mac, this may be different.
Sidenotes
ASIO4ALL is probably also compatible with more playback apps than only Foobar. There are some old Winamp drivers for ASIO too, but I couldn't get them to work with Winamp 5. In addition to DirectSound and ASIO the UC192 is also compatible with WASAPI but this I haven't tested this.
Also, the IIS output is potentially very interesting, as it promised separate transfer of clock and audio signals to a compatible dac. My Levinson sadly doesn't carry this input. But reportedly the UC192's IIS output is compatible with North Star DACs.
The UC192, according to the manufacturer, works in isynchronous mode which I presume is the same as synchronous. This is in contrast to the newer UD384 which does work in asynchronous mode. However, there is now apparently also firmware that allows the UC192 to work in asynchronous mode, but I haven't tried this.
The problems relating to the unit not being recognised right after installing the software are probably to do with my USB3 PCI card as it now turns out to work splendidly from the get go on other Windows XP computers.
Lastly, the unit supports all samplerates up to 192khz.