Highly affordable player that performs admirably well
Brought to my attention by the same person as the Anti-Cables, the Emotiva ERC2 CD player made its appearance at the same time when we did the Anti-Cable comparisons. Just like with the Anti-Cable speaker cables, this player costs next to nothing and once again I was surprised at how well this player performs.
Retail price 449 usd, free shipping within the US
Set up on an imitation Spider rack, on standard rubber Spider feet and connected with a Lapp powercable and Anti-IC's interlinks, already this player sounded smooth, open, fluid, airy and highly refined. There was an effortlessness and musicality to it that is simply unexpected at this price level. Substituting the Anti-IC's for a Transparent Ultra made for an even better sound. Finally we added a granite top plate on soft rubber AudioQuest dampers on top of the Emotiva. This is how its owner uses it. That made for a nice increase in smoothness and created a more balanced sound: midrange was slightly recessed and bass seemed elevated. This nicely counteracted the player's slightly lightweight character.
Now the player gained substance and body, as well as a wider soundstage, while retaining the focus and transparency. In many ways it reminded me of how the Classic Philips players with their swing arm mechanisms sound, but with better drive and dynamics. Together with the Transparent Ultra interlink the Emotiva ERC2 was so musical and engaging that we had no urgent need to swap back to the reference players.
Compared to the Levinson 390S there were areas that were less well developed, but they were few. The Levinson had deeper, more solid and more powerful bass and a more authentic tone. It was more natural/acoustical if you will. Other than that, the Emotiva was almost on par and even beat the Levinson in treble airyness. Admittedly the Levinson hasn't sounded the same in the treble after it had its capacitors replaced, but in spite of that it's still a strong performer, and it seems incredibly that the Emotiva can sound this good at this price level. Add to that the hefty full-metal remote control and it becomes something of the bargain of the century.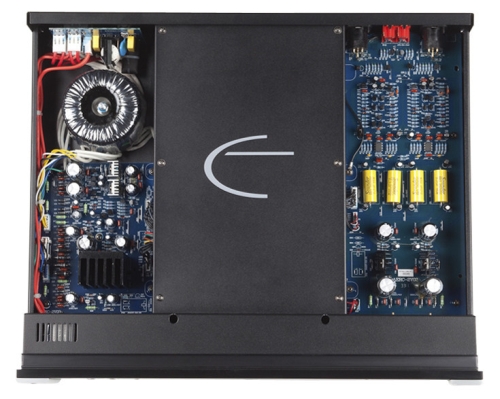 Specifications:
Balanced and single-ended analog outputs
Balanced AES/EBU, coaxial, and TOSLINK digital outputs
Advanced Analog Devices AD1955 DACs with 384X oversampling filter
Refined I/V conversion and discrete dual-differential line amplifier stage
Discrete single-ended line stage for RCA outputs
High performance Toshiba slot loading CD mechanism for safe disc handling
Individually regulated and shielded power supplies for CD mechanism, VFD display, microprocessor, and digital and analog sections for low noise floor and distortion
Conclusion
Emotiva is a factory-direct brand. As such you won't find these components in any shop. This does make for a nice price cut though and if you are willing to import from the USA directly, this player is well worth the effort. Even when buying from outside of the US and with customs import tax added, the price will make you grin.