P8 – dCS' first all in one SACD player
The P8 is effectively a transport, upsampler and DAC all in one, previously only available from dCS as separates. Some would call this simply a "SACD player", but in this case it really is more than that.
Technology
The inside of the P8 is filled to the rim – no empty space here. DCS really seem to have crammed the essential parts of the Verdi transport, Purcell upsampler and Delius DAC, or versions thereof, all in one housing. In any event this particular unit has had a transport upgrade in which the Puccini's Teac transport was retrofitted, this because the Philips transports were apparently often failing. Peeking inside I don't see the exact same DAC board as the Delius had, but it's nevertheless very serious engineering. Various PCB's are stacked on top of each other and although quirky to disassemble/assemble, in typical English style, it is all very solidly built.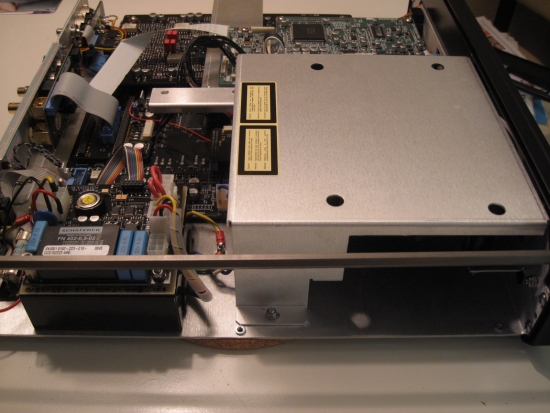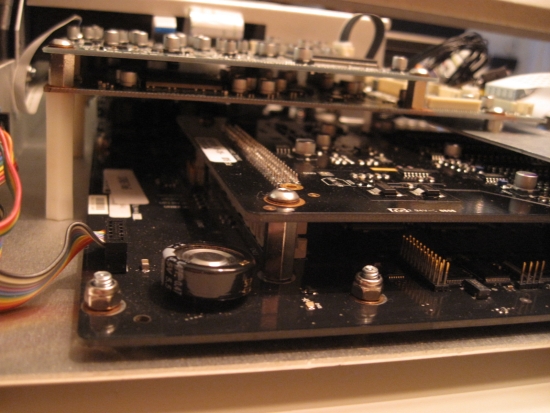 Above: typical dCS style circuit board layering. Bottom board is the "motherboard" common to all dCS units, second is the Ring DAC board, third board is not clear to me. Top board finally is an Esoteric-sourced controller board.
This particular unit is a Mk2 version which has had an upgrade in which the original Philips SD5.2 CD mechanism (with Sanyo SF-HD60 laser module) was replaced with the same Teac mechanism as is used in the Puccini. The Philips mechanism was discontinued in 2006, so, in order to extend service life, dCS have developed a Mk2 version of the P8i, which involves a complete strip down, fitting a new Teac UMK5 mechanism with controller board, replacing some of the metalwork, replacing some of the smaller boards and loading v2.00 software. Some of the metalwork and most of the dCS electronics is retained. According to dCS, the upgrade improves the sound quality and gives smoother operation. The latter I can attest to, as the owner of this particular P8 told me that earlier models were incredibly slow in reading the CD, as well as skipping tracks. Whether or not the Teac mechanism improved the sound I cannot investigate, but it might well be true. In any event it is worth having the P8 upgraded as the Philips units were rumoured to be prone to faillure.
For people interested in upgrading: the price for the upgrade is GBP1500 + carriage + 20% VAT.
Peeking inside I don't see the exact same DAC board as the Delius had, but it's nevertheless very serious engineering. Various PCB's are stacked on top of each other and although quirky to disassemble/assemble, in typical English style, it is all very solidly built.
The P8 offers all connections you could wish for – minus USB input.
Naturally the P8 utilizes the company's proprietary Ring DAC technology, which is a discrete, 5-bit converter operating at a 64-times oversampling rate, meaning 2.822MHz for both DSD and PCM. When playing SACD's, the DSD data is fed directly to the converter, and when playing CD's, the PCM data can be upsampled to DSD.
While it is written in many places on the internet that the rear panel's spacings are too narrow for decent connectors to fit, it seems that my unit was updated or modified, because I could fit the thickest power connectors (IeGO, which is similar to most Furutechs) without problem. Also XLR's proved no problem. Admittedly you can't fit a whole finger between the locking bit and the rear panel, but enough of it to unlatch the connectors.
Another annoyance that pops up here and there on the 'net is the slow response times of the transport. Well, because this unit has been fitted with the later Teac transport I can tell you that it is in fact pretty fast – for a multi-dics transport.
The front panel buttons are back-lit in various colours depending on the state of the unit and the type of disc played. I find this a bit gimmicky and I would vote for simple indicators in the display part only, and overall I don't find the unit particularly attractive. Its successor Puccini definitely has my vote for good looks, but I understand that the P8's lower price has to come from somewhere and if not by lower sound quality, then in simpler casing. I do wonder how much it improves on the P8 soundwise. Sure, circuit layout is different, but I wonder if there is a large difference in sound. Maybe some day I will also review the Puccini. Either way, the P8's looks certainly don't detract from its stellar performance.
Sound
The P8 sounds remarkably pure and neutral yet avoids sterility and never ever sounds harsh. It manages to sound forgiving while retaining complete neutrality. Even when connected right after it has been out in unheated storage for 2 days (and it's very cold in Amsterdam this time of year), it immediately sounds compelling, and interestingly it doesn't change character much after being warmed up for a couple of days. How different this is with a Wadia… but it must be said that the 781i is much quicker to recover and warm up than the older 861.
DSD Upsampling
The P8 can upsample CD's to DSD and it must be said that this feature really is mandatory. With it enabled, and playing ordinary CD's, it sounds incredibly high-res, even more so than my Wadia 781i. Its sound is very refined, very fluid and superbly airy overall, and while a last whisper of warmth is thankfully still present, the P8 does not sound as overly friendly as my older Delius-Purcell combo. It definitely sounds more dynamic and alive. In fact: I'd say that the P8 is just about a match for the 781i in terms of articulation, transient attack and dynamics, but only as long as it's set to the higher 6v output. On 2v it does sound more similar to the Delius/Purcell in terms of rounded off edges and diminished bite.
As a side note: I have mentioned in previous reviews how Wadias are very tweakable using the output level dip switches. At full level it can sound too dry and overly controlled, and usually it is best to set it one level lower. However, since my new setup, in which the speakers are at the other end of the room, things have changed, and the sound is fuller and more relaxed. This has meant that the Wadia now sounds better at full tilt. It also means that the differences between my older Delius/Purcell combo and the P8 are probably even larger than I remember.
The unit also offers 4 filter settings but the effects are subtle and I'm not actually sure which I like best, but I think that I prefer 1 and 2 over 3 and 4.
The Wadia 781i does have more powerful bass and sounds altogether more grounded than the P8. Wadias have always been among the more bass-heavy players, but the 781 (and the S7i as well) is definitely more neutral than older players like the 861. Compared to the 781, the P8 could be said to sound ever so slightly lightweight, but considering that the 781 is still a Wadia, likely still a little fuller sounding than the norm, this means that the P8 in absolute terms is probably spot on neutral for bass power. In any event, it doesn't sound thin per se, but it is very agile, much in the way that a good Music Server such as the AAZ UltraFlow handles the bass.
In terms of soundstage, the 781i and P8 are not too far apart, but the P8 can be more spacious in the width plane, especially with upsampling enabled. On that note: the P8 does not benefit from native sampling like the PS Audio PWD does, and instead of becoming more rooted and powerful, with 44k it actually loses its poise and magic, the sound becoming dull and uninteresting. And that's exactly the same as I remember it from my Delius/Purcell combo.
The P8 sounds utterly neutral, and natural. It definitely does not sound synthetic at all: it actually has a very natural timbre, but the 781i does still sound more acoustically convincing to me, especially with piano and organ. However, I am very sensitive to the quality of the upper bass, since my Apogee Diva magneto statics are so revealing in that area, and if you have speakers with a fuller/more colored upper bass, then this may be a non-issue.
If the timbre/fullness of upper bass/lower midrange is not an issue to you, and you prefer fluidity over the last nth of bass power, then the P8 is a very, very good alternative to a Wadia 781, and in some aspects it is even the better choice. Which aspects, you ask?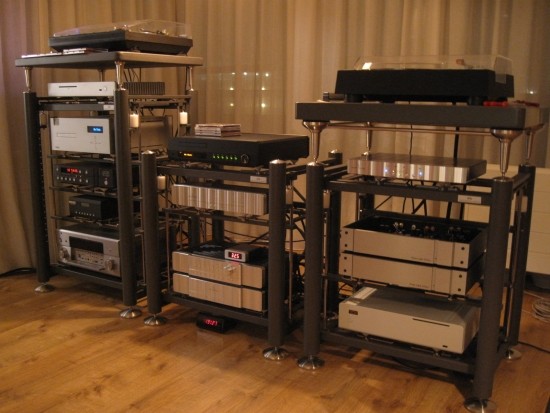 For starters, ergonomics. The Wadia 781i is incredibly slow: reading CD's or SACD's takes forever. It's not Sony SCD1 slow, but still a good 30 seconds before it plays. Starting a CD in the Wadia and dCS at the same time, the P8 will be playing for 16 seconds already before the Wadia starts. Eject is also immediate. Very nice: the drawer is slower and gentler when loading discs than when ejecting them. This really appeals to my impatience (give me that CD-now!).
Then there is the convenient set up menu, accessible with the rotary knob and push buttons on the front panel. No need to open up the player to access inside dip switches. The menu is not too complex but offers all the necessary settings.
Also, the P8 is not so sensitive to cables. Sure you can hear the differences between warm sounding powercables and interlinks and analytical sounding ones, but the P8 manages to always sound at least pleasant, whereas one can really ruin the sound of a Wadia with the wrong cables.
Lastly, the P8 can be used directly with power amps. Leaving out the preamp usually leads to a diminished-color sound, which again is partly a feature of my particular speakers, but it's also true that with every step toward a more neutral sound, along comes a cleaner sound, which can become simply too clean in some circumstances. However, the P8 copes admirably, producing an even purer sound than when playing into the Coherence II preamp, while avoiding treble dryness and still having very good imaging and soundstage with, along with nicely solid bass. The overall feeling is still of a sound that's somehow emptier, but that is always the case when skipping the preamp, and no fault of the dCS.
Conclusion
The P8 is – at least at the current second hand prices – a real bargain. I have no hesitation to call it one of the best players I have heard. With the new Teac transport it operates quickly and flawlessly. It has a modern, highly accurate and superbly well-resolved sound, but manages to always sound fluid and refined, never ever clinical or harsh. Incidentally, I did not get around to trying its digital inputs, but I have no doubt that they will also sound very good. Now, if only it had a USB input.