Classic Philips and Marantz CD Player Comparison – part 1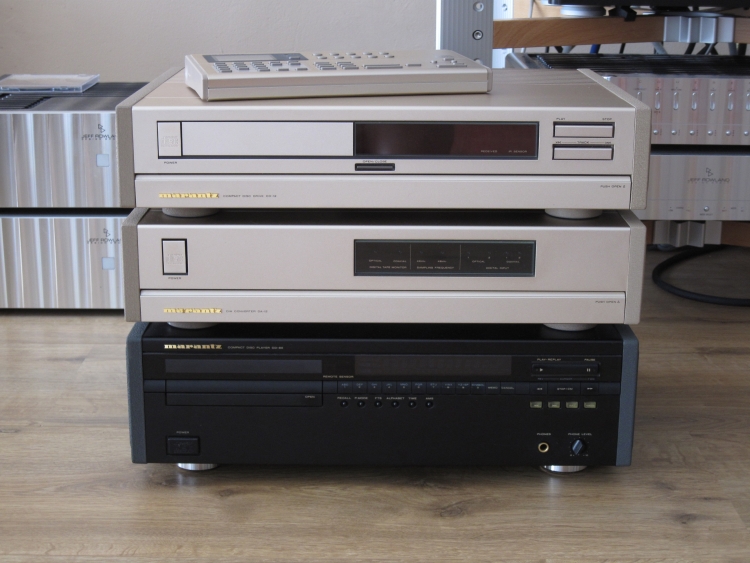 These oldies perform way beyond expectation and even have some special qualities that are rare in digital!
Amongst these high-end digital components, there are still 2 classic cd players in the racks, with good reason: even in the company of the CEC super transport and dcs converters they aren't entirely beaten.
Especially the Marantz CD94MKII is very seductive: already very good when used as an integrated player (without external DA converter), but almost unbeatable when used as a transport.
In this extensive comparison, you can read all about various classic Philips and Marantz cd players, compared to each other as well as to a reference CEC transport and reference dCS digital components. The players are used both in an integrated manner and as a transport, feeding an external DAC.
All players were compared under identical circumstances, well-warmed up and run in, powered with the same phase, using the same powercords when possible, positioned in the same audiorack, with the same interlinks etc. They were originally compared in this setup and it was in this setup that they had to compete with established high-end reference components such as dCS Delius/Purcell, Audiomeca Mephisto 2/Enkianthus and CEC TL1-x. In the following years after the initial review was written, more and more players were added. These later additions were reviewed in this setup.
A small disclaimer is probably in order as the age of these players varies and some of them are even 20 years old at the time of review. Even though I have listened to more than one player for many models, some players may have been worn out slightly, which can have had an affect on the sound quality. Therefore the results may not be entirely objective for all models.
All the reviewed players at a glance
The Philips players: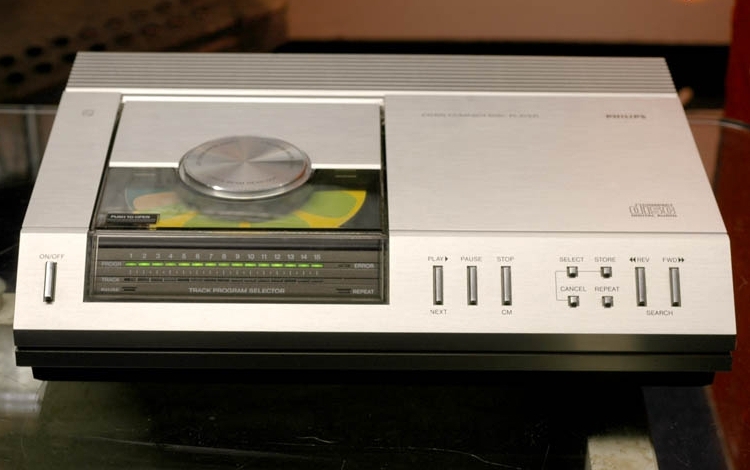 Philips CD100
1983. CDM-0 or CDM-1 transport, TDA1540 DAC. The first commercial cdplayer ever. The CD100 was the simplest Philips player at the time. A little later there were also the CD202 and CD303. Sadly I couldn't listen to the CD100 in this group test because it has stopped working. I have heard him longer ago in a friend's setup and I suspect that it sounds a lot like the CD104 that I did listen to in the context of this test.
---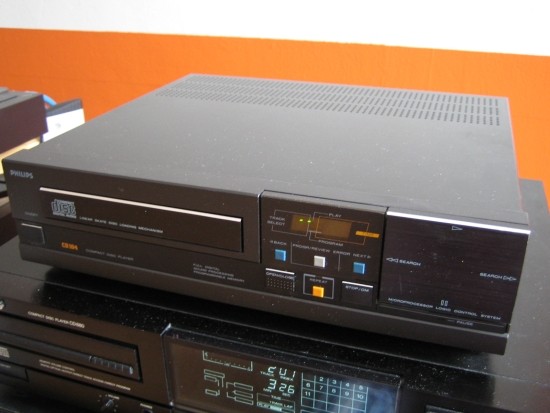 Philips CD104
1983. CDM-1 transport, TDA1540 DAC. Entire chassis is made of cast zinc and it is very heavy for such a small player (7 kilo). Its dac can only output 14 bits but despite this (and probably thanks to the oversampling, invented to make up for the bit loss) it nevertheless sounds very refined. The 104 is never less than smooth, warm and musical which benefits badly recorded cd's enormously. Compared to better players it does lack drive, slam, detail and speed.
---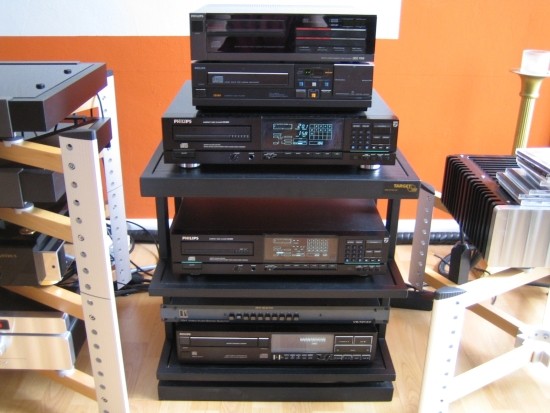 Philips CD150
1985. CDM-2 transport, TDA1540 DAC. Has exactly the same dimensions as the CD104 but has been produced in a low-cost fashion, meaning that almost everything that was cast zinc or metal in the 104 is now plastic. Even the transport is mainly from plastic! The sound is sadly likewise: synthetic and plasticky. For me this player performs way below par and it will be excluded from further comparisons.
---
Philips CD304MKII
Around 1986. CDM-1 transport, TDA1541 DAC. Sounds like a hot-rodded CD104, is in fact more akin to a CD304, now with a better interface and all of the 16 bits. Retail price around 800 euro. Compared to the CD104 sounds a lot fuller and more dynamic but the midrange has a certain shoutiness and although the 304 is nicely enthusiastic and has lots of drive (especially in the bass, call it PRAT) it als sound less relaxed and less smooth than the other players in this test.
---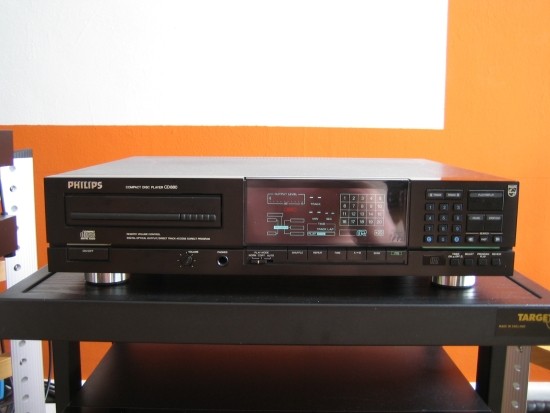 Philips CD880
1988. CDM-1 Mk2 transport, TDA1541S1 DAC. Soundwise completely different from the 304MKII: much airier, more spacious, more subtle, more refined, more transparent yet lacking the 304MKII's all-out drive and slam. The 880 is always well-behaved. You could feel that the is 880 too refined for its own good but when judged on its merits it is simply almost unbeatable. Using its digital output into the DCS combo, it produced extremely refined audiophile results, beaten only by the CD94MKII.
---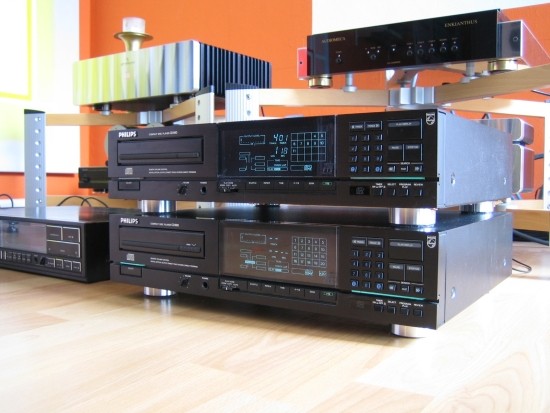 Philips CD880 USA
1988. CDM-1 Mk2 transport, TDA1541S1 DAC. 110 volt-version of the 880 Europe, used here with an extra step-down transformer. This extra transformer is most likely the cause of this model's very different sonic signature compared to the 880 Europe. The USA version sounds smoother, fuller and more fluid but at the expense of some openness and airiness. You could call the USA version cozier and the Europe version more precise.
---
Philips CD960
1987. CDM-1 transport, TDA1541 DAC. According to many, this is the best Philips of its time. Newprice approx 1000 euro. Inside it has many similarities with the Marantz CD94MKII and also sounds pretty similar, but there are differences. It is less subtle and has less transparency than the CD94MKII but it does sound a little more lively. In fact: it sounds a lot like the CD94 (MK1) which is internally identical. Note: this CD960 has an upgraded DAC-chip: from TDA1541 to TDA1541A silver crown. The CD94MKII has dual silver crown DACs.
---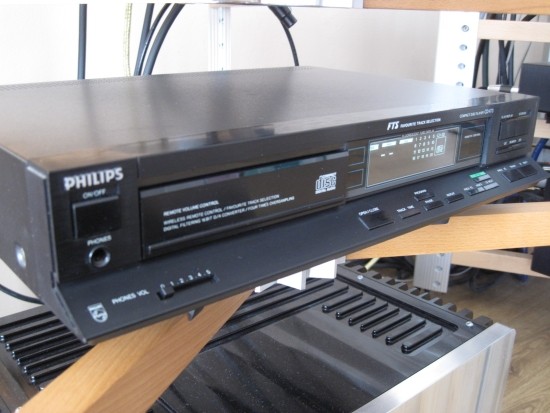 Philips CD473
Added in 2012 after the extensive review was written – not included in overall comparisons
1988. New around 400 euro. CDM-4/11 ("composite" read plastic) transport, TDA1541 DAC. Like the CD624, this one is almost 100% plastic. You got to admire the extent to which the manufacturer goes in order to keep the price low, while maintaining what is basically a fine sound. The CD473 isn't the best Philips there was, but it doesn't sound as synthetic as the CD150 did. Like all swing-arm/TDA1541 equipped players, it sounds full and smooth in the bass, creamy in the midrange and fluid in treble. Yet it is a bit fat and full and lacks the CD94MKII's precision and refinement and the CD84's unbridled enthusiasm. Not the best, but not bad at all.
---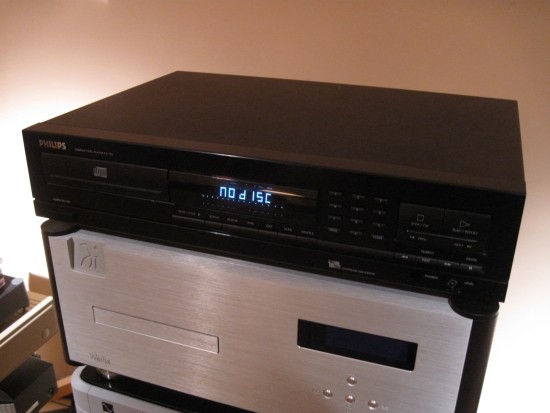 Philips CD732
Added in 2012 after the extensive review was written – not included in overall comparisons
1993. CDM-12.1 transport, Bitstream DAC (version TBC). Not even half-filled on the inside, with a simple transport and even simpler output stage, still this player sounds mightily entertaining. It isn't the smoothest or most colorful around, nor does it have the swing-arm-typical fluidity and refinement in the treble, but it makes up for this with a full and rhythmic bass and unbridled enthusiasm while avoiding to sound synthetic.
Philips CD732 with modifications: after the owner replaced many capacitors inside, the soundstage grew enormously, also layering and focus within the soundstage was all of a sudden almost on a par with the Levinson 390S, and even though it didn't become a CD850, it also did gain some color. Not the most emotional/dreamy player here, but with or without these mods, this is the neutral player to beat.
---
Philips CD624
Added in 2012 after the extensive review was written – not included in overall comparisons
1991. CDM-4/19 transport, SAA7323 Bitstream DAC. Whether or not it is due to the swing-arm mech inside or not, even though this was originally a cheap player, just like the other swing-arm mech-equipped players this one sounds ultra fluid, super supple and ever-so refined. It does lack color, bass drive and overall fullness. It is quite thin and sounds a bit synthetic with some music. The CD850 could be regarded as a better CD624 but it's not just better: it shreds the CD624 to pieces!
---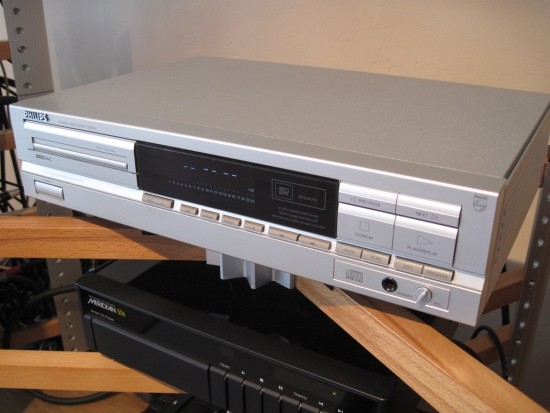 Philips CD614
Added in 2012 after the extensive review was written – not included in overall comparisons
1991. New around 300 euro. CDM-4/19 ("composite" read plastic) transport, Dual TDA1543 DAC, which is somewhat like a miniature TDA1541. Again here is a 99% plastic super-lightweight player but it packs a swing arm mechanism and makes surprisingly refined sounds. In fact, this player sounds so very fine that I can listen to it all day without feeling like I'm missing anything other than the bass, which is decidedly thin and lacks power and punch. Apart from the thin bass and being somewhat less than lifelike, this is a very fluid and delicately detailed player. It can also easily be upgraded by sticking Vibraflex vibration reduction sheets anywhere where there's space and disconnecting the headphone output. This makes the player sound fuller, more dynamic and more solid and you will love its sound, until you start comparing to dearer models such as the CD94MKII and the CD11LE. Soundwise (with mods), despite multibit dac, I'd place it closer to the CD624, CD951 and partially the CD11 than the CD94 and all other older multibit players. It's a real nice balance of the classic sound and a more modern sound, of subtlety and musicality. Especially with damping pads applied, IEC inlet installed and headphones disconnected it sounds much more solid and colorful and really becomes THE cheap player to have.
---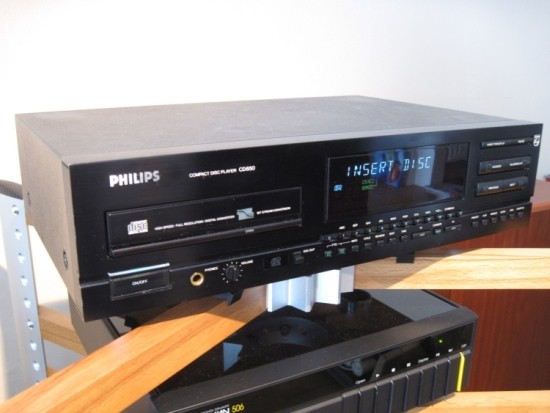 Philips CD850
Added in 2012 after the extensive review was written – not included in overall comparisons
1991, CDM4/19, 2x SAA7321GP. Even though internally this is sort of a better CD624, with same build but more components, this one really surprised me with its super creamy-smooth-luscious midrange and super-silky treble. Bass is big and deep and the soundstage is XXL. This is luxuriousness like I only know it from the CD94, and this is in stock form – no mods! Despite its smoothness and almost loudness-like character, it is very detailed and well-paced. It just never shouts and doesn't do aggression, ever.
---
Philips CD951
Added in 2012 after the extensive review was written – not included in overall comparisons
1994. 700 euro new. CDM-9/65 transport, TDA1547 Bitstream DAC. Top of this Philips range at the time, priced accordingly. Inside there's plenty of space but there's a nicely laid out, large circuit board packed exclusively with full-size discrete components, no SMD, although the output devices are opamps. By default this player has some tweaks such as damping pads in various places, a power filter and a soft damping ring for the crystal oscillator. This player sounds very confident and upbeat, while retaining all the refinement, fluidity and airiness that I always associate with swing arm mechanisms. It has deep, quick, articulate bass but doesn't have all the color or full character of the best players here and can sometimes sound a little bit too controlled/accurate, rendering it a less emotional listen.