Ayon CD-T CD transport – Mini Review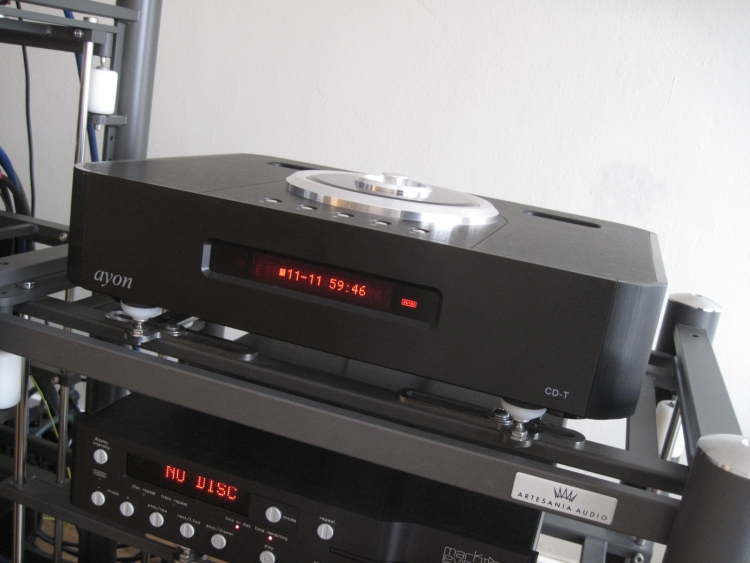 Truly excellent CD transport with S/P DIF and I2S connections
Once again it was Jan who brought in another piece of Ayon equipment. I've mentioned before how my appreciation for this brand is ever growing, especially since I heard the Ayon Sigma DAC. Here is a CD transport that is envisioned as the perfect partner for that DAC.
The units were only stacked to take the above picture. They were listened to each on their own level of the Artesania Exoteryc racks.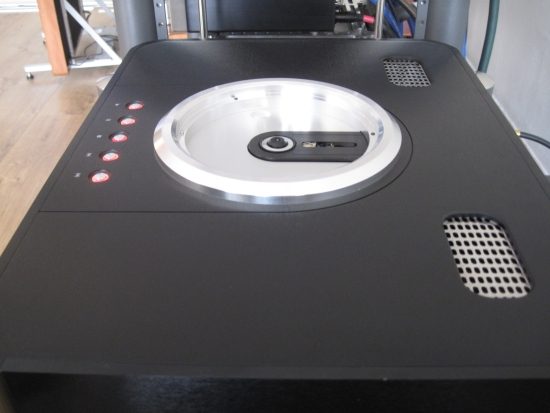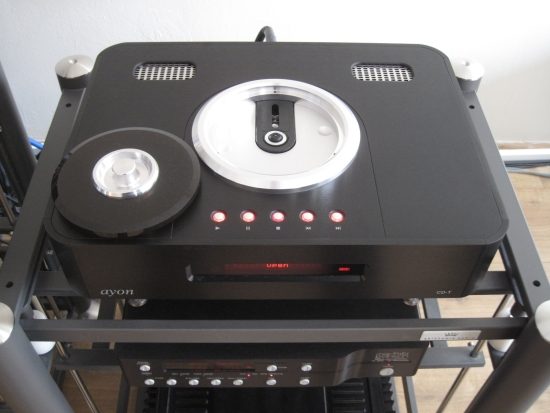 Based on the CD-Pro2 mechanism, the Ayon CD-T could not be too different from my Levinson 390S CD player or the Levinson 37 CD transport, could it? Both Levinsons were recently refurbished and have new transport mechanisms but when compared using the Ayon Sima DAC, even the best of the two cannot compete with the CD-T's enthusiasm and its articulate dynamic behavior. On top of this, CD-T also manages to throw a deeper, more organic, soundstage. That is if it is connected via I2S which thankfully can be done using a standard network cable.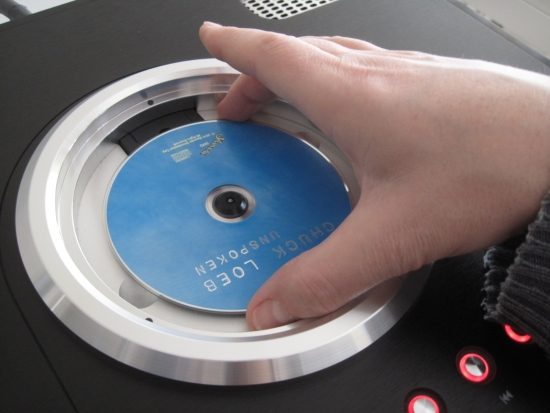 Placing a CD is easy, but taking it out again is a little awkward. Notice the dents left and right and notice the position of my right hand? They don't line up at all! Even so, when turning my hand so that they do, still my sausage fingers don't really fit between CD and the sides of the well. 
Connect the CD-T transport via SP/DIF and the case is not so clear-cut anymore. Via its coaxial output, it sounds much more in line with the Levinsons but is actually a tad warmer/rounder. This may or may not be related to the tube section that Ayon employs for this output, but in any event, when switching back and forth between coaxial and I2s it is immediately clear that the latter is the better standard.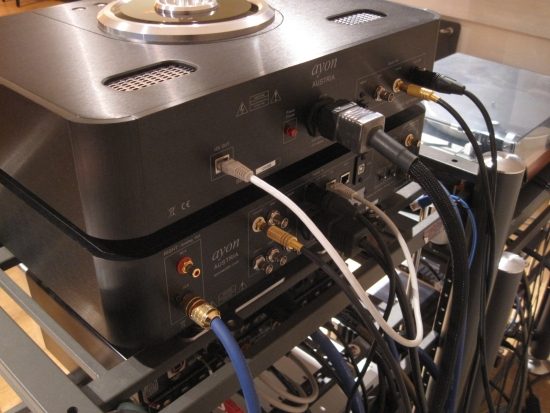 When comparing to the Aurender N10 connected via Asynchronous USB as noted in the Sigma review the sound is indeed very good, but I have to admit that the CD-T via i2s makes for a more spatially dynamic, more involving sound. That this perceived better performance has nothing to do with smoothing of the sound may come as a surprise, but the CD-T's coaxial output, no matter how well-implemented, just cannot extract better sound from it than the standard permits. In (digital) music, timing is everything, and it seems that the I2S connection just sounds more "on the beat". It sounds more accurate for sure, but definitely not clinical or dry.
Conclusion
A recent experience with the PS Audio Directstream DAC and Memory Player indicated the exact same thing and while I rarely still play CD's, if anything, for me the CD-T made perfectly clear that coaxial digital and USB digital are not yet the pinnacle of digital audio transport. Let's hope for a new, better standard. Meanwhile, for people that own an Ayon Sigma DAC and do still play CD's then the CD-T is the no-brainer CD transport to match.
More Ayon
Ayon Stealth and CD-T-II
Ayon Spirit III
Ayon Sigma DAC
Ayon Orbis preamp (mini review)
Ayon Scorpio and S3-Junior
Ayon S10-II Signature