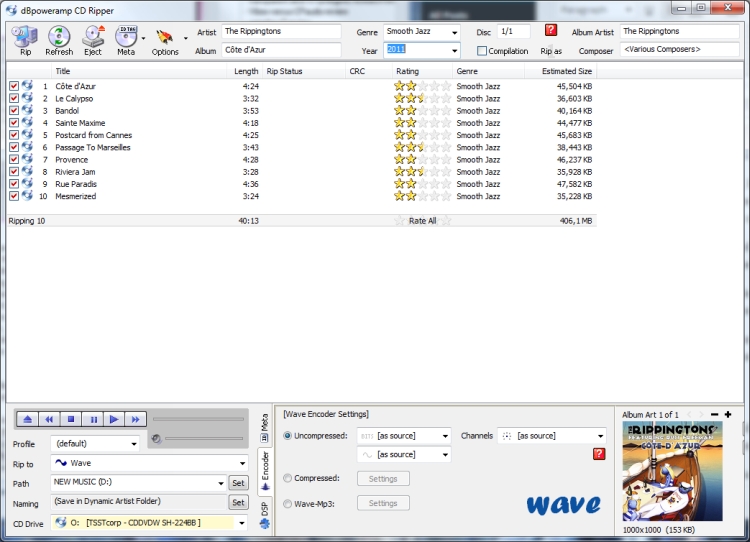 Sometimes I come across things in the wonderful world of audio that just drives me nuts
First I found out that FLAC does sound different from WAV, but now it also turns out that different ripping software programs also sound different from one another. Argh.
Without going too much into detail, well aware of various settings that can have an influence, I wanted to report that not only myself but also several friends that I invited over for a Streaming Audio listening test, heard that the 4 CD rips were easily distinguishable. And what's more, depending on the streamer that was used, one or another would make a better subjective match.
The tests were done with the ripped files (WAV) copied to a Synology NAS, which was used as a server for all streamers. Where several ripping settings were possible, I chose "Burst", except for EAC which was used with all default settings.
Streamer preferences
For the Linn Klimax DS, for example, the programs EAC or dB poweramp made for the best match, allowing for the best dynamics while maintaining liquidity and smoothness. The Linn is just very creamy by nature and it benefits from a more exact rip.
Switch to the Naim NDX however, and it is quite another story, dB poweramp sounding a bit strict and lacking soul. Now rips made using Audiograbber and iTunes sounded much more friendly. The same applied, however less so, for the PS Audio PWD.
Ripper programs
iTunes (on Mac) sounds a lot like Audiograbber (on PC), but both sound smoother and more relaxed than EAC and dB poweramp. Likely because it is the most accurate, EAC sounds most strict and can even sound dry depending on the rest of the playback system. dB poweramp is also precise but somehow less dry than EAC and it is my favorite program for ripping in terms of comfort as well as sound quality. iTunes and Audiograbber, in all honesty, sound a little blurry and imprecise, but because of this can ameliorate "digitalness" elsewhere in the playback system.
The bottom line
Even when using the same basic settings, different CD ripping programs can still yield different results. EAC should address this and bring peace of mind by being 100% accurate, but even though these should theoretically be (more) perfect, somehow EAC rips can sound somewhat sterile in my setup. Could it be that we can actually hear the processing that was used to re-read bits and substitute them? It's not very likely since the result is calculated to be a 100% match to the original but still, I won't rule out the possibility of side effects.
What's most likely, however, is that what we were comparing here were varying degrees of deviations from accuracy. The weird thing is that apparently, depending on system context, we can have a preference for less accuracy, in this case meaning what sounds like smoothness and slightly rounded-off transients as a result of rounding errors in the bitstream.
Ripping Speed
My long-standing favorite program is still dB Poweramp. With this program, Ripping Speed also has a clearly audible effect: rip faster than 8 speed and the sound will become thinner and less colorful and the bass will start to lose weight. Rip slower than 8 speed and the sound becomes more mellow. I know I know, call me crazy. Call it placebo effect. But please do me a favor and try this for yourself and then decide what sounds best to you.
Update July 2016
My initial batches were done using the program in a "Burst" Mode at 8x speed, without error correction and this yields very good, well-balanced results. Surprisingly, setting dB Poweramp to secure ripping (which is more similar to EAC) results in the best quality rips so far. These rips sound more articulate and cleaner than "Burst" rips but unlike with EAC, this doesn't result in overly clinical files. It does take more time but I feel it's well worth it and so I re-ripped all my CD's.