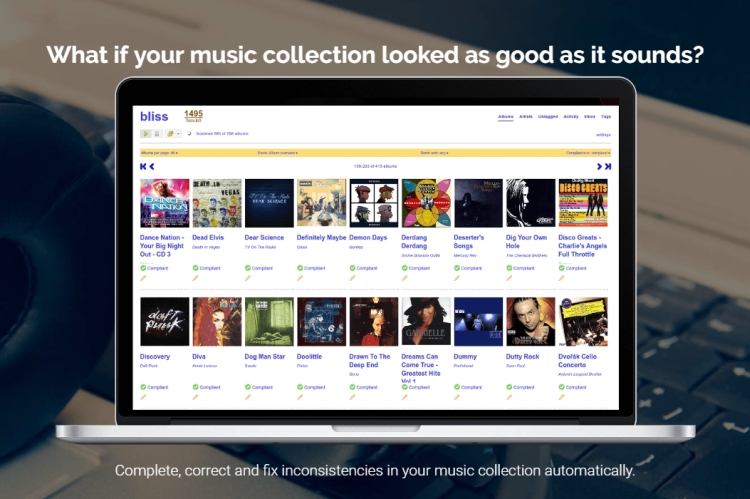 Super-handy Music Library Tagging Program
Bliss is a program that follows pre-set rules, defined by yourself, and runs fully automated, tagging all your music just the way you like it. If you're afraid that you may have overseen something while setting the rules, there's also a manual function that makes it possible for you to go through the suggestions that Bliss makes one by one and approve or reject them.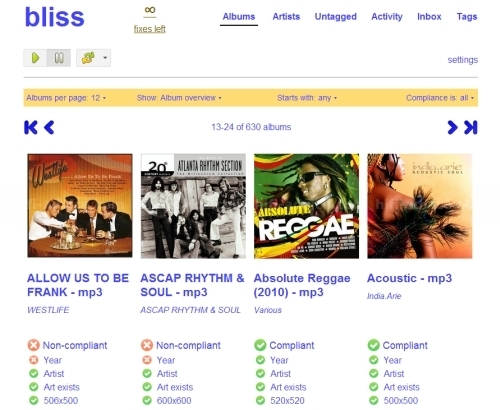 A reader of this site alerted me to a program he wrote: Bliss. This was already some time ago and I didn't go into this until later, when I really got into streaming and realised that my library was a bit of a mess. You see: I started some 15 years ago making WAV files without tags. Since then all kinds of files have been added to my library with varying tagging organisations. When searching by Genre for example, there would be almost 100 categories with lots of them overlapping, lots of albums had no artwork and if there was, lots of times it was of low quality. Basically all kinds of info was missing.
Naturally I had done lots of manual grooming already and at least the Artist and Album tags were consistent but everything else was hit and miss. With 5.500 files I was in urgent need of a smart program that would work much like iTunes' automated Library Maintenance, but with more user-intervention and without the inevitable mistakes.
That program is Bliss. Initially it might seem overwhelming, but it really isn't. First thing you have to do is hit the pause button so that the program is in manual mode. That way nothing happens without your explicit consent. Second specify where your music is. After that it is time to go through the settings and set everything just the way you like it. You want all artwork to be at least 800 pix? Artist names to be consistent? Years and Genres to be filled in? Just specify it once and Bliss will go through your library to find inconsistensies. It does this by contacting an online database and making comparisons. If you have a spelling mistake in an otherwise similar Artist name, Bliss will know and suggest a corrected version for you. Additionally, Bliss can both embed and auto-save an artwork file in a pre-specified location with a pre-specified name. It automatically fetches artwork if there is none in your library. Bliss doesn't only handle tags, it can also take care of your directory structure using File Organisation, using pre-specified values.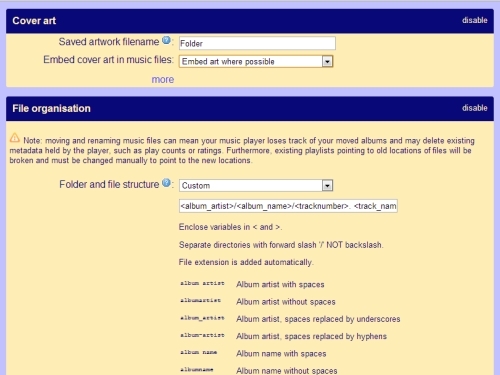 The beauty is that all this can all be done with utter user control, or, once you are confident that everything works according to plan, fully automated and on a continuous basis.
There's only one downside and that is that it currently doesn't tag AIFF or WAV files. This is possible using dB Poweramp or Jriver Media Center and I've found that so-tagged AIFF files work well and the tags get picked up by various music playing systems, Meridian Sooloos included.
Nevertheless, AIFF isn't the only format in my library and Bliss has provided countless corrections for my mp3 and FLAC files and because it does exactly what it says on the tin, with minimal fuss, I can heartily recommend the program!
Update July 2016
DSF support has been added to bliss, so all the tagging/album art/organisational goodness now applies to DSD users too: