Vermouth Audio Statement XLR Interlink
Retail price for the Statement RCA Interlink:
1m: € 1950
+0.25m € 425 extra
2m. € 3650
Retail price for the Statement XLR Interlink:
1m: € 3530
+0.25m € 770 extra
2m. € 6610 (as reviewed)
Statement
Before the introduction of the Statement series, the Reference series was Vermouth's very best. In 2019, I reviewed the Reference RCA and XLR cables and found them to turn in a "rhythmically infectious performance with a lot of drive and impact, with an essentially neutral yet full-bodied and richly textured presentation". After reviewing many more Vermouth cables, I found that this description fits most of their cables, along with smoothness being a common quality. What I found to differ from model to model are predominantly the level of transparency, resolution, refinement, and overall precision.


So, what differentiates the Statement from the Reference? As far as I can tell, and going from the information available on the Vermouth site, the main difference is in the conductor material. Where the Reference uses a blend of multisize OCC copper strands and rectangular OCC copper, the Statement uses a blend of multisize OCC Silver/Gold alloy strands and rectangular OCC copper. On the face of it, the other parameters appear to be unchanged. The cable still employs Double PTFE Tape protection combined with a Mylar-wrapped Braided OCC copper shield and Airtube spacers & suspension. Finally, the cable is terminated with the same excellent full-Tellurium copper direct Rhodium-plated connectors. The RCA types have a collar-locking mechanism and the XLR types have a handy ball-bearing locking mechanism. As I found when using the Reference cables, the connectors are not only beautiful and handy but they have also proven to be extremely durable.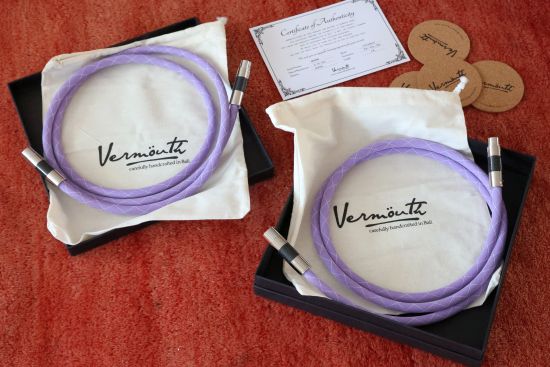 Let's address the elephant in the room. Compared to the Reference series the prices have more than doubled. In part, this is explained by the globally raised cost for all metals in the last few years which is reflected in the prices of pretty much every other manufacturer out there, but another main factor is that Gold and Silver conductors are simply in another price category than copper conductors.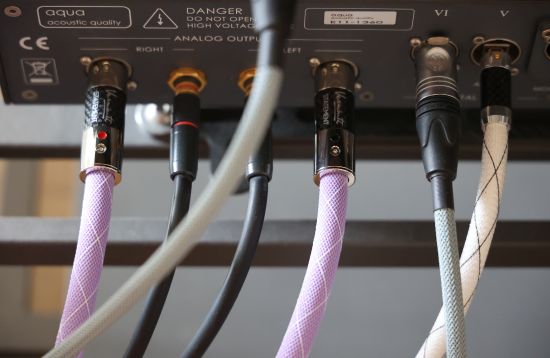 Vermouth Statement, Driade Flow Link Reference 808, and Vermouth Reference USB cables connected to the Aqua Formula xHD DAC
Running in
I was forewarned that the cables need more break-in time than the Reference model. Initially estimated at around 120-160 hours to get the maximum performance, customers have commented that the cables keep going better and better even after reaching 400 hours. With this in mind, I connected the cables between the Aqua Formula DAC and the CH L1 preamp while ensuring the Grimm MU1 server was always playing music, even at night and when I was away. Thanks to my currently very busy schedule, I could allow the cable significantly more running in than I usually do. Having started on June 27h, an occasional pause of a few days here and there as I conducted other tests notwithstanding, the cables have been playing music for almost 2 months straight. That's some 1440 hours, meaning that the cables should now be very well run in.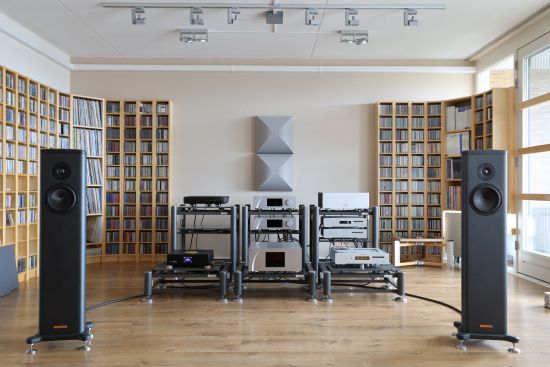 Review Context
The Vermouth Statement cable was listened to in the main system that consists of the CH Precision C1.2 DAC, CH Precision L1 preamplifier and CH Precision A1.5 power amp, with Magico S1 MkII speakers. Digital sources include the Aqua La Diva M2 CD transport, Grimm MU1, and Antipodes K50 Music Servers both running Roon.
Listening
I mentioned smoothness as being a common quality for Vermouth cables. As a deviation from that pattern, compared to many of the brand's other cables, I found the Reference series to sound very smooth but relatively less fluid and delicate, instead more impactful and direct. The Black Pearl MkII, for instance, was lusher and arguably more refined and liquid than the Reference Series, and for that, some may consider it emotionally more seductive than the more direct-sounding Reference cables, even if it could not match the Reference Series' sheer impact, control, and tonal- and dynamic realism.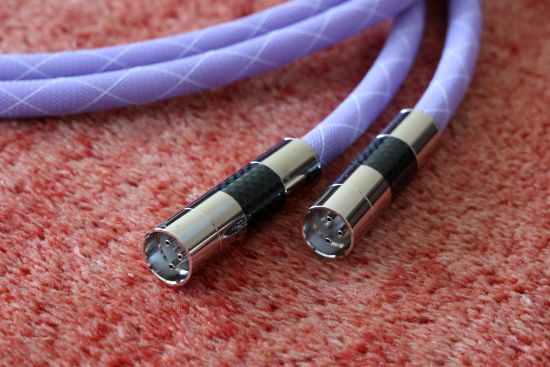 The first thing that struck me when listening to the Statement XLR cable connected between the CH C1.2 DAC and L1 preamp is its immense refinement and liquidity, along with superb resolution. No detail is left behind, but rather than focusing on this or regressing into an overly etched, clean-cut, or dry rendition, it is all presented in a wide, deep, and free-breathing acoustic. There's a pleasant sweetness but I really can't say the cable sounds warm per se, rather, like the Reference series, it has a richness but is otherwise basically very neutral. There is no veiling and the cable sounds neither slow nor hurried but it does come across as gently polished, like a gentleman, or a salesperson in a luxury store, rather than an open market salesperson, so to speak.
The treble is remarkable for its fluidity and open airiness whilst not sounding dull or dark, but instead wide open and extended. The cable also works really great with older tracks that are recorded only so-so, making them wholly enjoyable. Only a couple of test tracks in, I'm already taken by how well this cable combines clarity and delicacy. It made me search my library for those tracks that I love but don't play because they sound lean, rough, or just unremarkable. With the Statement, such tracks are rejuvenated and frequently tempt me to increase the volume.
My impression so far is that, with the Statement, Vermouth has successfully incorporated some of the Black Pearl's most alluring qualities while retaining all that made the Reference series great while further increasing resolution and level of refinement. This cable may not exactly be cheap but it does perform like one expects from a cable in this price range.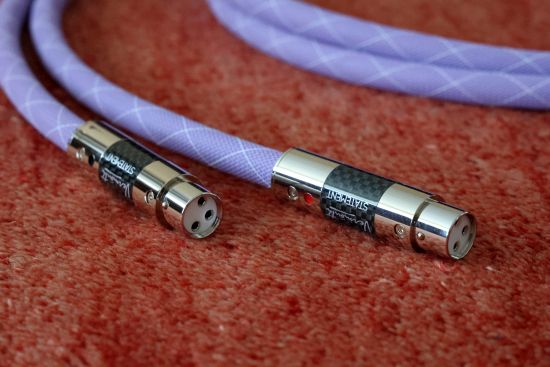 A switch back to my current reference interlink, the Jorma Unity, a cable in the same price class, confirms my initial impressions. The Jorma is more incisive, more direct in its transient behavior, and dynamically more immediate, but it can be comparatively stringent and it is not quite as delicate, airy, and refined. To my surprise, while different, the Jorma is not necessarily more insightful, unveiling no extra details, and the two cables are also comparable in terms of transparency. In terms of timbre, they are, you guessed it, also different, but still, I regard both as very natural. How can that be, one might ask? Well, that deserves a little more explaining.
As I have found, different listeners have different interpretations of what constitutes naturalness in the performance of an audio system. For some, it is predominantly the emotionality and human aspect of vocals, for others, it is the lifelike portrayal of vitality and dynamics, for others, still, it is the absence of any artifice and synthetic signature or hardness, while others again will focus on the accurate portrayal of harmonic textures of acoustical instruments or the overall timbre and still others focus on the gushing and singing quality or the continuousness of the flow, and that's not nearly the end of the list. Basically, there is no single description of "natural" and it goes without saying that no single cable will possess all the aforementioned properties. But still, I will say that the Vermouth Statement is highly natural.
What the Statement does absolutely marvelously is to avoid any artifice and synthetic signature, sounding effortlessly fluid and continuous, never adding any hardness or edge where it does not belong, lending body and substance to performers and instruments alike, never sounding skeletal, and providing low-level resolution in a manner that is more reminiscent of analog tape than stereotypical CD replay, with no etch and beautiful decay. In all these ways, the Vermouth Statement is very natural.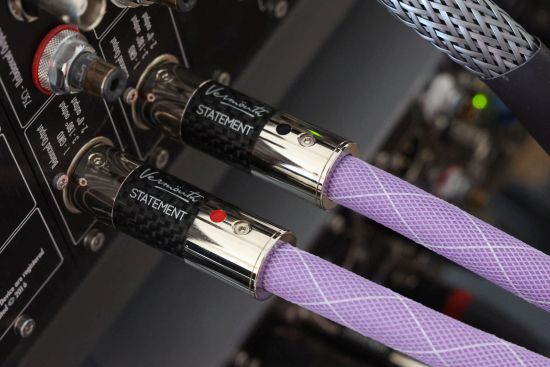 Natural timbre I would say is also a strength of the Jorma Unity but more in the sense of realistically portraying percussive elements and their associated textural qualities, such as wood, brass, and other materials used in instruments sounding distinctly like the materials of which they are made, even if it can be sobering and often not as delicate as with the Statement cable. For me, this is okay as I tend to focus on the leading edge of transients and less on the body or sustain.
It should be noted that the Jorma "house sound", unlike Vermouth, varies from model to model. Higher-tier Jorma cables sound decidedly sweeter and richer than the Unity, but to be fair, they do so at a significantly higher cost. I should also mention that I selected the Unity model precisely for its clean and ultra-direct rendition. This is what I value in my system and it is what serves me well as a reviewer, but this kind of directness is certainly not for everyone.
Especially when playing less than perfectly recorded music, the Jorma Unity can sound a little dry, staccato, or matter-of-fact, whereas the Vermouth's flow, air, and gentle sweetness keep things soulful and always pleasant, if not always quite as lively and expressively as the Jorma. Ultimately, which of the two renditions is regarded as "most" natural will be, as many things in audio, a personal matter, as well as one of system synergy. My system does not easily become hard or aggressive and so it "asks" for different cables than, for instance, a less refined system, let's say with very immediate sounding horn loudspeakers. And matters become different again when the user likes to play very loudly.
As my tests continued, I found that it's not only between the DAC and preamp that the Vermouth Statement works well, for it sounds just as beautifully liquid and refined, yet richly saturated and tonally full-bodied when connected between the preamp and the A1.5 power amp.
With the Statement interlink, Vermouth has found a balance that should appeal to many listeners, satisfying those who crave resolution and refinement, as well as those who simply want to enjoy their entire music catalog and want to hear deep into the mix without feeling like they are a test instrument.
Conclusion
The Vermouth Statement XLR cable offers a more balanced performance than ever achieved with any of their other cables. Instead of having to decide between the sumptuous delicacy and fluidity of the Black Pearl MkII or the utter neutrality, robustness, and direct impact of the Reference Series, the new Statement XLR cable provides a more delicate balance of virtues whilst retaining the brand's core qualities and offering an even higher level of resolution, refinement, and sophistication.
External Links
Manufacturer: Vermouth Audio
Distributor for the Benelux: Hexagonaudio