New Mad Scientist ranges – Black Magic Ultra and Black Magic Gold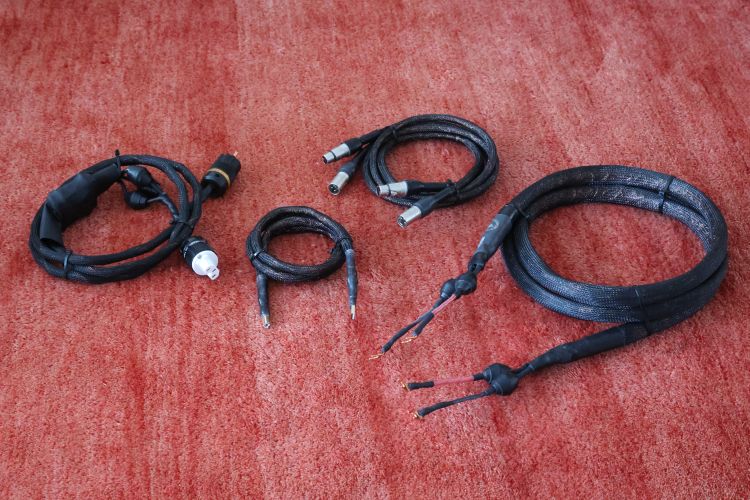 Retail price in US Dollars at the time of review (ex VAT):
Black Magic Ultra Speaker Cables – From $2.890 for a 1-meter pair, $4.810 for a 2.5-meter pair (as reviewed)
Black Magic Ultra Power Cable – From $999 for a 1-meter cable, $1.199 for a 1.5-meter cable (as reviewed)
Black Magic Gold Balanced Analog Interlinks – From $1.299 for a 1-meter pair, $1.599 for a 1,5-meter pair (as reviewed)
Black Magic Gold USB cable – From $1.299
As many long-time readers and Mad Scientist fans will recall, the company started with highly unusual tweaks made from 100% proprietary homemade materials. While these products proved successful and worked well, the decision has been made recently to transition to a cable-only company. As part of this, the Mad Scientist Audio website has also been overhauled. Meanwhile, much of the experience gained while developing tweaks is still paying off, as it is part of many cable designs.
Bob Prangnell, aka the Mad Scientist, is not one to ever sit still. He's always looking to improve his recipes, and as long as I've known Mad Scientist products, the curve has only gone up. Of course, as materials become costlier and more exotic and the construction becomes more elaborate, the prices must go up. But rather than abandoning the original "bang for buck" philosophy, there are now multiple product tiers, with a range still founded on providing exceptional value and two additional ranges reaching ever more for the stars. All cables now carry the Black Magic moniker and are divided into three levels: Black Magic, Black Magic Ultra, and Black Magic Gold.
Background on the Design Process
Bob Prangnell explains:
"After the Black Magic loudspeaker cable design proved so successful, I started thinking about applying some of the design ideas to other cables. At the time, our top-of-the-line interconnect was the Flexible Carbon/Graphene cable range. It occurred to me that with both the carbon/graphene interconnects and the speaker cables, an important design objective was to reduce RF noise. The FCG interlink did this primarily by filtering it out. On the other hand, the new designs all use cancellation, rather than filtration, to remove noise. As it turned out, this is a superior-sounding technique. With filtering, it is very hard not to affect the music. This is why the new designs resolve so much better than the older ones."
"I thought I would try to design a budget interconnect using low-cost wire and plugs, but using these latest design ideas. To my surprise, I immediately encountered a problem: the first prototype sounded better than the most expensive interconnects in many ways. That was using cheap RCA plugs, so when I replaced those with some decent KLE plugs, it was most definitely better."
"Thus started a development path that lasted 18 months. During this time, I had to adapt the original ideas for different cables, but now, these have been successfully applied to Interconnects, USB, Network, S/PDIF, and power cords. The original ideas were further developed during this development process, and the original screening technique evolved into 'Stage 2'."
"Finally, the more advanced techniques were re-applied to the speaker cable design, producing the Ultra version."
Product Levels
Black Magic
Black Magic cables use the same smart screening techniques used on the original speaker cable. For each type of cable, Mad Scientist had to adapt the techniques accordingly. Typically, Black Magic are budget-friendly cables that use affordable materials and original Stage 1 screening techniques but still sound highly musical due to the low RF noise. The speaker cables are technically a bit of an exception to this, but since they inhabit the same category, they also carry the same Black Magic badge.
Black Magic Ultra
Black Magic Ultra cables use the best copper cable Mad Scientist could find and Stage 2 screening, which is a development of the original smart screen that is roughly twice as effective. While Black Magic provides the biggest bang for the buck, ULTRA represents an especially attractive balance between performance and cost. It's good to note that the Gold Interlinks and USB Cables have a corresponding ULTRA variant that uses copper instead of silver/gold wire and offers a large chunk of the Gold performance at a lower price.
Black Magic Gold
The Gold moniker is reserved for the top-of-the-line cables that have the same basic design as the Ultra range but use costly silver/gold alloy wires and additional mechanical damping to achieve enhanced mechanical properties.
Products Under Review
Under review are four brand-new products, all part of the Ultra- or Gold range. What I will cover are the following products:
Black Magic Gold Balanced Analog Interlinks
Black Magic Gold USB cable
Black Magic Ultra Power Cable
Black Magic Ultra Speaker Cables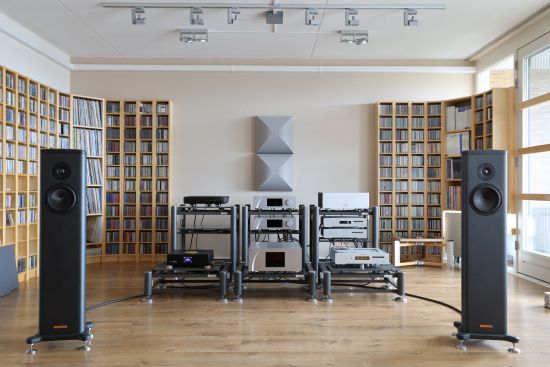 Review Context
All cables were listened to in the main system that consists of the CH Precision C1.2 DAC, CH Precision L1 preamplifier, and CH Precision A1.5 power amp, with Magico S1 MkII speakers. Digital sources include the Aqua La Diva M2 CD transport and the Grimm MU1 and Antipodes K50 Music Servers, both running Roon. As a bonus, I had a dCS Puccini/Paganini combo on visit, which I also used with the Black Magic Gold Balanced Interlinks.
Black Magic Gold Balanced Analog Interlink
The first sonic trait that strikes me when hearing the Black Magic Gold interlink after the Jorma Unity between the CH C1.2 DAC and L1 preamp is its tonal purity. The cable sounds remarkably robust, sonorous, full-bodied, and very crisply textured, leading to particularly impressive performances with acoustical instruments. Wood instruments are enhanced with a combination of grip and woodiness, and the absence of wooliness and smear further add to the perceived realism. For instance, low plucked string notes carry considerably more weight and sound more fleshed out. Harp has a remarkably realistic sense of weight and scale, emphasizing and vividly illustrating the instrument's massive structure in addition to the articulate plucked sound of the steel strings, and piano has a very convincing wood-like percussive component, as it should. I heard similar realistic attributes with church organ and saxophone, and the list continues. It's a fullness of tonality combined with a palpable body that provides not only very convincing renditions of acoustic instruments but also works wonders for vocals. Everything sounds decidedly non-synthetic, direct, and non-processed if you will.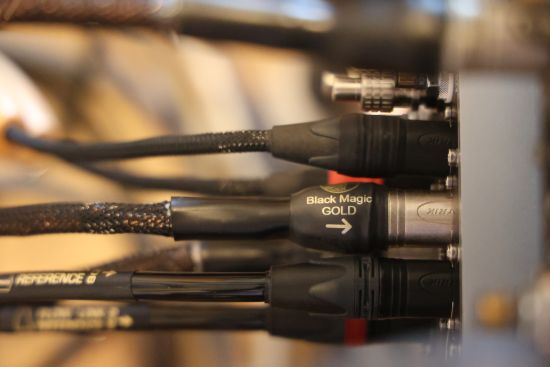 By comparison, the Jorma cable places more emphasis on refinement, fluidity, flow, and, in the case of string instruments, the exact resonance of the metal strings and less on the instrument's body. It's not that the Jorma is synthetic; it's actually really not, but it does sound relatively so when offset against the Black Magic Gold. This characteristic poses a division between the two cables where the Black Magic Gold has a decidedly earthy presentation and often extracts the best from acoustical recordings in categories such as jazz, singer-songwriter, small ensembles in general, and world music. Meanwhile, the Jorma has a more fluid, high-res, and ethereal presentation, and it excels with jazz-fusion, electronic, soul, and more complex music.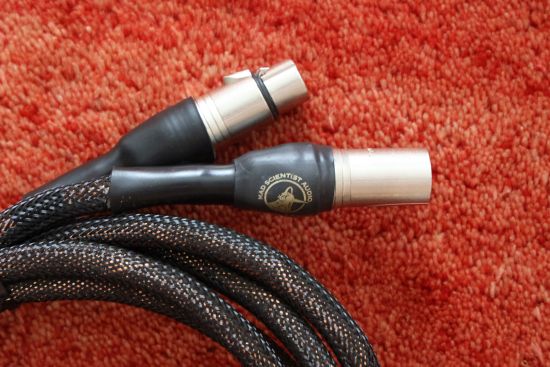 Although acoustically realistic, the Black Magic Gold does not sound as open, airy, fluid, or highly resolving as the Jorma Unity. It is a little dark, and its crispness can lead it to be a little dry, but its weight and full tonality prevent it from becoming analytical. On that note, the cable sounds crisp, articulate, and controlled, but it's not intended to be an audiophile's magnifying glass. Resolution and refinement are not its particular forte. Instead, it excels in delivering a convincing rendition of musicians in your room. The cable has an extraordinarily robust stance with lots of weight, but uniquely, also a lot of grip. Those two elements do not often go hand in hand, but they are married seamlessly here.
Soundstage-wise, the Black Magic Gold leans toward a more concentrated and ballsy image, less spacious than the Jorma, but the stage is not strictly confined to the speakers. The focus is exceptional, as is the portrayal of depth information.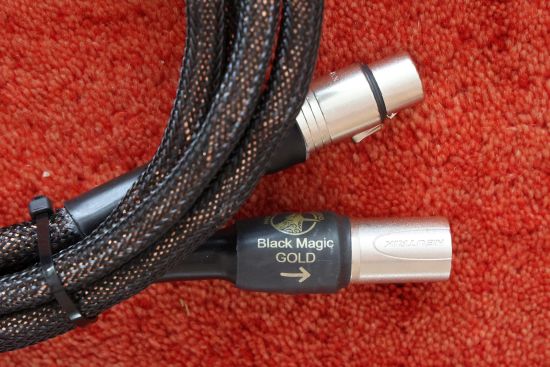 Although chunky, meaty, well-paced, and foot-tappingly rhythmic, the cable sounds steadier and more relaxed than the Jorma Unity or my affordable favorite, the Driade Flow Link Reference 808. Both are leaner but also nimbler and subjectively faster, and both are airier and more refined. But while the Jorma is more impactful and timbrally convincing than the Driade, neither has the "live"-like robustness, stance, tonal saturation, "meat on the bones", and overall weight that exemplifies the Mad Scientist cable.
As a final test, I connected the Black Magic Gold interlink with a dCS stack that happened to be on visit at this time: the Paganini Clock/USB interface and Puccini CD player/DAC. This turned out to be a particularly well-working combination, the Black Magic Gold's body and tonal saturation marrying beautifully with the dCS combo's slightly lean and highly detailed nature. The dCS combo's inherent purity and cleanness were expressed well without leaning toward clinicality. But it must be said that, here, too, the treble did not quite have the level of nuance, air, and ultra-high resolution that the combo can produce with the Driade or the Jorma. Nevertheless, the combination sounds articulate yet energetic and, again, timbrally very natural, harmonically rich, and overall very convincing.
Next: Black Magic Gold USB Cable and Black Magic Ultra Power Cable