atm-audio EPM-50 Class A Mono Power Amplifiers
Review sample supplied by atm-audio
Retail price: 10.195 euro pp / 20.390 a pair (ex VAT)
I first heard of atm-Audio at the 2019 HifiLive audio show in Valencia, Spain where the Spanish brand's electronics were showcased along with Bonysound Symphony II loudspeakers, also from Spain.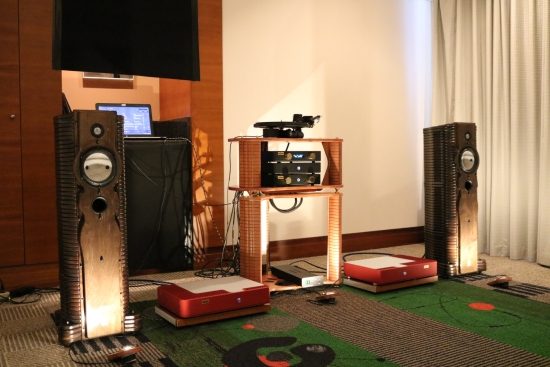 At the Valencia show, showcased were the PAM-2 preamp, PPM-1 phono stage and PDAC1 DAC which are all housed in very small but precision-made full-aluminum enclosures. The mono power amps that were demoed are also made of solid aluminum but full-size and rather heavy.
Based in Valencia, atm-audio has been dedicated to the manufacture of high-fidelity equipment since 2006. Their specialty has been Class-D amplifiers based on Hypex NCORE modules, both in stereo and multi-channel. However, they also manufacture line preamplifiers, phono preamplifiers, DA converters and pure class A power amps, such as the EPM1 stereo model or the new EPM-50 mono amplifiers that were introduced in Valencia and are now the subject of this review.
At this show, the system as a whole produced a sound that showed parallels with other speakers that use Accuton ceramic drivers, which is to say extremely precise, articulate, coherent and transparent. It was highly refined but certainly not a warm and cuddly or rose-tinted sound. At that time, not having heard the atm-audio electronics separately, I assumed that the electronics, as well as the speakers, contributed to this sound signature. As it would turn out, I was going to be in for a surprise.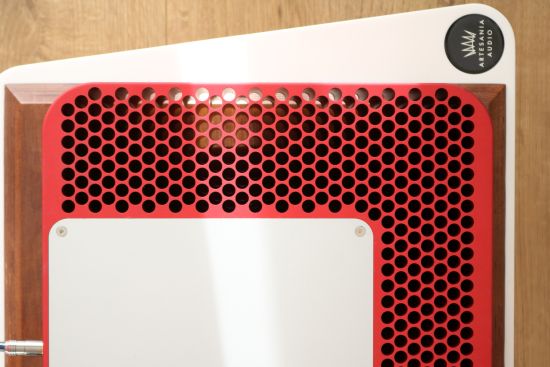 The chassis is made of a single slab of aluminum, CNC'd to fit the electronics in pockets that are fit precisely for the components' sizes. Uniquely, the heat sinks are integrated into the same aluminum chassis. The power transistors are bolted to the chassis that very evenly conducts the heat to the side where dozens of precisely-placed holes silently cool the amplifier via the convection method.
Due to the large mass of the aluminum chassis together with the large number of evacuation holes, the thermal drift is very large and the temperature of the equipment will not exceed 50ºC after 4 hours of non-stop operation. The manufacturer has carried out extensive heat emission tests and goes on to state that there is no amplifier on the market of this power, that works in class A, that has a chassis of only 10 cm in height and that does not exceed that temperature.
atm-audio on the web
When searching for atm-audio products, the search engine may insist on directing to cash machine pages when using only the first three letters… The trick is to search for the brand's full name – "Acoustic Technology mfg" or atm-audio which leads to the website atm-audio.com.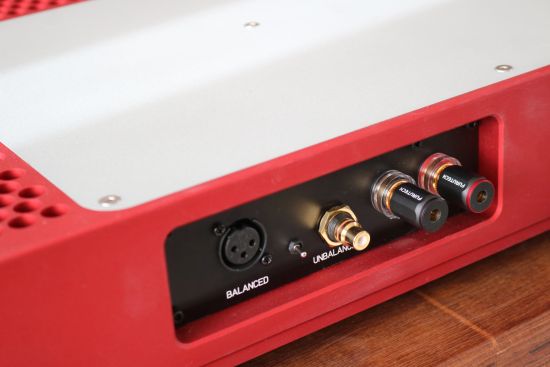 Technical
The EPM-50's are full Class-A mono power amplifiers.  There is no sliding bias and no hybrid technology, just pure and simple Class-A technology. With a 250-Watt low-noise toroidal transformer and MLytic series Mundorf electrolytic capacitors at its basis, the amplifier uses all-discrete A-brand name circuitry and 6 power transistors to deliver 60 Watts of power into 4 ohms via its Furutech speaker terminals.
My review samples are pre-production types and the final versions may include some tweaks. For instance, the chassis' matte finish is absolutely gorgeous but sensitive to dust and this is something I've been told will be addressed in the final versions.
While my samples have an interesting two-tone color option, the final production samples will have a unified color. That doesn't mean that they will be less interesting as the products will be available in a wide range of colors among which black and silver but also blue, red and champagne. Especially the latter two are very fetching and I wonder how the red chassis will look with champagne top panels. The red finish of the review samples sure is beautiful and the amps elicited lots of praise from visitors for their beautiful looks.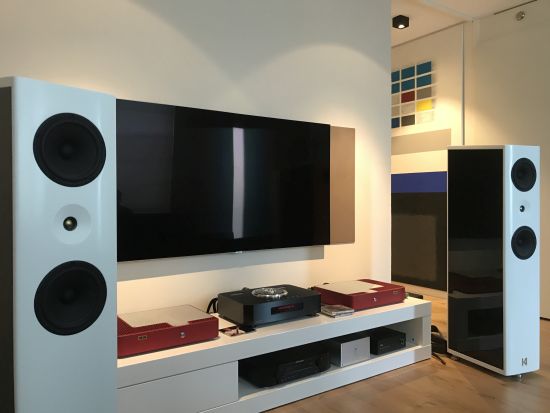 Listening
Because my smaller system had two vacant spots after a previous review and currently contains the equally Spanish Kroma Audio Carmen speakers, I felt it fitting to start my assessments there. In this system, the Carmens are driven by an Ayon Spirit III integrated KT-150 tube amp with an Antipodes EX music server feeding an Ayon CD-10 MkII CD player and DAC. The speaker cables and interlinks are all made by FoilFlex and the power cables are all Belden 19364.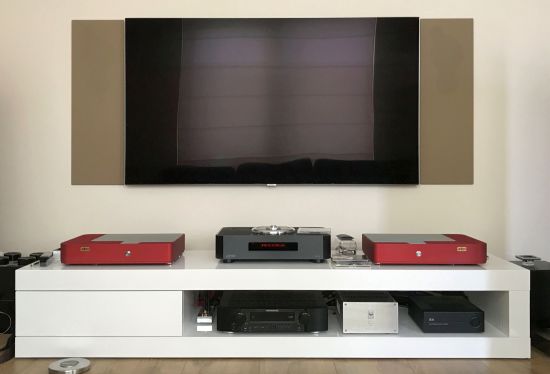 I compared the amplifiers' cinch and XLR inputs using the same type of FoilFlex cables and found that both inputs provided similar levels of detail and transparency but that the XLR inputs sounded more full-bodied and more 3D while cinch was comparatively flatter, but arguably also tighter. Even if I normally chase after tightness, in this case, the sound via XLR was emotionally more engaging and therefore the performances more convincing. However, I should note that in later comparisons in the other system, I heard very little difference between the amps' inputs. Therefore, this definitely has more to do with differences between the CD10's cinch and XLR outputs.
The secondary system's room is not very large – it's actually a little too small, especially for big speakers such as the Carmens. But, amazingly, they turned out to work very well. While I know that these speakers can sound cleaner when given more space, with the exception of some unneeded room gain in the lowest frequencies, the sound is well balanced, intimate, richly textured and there is a surprisingly large soundstage that extends to beyond the front wall. After having listened to a range of tracks using the Ayon Spirit III, I replaced the latter with the atm-audio EPM-50's and connected them directly to the Ayon CD-10 MkII CD player/DAC. That's a nice feature of this player: not only does it have USB and other digital inputs, it also has a volume control, allowing for a minimalistic system.
The EPM-50's have seen plenty of use by the manufacturer at several shows. After delivery they were stone-cold, and so, I allowed them several days to come on room temperature but they had not yet been switched on. I needn't have worried. Even when just fired up, they immediately impressed me with their liquidity and rich tonality. This was very far removed from the calculated sound that I was expecting. I should note that literally every other transistor amp that I listened to after having used the Spirit III, sounded particularly "transitor-y". But with the atm-audio EPM-50's, it was like the tubes had never left the system!
There was a very similar flow and richness, similar soundstaging and even the textures were almost as saturated. The amps performed the unusual trick of sounding relaxed while being able to upscale the tempo and dynamics just as the recording required. It was like there was a constant flow of energy even when there was little going on in the mix, always calm but always ready to burst out. Tonally, the EPM-50's were more vibrant than any other transistor amp that I heard before while possessing of bass that was just as full-blooded as with the Ayon but cleaner and better controlled. A remarkable mix that the amplifiers also pulled off was to sound almost as saturated, organic, harmonically rich and texturally complete as the tube amp while being much more linear and transparent.
Tube aficionados know how near-impossible it is to get transistors to attain tube-like qualities. And when they do, this usually results in an overly creamy and rounded sound that more mimicks bad output transformers than actual tube magic. Not here!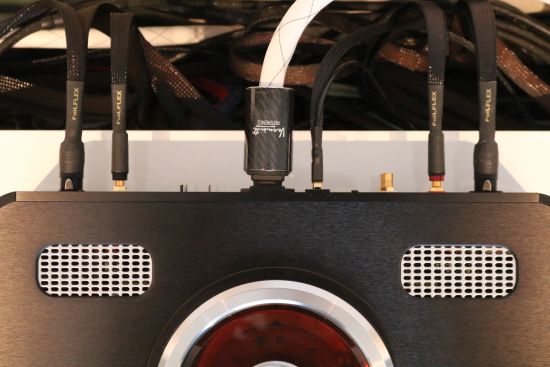 FoilFlex interlinks and Vermouth Reference power cable
The more I played and the amps warmed up, the more I was perplexed. Although the Ayon CD-10 MkII was used at full output power (it can be attenuated for direct power amp use) resulting in some tube noise to be heard when no music was playing, I had no intention to change anything because this minimalistic system was working so magnificently and the amps, speakers and source were clearly playing to each other's strengths. This was a very natural and highly realistic sound with an almost magical allure, lifelike timbre and dynamics and the kind of involvement that makes one want to keep listening for hours on end.
Class-A sound
For many people, I suspect, Class-A is synonymous with big, sweet, round and relaxed sound and it is sometimes also linked to tube sound. Of course, there is no such thing as a Tube-sound or Class-A sound because so much depends on the implementation. The Pass Labs XA30.8 transistor Class-A power amplifier springs to mind, which to my ears sounds very transistor-like. Compared to the EPM-50's, it has a bolder, more direct and more impactful delivery but it is considerably less sophisticated and refined. The EPM-50's, however, do sound in line with what I believe many people associate with, and desire from, a Class-A amplifier.
Perspective
Moving on to the main system, the EPM-50's were used with the Magico S1 MkIIs and the Martin Logan ESL15A's. Here, the source was again a mix of music server tracks on the Antipodes CX and CD's played on the Jay's Audio CDT-2 MkII CD transport. The DAC in all cases was the CH Precision C1, the interlinks CH Precision Balanced Link (XLR) and the speaker cables Jorma Design Trinity and Driade Flow.
The Martin Logan ESL15A electrostatics have (high-impedance) active bass and the foils also draw virtually no current and therefore they are normally very easy to drive. However, tube amplifiers do not apply as they have difficulty with the foils' very low 0.5-ohms impedance at 20kHz. Not without reason, the company states that Martin Logans are indeed made to sound best when driven by transistors.
As it turns out, the ESL15A + EPM-50 pairing makes for a relaxed and sweet sound but the music's intent and dynamic impact are reduced and the treble is rolled off resulting in a sound that lacks speed and drama… precisely as it has happened every time when I tried to use Logans with Tube amplification.
This was not a result of bad design but just a mismatch. Class-A amps are typically very stable, but in possessing a tube-like free-flowing and organic delivery, the EPM-50's seem to have also attained a tube-typical response to very low impedances. I imagine that their low damping factor combined with a presumably low amount of feedback is a blessing and a curse. A blessing because it enables the amps to sound amazingly lush and totally devoid of artificial and technical attributes when partnered with speakers that are easy to drive. A curse because, well, more difficult speakers fare less well.
So, the EPM-50's are not ideal amplifiers for driving Martin Logans. But for that purpose, the company also has N-Core-based Class-D amplifiers in its portfolio and I have no doubt that these would control the heck out of the Logans. Who knows, I might do a follow-up review at some point.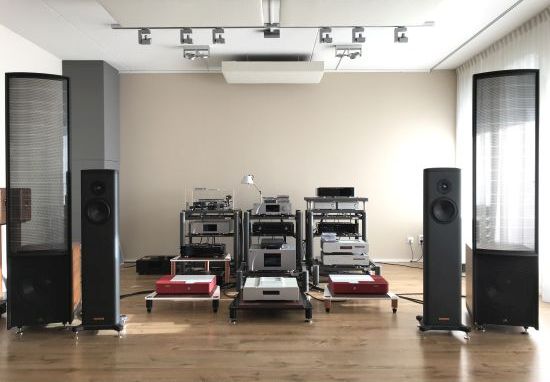 Moving on to the Magico's, thankfully, the balance is restored entirely. Now, the treble is still sweet yet energetic and entirely open, the midrange is lush and warm and the bass strikes a good balance between relaxed and controlled. The tube-like qualities that I noted with the Kromas are evident, but here, they don't work quite as majestically. Rather than forming a magical synergy that makes the music blossom and draws the listener in, the Magico's work to highlight the technical areas in which the EPM-50's are less well-versed and the warmth and lushness form barricades that limit the transparency and dynamic contrasts.
In all fairness, the S1 MkII's are still relatively difficult to drive properly. The CH Precision A1.5 has all the power and control needed to bring them to life. But it's telling that its power display meter easily hits 120+ Watts with the Magico's when playing a little bit more loudly, while the meter rarely exceeds 36 Watts with the Kroma's unless playing at absolute storm levels.
Power and control aside, though, the Magico's also unveil that the EPM-50's don't quite have the retina-like resolution and refinement of the A1.5. And with the Magico's, it's in these very areas that they are normally most impressive which probably makes this stand out more. The A1.5 is designed such that it has absolutely no audible crossover distortion which, along with its exceedingly hi-res, neutral and pretty much character-less sound made it my personal reference in the field of transistor amplification. But, it cannot be said to sound particularly tube-like and I can imagine that some people just want their amplifier to have more character. Finally, it must be noted that the A1.5 is considerably more expensive than the EPM-50's.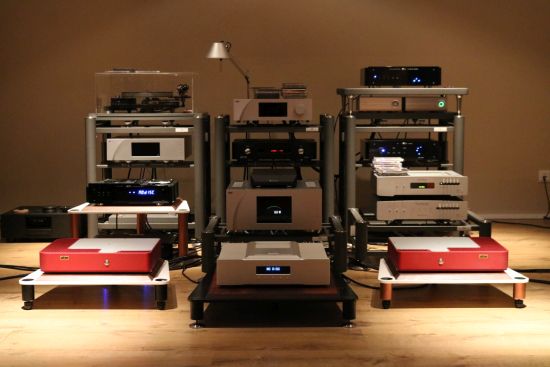 Bottom Line
In the end, I moved the amplifiers back to the Kroma setup only to find that, yes, they work absolutely marvelously with these speakers. Not only is the sound organic and emotionally captivating, but it's also highly dynamic and rhythmically infectious, as evidenced by my continuously tapping foot. And, I absolutely did not feel that there was the slightest amount of detail or transparency missing. I often say it and this proves it once more that, in audio, making the right match is of the utmost importance. If the Carmens did not weigh literally 100 kilos each I would move them back to the main listening room to see what more these amplifier beauties would be capable of.
Considering the fabulous results with the Kroma's, I'd bet that most dynamic speakers that do not have impossible impedance curves should work very well. Besides Kroma Audio, Sonus Faber and Franco Serblin are other brands that I imagine might pair very well.
Conclusion
Fabulously organic and highly seductive and in no way mechanical or electronic, these fully Class-A amplifiers eschew the kind of overt control that can lead to the mechanical and clinical presentation that makes so many rivals sound technically impressive but emotionally rather uninvolving. They may not work ideally in every combination but that is because they are not designed to control the heck out of every speaker. Rather, they always let the music flow naturally and when the speaker-match is right they are nothing short of pure magic.
External Links
Manufacturer: atm-audio
Read Also
atm-audio EPM-700 Hybrid Class-A Triode/Class D power amplifiers