Shakti Electromagnetic Stabilizer aka Shakti Stone
The effect that this "stone" has is too big to be discarded. Mysterious? You bet. But easily audible.
The Shakti Stone. It has already been in production for many years. You may have heard about it but discarded it as nonsense. I know I did. I always thought that should there be an effect then surely it would be minimal. But when a friend brought it with him and placed it on my DAC I couldn't believe what I heard…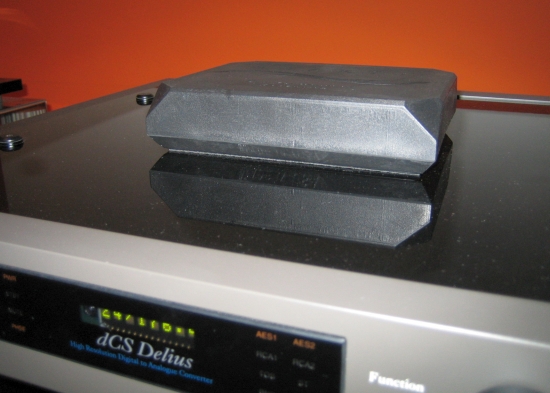 Above: the "stone" can be placed anywhere: up, next to, under, or merely close to components.
The effect shifts everytime you replace it. Depending on pacement the emphasis is either on the mid frequencies or the high frequencies. But always there is an improvent in pace. The music is more grabbing.
On first view this component fills you with unbelief. It is way too light and not made out of stone but is apparently made out of some plastic, and a rather ugly one at that. The offered explanations seem farfetched. And because of its weight it doesn't appear to do much in the way of damping, as some people might explain its effect. But to try this out I placed various other weights/dampers on the dac but none had the effect the Shakti has.
In short Shakti explains it like this: inside are 3 Trap-Circuits. Something with coils and inductance and quartz oscillators inside of tuned wave guide chambers that capture interference and radiowaves and converts them into heat, thereby preventing them from entering into the component that the Shakti is placed upon.
Seems somewhat logical but what about ordinairy radiowaves like FM? All the antennas in the world do not make these waves any less strong.
Anyway, all you need to convince yourself is to place the Shakti on your component of choice. There is a good chance that you'll fall off the couch in amazement. I did. Because the difference is clear: more open and airier highs, more detail in the mid frequencies en an altogether more lively sound that has more rhythm and tightness. The good thing is that the sound doesn't become aenemic. It's not sterile at all.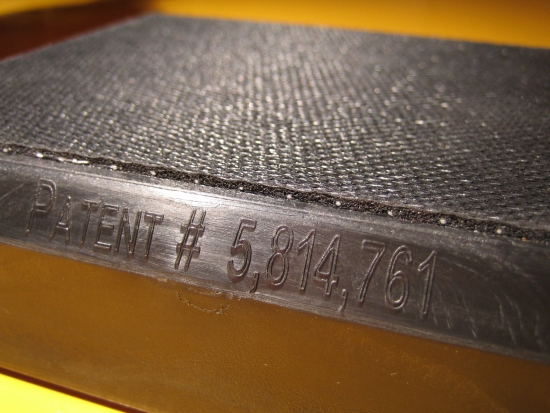 You do have to take care where you place it if you want to maximise its effect without loss in other areas. For example: when shifting its position from middle to back on top of my DCS dac, the mid-frequencies can end up too much recessed if you look for maximum open highs. So position it carefully, to get the optimum balance.
Also every component reacts in a different manner. Dacs tend to have the effect discribed above, but amplifiers (and these include phonostages or powersupplies) and cd players can have the reverse effect: a midband that's too exposed and too forward. A system that is already very open may not need a Shakti.
So: experiment and be amazed!