JRDG Company Special – Model 6
1994-1999
Retail price in 1998 in the Netherlands 14.790 euro (32.600 guilders)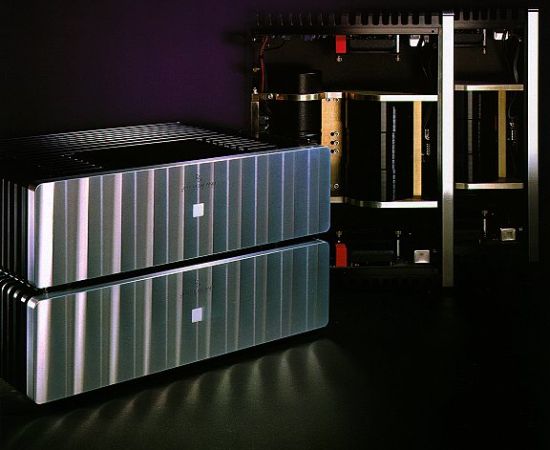 In my opinion the most subtle transistor poweramps around, threading a fine balance between resolution, pace, openness, air, transient speed and attack on the one hand and fluidity, warmth, flow and sheer musicality on the other. These amps is incredibly fast and well-controlled and you might even find them slightly lean in balance, but they are ever so musical! They have the most airy and fluid/continuous treble that I have ever heard, surpassing even all the tube amps that I heard in my setup so far in this respect while maintaining speed and control and that's saying something. I compared them directly to the model 2 stereo amp on both B&W Nautilus 804's and Martin Logan SL3's and they are sonically very close. You really have to know your system well to be able to tell the differences. The sixes do have a little more bass and a wider soundstage, and of course more power reserve but you don't really notice this unless you start abusing the volume control, or have more demanding speakers.
I am a long time user of the model sixes. I've compared them to Bryston, McIntosh, Array, Pass, Spectral, Musical Fidelity, Krell, Plinius and many others. They always come out winning in the departments that I value most, which is basically all the audiophile virtues except. When they lose out it is usually only on the matter of maximum power. Bryston 7B ST monos for example, have beefier bass and much more power, and really sound much better than you'd think but they are behind in almost every other audiophile aspect.
Model 6 Extensive review
Model 6 and 725 Extensive review
Class AB vs Class D – Model 525 compared to Model 201, Model 10 and Model 6
Above: The Model 6 on top looks almost diminutive compared to the Model 8t on the bottom but in its own right the 6 is already quite a massive amp. It's just that the Model 8 is colossal.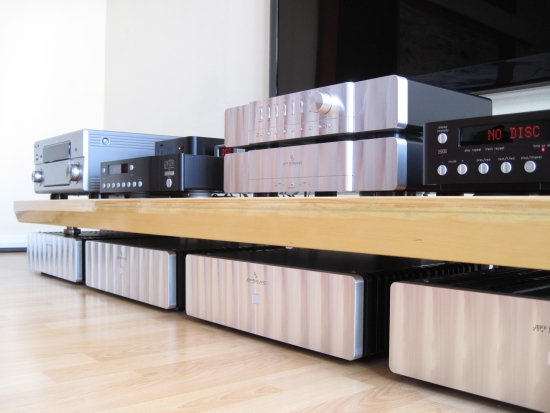 Model 6 and BPS 6 on a row. Note that this is only possible when ordering extra long DC cables due to the short cables that are included as standard which only allow vertically stacked connections.
2x BPS6… but wouldn't you swear that it was 2x Model 6? You're not wrong, as they are virtually identical. The only difference is the simpler top panels and tiny leds on the BPS front panels.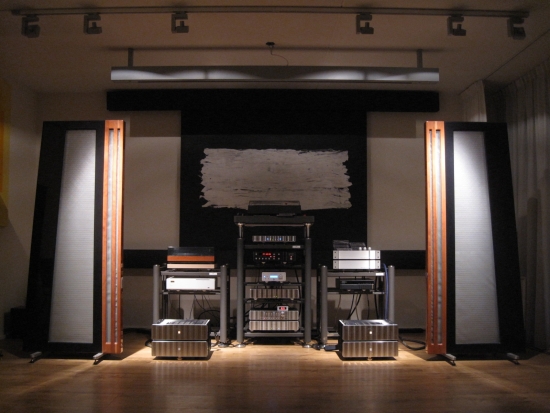 When I still used the BPS sixes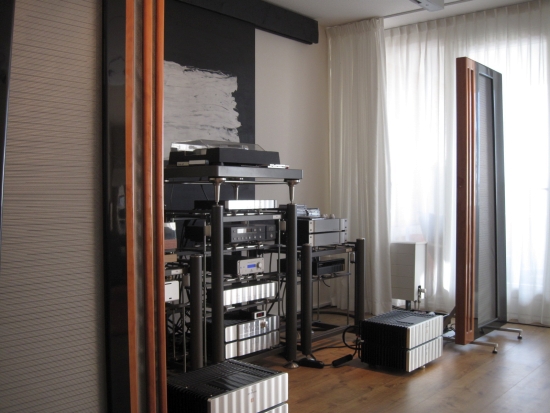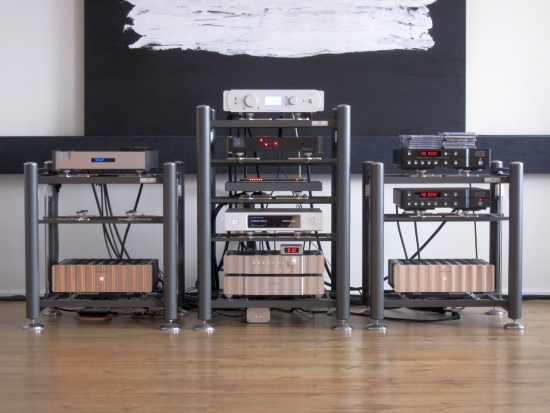 A more recent incarnation of my system without the BPSses.
Model 6 has no problems driving big Apogee Divas. Only when you crank up the volume to way beyond crazy levels will you notice that the six's power supply has its limits. The amps are however totally stable into the Diva's low impedance load.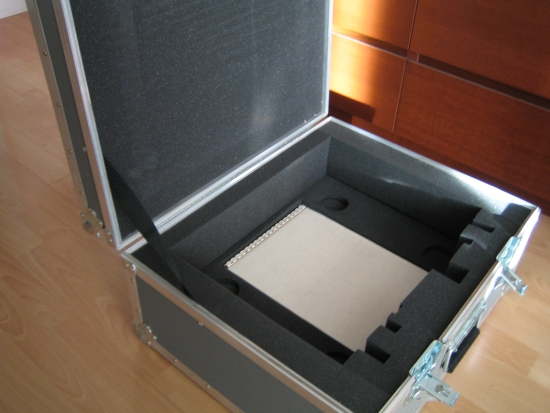 Model 2 flightcase, which I believe is identical to the one for the sixes, save perhaps for the extra cutout for the speaker terminals.
Inside Pictures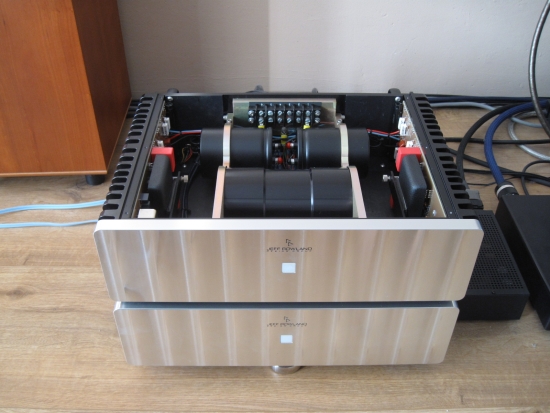 My own model 6 on top of the bps 6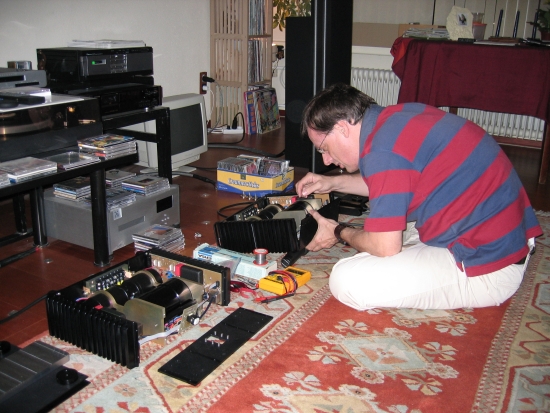 In 2006 my friend JW had to totally dissect his model sixes due to a problem with the power button on one of them. He opened the other as well in order to have comparison material. It turned out to be a breach in a track inside the little circuit board onto which the power switch is mounted. This is devised very cleverly with springs and is finely adjustable to make for a totally flush appearance. Eventually JW learned that the button did function well when the springs were a little less tightened. This was in 2006 and the amps have worked perfectly ever since. (it's now November 2017)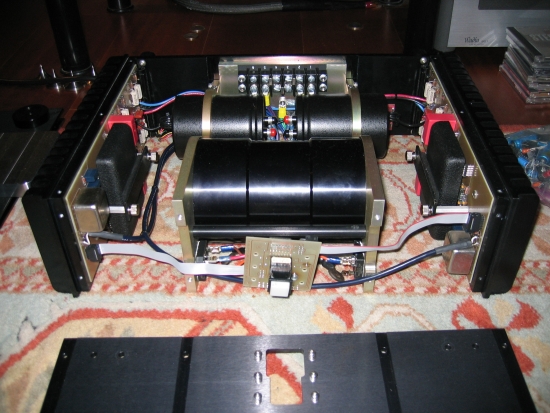 Something of a work of art, isn't it?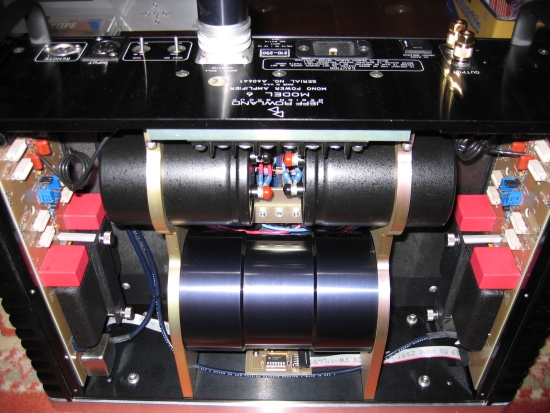 The model 6 is very closely related to the smaller model 2. While the sixes are mono blocks in which each side handles one phase of the signal to combine into one balanced mono signal per amplifier, the model 2 divides the available 16 transistors over two channels while retaining the balanced topology.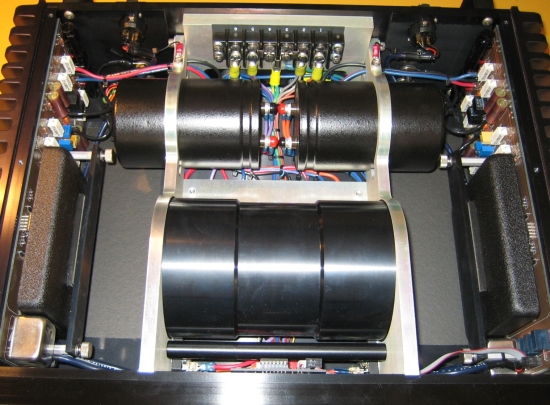 Above: Model 2 top side inside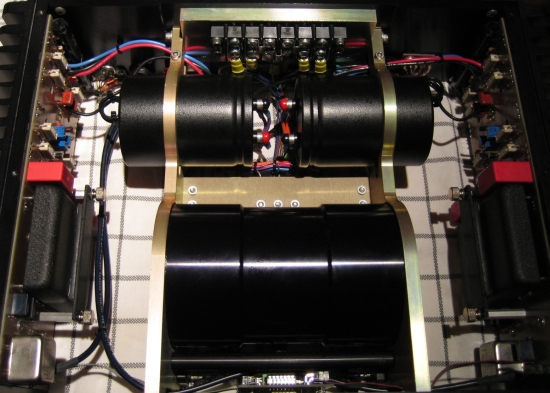 Above: Model 6 mono block top side inside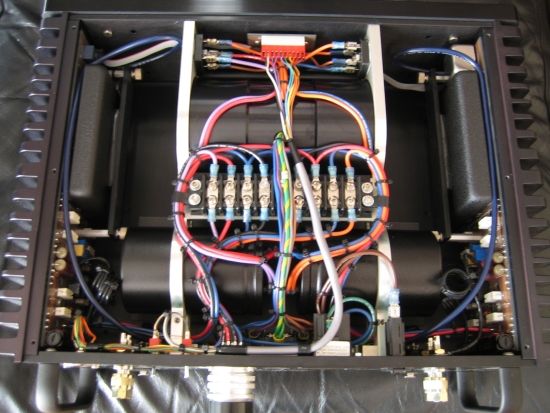 Above: Model 2 underside inside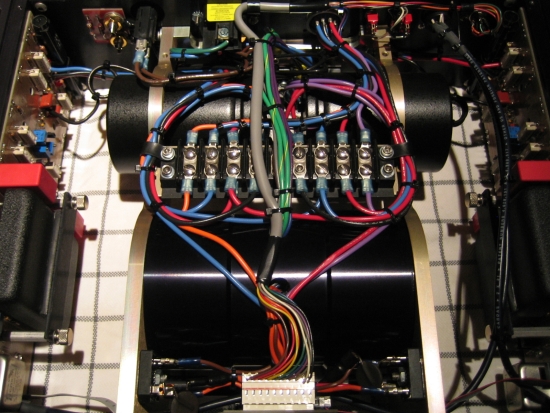 Above: Model 6 monoblock underside inside (front-rear reversed)
Troubleshooting
Model 2 Fuse blown
I've had an instance where the fuses in my Model 2 were blown and apparently this has happened to others. The fuses are located in the sidepanel heatsinks, two on the left and two on the right. Just in case that a previous owner has installed different fuses here's what is supposed to be in there: Fast Blow 5 to 7 amp.
Model 6 Amplifier Technology
The Model 6 mono amplifier is designed with two power supply options. The power supply for the standard AC mains-powered version consists of a conventional power supply comprised of two isolated toroidal transformers, one each for positive and negative DC voltage respectively.
A second option is an isolated DC power supply, in a separate companion chassis, which provides pure DC power through a one-half meter DC power cable. This power supply incorporates sealed, lead calcium batteries with built-in charge management circuitry. When this power supply option is used, the conventional power supply located within the power amplifier becomes the unregulated DC power source for the battery charging circuitry.
The technological features of the Model 6 amplifier are the result of many years of investigation into the relationship between an amplifier's performance and changes caused by mechanical movement, unstable temperature and environmental conditions and undesirable electromagnetic/electric field interactions. These factors become increasingly interrelated and important as the dimensions become smaller and, as a result, impact the more delicate and emotionally involving musical expressions. By establishing an exceptionally stable foundation and controlling the aforementioned changes, the musical signal is more accurately amplified and transferred throughout the unit.
Structure
All chassis components of the Model 6 are precision machined from 6061-T6 aluminum alloy in specific dimensions. Dimensional accuracies are held within 0.005 in. tolerance throughout the entire structure. By selecting "golden mean" non-divisible dimensional ratios throughout, a non-resonant stable structure is created. For instance, each cooling fin of the amplifier heatsink is non-harmonically related to the adjacent cooling fin. The increased physical mass of this heatsink design also increases the "thermal mass" which, in turn, extends the thermal time constant, thereby reducing short-term temperature variations of the power semiconductors.
A machined aluminum tube, physically isolated via large neopreme "O" rings, contains two toroidal power transformers. This component is sandwiched between two machined subchassis structures spanning the entire length of the amplifier. This subchassis assembly also rigidly clamps the two large power supply capacitors thus creating a non-resonant power supply subassembly and adding structural integrity to the entire amplifier.
Easily accessed plug-in modules containing critical audio circuitry enhance mechanical stability and thermally stabilize the circuitry. These plug-in modules also protect the internal components against adverse environmental conditions and allow for easy product update or service. These modules are held in place by captive aluminum bars.
Power Supply
The power supply toroidal transformers have been specifically designed to improve operating performance under all AC mains conditions. The toroidal transformer cores are individually machined before winding to remove sharp edges around the inner and outer perimeters to allow a smoother and more accurate copper wire lay and decreased electrical resistance. The transformers operate at a much lower flux density than conventional designs. A lower flux density (approximately 1.5 Tesla at 50 Hz) reduces the possibility of magnetic saturation under all operating conditions. Each transformer has its own full-wave bridge rectifier for each positive and negative voltage. This eliminates the common transformer center tap ground return for capacitor charging surge currents and eliminates transformer secondary voltage imbalances.
Two large electrolytic capacitors totalling 260 000 uF provide low ripple and high transient current capabilities. These capacitors have been specifically designed for low ESR, ESL and long operating life. All DC voltages are supplied by means of stranded copper wire instead of printed circuit board traces or metal power busses to provide wide bandwidth power transfer. All electrical circuits are protected against overload with fast-blow fuses mounted directly onto the circuit board of each heatsink. The main power supply delivers positive and negative 30 V for the output sections. Local bypassing near the output transistors with large film capacitors provide high frequency energy storage. Separate regulators provide positive and negative 15 V to the input amplifier sections. Positive 12 V is derived for all other amplifier housekeeping functions. The entire amplifier circuit topology was designed to operate on lower voltages which permits very reliable high-speed operation. Since all of the circuits operate in a differential balanced mode, the power supply voltages required are reduced by fifty percent. Also, both polarities of power supply currents are symmetrically utilized by the amplifier at all times. This configuration also allows the amplifier circuits to reject power supply errors since the power supply is common to both phases of the signal in real time.
Signal Circuitry
An important aspect of the Model 6 design is in the implementation of transimpedance amplifier technology. Although originally developed for video amplifiers, this particular circuit topology is well suited for use in audio power amplifiers. Unlike the conventional voltage feedback circuit topologies used in virtually all other audio amplifiers, the transimpedance or current feedback circuit topology has numerous performance advantages such as wider bandwidth, very fast settling time and extremely low distortion at all frequencies. Above all, the inherent simplicity of this topology can be implemented with very few active and passive components.
The input signal enters the amplifier in either single-ended or balanced modes. This signal is developed across the primary windings of a specially designed input transformer. This transformer provides total isolation of ground currents which can circulate between source components and the power amplifier. Additional benefits include the effective filtering of high-frequency signals not related to the musical signal. The input transformer has been recently developed using extensive computer aided design (CAD) programs, precision proprietary winding techniques and high-percentage nickel core materials. These transformers achieve performance that has not been previously obtainable with input transformer technology. Noteworthy performance parameters are flat response bandwidth to 200 KHz, less than 1% overshoot, pure resistive loading without the need of RC filtering, common mode rejection ratio (CMRR) greater than 60 dB at 20 KHz, constant group delay throughout the entire bandwidth, 12 dB per octave Bessel filter alignment, extremely low distortion of less than 0.01% at 20 Hz and insensitivity to a wide range of source impedances from 0 to 1 Kohm.
The transformer secondary voltage is amplified by a small-signal Class A all JFET amplifier. This amplifier is powered by the aforementioned bipolar 15 V power supply. Each of the output phases (0 deg and 180 deg) from this amplifier drive a balanced transimpedance output amplifier section with gains of five on each phase. These output sections are powered by the aforementioned bipolar 30 V power supply. Since the input and output sections are totally independent, there is no overall loop negative feedback. The output section for each phase incorporates 8 individually tested and matched 150 watt bipolar output transistors, totalling sixteen output transistors per channel. (Dus geen LM3386 geintegreerde circuits zoals ook gebruikt in de model 10 en de GainCard) All components in the output stage were strategically chosen and placed for minimum length and electrical inductance thereby optimizing the damping factor throughout the audio frequency range.
The transimpedance amplifier topology is accomplished with two buffers and two bipolar current mirrors. Conceptually, the operation is simple. The midpoint of two resistances are connected to the output of an input buffer amplifier. The input of the input buffer amplifier is connected to ground potential. The open end of one resistance is connected to the overall amplifier input. The open end of the other resistance is connected to the output of the overall amplifier. The ratio of these two resistances determines the overall gain of the overall amplifier. Since the overall amplifier is inverting, the midpoint of the two resistances will always be at zero volts. The input buffer amplifier maintains the midpoint of the two resistances at ground or zero potential. Any deviation from ground or zero potential at this low impedance point is reflected as an error current in the input buffer amplifier and mirrored by the two bipolar current mirrors across a high impedance point. This high impedance point is then buffered and current amplified by the driver and output stages. The error signal current is not limited by some finite value which is the case in all conventional voltage feedback amplifier topologies. Also noteworthy is the absence of capacitors or storage elements in the current feedback section which is comprised solely of two resistances. The amplifier receives as much error current as is necessary, irrespective of frequency to virtually eliminate slew rate limiting. The overall result is extremely good damping and linearity over large amplitude and frequency ranges.
Another less apparent but very important feature of the above mentioned topology is that the overall amplifier quiescent and bias currents can be accurately and independently controlled away from the critical signal circuitry. The conventional bias control circuitry, which must be thermally coupled to the heatsink and is located at a very high impedance and "vulnerable" point in the amplifier circuit in a conventional design, is eliminated and replaced by a simple resistor closely coupled to the actual signal circuitry. The temperature of each heatsink is accurately monitored by precision temperature sensing servo circuitry. This circuitry supplies the necessary bias current to external ports in the transimpedance output section. Thereby, the bias and signal circuits remain independent of each other, and strict control of temperature is thus maintained. When the amplifier is switched into standby mode, via the front panel push button, the bias current of the output stage is dropped to a very low level. The input signal is muted during this state as well. This feature allows the entire amplifier to achieve an authentic standby or "sleep" mode with all voltages present, thus assuring a dramatically reduced warm-up time and elimination of turn-on/turn-off transients appearing at the speaker outputs during on/off transitions.
DC offsets are maintained below 1 mV at both speaker outputs by DC servo circuitry. Abnormally high offset voltages will cause the amplifier to revert to standby mode. Due to excellent thermal stability throughout the entire amplifier, the DC servo circuitry only operates during long-term circuit drifts and permits the low frequency response of the amplifier to extend close to DC.
Switches located on the backpanel allow the user to control operational parameters of overall gain and input impedance. These switches operate small-signal relays located adjacent to their respective circuit functions.
(Optional) BPS unit DC Cable Compatibility
The model 9 amps used a two pin Fischer connector, male and female on each end with ground carried in the shield and shell. Sometimes the original rubber jacket would degrade and while not affecting the functionality of the cable, a new cable sheath, like heatsink tubing, could be installed over the degraded rubber. In these cases, the Cardas branding would be covered.
The model 2,6 and 8 amps used an Amphenol brand connector of 8 pins to use when connecting BPS battery supplies. These also are all the same within their group and made by Cardas to JRDG spec.
Model 6 Features
XLR Balanced Input jacks for balanced (Differential Mode™) system configurations
XLR to RCA Input adapters included
User-selectable overall gain of 26 or 32 dB
User-selectable input impedance of 18kΩ(HI) or 600Ω(LO)
All internal signal circuitry is totally isolated from chassis and system ground potentials to eliminate noisy ground loops and to provide extreme immunity from RF interference
Optional remote (wired or wireless power ON/OFF switching) þAutomatic temperature stabilizing circuitry maintains constant operating temperature
Standby power condition reduces warm-up time
Fail-safe operation provided by user-resetable AC circuit breaker located on rear panel
Quiet, transient-free operation during power and function mode switching
Automatic input muting under anomalous input or output operating conditions
Balanced Differential Mode™ circuit topology implemented from input to output
Plug-in modules, containing critical electronic circuitry, enhance thermal stability, mechanical integrity and serviceability
Low-resonance, structurally integrated chassis of precision machined aluminum alloy components.
Model 6 Technical Specifications
Output Power
Continuous RMS watts
@ 8 ohms 150 watts
@ 4 ohms 250 watts
Power Bandwidth
0.5 Hz to 160 kHz, -3 dB
Slew Rate
80 volts per microsecond
THD and Noise
Less than 0.05% at rated power
Damping Factor
Greater than 100, 20 Hz to 20 kHz, 8 ohms
Output Current
35 amps continuous, 50 amps peak
Overall Gain
& Sensitivity User selectable on rear panel
(1 watt, 8 ohms) 26 dB or 32 dB; 141 mV or 71 mV
Input Impedance
User selectable on rear panel
Unbalanced 18k or 600 ohms
Balanced 18k or 600 ohms
Common Mode Rejection Ratio
Greater than 60 dB, 20 Hz to 20 kHz
Power Consumption
25 watts standby; 225 watts operating, idle;
400 watts per Amplifier maximum
Inputs
Unbalanced With supplied XLR/RCA adapter
Balanced XLR connector
Outputs
1 pair binding posts
Dimensions
17.5 in. W x 14.25 in. D x 5.25 in. H
44.5 cm W x 36.2 cm D x 13.3 cm H
Shipping Dimensions
24 in. W x 20 in. D x 12 in. H
61 cm W x 50.8 cm D x 30.5 cm H
Weight
45 lbs. (20.5 kg)
Shipping Weight
71 lbs. (32.0 kg)
BPS (Battery Power Supplies)
More Jeff Rowland
Jeff Rowland Company Special Main Page
Jeff Rowland Company Special Power Amplifiers
Model 6 Extensive review
Model 6 and 725 Extensive review
Class AB vs Class D – Model 525 compared to Model 201, Model 10 and Model 6