JRDG Company Special – MC-6 and MC-606
MC-6 (1997-2005)
Retail price in 2002 in the Netherlands 22.990 euro
MC-606 (2007-approx 2012)
Retail price approx 22.990 euro for 6 channels

MC-6
The MC-6 has fully balanced differential mode linear power amplification. Available in 1, 2, 4, 4 and 6 channels and power from 330 watts for one channel, dropping with every added channel. Fully loaded it still offers a very respectable 150 watts in 8 ohms. In addition to using this amp for multichannel purposes, the extra channels can be used for stereo vertical bi- and tri-amplification. Channels can also be linked, allowing for extra current where required.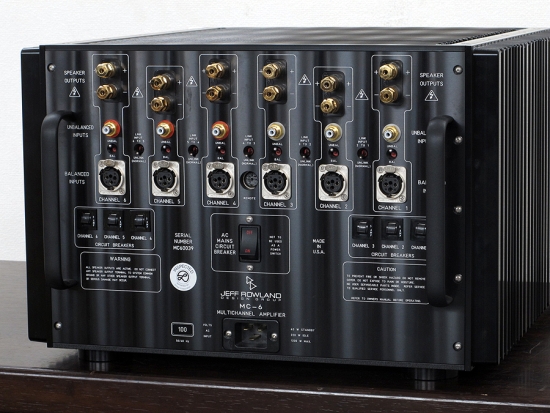 MC-606
The MC-6 was succeeded by the MC-606. The MC606 looks a lot like its predecessor from the outside, but is distinguised by the nicely machined power button instead of the square lamp as before. Also it has ICE power modules inside instead of the MC-6's linear analog amplification. The 606 can drive 6 channels delivering 250W RMS x 6 of 8 ohms (500W x 6 on 4ohm). It offers the possibility to configure the output to 2, 3, 4, 5 or 6 channels for both bi or tri-amplification. The inputs are balanced XLR and unbalanced RCA.
MC-6 Inside Pictures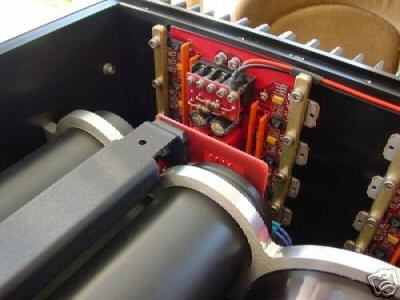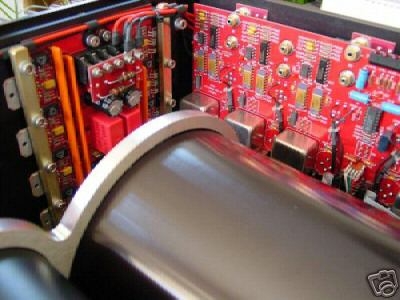 MC-606 Inside Pictures
Alas, I can't find any!
If you have inside pictures for the model 606, please do let me know!
MC-6 Innovations and Technology
The text below has been re-published from content that was formerly available on the official Jeff Rowland website.
The MC-6 Multi-Channel Power Amplifier from Jeff Rowland Design Group features a unique and innovative fully balanced Differential Mode output circuit that is as technologically advanced as it is sonically involving. The MC-6 incorporates a new amplifier output stage design that allows individual portions or channels of the output section to be run alone or in parallel to create the most flexible amplifier available for both audio and theater applications – without the performance limiting drawbacks of output "cards" or "modules." When initially designing the MC-6, the primary objective was to develop an amplifier that was capable of a wealth of multi-channel configurations yet still provided the superior sonic capabilities required by traditional two-channel stereo amplification. What resulted was the creation of an amplifier that not only provides the most flexible amplification platform available today for any system configuration, but who's performance actually increases as a greater number of channels are linked together. When combined with an output section that utilizes a novel output device configuration, audio input transformers for the best possible noise and distortion characteristics, and a non-resonant chassis of artfully machined aluminum, the MC-6 is quite possibly the most exceptional multi-channel amplifier ever built.
Each channel of the MC-6 is capable of a continuous 250 watts into an 8 ohm load. As an individual amplifier, each channel of the MC-6 would be an excellent performer, capable of reproducing music and soundtracks with superior realism. As a multi-channel amplifier, the MC-6 packs six of these 250-watt amplifiers into a single chassis. However, the MC-6 also allows the user to add these amplifiers together to increase the amount of work they can do, all with no disassembly. As a six-channel amplifier, the MC-6 is capable of 150 watts per channel, all channels driven continuously to their maximum output, 250 high-current watts per channel as a stereo amplifier, and as a mono amplifier it can produce a whopping 330 watts of power with tremendous current capability (120 amps peak).
The basic principle foundation of the MC-6 is the ability to "link" or parallel individual channels of amplification for greater and greater current capability. Paralleling is not similar to bridging and is a feature exclusive to the circuitry of the MC-6. Linking adjacent channels together sums the total available maximum current capability of each channel. Bridging, a method commonly used to increase the voltage capability of single-ended amplifiers, does not increase the current capability of an amplifier and can potentially have a negative affect on sound quality if the power supply cannot keep up with demands. When an amplifier is bridged, each output channel sees only one-half of the load impedance (the loudspeaker load), which effectively doubles the amount of current each output channel must produce. Because each channel sees only one-half of the load, an 8 ohm loudspeaker appears as a 4 ohm load to each output channel and requires double the amount of current for the same given output level, thus the output stage and power supply can be taxed beyond their capabilities. Bridging results in the doubling of voltage (the potential for current to flow), but not the current (the work that an amplifier produces). Not so with the MC-6. Linking takes the existing channels of operation and runs them together in parallel. Since all of the channels are providing both positive and negative halves of the output signal, the amount of current is increased as more channels are linked. They all see the same input signal – both positive and negative – and share it amongst their output devices, and use their outputs in tandem to drive a load or loudspeaker. As a greater number of output devices are used to drive a specific load, the load each device is asked to drive or "carry" is reduced as it is carried by a greater number of output devices. Since each device is placed under less stress, they do not have to work as hard to deliver a greater amount of current to your loudspeaker and are able to produce a more effortless and controlled presentation of the recorded event. This increases the maximum current available and decreases the electrical load of each linked channel. This yields improved electrical and sonic performance, especially under demanding conditions. Think of six people pushing an automobile: one person pushing can move the car, but with a great amount of stress and effort. With each person added, up to six people, the car becomes easier to move. For example, if channels 1 through 6 are linked together, the result is a single channel with a maximum output current capability equal to the sum of the current capability of channels 1 through 6. In contrast to bridging, when channels are linked together, performance of the amplifier actually improves with the linking of adjacent channels. Since all loudspeakers require or "feed" on current, not voltage, linked channels will be better at supplying your loudspeakers with the required energy to let them perform at their peak in demanding conditions.
In the output sections of the amplifier, twelve output devices per channel in channels 1 and 6, and 6 output devices per channel in channels 2, 3, 4, and 5, each device capable of 150 watts of peak power, are incorporated in a novel "Intelligent Power Transistor with Gain" configuration in place of standard output transistors to provide unprecedented audio performance, stability, and reliability virtually impossible to achieve with conventional discrete components. Into low impedance loads and inefficient loudspeakers that will actually demand such current, the MC-6 will offer unparalleled performance and control throughout even the most rigorously demanding musical passages. These integrated power output devices, despite greater cost in comparison to their more commonly used discrete transistor counterparts, allow a significant reduction in the amount of circuit "real estate," dramatically reducing capacitive and dielectric storage effects, as well as simplifying the overall signal path. By minimizing these negative effects throughout the entire circuit, the gain bandwidth product is approximately ten times greater than virtually any other discrete circuit design and thus yields greater high frequency control, detail, and accuracy.
These devices also allow the added benefit of extremely accurate bias control and stability, whereas most other amplifier circuits must rely on "thermal bias." Thermal bias is a process where a temperature sensor, most often a diode or transistor mounted to the heatsink, mimics the behavior of the output transistors and adjusts the bias current accordingly as it heats or cools – less current when hot and more current when cool. The drawback with thermal bias is that there is a time delay of several seconds between the time the temperature of the output transistor changes and the temperature sensor reacts, as heat from the output device must travel slowly through the heatsink before it will arrive at the sensor. Typically, under conditions such as music where the signal is changing instantaneously and bias requirements will vary quickly and continually, the bias adjustment will almost never be optimal for low distortion and the best possible sound quality since the bias adjustment will never catch up to the changing needs of the output transistors. Within the MC-6, the temperature sensing is performed directly on the silicon die within each output device itself. This system allows the device to react as soon as demands change so that any and all bias adjustments are performed instantly and optimally along with the soundtrack or music – there is no delay between the time that the temperature of the device changes and the sensor detects the change, as the sensor is an integral part of the device itself. In this way, distortion is lowered and reliability is dramatically increased to best serve the music while at the same time saving cost.
One common question is whether the output sections of the amplifier are biased into Class-A operation. Technically, the answer is "yes," as the linearity of the output section design achieves the advantages of pure Class-A operation. Using the "Intelligent Power Transistor with Gain" system keeps the output section properly biased at all times to eliminate crossover distortion caused by the output devices during turn-on and turn-off, as opposed to the archaic brute force Class-A biasing techniques used in other amplifier designs that result in low efficiency, excessive heat, electrical waste, and the need for power management or active biasing schemes.
The output devices within the amplifier are securely clamped to a massive, non-resonant, custom machined aluminum heatsink via a rigid, machined aluminum bar. The heatsinks and heatsink fins have been designed with a specific mathematically calculated height, depth, and width in proportion to the front panel, rear panel, and top and bottom covers of the amplifier so that when the various parts of the unit are assembled, the amplifier as a whole does not ring, resonate, or vibrate. It also means that the entire chassis performs as a heatsink for better heat dissipation. This allows optimal and efficient heat transfer from the output devices and prevents any mechanical resonance or vibration under high power conditions from disturbing the delicate audio signal. During high output passages, the amplifier is able to play cleanly and smoothly with no chance for excessive heat or ringing heatsinks to interfere with or affect sound quality.
In the input circuitry for each channel, high common mode rejection is achieved by utilizing a unique circuit that uses an audio input transformer designed and custom manufactured with the assistance of Jeff Rowland Deign Group. These audio transformers were designed with Jeff's full cooperation and match the needs and performance specifications of the MC-6. By taking advantage of the benefits of input transformers, common mode noise is reduced to a level previously impossible with standard input circuit designs, achieving a rejection ratio of better than 75 dB across the entire audio frequency range from 20 Hz to 20,000 Hz. This significant lowering of the noise floor results in substantially better low level detail and dynamics, as sound emanates from a silent background free of hiss, ground hum, and electronic noise. The application of transformers in the input section of the amplifier also allows the MC-6 to interface with any preamp, source, or processor regardless of its electronic signature and characteristics, with no negative or reactionary effects that may mar the emotional content and purity of the audio signal as it is passed along to the amplifier. While obviously more expensive than traditional input sections, the benefits of input transformers far outweigh the costs in terms of musicality, accuracy, noise rejection, dynamics, and system compatibility.
In addition, input impedance and gain will vary within traditional amplifier designs depending on whether balanced or unbalanced inputs are used. Because of its input transformers, the MC-6 offers no difference between balanced and unbalanced inputs, resulting in no differing characteristics in sound quality or output level when either inputs are used – both will provide the same seamless, neutral presentation. This method of design means that the MC-6 will provide exceptional performance regardless of the method or component used to deliver the signal to the amplifier. Preamps, digital sources, or surround processors are assured compatibility by the amplifier's transformer coupled input circuitry.
The compound result of all of the innovations and technical advancements incorporated into the MC-6 is an amplifier of supreme adaptability, able to be used in traditional two-channel stereo systems as well as it can be used in multi-channel audio/video systems requiring the highest possible performance. In addition, systems utilizing the MC-6 can be expanded in future applications by adding additional amplifiers and changing output configurations for greater power or to power a larger number of active channels. In this way, the MC-6 Multi-Channel Power Amplifier is indeed the most flexible high-performance amplifier available today.
MC-6 Features
XLR input connectors for balanced (Differential Mode) system configuration.
RCA input Connectors for unbalanced system configurations.
User selectable switching between balanced and unbalanced connections.
Automatic temperature stabilizing circuitry maintains constant operating temperature.
DIN plug for remote turn-on and Standby operation on rear panel.
Multi-Channel configuration for mono, stereo, three-, four-, five-, or six-channel operation.
Stereo vertical bi- and tri-amplification capability within a single chassis.
Linkable inputs for channel selection and input configuration.
Automatic bias adjustment maintains optimal bias setting regardless of source signal or loudspeaker load.
Standby power mode reduces warm-up time.
Fail-safe operation provided by user-resetable magnetic and thermal circuit breakers located on rear panel.
Quiet, transient-free operation during power and function mode switching.
Automatic input muting under anomalous input or output operating conditions.
Fully balanced Differential Mode circuit topology implemented from input to output.
Low resonance, structurally integrated chassis constructed of precision-machined 6061 aircraft grade aluminum.
MC-6 Technical Specifications
Power Output per Channel:
@8 ohms: 330 watts mono, 250 watts 2 channel, 150 watts six channel
@4 ohms: 600 watts mono, 400 watts 2 channel, 250 watts six channel
Power Bandwidth:
0.1 Hz to 160 kHz, -3 dB
Slew Rate: 
25 volts/microsecond
THD+Noise:
Less than 0.01% at Rated Power
Damping Factor:
>60, Channels 1 and 6
>40, Channels 2 through 5
Gain (1 watt, 8 ohms):
26 dB, 141mV
Input Impedance:
36k ohms per Channel
Common Mode Rejection Ratio:
>75 dB, 20 – 20 kHz
Absolute Phase:
Phase-Inverted
Output Current:
60 amps peak, Channels 1 and 6
30 amps peak, Channels 2 – 5
Linked channels are cumulative
Power Consumption:
40 Watts Standby, 200 Watts Idle,
1200 Watts Maximum
Inputs:
User Selectable,
6 x Balanced XLR
6 x Unbalanced RCA
Outputs:
Six Pairs Five-Way Binding Posts
Amplifier Dimensions:
17.5″ W x 22″ D x 11.4″ H
44.5 cm W x 56 cm D x 28.5 cm H
Amplifier Weight:
124 lbs.
56 kg
Shipping Dimensions:
24″ W x 22″ D x 13″ H
61cm W x 56cm D x 33cm H
Shipping Weight:
164 lbs.
75 kg
More Jeff Rowland
Jeff Rowland Company Special Main Page
Jeff Rowland Company Special Power Amplifiers