JRDG Company Special – Concentra 1
1996-2001
Retail price in 1998 in the Netherlands 7.260 euro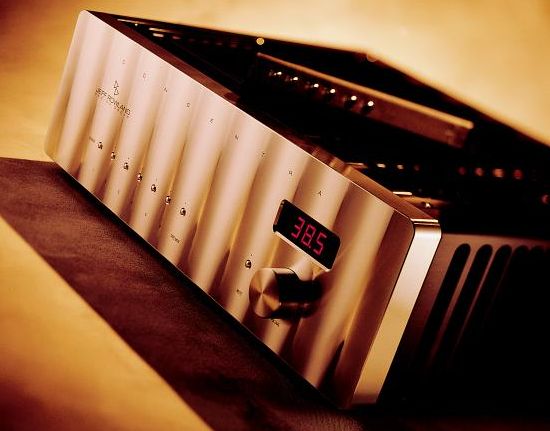 The Concentra is Jeff Rowland's very first integrated amplifier. More or less a one-box version of the Synergy 2 preamp and model 2 poweramp. Put more precisely, the power supply was taken from the Model 2 Amplifier and combined with an output section that resembles that of the model 10 and model 112 power amp. There is no official info on the matter of output stage but from looking at the pictures it seems that the LM3886 integrated amplification circuits have been used instead of bipolar transistors. This integrated has created quite a stir in high-end circles. It had a modest 100 watts of power but just like all Rowland amps, it was much more powerful than these figures would lead you to believe.
All Concentras have a balance control which makes sense because they contain a version of the Synergy preamp inside. Using the remote control, the balance will work but this just is not indicated on the front panel. To reset the balance, press "Mute" for a couple of seconds.
The early Concentras had no possibility of putting it into standby or "sleep". It would always consume a quite large amount of power unless you pulled the plug but that would lead to a long startup time every time you plugged it back in. The Concentra 1 can be identified by its red display. There is an option to upgrade early Concentra units with a "standby" mode that allows the unit to run cool and lower power consumption when not in use. The standby mode is then engaged by pressing the "mute" switch after which the power transistors shut off and the unit consumes only a few watts. However, the original Concentra cannot be upgraded to Series II status.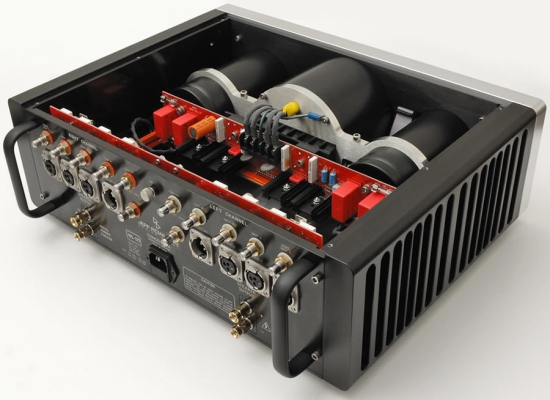 It can be fitted with optionally available high-quality internal phono preamp modules for 884 euro, as can be seen below.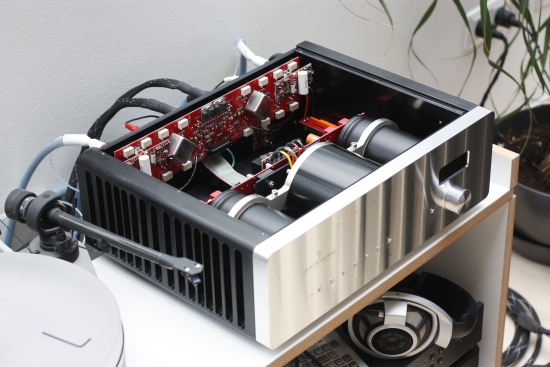 The inside of the Concentra 1 is mostly lifted from the model 2 power supply but the power output devices are not bipolar. Instead, the output stage is apparently built using LM3886 integrated amplification circuits. You can tell by counting the pins: 11 instead of 3 as is usual for bipolar transistors. This looks like these were taken from the Model 112 or 10 power amp which both appeared later. Would the Concentra therefore actually be their forebear?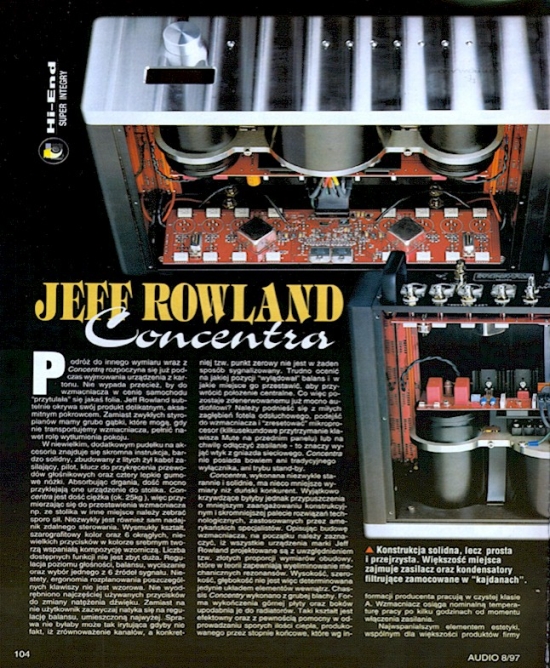 Problem Solving
Coherence, Synergy, Concentra, and Concerto IR Remote Control lock-up
The remote controls for the above-listed products have an internal capacitor that can cause the microprocessor to lock when the battery has been nearly drained. This problem will continue even after a fresh battery has been installed. This capacitor allows the remote to continue to function even after the battery has become very weak. The solution to this problem is simple: remove the new battery and allow the remote to stand overnight with no battery installed. Once the battery is reinstalled in the morning, the remote should function properly again.
Complete lock-up
It can happen that the Concentra locks up when you operate many buttons at the same time and also adjust the volume. All you need to do is unplug the power cord, wait for 10 seconds and reconnect. If you reconnect too quickly, the Concentra may not work. The same is true if you swap the power cable or change the position in the extension block. As a rule of thumb: always wait 10 seconds before reconnecting the power.
Concentra 1 Features
Three balanced XLR inputs per channel plus three unbalanced (RCA) inputs per channel.
Preamp Out in both balanced XLR output and unbalanced (RCA) outputs per channel.
Tape input and output jacks allow tape recording from any source and monitoring of tape recorder output.
Rear panel handles assist moving and transport of unit.
Chassis and all chassis components, precision machined from 6061 aluminum plate, reduce distortion resulting from mechanical resonance and thermal instabilities.
All operational functions under microprocessor control. Within five seconds of any function selected, the microprocessor reverts to a nonclocking "sleep" mode which eliminates any possibility of digital noise contamination.
Non-multiplexed, zero electrical noise generating numerical display indicates volume level over entire range of 99.5 decibels.
'Display off after five seconds' option available for non-intrusive, low light listening environments.
Dual range volume control allows large volume level changes when knob is rotated abruptly, yet permits precise small volume level changes when knob is rotated slowly.
Optional plug-in phono cards (installed internally) convert Line Input 1 to high performance phono inputs. Four gain and input loading options standard for moving magnet and moving coil cartridge types.
Full electronic and thermal protection modes guard against output overloads and short circuits.
High current preamp outputs (balanced XLR and unbalanced RCA) allow simultaneous driving of external power amplifiers for subwoofers, vertical bi-amping, etc.
All inputs are transformer-coupled to provide maximum immunity from RF contamination and system ground loops and enhance compatibility with a wide variety of interconnected components.
Speaker outputs are fully balanced to provide maximum sonic performance and immunity from RF contamination due to high output common mode noise rejection.
Optical encoder type volume control maintains quiet, trouble-free performance and accuracy over entire lifetime of product. þ Six-function hand-held IR remote control.
Concentra 1 Specifications
Output Power Continuous RMS Watts
@ 8 ohms 100 watts
@ 4 ohms150 watts
Bandwidth
0.5 Hz to 160 kHz, -3 dB
Slew Rate
30 volts per microsecond
THD and Noise
Less than 0.06% at rated power
Damping Factor
60, 20 Hz to 20 kHz, 8 ohms
Output Current
16 amps continuous, 28 amps peak
Gain Structure
Preamplifier Section 14 dB
Amplifier Section26 dB
Volume Control Range
99.5 dB
Volume Control Resolution
0.5 dB ±0.05 dB over entire range
Input Impedance
36k ohm
Common Mode Rejection Ratio
Greater than 60 dB, 20 Hz to 20 kHz
Power Consumption
100 watts idle; 550 watts maximum
Inputs
Balanced Line3 per channel (XLR)
Unbalanced Line3 per channel (RCA)
Record1 per channel (RCA)
Unbalanced Phono (optional)1 per channel (RCA)
Outputs
Balanced Pre Out1 per channel (XLR)
Unbalanced Pre Out1 per channel (RCA)
Record1 per channel (RCA)
Speaker1 pair binding posts per channel
Dimensions
17.5 in (W) x 14.35 in (D) x 5.75 in (H) 44.5 cm (W) x 36.2 cm (D) x 14.6 cm (H)
Weight
50 lbs (23 kg)
More Jeff Rowland
Jeff Rowland Company Special Main Page
Jeff Rowland Company Special Integrated Amplifiers