HFA Audio Setup History 26 – April 2017

Above: the main setup with two turntables set up to play. As a deviation from the norm, this time there is not a single review-component in sight!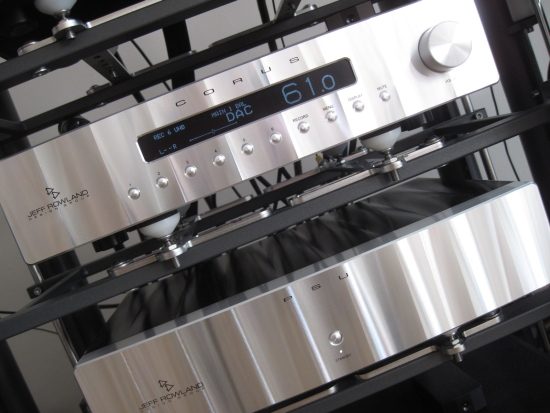 The very beautiful and superb sounding Jeff Rowland Corus + PSU.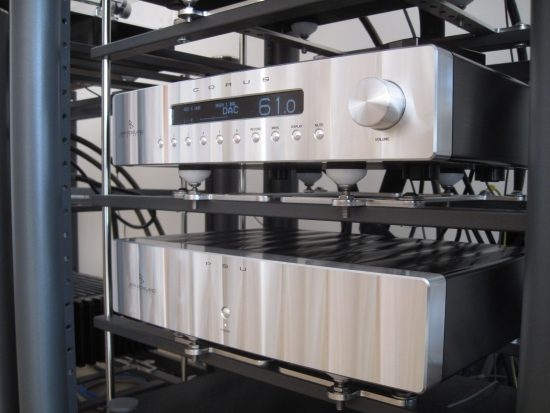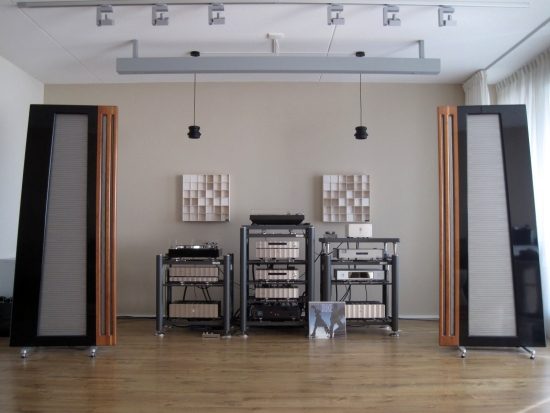 The above photo was taken while the Coherence II preamp had left the system, and I had the luxury of having both the Criterion and the Corus in the rack at the same time.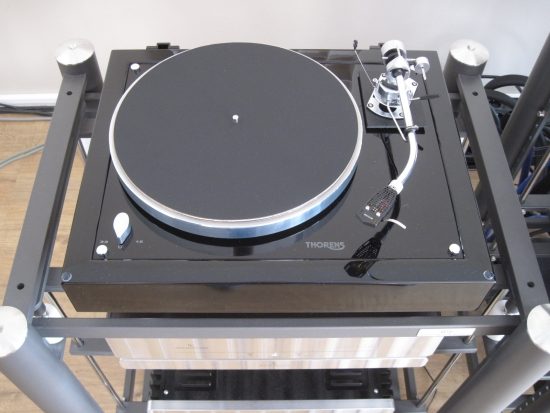 Beautifully restored Thorens TD160B with SME 3009 MKII arm. There's a completely new cabinet in high gloss paint, a new acrylic top layer and all the parts were checked and oiled. The platter was carefully polished until super shiny and finally, a nice SME arm was fitted. I think the 'table can sound better with a more upscale arm but it sounds quite good already.
Under the Thorens is the Jeff Rowland Cadence phono stage. This is an incredibly smooth sounding preamp, but for the Thorens, it is a little too much, that's why I have a few other phono preamps around.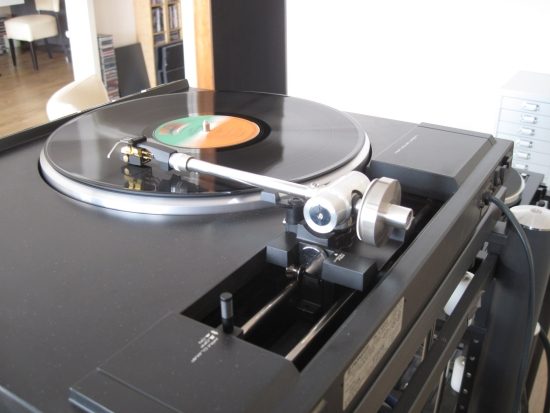 As an alternative I also keep the Pioneer PL-L1000 ready to play. This is a direct drive turntable with a magnetically driven tangential arm. As you would expect, this turntable sounds entirely different from the Thorens. Both are valid reproductions, and depending on the recording sometimes one sounds better and sometimes the other.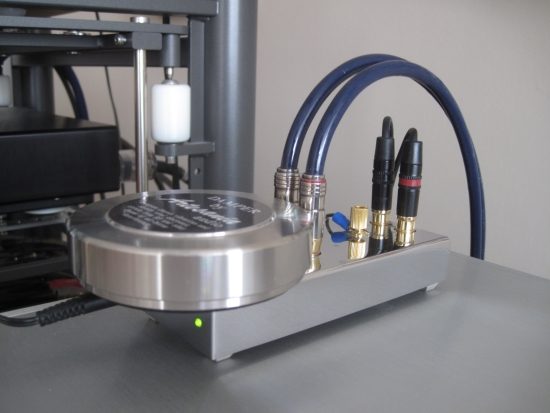 Above: Lukaschek PP1, one of the phono preamps. The Artesania weight is on top to prevent it tipping over under the weight of the cables.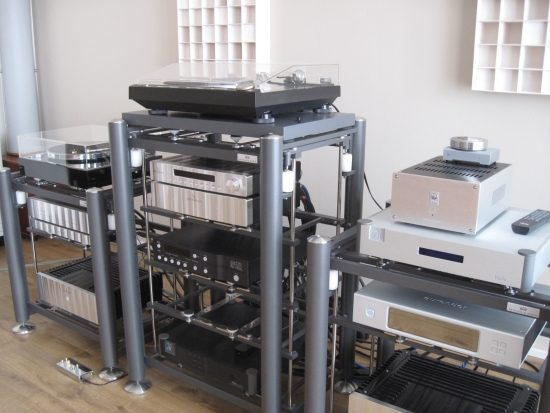 Above: Sw1x tube MM phono preamp with the tiny Schiit Mani on top, also topped with an Artesania weight to prevent it from tipping over.
Sw1x LPU-1 MM phono preamp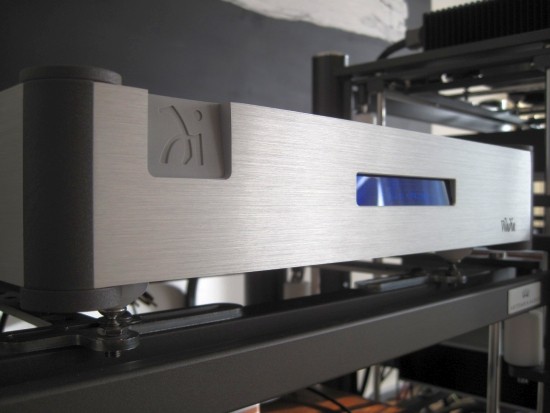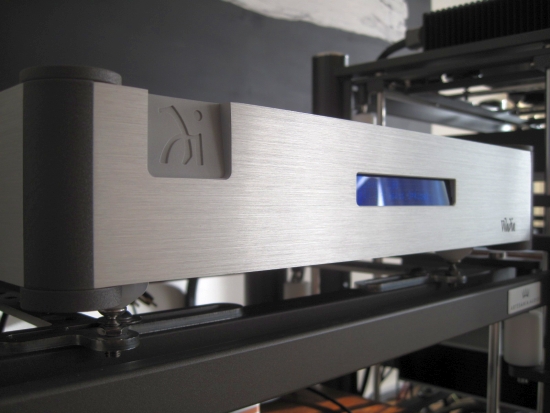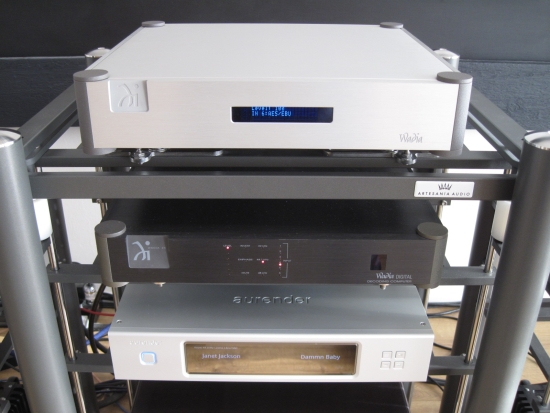 Wadia 521 DAC. No USB and no DSD, but what it does do, it does brilliantly. Under it is the Wadia 25 DAC, an oldie but still a goodie.
Above: AudioAanZee Reference Flow music server
Above: Aurender N10 music server. The Aeris DAC above it is no longer part of the system.
Above: Apogee Diva, fully refurbished, with new cabinets made from solid cherry wood and MDF. Behind it is one channel of Jeff Rowland amplification. The bottom part is the Battery Power Supply, which I no longer use.
Jeff Rowland preamps have always worked best in my system, but lately, I have heard some tube preamps that do things that the Rowlands don't do. Vice versa also, alas.
Due to the Apogee Divas sounding very relaxed and unforced as well as very uncolored, I tend to favor DACs such as Wadia, that bring some character to the table, ideally with an acoustically very convincing Timbre. This aspect may prove far less important in a setup with dynamic speakers such as for example the B&W 802D's. Good timbre for me is having the feeling that acoustical instruments really possess a "wooden" quality, that stand up basses and guitars have a real body and pianos are actually recognizable as percussive instruments. It's how well the midrange is coupled to the lower regions, that makes the sound really convincing for me.
The Jeff Rowland model 6 power amps have been part of my system seemingly since forever, over 10 years actually and although some amps I tried had bigger bass, more power or more impressive dynamics, none of the challengers bested the sixes on all terrains. The Apogee Divas could probably use more power though, and that may tie in with my craving for "characterful" DACs.
As always I want to stress that certainly in audio, all is relative and thus, my reviews should be viewed in that light, even if I try to provide as many perspectives as I can.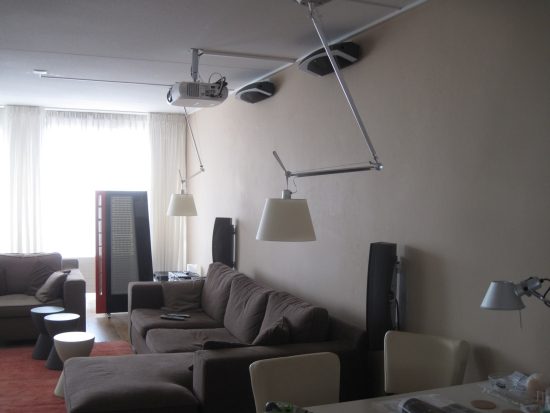 This is the listening side of the room. On the wall are four Martin Logan Fresco hybrid magnetostatic/dynamic speakers, 2 for surround and 2 for surround rear. These speakers have a similar character as the main Apogee Diva speakers and the resulting sound (with distance and frequency curve adjusted in DSP) is incredibly coherent. The red and black Apogee is part of (ahem) the third setup, which is detailed on a separate page.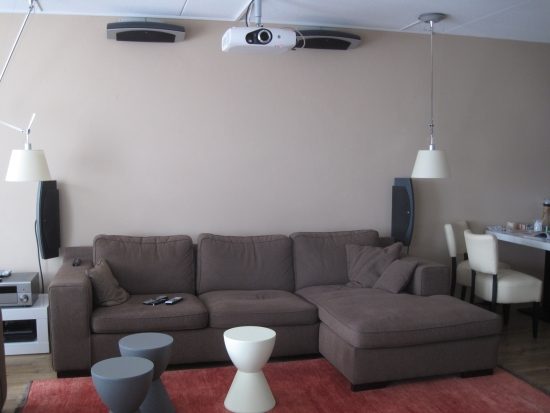 Below are some photos of the projected video image while the screen is up… I thought it made for a very interesting 3D-like scene, almost as of the people are in my room, sitting behind the audio system.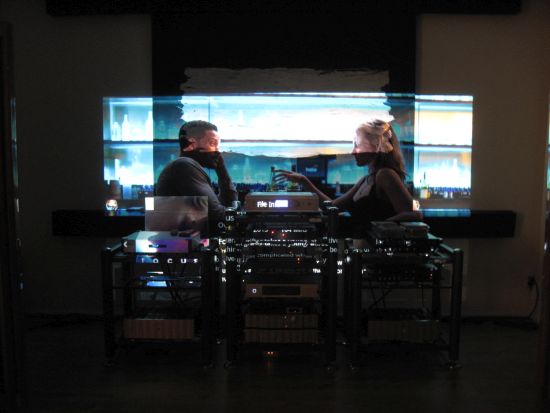 Components:
Apogee Diva Magnetostatic Speakers. Fully refurbished (new foils, new front covers, new wiring and new crossovers)
Preamp: Jeff Rowland Corus + PSU with separate supercapacitor based Power Storage Unit
Mono Poweramps: Jeff Rowland Model 6
Music Servers: Aurender N10 and AudioAanZee Reference Flow
CD Player: Mark Levinson no.390S
DAC: Wadia 521
Audio Racks: Artesania Exoteryc
van den Hul Skyline Hybrid Super affordable speaker cables (should really be upgraded but work so well in this setup)
Interlinks: Transparent Reference, Transparent Ultra XL, Siltech Paris, AudioQuest Water and Cardas Clear and Hexlink Golden 5C – T T L Treated
USB cable: AudioQuest Diamond
Power Cables: Fusion Audio Romance, Belden, NBS Dragon/Fly, Gigawatt LC-2 MK3, Harmonic Technology Pro ACII and Furutech FP-TCS31 and Alpha 3
Overview of all HFA Audio Setups: